Construction marketing: How to get more customers as a builder
Your building services are in demand. So far this year, we've seen 3.5 million searches* for a Checkatrade builder in the UK. That's an average of 291k searches* every month. Although for those people looking for builders to help them, you didn't appear because you weren't with Checkatrade.
In this article, we'll cover:
In 2022*:
252,000 searches for builders to do extensions and conversions
250,000 builder searches for general building work
40,000 searches for help with partition walls
23,000 searches for emergency building services
How do we know there were this many searches? Because that's how many people came to our website looking for trustworthy builders and construction companies to help them. That's a lot of people up and down the UK.
Those people, your potential customers, were on our website looking for help. You could have helped them, but none of the people on our website could find you.
Now's a better time than any to learn from your mistake and get smarter with marketing your construction and building business.
Don't be missed in another 3.5 million searches*
Pass our checks, get listed, start generating building work leads
Join Checkatrade now
How do builders find new customers?
The best builders and construction companies let customers find them. And there are many ways to make sure that customers do end up finding you when searching for a building professional.
Understandably, your budgets may be tight for marketing. This is why you'll need to explore your options and work out where your money is best spent.
Here's how to pin down the best option of where to put your budget.
Research your target customer
Take the time to research who your customers are. Are they homeowners? Are they renting? Are they landlords?
Where are they based? How old are they?
You can't do much else until you know exactly who your customers are.
Decide on what you can offer and to who
It's important to get clear on who your customer is and what work you would like to take on.
Do you want to be doing conversions and extensions?
Are you more interested in dealing with emergency building jobs?
Or are you looking for all kinds of general building jobs?
By understanding your customer's needs and the problems that they're likely to face, the more you can tailor your marketing to attract your ideal customer.
Where does your perfect customer turn to for a solution?
When it comes to where to showcase your marketing, think about your ideal customer and where they might look for a solution.
We know one thing for sure – your customers are searching for builders online. More specifically, they look on Checkatrade for a builder. With 3.5 million searches so far in 2022*, you can't ignore it.
Not every single one of the 3.5 million searches is relevant to your business, but it shows that there is a clear demand for your services.
So, a great way to get your business visible and attract new customers is by joining Checkatrade.
4 top marketing tips for builders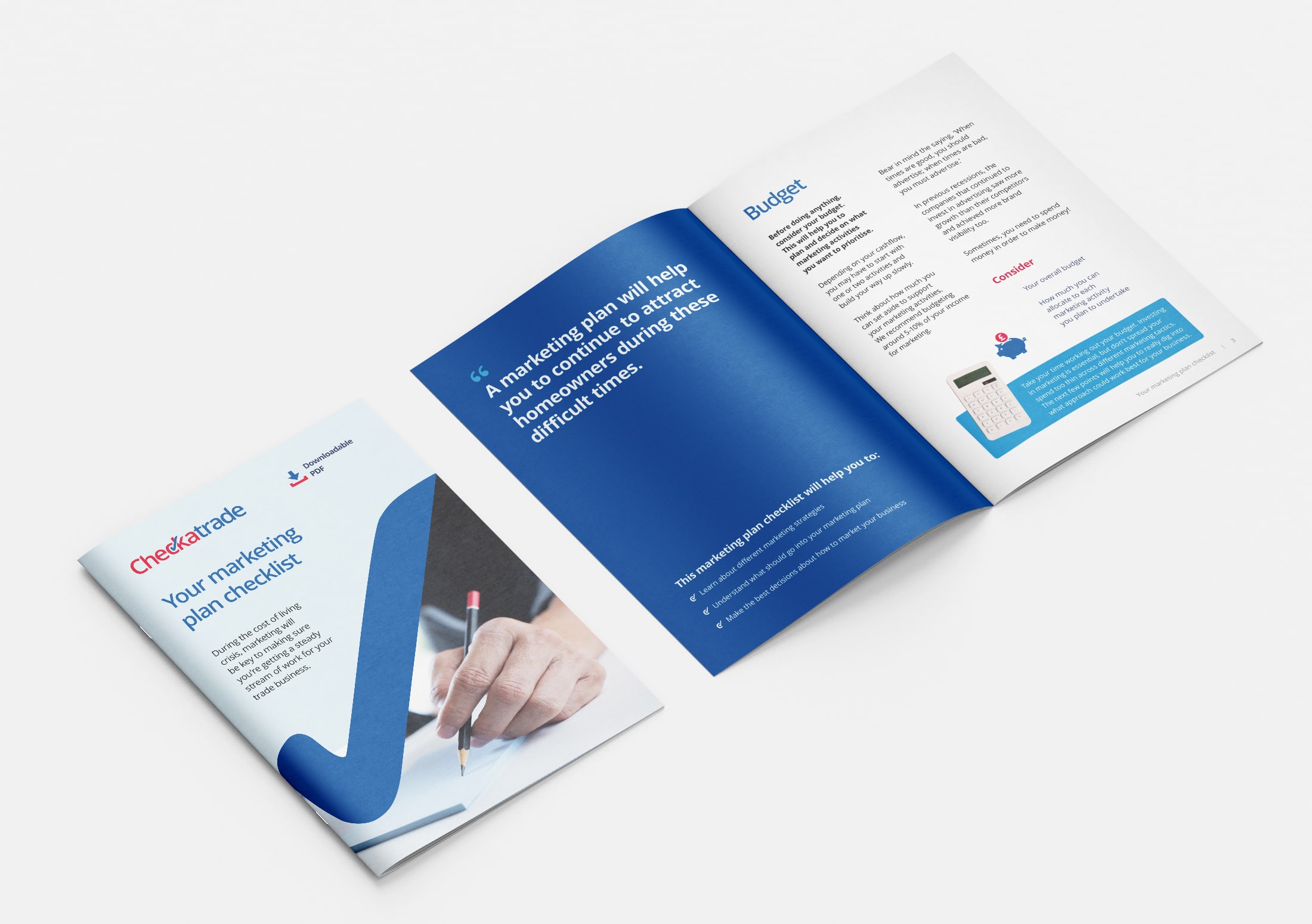 As a builder, your services are always in demand throughout the year. So for you, it's essential to make sure that whatever marketing you do gets your business seen all year round.
And it's not just about being seen either, it's about building an online profile that makes customers trust you.
You'll certainly need to do digital marketing, which includes having a website, social media profiles, as well as appearing in online directories.
Before you read on, we recommend you download this free marketing planning checklist to help you start planning your marketing.
SEO and PPC marketing
Your website is your online shop window, and you need to make it easy for people to find it. Hello SEO and PPC.
What even is SEO and PPC?
SEO stands for search engine optimisation. It's the process of making sure that your website appears in the results when people are searching for builders online.
PPC stands for pay-per-click advertising. It's a way of driving people to your website by them having clicked on your online advert.
For more information about either or both of these marketing tactics for attracting customers, take a look at our guides How does Google PPC work and How to boost SEO.
Social media marketing
Another digital marketing tip for builders is to make use of social media.
So many potential customers use social media now as a way to find and research local businesses, so it's important to have a presence.
Showing pictures of your work on social media helps to build trust and can make all the difference between a potential customer choosing you over a competitor.
Online directories
People today do their research online before picking up the phone. And a lot of them end up looking through online directories to find businesses nearby.
Yes, there have been 3.5 million searches for builders on Checkatrade in 2022*, but there are other reasons to be a Checkatrade builder. A key one is to pass our checks and then get our trusted tick next to your business name.
Did you know – 8 out of 10 people would choose a tradesperson we've checked over one we haven't**. So there's an opportunity here for you to showcase your business on our online directory and benefit from the trust we've built with customers to your advantage.
Print marketing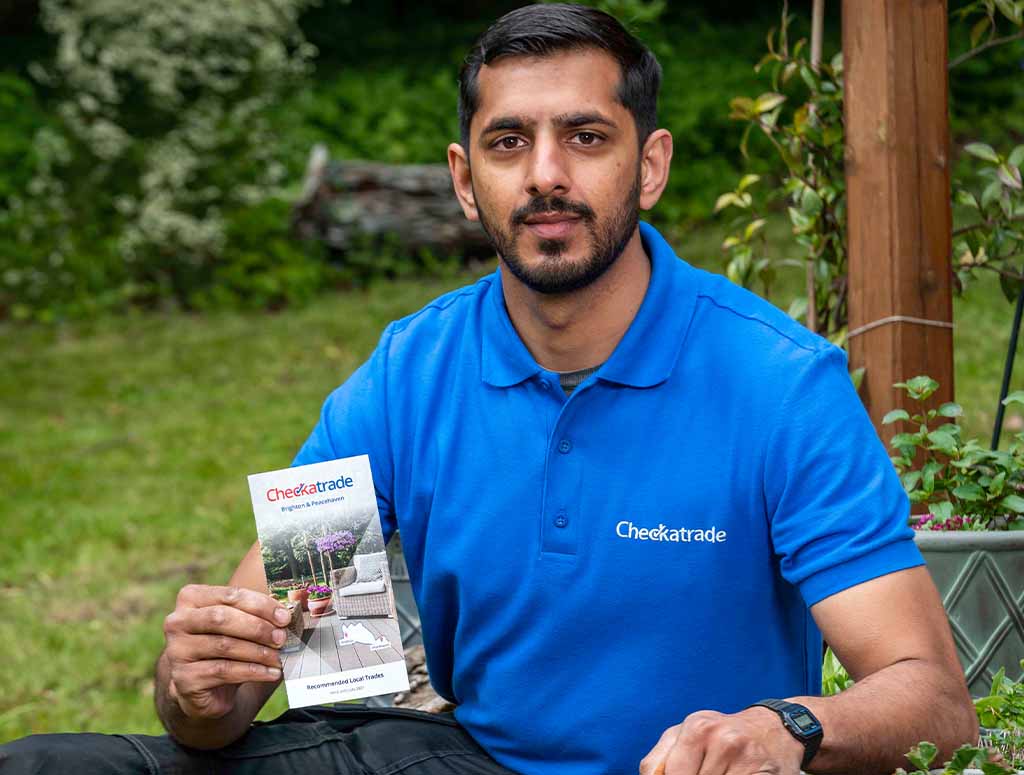 Traditional marketing, such as printed flyers or adverts, still work, especially if you're posting them directly to customers.
Print marketing isn't dead, but doing it on your own is hard to see if people are seeing your printed materials. Again, as a Checkatrade member, there's an opportunity to feature in our nationally posted directory.
For more information, read our print marketing blog.
Checkatrade for builders and construction companies
For builders and construction companies, getting your business listed on Checkatrade is essential. There is a huge demand for Checkatrade builders – 3.5 million searches* says it all.
As part of your profile, you can set a radius from your premises to show the geographical area you cover with your services.
For more inspiration and advice for marketing for building businesses, read our grow your trade business blog.
Don't be missed in another 3.5 million searches*
Pass our checks, get listed, start generating building work leads
Join Checkatrade now
The best way to start getting more sales
Getting your name out there whatever method you choose is one thing, but what will help a potential customer decide to work with you over your competitors?
Having a professional presence and local recommendations and reviews goes a long way.
We know for sure that businesses that have the Checkatrade tick of approval stand a much better chance of getting more sales – 8 out of 10 people would choose a tradesperson we've checked over one we haven't**.
FAQs
I'm a new builder with no customers, what's my best chance to start getting work?
Building a customer base from scratch is a challenge. Doing the basics of setting up your social profiles and website are good first steps. Then, it seems obvious to say, you'll need to start working with people and building your portfolio of work, and collecting reviews.
You should also look into getting a Checkatrade profile. Customers will be more likely to work with you if they can see you're a reputable tradesperson with recommendations available to read from past customers.
Checkatrade is the perfect platform for startups like you, so definitely explore the Checkatrade membership.
How long will it take for my marketing efforts to pay off?
All it takes is for your ideal customer to find you, so your results could be quick, especially if you're an established business.
If you're a new business, then it does take some time to get established. It's important to build a solid reputation, and this is where having visibility as a Checkatrade builder can be so helpful.
Don't be missed in another 3.5 million searches*
Pass our checks, get listed, start generating building work leads
Join Checkatrade now
*Checkatrade internal search data, 1st January – 4th November 2022
**Deep Blue Thinking 2021 Trade Perception Survey – this is compared to a trade with no other endorsements.