Last updated on June 24th, 2022
Beach hut renovation cost
Looking for that slice of tranquility by the sea? A beach hut could be perfect for you. Find out how much a beach hut renovation could cost.
Not only are beach huts a fantastic way to enjoy the great British seaside, but they look amazing when they're properly maintained. So, whether you've bought a beach hut that's in need of a complete renovation or you just need to repair yours to get it looking spick and span, check out these beach hut renovation jobs and the associated ballpark costs.
Beach hut renovation cost
Your total beach hut renovation cost will depend on the scope of the work required. If your beach hut just needs a straightforward repaint, you could spend as little as £250. But if it's in need of a complete renovation, you could easily pay a few thousand pounds to get it up to scratch.
Here, we'll take a look at some of the typical jobs that a beach hut renovation might require, along with some estimated costs (bearing in mind that every beach hut is different so it's impossible to tell you just how much it'll all cost). You may even be able to find one handyperson to take on all of the jobs as a big project from start to finish.
| Cost provided item | Unit | Cost - low | Cost - high | Average cost |
| --- | --- | --- | --- | --- |
| Carpenter | Per hour | £25 | £37.50 | £31.25 |
| Removing old roof | Per m² | £60 | £100 | £80 |
| Labour for new roof | Per hour | £25 | £37.50 | £31.25 |
| New roof materials | Per m² | £190 | £240 | £215 |
| Softwood decking (materials only) | Per m² | £30 | £50 | £40 |
| Hardwood decking (materials only) | Per m² | £85 | £100 | £92.50 |
| Composite decking (materials only) | Per m² | £40 | £100 | £70 |
| Open cell spray foam insulation | Per m² | £40 | £70 | £55 |
| Closed cell spray foam insulation | Per m² | £50 | £90 | £70 |
| Timber cladding (materials only) | Per m² | £40 | £80 | £60 |
| Repainting | Exterior of beach hut | | | £250 |
Front doors
No beach hut would be complete without front doors! If yours are looking a bit worse for wear, one of the first jobs on your list might be to repair or replace them. After all, this is an important part of keeping your beach hut safe and secure.
If your beach hut's front doors require work, you'll most likely need to get a carpenter in, who can tailor the job to your needs. The typical hourly rate for a carpenter is £31.25 per hour.
New roof
If your beach hut's roof isn't watertight, it may need replacing. The cost of replacing a beach hut roof is pretty much the same as the cost of replacing a shed roof. This is made up of three components:
Removing the old roof. You can expect this to cost around £80 per m².
Labour. The cost of labour for replacing a beach hut roof typically comes in at between £25 – £37.50 per hour.
Materials. The materials required will likely cost between £190 – £240 per m².
New decking
Does your beach hut have an outside decking area in front of it? If so, this may need repairing. If not, you may wish to add one!
The typical decking cost will vary depending on what material your decking is made from. Softwood decking is typically the cheapest, at around £30 – £50 per m². However, it's likely to need more maintenance than other decking materials.
Hardwood decking, on the other hand, typically costs between £85 – £100 per m². Meanwhile, composite decking usually comes in at £40 – £100 per m².
However, this doesn't include installation costs. For a carpenter to install your decking, you'll be looking at a cost of around £31.25 per hour.
Insulation
Let's face it. The British weather can make beach huts a little chilly on anything other than a scorching hot day. To make things a bit more comfortable, you might want to consider adding insulation.
Open-cell spray foam insulation typically costs around £55 per m², while closed-cell spray foam averages out a bit higher, at £70 per m². This is a quick and relatively easy way to make your beach hut feel that little bit more luxurious.
Cladding
Cladding is a layer of material that's added to the outside of a property to add protection from the elements. It's also what gives beach huts their classic, recognisable style.
To add timber cladding to your beach hut, you can expect to pay between £40 – £80 per m² plus labour.
Repainting
Does your beach hut need repainting? It's one of the quickest and easiest ways to transform a tired-looking beach hut into something that passers by will 'wow' at!
To get your beach hut repainted by a painter decorator, you'll need to budget around £250.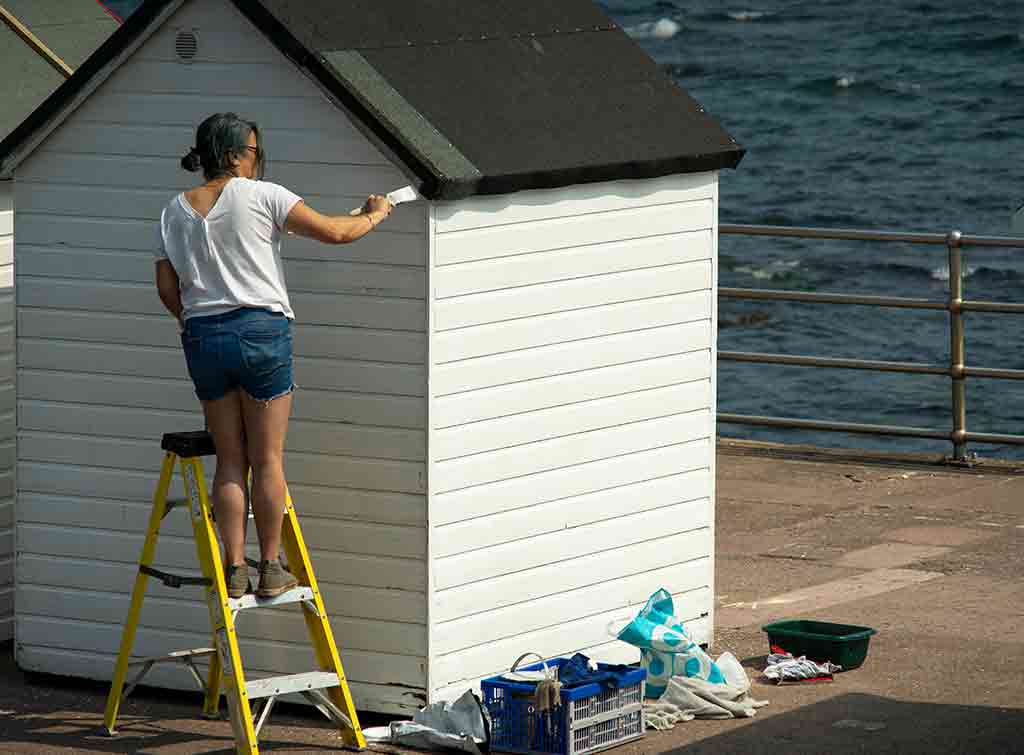 See the tradespeople we've checked and recommend for your job
Beach hut repair cost
Any building requires regular maintenance. But as beach huts are typically made of timber and are exposed to fairly extreme weathers, they'll need that little bit more TLC.
There are some paints available that claim to last up to eight years. However, we'd recommend budgeting for repainting both inside and outside your beach hut every three years, just in case.
If you're not going to be in the area regularly enough to maintain your beach hut yourself, you could commission a dedicated company to take care of it for you. That way, you get to just enjoy your beach hut without all the work that comes with it!
Key takeaways
Your beach hut renovation cost will depend on the condition of your beach hut.
Beach huts require regular maintenance, especially repainting.
Consider using an agency to take care of your beach hut maintenance for you, find a company right for you on Checkatrade.
See the tradespeople we've checked and recommend for your job