Last updated on March 31st, 2022
Church conversion cost guide
Out-of-use churches can make unique and striking houses. And luckily, the Victorians built so many that there are a plethora of redundant churches in the UK just waiting to be turned into homes. But how much does it cost to convert a church into a space fit for living in? We've broken down the typical church conversion cost to help you budget.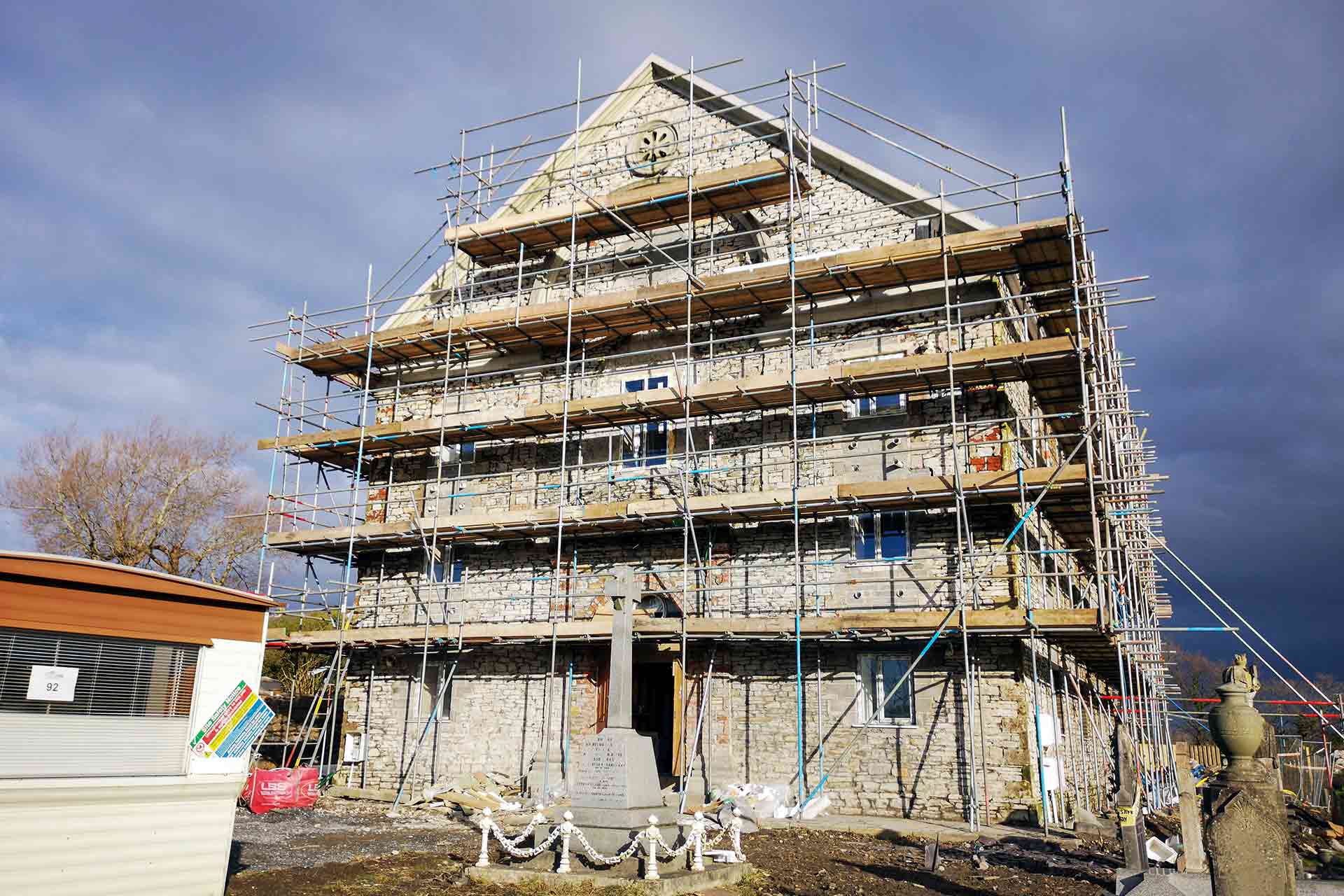 Out-of-use churches can make unique and striking houses. And luckily, the Victorians built so many that there are a plethora of redundant churches in the UK just waiting to be turned into homes. But how much does it cost to convert a church into a space fit for living in? We've broken down the typical church conversion cost to help you budget.
How much to convert a church into a home?
| Item | Unit | Cost - low | Cost - high | Average cost |
| --- | --- | --- | --- | --- |
| Planning permission (change of use) | Per application | - | - | £462 |
| Listed building consent | Per application | - | - | £0 |
| Architect fees | Per hour | £50 | £100 | £75 |
| Building survey | Per survey | £600 | £1,500 | £1,050 |
| Install double-glazed hardwood window | Per window | £1,000 | £4,000 | £2,500 |
| Stained glass window repair | Per window | £150 | £500 | £325 |
| Roofer | Per day | £150 | £250 | £200 |
Converting a church into a home can be immensely challenging as these buildings were originally designed for a very different purpose.
Firstly, churches are often very dark. Not only are the windows always high up (making it hard to see out), but they're often made of stained glass which further reduces the amount of light that can come in, and the capacity to see out. On top of that, churches are almost always made up of one large open space that goes from floor to ceiling. While it's this that arguably makes them such striking buildings, it can be hard to create a sense of privacy when it comes to modern-day living.
Despite all this, church conversions can be incredibly rewarding. Let's take a look at some of the main jobs you're likely to have to account for if you're making a church conversion your next project.
Planning permission
In 1969, there was a law change that allowed churches to be used for alternative purposes. However, you'll still need permission to carry out any proposed changes to the building.
Firstly, as with any other conversion, you'll need to obtain planning permission. As your application will include a change of use, you'll likely have to pay £462 for this.
However, there are also a number of other hoops you may have to jump through when you're proposing alterations to a church. Here are the main ones:
Listed building consent. Many churches are listed, so you might have to obtain listed buildings consent. However, you'll be pleased to hear that this is free!
Church Commissioners approval. When you first purchase your church, you'll need to put your offer forward to the local Diocesan Redundant Church Uses Committee, who will pass it onto the Church Commissioners to make the final decision. You'll then have to ask them for approval to make any architectural or structural changes to the building.
Graveyard. If your plans are going to affect the church's graveyard, the law requires any human remains to be moved and interred elsewhere.
Architect fees
If you're making significant alterations to the church building, you'll need a good architect to create a design for you. Not only is this important to help you create a successful conversion, but it will also help you to submit strong applications for planning permission and listed building consent that have the best possible chance of being approved.
For complex projects, architects generally charge a percentage of the project cost. This could be anywhere from 5% to 12% of the cost of the build, depending on its scale and complexity. However, some architects will also be happy to charge by the hour. You could pay between £50 – £100 per hour in architect fees depending on the size of the firm you commission and your architect's experience and seniority.
See the tradespeople we've checked and recommend for your job
Survey
No matter what kind of building you buy, it's important to get it properly surveyed before your purchase goes through. This way, you'll know what condition the building is in and you'll get a rough idea of how much work it will need. It's arguably even more important with a church, which is likely to require a significant amount of refurbishment before it's fit to live in.
Normally, a survey should be carried out by a building surveyor who's a member of RICS (the Royal Institution for Chartered Surveying) although it could also be supported by an architect or structural engineer.
The total cost of your survey will vary based on factors such as:
The church's location
Its size
The kind of survey you choose
Which surveyor you use
There are four different kinds of survey that range in the level of detail they go into. With a church conversion, it's prudent to choose a survey that's more thorough than a standard homebuyers survey, so that you have a better idea of the condition it's in. For instance, a building survey is a full structural survey that gives a detailed analysis of the condition of the property.
Windows
Churches often don't have enough windows to let in the amount of light necessary for modern-day living. To let more light into the building, it's likely that you'll need to add more windows or adapt those that are currently in place.
The cost of adding or adapting church windows will depend on a number of factors, including quality, design and materials. Usually, with a church conversion, you can expect the costs to be relatively high, as you'll want to opt for traditional materials and construction methods that allow the new work to blend in with the old. For instance, you may need a traditional stonemason to create new openings and add details similar to those you can find around your church's existing windows.
To install a small hardwood window, you can expect to pay upwards of £1,000. This could climb to more than £4,000 for a large one or even more if it's an intricately designed stained glass window. This brings us onto…
Stained glass
Stained glass windows are often some of the most important features that homeowners wish to retain in a church conversion. However, they may need repairing or you may want to adapt them slightly, depending on your taste and sensibilities.
For instance, you may want to remove any overt religious symbolism from your church's stained glass windows. Or, you may decide that you want to integrate clear glass into a larger stained glass window to allow more light to filter through without losing the window's character. You may even wish to install secondary glazing to improve your window's energy efficiency.
If your leaded stained glass windows need repairing, you could pay around £350 – £500 depending on the window's size and condition.
Roof
A church's roof is an integral part of the building, both for practical elements like weatherproofing and for the church's history and character.
Often with a disused church, the roof will need repairing or replacing. In an ideal world, you'd retain and reuse the original tiles and roof covering, or at least purchase like-for-like materials. It may be that your church roof needs to be laid again from scratch. Or it might be that it's in good enough condition to simply restore it and insulate it from beneath. Every roof is different, so it's best to get a bespoke quote for roof installation to get a more accurate picture.
Typically, a roofer's day rate will fall between £150 – £250. The average roof installation cost in the UK is around £5,000 – £8,500, but this could be vastly higher for a large church that requires traditional materials.
See the tradespeople we've checked and recommend for your job
Church conversion cost factors
Of course, the jobs we've listed above are by no means exhaustive. You might also need to budget for insulation, fixing damp issues, new flooring, repointing, electrics, scaffolding and more. And that's before you even get to the fun parts such as the decorating!
When you're calculating your overall church conversion cost, you'll need to consider factors such as its:
Cost to purchase
Size
Location
Accessibility
Condition
Age
Whether or not it's listed
Remember, while some churches will already have electricity and heating, other older churches may require all these elements to be installed from scratch.
Key takeaways
Church conversions are challenging but rewarding.
The total church conversion cost will depend on your church's condition and size.
Make sure that you get a very thorough survey of your church before completing your purchase.
See the tradespeople we've checked and recommend for your job