Last updated on May 9th, 2022
Cost of building a porch
Building a porch can drive up your property value, giving you extra space, security and curb appeal if you ever sell your home.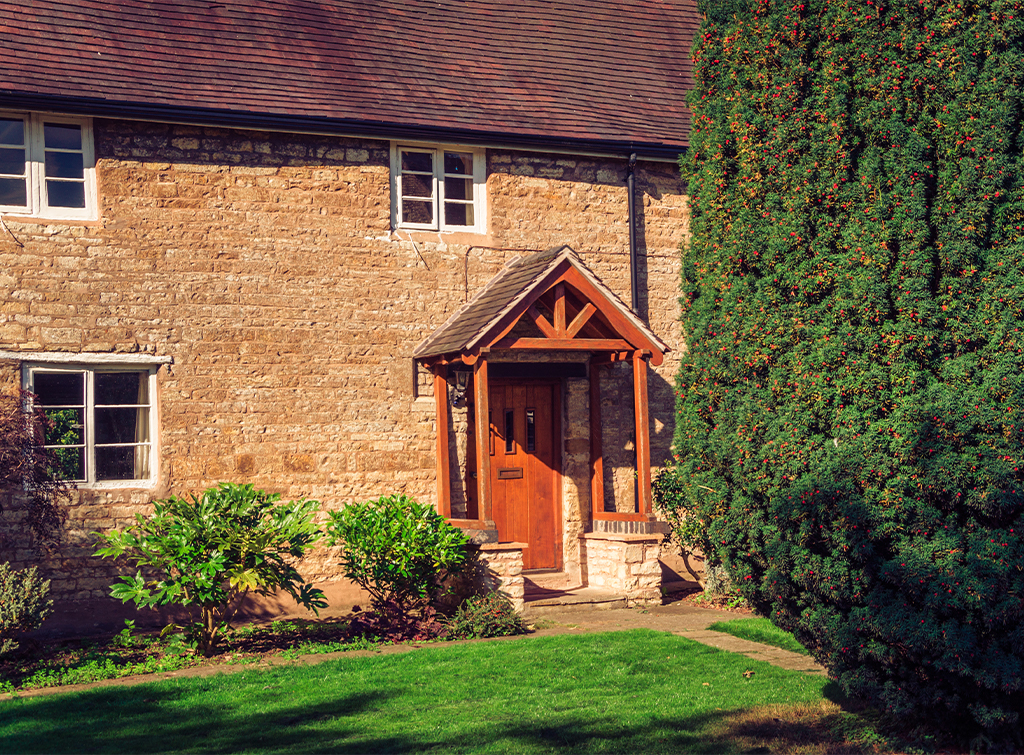 A new porch can also offer some much-needed storage space and immediately enhance your entranceway. Perhaps you have a porch already but feel it could do with a facelift.
Of course, this kind of work comes with a price tag. The good news is that as far as home renovation project costs go, building a porch is relatively reasonable. Before you begin planning for the project, it's a good idea to get your budgets sorted. We've pulled together the average costs involved in building a porch.
If you're still in the ideas stage for your porch, check out these front porch ideas!
| Type of porch build | Unit | Price range - low | Price range - high | Average UK cost |
| --- | --- | --- | --- | --- |
| New porch | Per project | £4,500 | £10,500 | £7,500 |
| Porch extension - brick | Per project | £6,000 | £10,000 | £8,000 |
| Porch extension - oak | Per project | £5,500 | £8,500 | £7,000 |
| uPVC porch (3-5m2 porch with a simple roof design) | Materials only | £1,500 | £2,000 | £1,750 |
| Aluminium porch | Materials only | £1,800 | £2,200 | £2,000 |
| Lean-to porch | Materials only | £2,000 | £3,000 | £2,500 |
| Labour | Per day | £200 | £300 | £250 |
How much does it cost to build a porch?
For the average homeowner, building a new porch will be a time-consuming task with more than a few pitfalls along the way. For that reason, it's definitely worth hiring a specialist for the project – one who will not only design and build the porch but use the right material to ensure structural integrity and aesthetic appeal.
The average cost to build a porch is £7,500.
Of course, there will be a number of factors that determine the quote you receive from a tradesperson. Examples of these are detailed in our porch cost calculator table on this page.
Whatever your unique priorities, the team you hire should work with you to build a porch that truly reflects these requirements.
To get clear estimates on costs, we spoke to Bob Branscombe (MRICS and MCIOB qualified), who has over 34 years in the industry with Branscombe Consulting.
See the tradespeople we've checked and recommend for your job
How long does it take to build a porch?
We recommend planning for at least two weeks of renovation work.
The timescales for building your new porch extension will depend on the size and specification.
We have calculated the estimated time for a porch of 3 square metres in size, but the larger and more complex the project, the more time it will take.
Large-scale and elaborate porch designs can take up to four weeks to build on average.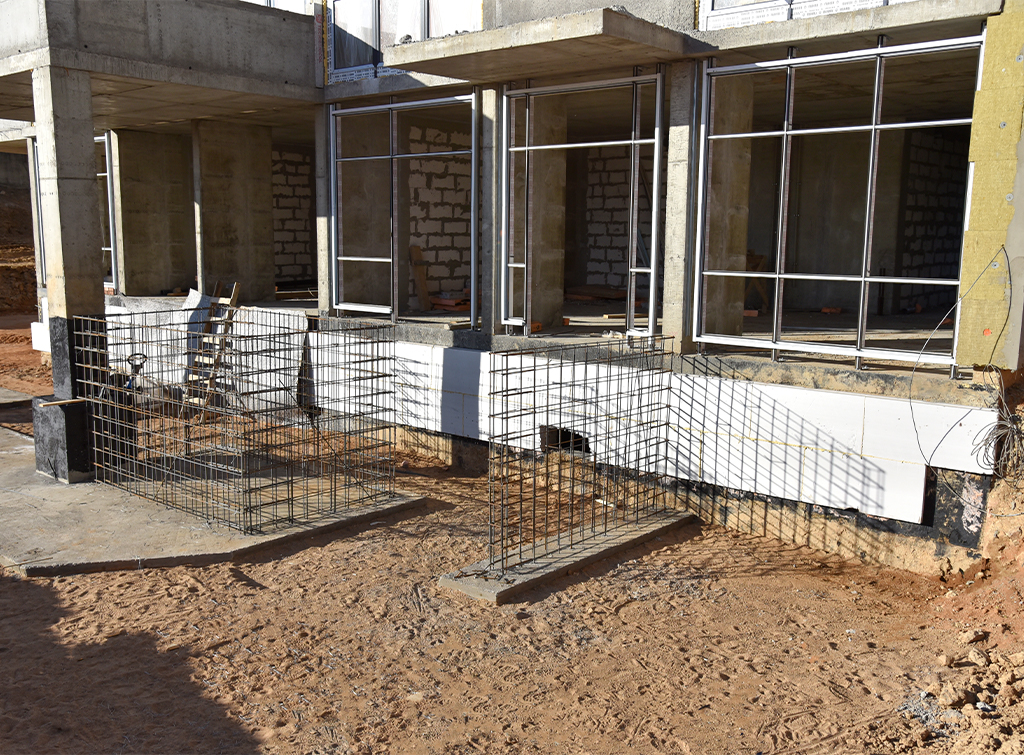 How much does a porch cost?
Your new porch should be consistent with the look and feel of your property. For that reason, we recommend thinking carefully about the type of porch you want ahead of hiring the team.
Then, you can provide them with exact specifications and get an accurate estimate of the cost of building a porch. As detailed in the table, different porch types come at different prices.
Some of the most common types of porch include:
Screened in porch
A screened porch is a roofed structure that is built from screens to prevent unwanted insects, debris or rain from getting in. They will typically combine wooden screens and window screens to create an elegant enclosure.
They aren't fully tamper-proof, but a screened porch that has locking storm doors can provide an additional layer of security for your home.
The average cost to build a screened porch is £5,000, factoring in the day rate for an average of two weeks. However, if you are looking for a more high-end porch, the cost could go up to £15,000.
UPVC porch
Also known as unplasticized Polyvinyl Chloride, uPVC is a low-maintenance building material used as a substitute for painted wood.
This material is commonly used as a cheaper alternative for screened in and lean-to porches. A high-quality uPVC porch door can also help to enhance security.
The cost of a uPVC porch can range between £1,500 - £2,000 for materials alone, though once the costs for labour, double-glazed windows and additional accessories are factored in, the total is more likely to be around £3,500.
Oak porch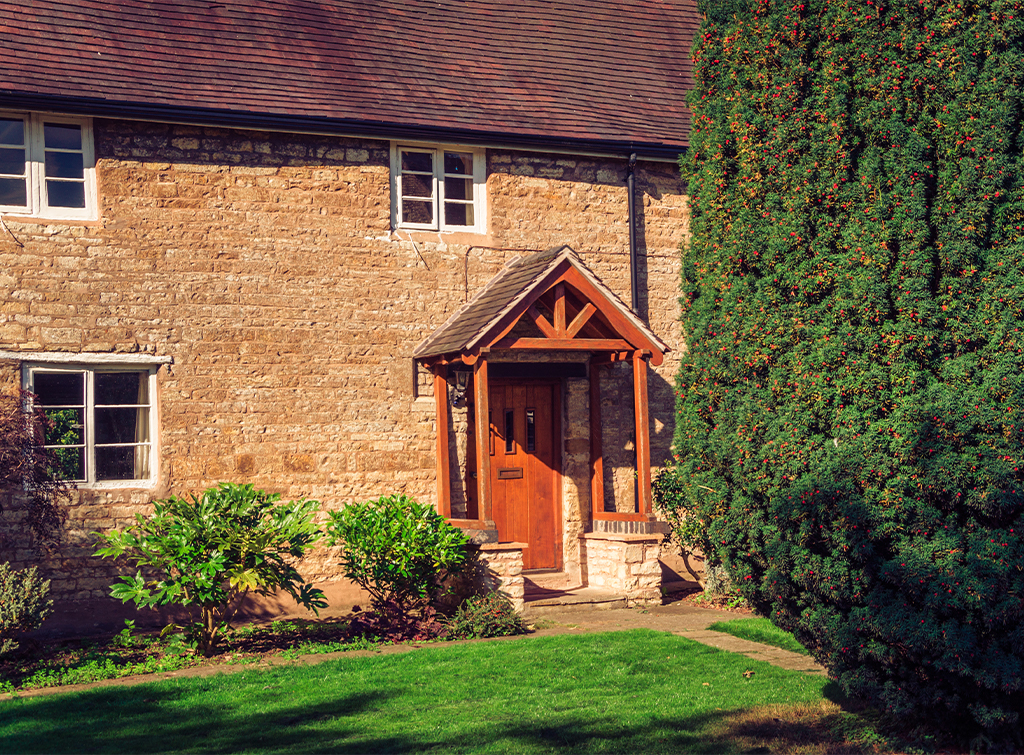 An oak porch is popular for homeowners looking to add curb appeal with the addition of a grand, wooden entranceway.
Made from solid oak, this type of porch comprises framed porch sections that are planed all around and lightly sanded to add a natural and elegant appearance to any home.
The cost for an oak porch starts at around £5,500 with an additional cost of £500 for a pitched roof and £750 for the base, blockwork and concrete paving.
With labour costs included, an oak porch costs roughly £7,000 on average.
Brick porch
A brick porch is a common choice due to the level of customisation possible. With a range of colours and patterns available, brickwork is not only a durable option but one that can be ideal in achieving consistency in design.
In terms of timescale, we recommend planning for at least 1-2 weeks for the build of a new brickwork porch.
In terms of costs, the porch alone will fall between £6,000 - £10,000. Altogether, your budget should be £6,000 for a small porch. Larger brickwork porches with more elaborate designs and statement roofs can cost up to £15,000.
Lean to porch
A lean-to porch can be the perfect solution for properties of all shapes and sizes.
They can either be built to be completely enclosed to add an extra room in your property, have the ends enclosed to be used as a storage space or as an open-sided porch that adds shade to your garden.
The cost to build a lean to porch will vary depending on size, with the price for materials alone sitting at £2,500 on average. Once again, we recommend factoring in the costs of labour – which – for a small porch, can drive the price up to around £3,500 - £5,000.
See the tradespeople we've checked and recommend for your job
Porch building cost calculator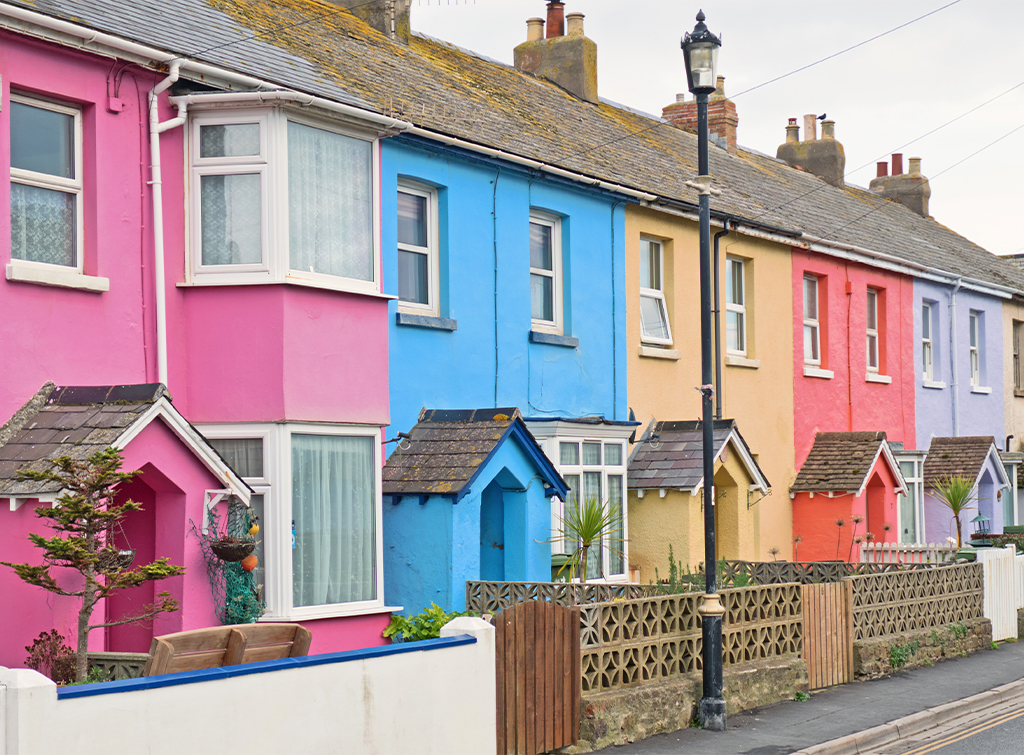 Before hiring a professional, it's important to set aside your budget and understand exactly what the typical quote will include.
You can then use our handy search bar to connect with skilled and trusted tradespeople in your local area and get started on the project.
To calculate the cost of building a porch, we have used the following specifications:
3 sq metres
Brickwork
1 x composite front door
2 x double glazed windows
Tiled roof and gutters
Lighting
Plastering and skirting boards
Tradesperson day rate
There are a number of elements involved in porch extension or renovation projects – we have provided ballpark figures for each below.
Labour
First and foremost, the cost of building a porch will factor in the day rate of the tradesperson or team designing and executing the project. The average day rate in the industry is £250. This incorporates fuel, insurance, advertising, equipment/tools, sick pay and other costs or allowances.
Electrician and parts
Assuming you want lighting in your new porch extension, you will need to factor in the costs of an electrician and any parts they may need. As a homeowner, it is your responsibility to ensure that any electrical installation in your home complies with building regulations. For two hours of work, the average cost an electrician will charge is £150.
One door and two windows
With the average supply cost of a composite door sitting at roughly £625 and the cost of a double glazed window with frame at £325, you can expect to pay at least £1,400 for window and door installation.
Concrete foundations and brickwork
Porches are commonly built from concrete foundations and styled with brickwork. An average of £1,000 should be earmarked for these elements.
For dwarf brickwork where the bricks rise to approximately half of the height of the wall, you can expect an average of £55 per square metre.
Flooring
Choice of flooring can have a considerable impact on the cost to build a porch.
On the cheaper end of the spectrum, laminate will cost around £16 per square metre. Carpet may be slightly higher at £18 - 20 per square metre, while tiling will typically cost a minimum of £300 per square metre.
Plastering, sills and skirting boards
Plastering is essential in achieving a uniform and durable surface. You can expect costs for plastering alone to start at around £20 - £25 per square metre depending on your location.
With the cost of window sills and skirting boards factored into a 3m2 porch, this part of the porch building process will cost an average of £400.
Roofing
Porch roof costs start at around £30 per square metre for a flat roof. If you are looking to create a grand entrance with a Victorian roof, for example, costs will typically be higher at an average of £50 per square metre.
Additional guttering for your porch will come at a cost of £4.50 per square metre.
See the tradespeople we've checked and recommend for your job
Porch building quote
We recommend obtaining at least three quotes from our trusted tradespeople. Our post a job feature is perfect for getting quotes – you post details about the job you want doing and we'll send it out to local tradespeople in your area. Try it out.
Porch building hourly rates
Due to the nature of porch building, quotes are usually provided with a day rate for labour – at around £250 per day.
Factors affecting the cost of a porch
When hiring a tradesperson, it's important to bear in mind the factors that will influence the cost to build a porch. These include:
Planning permission
Most porch projects won't require planning permission if they are at ground level and under 3m in height, but there are some exceptions to the rule – for example, listed buildings will almost inevitably require permission for new porch extensions.
You may also need permission if the porch will come within two metres of the boundary, public path or road. In any case, it's always best to check with your local authority ahead of the build.
It's worth noting that most planning applications will come with a fee required. Your local council will be able to advise you on this.
Type of porch you choose
From straightforward screened porches to grand porticos with archways, verandas and haciendas, the choices for porch design are vast.
With so many styles and types to choose from, the cost of building a porch varies depending on your property and preferences.
Size of the porch
The bigger the porch, the higher the cost due to the need for more materials and time dedicated to the job.
Materials used
UPVC is generally considered the cheapest material followed by oak. Brickwork will usually increase the costs of building a porch but is a popular choice due to the customisation that it allows for.
The number and size of windows
Double glazed windows come at a supply cost of approximately £325 per window plus frame. When planning your budget for your new porch project, it's a good idea to determine how many windows will be required and how much this will increase the cost.
Removal of an old porch
If porch renovation is on the cards, you will first need to have the original one demolished. The removal of an old porch is a fairly straightforward task but will require a full day's work and considerable waste removal.
If you're looking to save on price, it may be more cost-effective to have it repaired. If you want to replace your porch altogether, a removal cost of approximately £500 should be added to your budget.
Do I need planning permission for a new porch?
In most cases, the building of a new porch will not require planning permission unless it is a listed building.
Official guidance states that porches at ground level that are under 30 square metres are exempt, but it's always best to check with your local authority in advance. More information on planning permission can be found here.
Build a porch cost breakdown
Building a porch is a time-consuming task. With the right help, however, a new porch can add considerable value to your property – not to mention security.
The average cost to build a porch is £7,500, but factors such as materials used, size and type of porch as well as how elaborate the design is can all drive up the price.
As well as the cost of labour, you should also factor in the cost for other elements such as windows, composite doors, lighting and the cost of an electrician.
The removal of an old porch costs £500 on average, and you may feel it more economic to have it repaired.
See the tradespeople we've checked and recommend for your job