Last updated on March 15th, 2023
Cost of moving a boiler
Discover the average cost of moving a boiler in your property, as well as cost-saving considerations to make before you begin the project.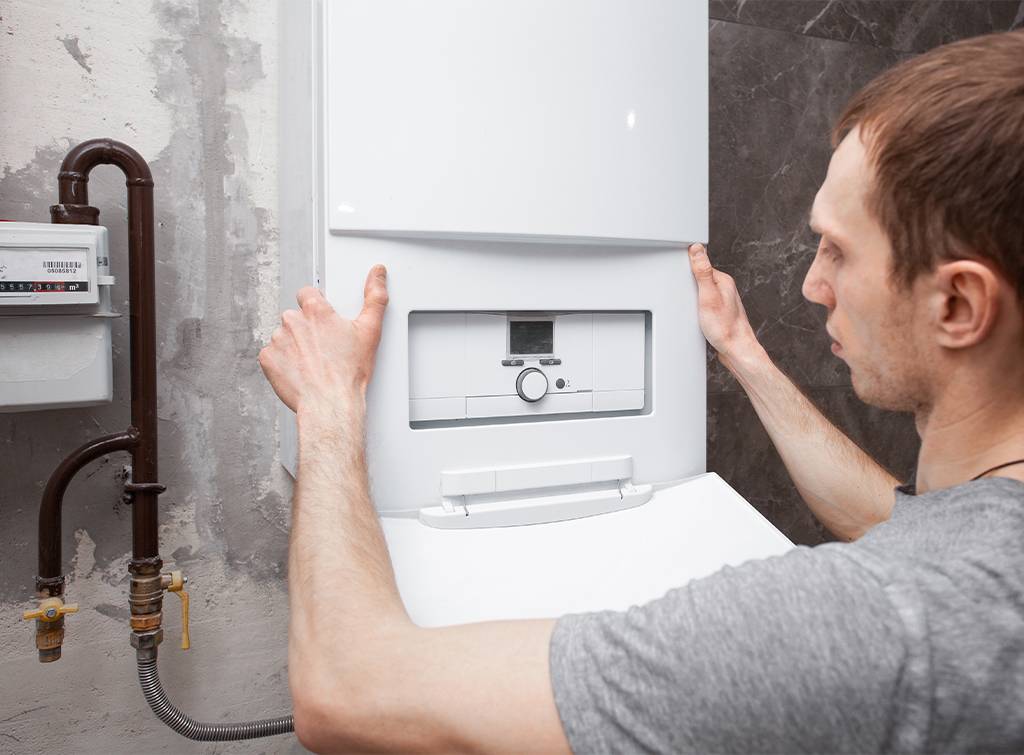 Is moving a boiler worth the cost?
There are many great reasons to relocate a boiler – freeing up space, building an extension, hiding it from view, or even getting quicker access to hot water and heating. And, thanks to modern developments with flues and plume kits there are now more locations in the home to choose from than ever.
Kitchens, utility rooms, bedrooms, bathrooms and airing cupboards are all possible choices. Even lofts and garages can be used with adequate frost protection and pipe insulation. So long as the location can be accessed easily for repairs and any servicing there are many opportunities.
Let's move onto the average costs of moving a boiler.
How much to move a boiler?
| Boiler costs | Cost + VAT (range low-high) | Average cost |
| --- | --- | --- |
| Moving existing boiler | £500 - £950 | £750 |
| Extension flue pipe/flue bends (Per metre) | £75 - £125 | £100 |
| Magnetic filter | £150 - £225 | £175 |
| Controls | £100 - £650 | £400 |
| Pipework and fittings | £400 - £600 | £500 |
| Replacing a combi boiler with a new one, in a different location (mid-range) | - | £2,650 |
Every home is different and there are a lot of factors that affect the cost. Depending on the room you want to move it to, where you're moving it from, pipework needed and more, prices will vary.
On average we estimate the cost of moving a boiler as £750.
For a breakdown of each cost, we spoke to the online estimators at My Build Estimate – a professional estimating company monitored by the Royal Institution of Chartered Surveyors (RICS). This guide features estimated average boiler relocation costs they provided.
Moving your boiler vs buying a new boiler
Before deciding to go ahead with moving a boiler you should consider if it will be more cost-effective in the long term to replace the boiler instead. If your boiler is no longer covered under warranty, not compliant with the latest regulations, or is more than 10 years old then this may be the ideal time to replace the boiler as well. Parts may also not be available for your older boiler and it may not survive the intensive move without breaking.
With new boilers, it's not uncommon for labour costs to be greater than the cost of the boiler. As you are already covering those labour costs by moving the boiler, you can save yourself money and additional work later on by replacing the boiler at the same time. In fact, newer boilers can be greater than 90% efficient, whilst older models can have lower than 50% efficiency. Switching to a new boiler can pay for itself through these improvements in efficiency and reducing your heating bills.
Switching to a new boiler in a different location costs around £2,650 based on a mid-range combi boiler.
However, if your boiler is relatively new then there's no reason to replace it unnecessarily. Or, if you have a very tight budget you may opt to wait on replacing the boiler until a later date.
Moving the boiler now, rather than waiting for it to break or go out of warranty allows you to take immediate control over the current frustrations you have with your boiler. You won't have to put off renovation projects such as extensions, loft conversions or interior design changes. For this reason, it's still a valuable project to move a boiler without replacing it.
See the tradespeople we've checked and recommend for your job
Cost to relocate a boiler
One of the biggest costs to move a boiler will be the new pipework. This includes:
Flue – Adding an extension flue pipe so it can reach a safe area outside; and creating a new hole for the flue. You must all meet all Boiler Flue Regulations. Costs £75 – £125 per metre.
Pipework – Connecting the condensate pipe to a waste pipe, and connecting the boiler to existing pipework in your home. Costs £400 – £600.
Gas connections – Rerouting gas pipes isn't cheap and if you're moving to a room without a gas pipe (such as a garage) this will add to the cost. Costs £45 – £85 per metre
Magnetic filters – These extract debris from the water in your pipes. This reduces rust and maintains the long-term health of your pipes. Costs £120 – £225.
As part of the project, your existing heating system will need to be drained at an additional cost. At the same time, it may be practical to flush the system to remove any existing sludge for better performance. This costs more but can improve efficiency, meaning it pays for itself over time.
The remaining cost will be for the labour involved. For the old location, this includes removing the boiler, capping or rerouting any pipework and patching the holes. In the new location you'll need to pay for new holes to be drilled, attaching new pipework, attaching the boiler to the wall and routine tests. Some older boilers are very heavy, to the extent that two people will need to move them, which adds to labour costs.
There are other costs to consider which we have included later on in this guide.
The average cost to move an existing boiler is £500 – £950.
Cost of moving boiler from upstairs to downstairs
The further a boiler is moved the greater the cost. This is due to flues and extensions, as well as additional pipework needed to make the boiler connect with existing pipework. In addition to a larger cost for the materials, labour costs are also higher.
One of the costliest ways to relocate a boiler is moving a conventional boiler from upstairs to downstairs, especially as most water tanks are stored upstairs in airing cupboards and lofts. Rather than having a boiler and water tank near to each other, if you choose to move a boiler downstairs then lots of additional pipework will be needed, floorboards will need to be lifted and furniture likely moved as well.
The cost of moving a boiler from upstairs to downstairs is approximately £950.
What if I'm moving a boiler from downstairs to upstairs?
If you want to move a conventional boiler from downstairs to upstairs, then this may not be possible with gravity-assisted systems. These systems require the water tank to be located above the boiler on a higher level. This can be solved by moving the water tank to the attic but this will add considerably to the cost.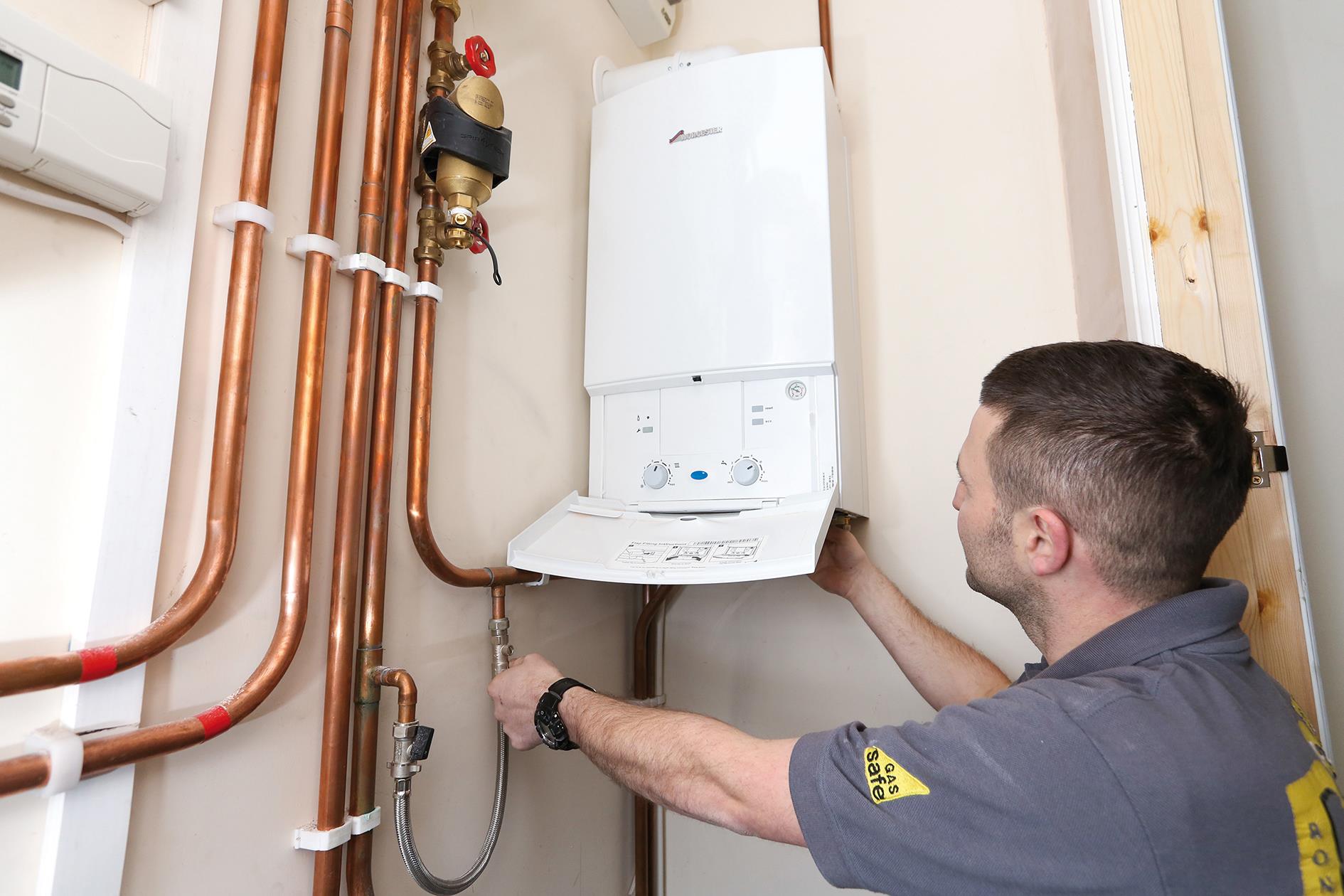 Average cost to move a combi boiler
Combi boilers are the easiest systems to move, especially if you have no water tank. Whether it's a few metres or to an entirely different room, combi boilers are the lowest cost option. You'll still face costs for pipework, installing the flue and making good space, but overall these are the simplest option.
On average, moving a combi boiler costs £500.
Factors affecting the cost to relocate a boiler
We've already established that the type of boiler plays a role in the cost – with standard boilers costing more than combi boilers and the greater the distance the higher the cost, but what else changes the cost?
Making good space is a consideration for the old and new locations. That big hole where your old boiler pipework went outside will need to be filled and new installations are not always totally clean, especially if the location has to be moved mid-installation. Plastering, rendering, skimming and decorating should all be considered.
Depending on the type of floor you have, costs can vary too. If you have concrete or tiled floors then pipework can be run through walls and the ceiling, which adds to labour costs and can increase the cost of materials if the route is less direct. If installing a boiler in the attic you may need scaffolding too.
You can also opt to add additional control such as a new thermostat like Hive. These cost around £100 – £650 depending on whether you install it yourself. This is a relatively small cost for the extra control and improvement in energy efficiency.
Lastly, if you don't have one already be sure to get a carbon monoxide alarm. They cost around £20 and are literal lifesavers.
See the tradespeople we've checked and recommend for your job
Calculate the cost of moving a boiler
To calculate the cost of moving your boiler, you'll need to factor in the type of boiler you're moving, access to its current location and where you want to move it to. The labour cost involved will be higher for a more complex job, such as one that involves installing lots of new pipework to the new boiler location.
Hourly rates for moving a boiler
The average hourly rate for an experienced plumber to move a boiler is around £40 – £60 per hour – depending on the individual plumber, their experience and the complexity of the job. For more about prices, check out our guide to plumber prices.
Quote for moving a boiler
We always recommend obtaining at least three quotes from our trusted plumbers. Our request a quote feature is perfect for getting quotes – you post details about the job you want doing and we'll send it out to local tradespeople in your area. Try it out!
How long does it take to move a boiler?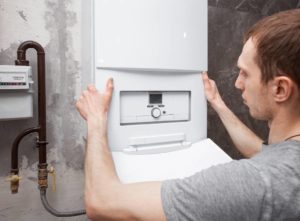 In general, it only takes around 1-2 days to move a boiler depending on how far you are moving it. We recommend this is done in warmer months as these projects can drag over to a second day unexpectedly and this way you won't be without heat when you need it.
How to choose a professional engineer
To find a local, reputable, Gas Safe registered engineer in your area and get a personalised cost to move or replace a boiler, use our free search feature.
Key takeaways for calculating costs to move boilers
Moving a boiler helps improve aesthetics, increase hot water speed and may be necessary for extensions.
Consider if it's more cost-effective in the long run to replace the boiler at the same time.
Depending on how far you're moving it, the costs for pipework, flue extensions and gas connections will increase.
Moving a boiler from upstairs to downstairs costs more than relocating it in the same room.
Average costs of moving combi boilers are lower than standard boilers as they are less reliant on water tanks.
See the tradespeople we've checked and recommend for your job