Planning a new driveway checklist
There are a number of ways to go about improving the appearance and functionality of your driveway. With so many paving materials and styles to choose from there can be a massive variance in price between quotes. Before starting the decision-making process it's vital that you know exactly what to ask to ensure you're receiving like-for-like quotes.

There are a number of ways to go about improving the appearance and functionality of your driveway. With so many paving materials and styles to choose from there can be a massive variance in price between quotes. Before starting the decision-making process it's vital that you know exactly what to ask to ensure you're receiving like-for-like quotes. We have put together a checklist to help as you get the project off the ground.
What is a driveway?
A driveway is a short road leading from a public road to a house, or other building.
How can I choose a driveway installer?
There are many different landscapers to choose from when it comes to a driveway upgrade, each offering different areas of expertise. Most companies will offer a number of options, but you will also find that some landscapers will be more accustomed to working with a particular product or brand. If, for example, you fancy a resin drive, it would be beneficial to choose a landscaper who has plenty of experience laying this material. With thousands of customer reviews on Checkatrade it is easy to find this out.
An increasing number of installers now also offer turfed paving options, which bring all the benefits of hard landscaping products with the visual appeal of lush grass.
What driveway materials/finish am I being quoted for?
Block paving will create a more traditional look, while a resin bound paving solution will offer a more contemporary, practical finish, that is also cost-effective. If you are after natural stone, prices will increase significantly, and it is advisable to use someone who has vast experience in laying the material so you can be confident they will do a good job.
Each option has its own pros and cons, but all represent viable solutions. However, it's essential to clarify what material/finish is being quoted for when weighing up your options. Furthermore, it's worth doing a bit of additional research yourself to understand exactly what you want from your new driveway both in terms of look and function and what finish would work best to achieve your desired objective.
More intricate patterns in the finished drive such as circles or rectangles will not be included in standard quotes so you must specify anything unusual beforehand as it will impact on cost. More and more, hard landscaping professionals pride themselves on their ability to lay all types of patterns, but the process requires extra time and as such, will have cost implications.
What material is right for my driveway?
There are a number of available options when making a decision about the best material to lay on your driveway. It's a difficult call and there's a lot to consider. Remember to assess whether your driveway is on a slope, or if you have a particular style in mind. We've put together a separate blog, which gives more detail about what you should consider when choosing the best material for your driveway. You can find the materials advice blog here.
See the tradespeople we've checked and recommend for your job
How do you prepare the ground for a driveway?
The most important part of any driveway installation is that your ground is properly prepared. Without that, any materials laid on top of it will likely sink. Unfortunately, many companies will only offer cheap block-paving installations, ignoring the importance of the sub-base. This might look good initially, but within a few weeks, things can start to look decidedly worst. Ensure that your quote is inclusive of the necessary sub-base preparation – and ask what bedding layer they intend to use, to endure you are comparing like-for-like.
Will my driveway need drainage?
Local councils are increasingly concerned about drainage, particularly in densely populated areas. New regulations mean that homeowners no longer need to apply for planning permission to pave over a front garden as long as the surface is permeable. Therefore, it's clear that the government is looking to encourage permeable driveway surfaces across the nation. Porous driveway materials include gravel, permeable asphalt or permeable block paving.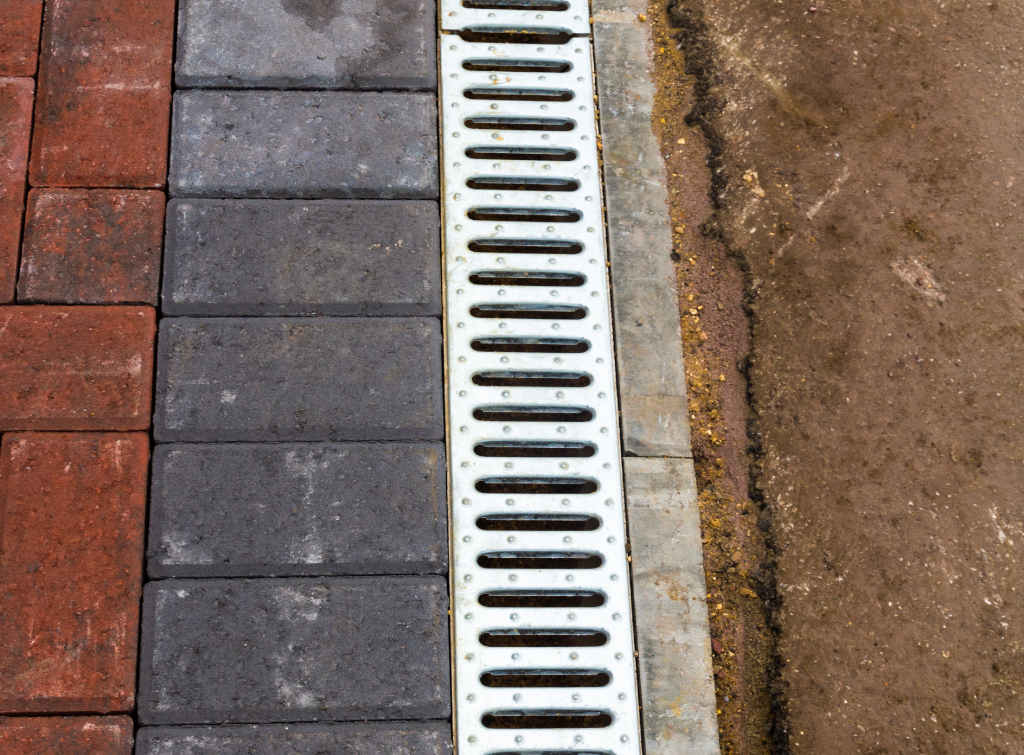 What is SuDS compliant?
A 'SuDS' (Sustainable urban drainage system) compliant surface is any surface in which water is allowed to drain through to natural ground or directed into an installed soakaway or swale. In 2010, the government introduced Sustainable Drainage Systems (SuDS) legislation to help reduce the impact of new and existing developments with respect to surface water drainage discharges. Consequently, any hard surface over 5m2, which resides between the home's front and the public road requires planning permission, unless the surface is SuDS-compliant (it needs to be approved permeable paving).
It may be that you require the paving to be installed with a small gradient (about 1:80) and a drive drain used to collect rainwater and channel it into a nearby drain or watercourse.
Clarify the requirements at the quoting stage, to ensure you are compliant. If permission is required, you will need to go through the planning process first to ensure everything is viable.
How many cars will it fit?
Many driveways will have enough space for two cars, but it is important to weigh up the space you have. A professional will easily see ways to make the most of tighter spaces and will recommend a layout that will suit your requirements, be it easy access for one small car, or fitting two four-wheel drives into a tighter space.
Will I need a dropped kerb?
If you need to create a new access point for vehicles to your home and it involves crossing an existing pavement or footway then you must have a dropped kerb. A dropped kerb allows vehicles to cross the pavement from the road to a driveway but needs planning permission. If homeowners choose to ignore this process and use the kerb regardless, they could be liable to litigation from the local council, or a by a telecoms or energy company.
Do you want to retain some lawn?
Some people will prefer to retain an area of grass at the front entrance, whilst others prefer to have the entire area paved to cut down on garden maintenance. This comes down to personal choice, but it is important you clarify with the installer and are clear on the area size you are looking to pave and what part of the lawn, if any, you may want to keep.
Do you need planning permission for a driveway?
Not all driveway updates require planning permission, but some bigger projects may need sign off from the council before work can begin. For example, a new vehicle access point for your home will likely require planning permission as this involves dropping a kerb outside your home's boundary.
For a dropped kerb, the planning permission process is usually quite straightforward, but it is important to factor in any associated costs. Your landscaper can advise you if they think planning permission will be required. Some firms will manage the process for you at an additional cost, while others prefer that you arrange the necessary permissions before beginning work.
Is VAT included in the quote?
Whilst most larger companies will be VAT registered, some smaller firms won't be. As such, it's advisable to clarify whether or not the VAT has been included in the quote. With VAT currently at 22.5%, this can be a significant unexpected cost if left unaddressed.
There are plenty of ways to update your driveway and even more ways to approach it as a project. We recommend sourcing an average of three quotes as part of your research. By familiarising yourself with the requirements and being clear on the finish and style of driveway you desire you can source quotes that are like-for-like so you can easily evaluate and compare.