Last updated on March 31st, 2022
Laundry room remodel cost
Is your utility room looking tired and drab? Here's the laundry room remodel cost to help you make it look and perform the way you want it to.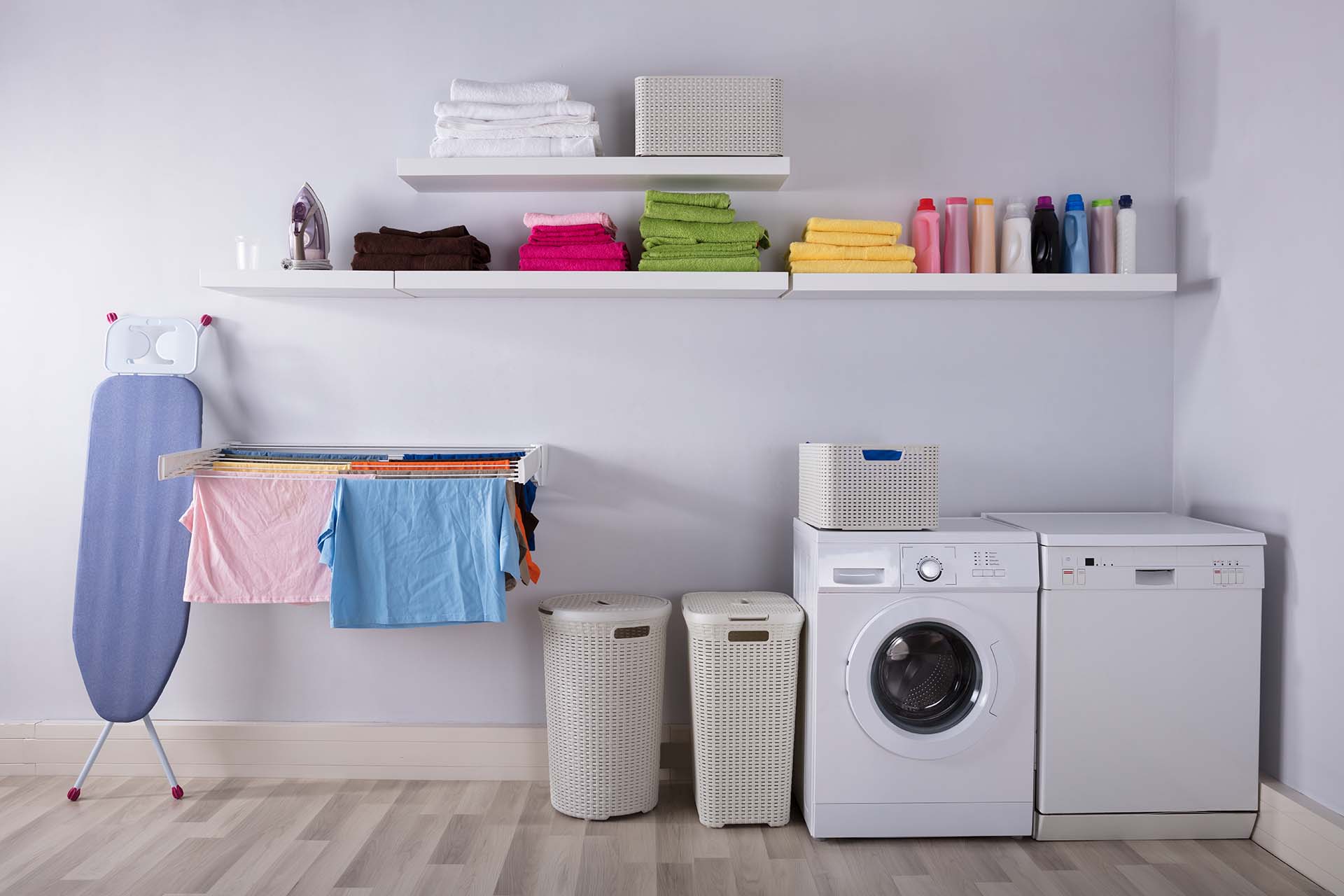 Many homeowners are already converted to the benefits of owning a dedicated laundry room. This separate space to sort and fold laundry and to store piles of ironing can be essential if you have a large family. We have already created a separate utility room cost guide if you want to invest in this home improvement. However, If you already have a utility room but consider it to be a little tired or lacking functionality then we recommend reading this guide to fully explore your available options. We have included all the detail to allow you to calculate a laundry room remodel cost.
With a remodel as opposed to ripping out the whole room you can make significant savings. Expenditure on electrical and plumbing works can be minimal if you keep your layout the same. You may wish to maximise space by investing in stackable appliances and create a modern new look by adding replacement cabinets and new worktops. We recommend carefully considering where you will realise the most benefit in your laundry room remodel. It is likely that maximising every available inch of potential storage will provide the best result and offer the versatility of usage that is at the top of everyone's wishlist
See the tradespeople we've checked and recommend for your job
How much does it cost to redo a utility room?
| Cost provided item | Unit | Range - Low | Range - High | Average cost |
| --- | --- | --- | --- | --- |
| Sink installation cost | Sinks and taps | £120 | £800 | £460 |
| Sink installation cost | Labour charges | £75 | £150 | £112.50 |
| Single plug socket installation cost | Material + labour | £50 | £200 | £125 |
| Double plug socket | Material + labour | £100 | £300 | £200 |
| Custom shelving | Total cost | £1,700 | - | - |
| Plain tiled flooring cost | Per m2 | £20 | £40 | £30 |
| Mosaic/stone/marble tiled flooring cost | Per m2 | - | - | £75 |
| Victorian patterned tiled flooring cost | Per m2 | - | - | £100 |
| New washer/dryer | Per unit | £350 | £1,700 | £1,025 |
If your laundry room consisted of a washing machine and dryer, you may be thinking of installing a sink there as well. You will spend around £120 – £800 on buying a sink and taps. Additionally, factor in an extra  £75 – £150 in labour charges. Installation takes around than 3 – 4 hours so don't forget to include this in your budget.
If space allows including a dryer can bring multiple benefits, less damp clothes hanging out to dry and many of your tumbled clothes will require less ironing, This factor will offer an extra bonus for those that dislike this time-consuming task.
If you want to be able to set up an ironing area in your utility room, whether permanently if space permits, or more likely a temporary station you will need an extra plug socket for it. That could cost between £50 – £200 for a single plug socket or £100 – £300 for a double.
Finally, if you want to need to replace your old washer/dryer or combine both functions into one appliance, you will need to allow from around £350 – £1,700 depending on the power and specifications.
Laundry room shelving
Once your clothes are ironed and folded, you have the option of putting them away in your wardrobe. Alternatively, you could free up space by installing storage shelves in the laundry room. These shelves can also be used to store cleaning and washing products. You can expect to spend around £1,700 for shelves, Check out our custom built-in shelving cost guide. for a more detailed breakdown.
Laundry room flooring
Of course, these are smaller additions to your utility room. The average cost of your laundry room remodel can go up if you want something 'bigger. A floor refurb, for example, costs around £20 – £40 per m2 if you want to tile the floor with plain tiles. You'd pay more for mosaic, stone, or marble tiles (approximately £75 per m2) or Victorian patterned tiles (around £100 per m2).
See the tradespeople we've checked and recommend for your job
Laundry room remodel quotes
Depending on the type of laundry room remodel you want, you'll need quotes from plumbers, electricians, carpenters, and/or tilers.
To make the process easier for you, we offer a 'Request a quote' feature. Enter the type of job you're looking for and get quotes straight from local tradespeople near you. In order to get competitive utility room remodel quotes, we suggest you compare prices from at least three companies before you make a decision. One useful tip to note is that the cost to renovate a laundry room will vary significantly depending on the final finish that you want to achieve. When budgeting, consider what is truly your must-have elements and plan to spend more on higher-quality fittings and types of equipment that will be used on a daily basis. Investing in quality will pay off in the longer term.
FAQs
Are utility rooms worth it?
Utility rooms do add to the perceived value of your property. Also, they can be incredibly useful to have in your home and for buyers looking for a home that they can start or grow their family, they will be seen as a bonus.
Where can I put a laundry room in a small house?
If you don't have a spare room (or a corner that can be converted into a utility room), you could think about adding an extension and using that as your laundry room or adapt other areas of the home, for example, your garage, to include a dedicated laundry space.
See the tradespeople we've checked and recommend for your job