Last updated on July 19th, 2022
Outbuilding cost guide
Outbuildings are becoming more and more popular as home offices, workshops, studios, summerhouses, or as a playhouse for the kids. Whatever the use, here's the cost to build an outbuilding.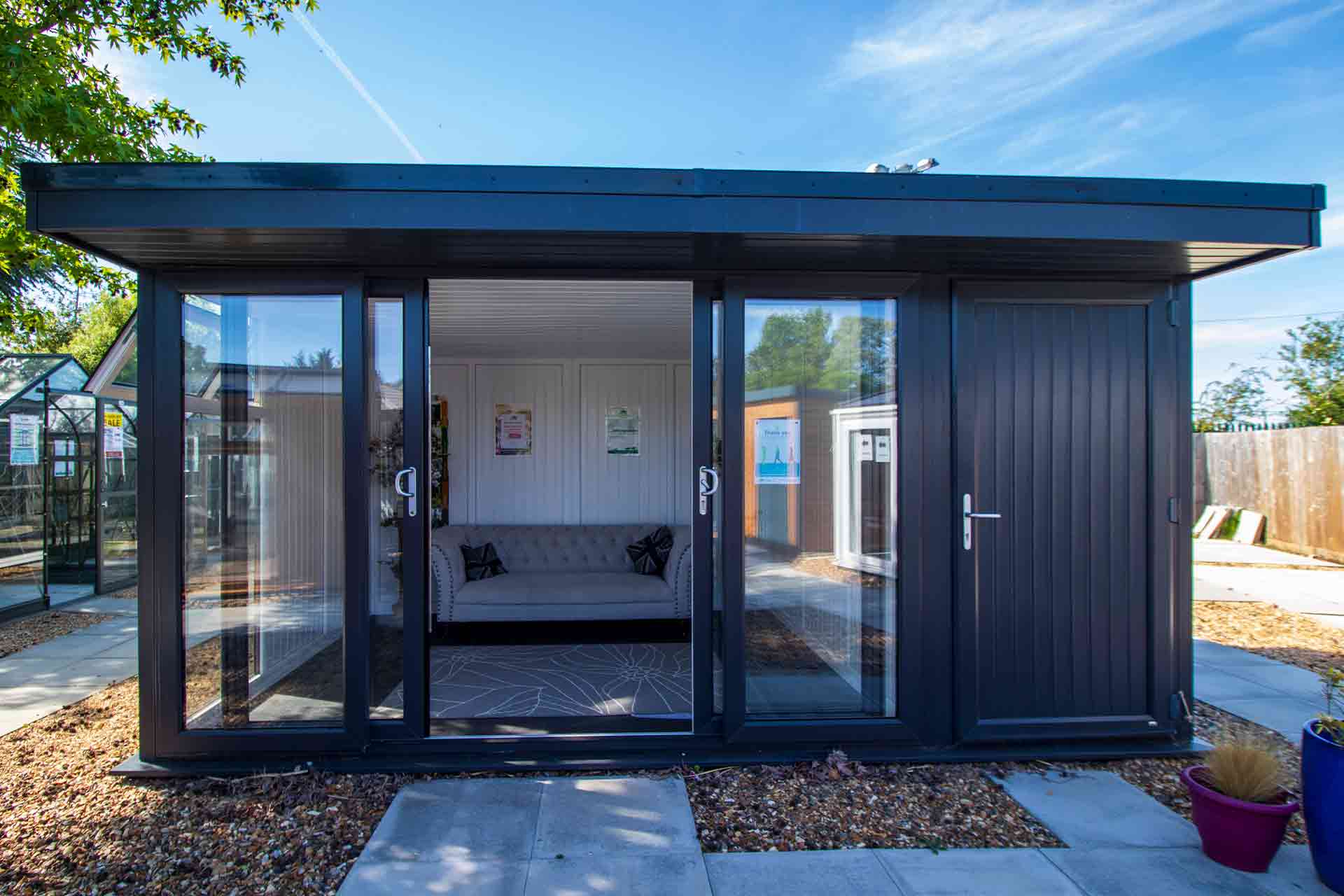 One of the most popular uses of outbuildings is as a garden office, where you can create a dedicated space for work away from the bustle of the house.
In many cases, outbuildings are a great way to add extra usable space to your home for a far lower cost than building an extension.
How much does an outbuilding cost?
| Outbuilding type | Low cost | High cost | Average cost |
| --- | --- | --- | --- |
| Concrete garage (on a new concrete foundation) | £4,200 | £10,000 | £7,100 |
| Small garden office | £6,000 | £9,000 | £7,500 |
| Prefabricated timber summer house | £2,750 | £10,250 | £6,500 |
| Brick-built garage | £17,500 | £26,500 | £22,000 |
The cost varies depending on the type of construction you choose – for example, brick, concrete, timber or a prefabricated structure.
It also depends on the type of roof, doors and windows you choose for your outbuilding. For example, if you want to use the outbuilding as a home office, you'll likely need to insulate and get an electricity connection.
You may also face additional costs if there are issues with the foundation works, such as water or gas mains that are in the way.
Lastly, if there are any difficulties accessing the site, this could add to the overall price of your new outbuilding.
On average, you can expect to pay around £6,500 for a basic timber summer house, all the way through to around £22,000 for a brick-built garage.
Brick outbuilding cost
Unlike other materials such as timber, brick outbuildings can often take longer to build. This can potentially add to the cost.
However, you may want to consider using brick if you'd like a garden office or garage that matches the style of your house. It would be a more permanent feature than a timber summerhouse or shed.
For a simple brick-built garage, you can expect to pay on average around £22,000. This can rise to as much as £26,500 if you want to upgrade the specification with better roof coverings, plumbing for an outdoor tap or other features.
Breeze block shed cost
Breeze blocks are a great option if you're looking to get some of the same advantages of a brick outbuilding but at a fraction of the cost.
You can expect to pay around £100 for just over 50 blocks, which brings the average cost per block to less than £2. You'll also need to factor in around £3 per m2 for mortar.
For the blockwork itself, the typical concrete block shed cost is around £36 per m2. This includes labour and materials but not all the other costs that come with building a shed, such as roofing, doors or windows.
Garden outbuilding cost
A garden outbuilding can be used for a whole range of different purposes. You can create a home office away from the distractions of the house, or use your garden outbuilding as a summerhouse, yoga studio or a workshop where you can indulge a hobby. Another practical use for a garden outbuilding is for storage.
The cost of a garden outbuilding will depend on the construction and roof type, but access may also be a factor.
For example, it could be more expensive if your new outbuilding is located at the bottom of the garden with limited access for the construction crew. There may also be extra costs for connecting your garden outbuilding with services such as electricity and water, plus insulation.
On average, you can expect to pay £7,500 for a small garden office or studio.
FAQs
Do I need planning permission to build an outbuilding?
Many outbuildings fall under the category of 'Permitted Development', which means that you shouldn't need planning permission. However, there are strict criteria to meet. For example, the outbuilding can't be used as accommodation or as a kitchen/bathroom, and it must be under a maximum size and height.
How long does it take to build a new outbuilding?
It depends on the type and construction of your planned outbuilding, but your project should take between 1 and 3 weeks to complete.
Can I build my own outbuilding as a DIY job?
You can take on a DIY build for your outbuilding, especially if using a prefabricated structure, with timber summer houses starting at around £2,750.
However, it can be very labour-intensive and certain aspects – such as the foundations and any work involved with moving drains or connecting services – may require assistance from a skilled and qualified professional.
Find builders your neighbours recommend