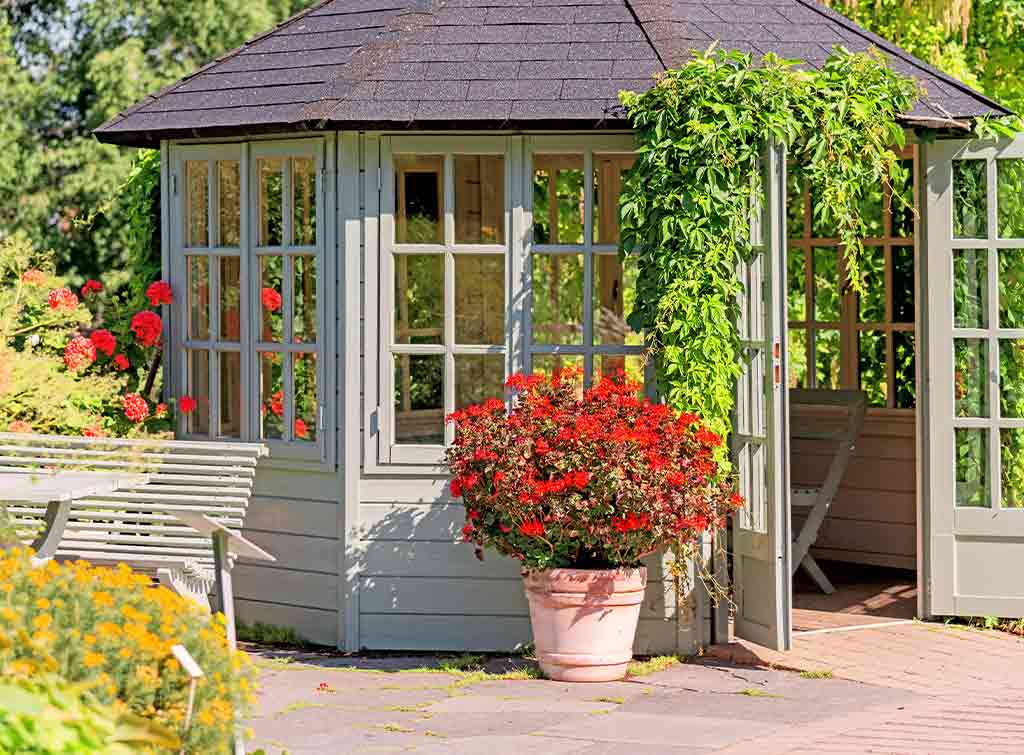 Unlock your garden's potential with our excellent outbuilding ideas. If you have run out of living space and can't afford to move house or build an extension, converting or building a new outbuilding can be a great choice.
You may even suddenly have to take on caring for an elderly relative, in which case a granny annexe could be a fantastic option. To learn more please see our informative granny annexe cost guide.
Alternatively, you may need the space for a new room, like a new office, pool house, summer house or home gym. Whether you are looking for a space to store, entertain, work, study or just for fun, our outbuilding ideas are the perfect solution.
Types of outbuildings
Not to be confused with an outhouse or outdoor toilet, outbuildings offer you the chance to affordably expand your living space.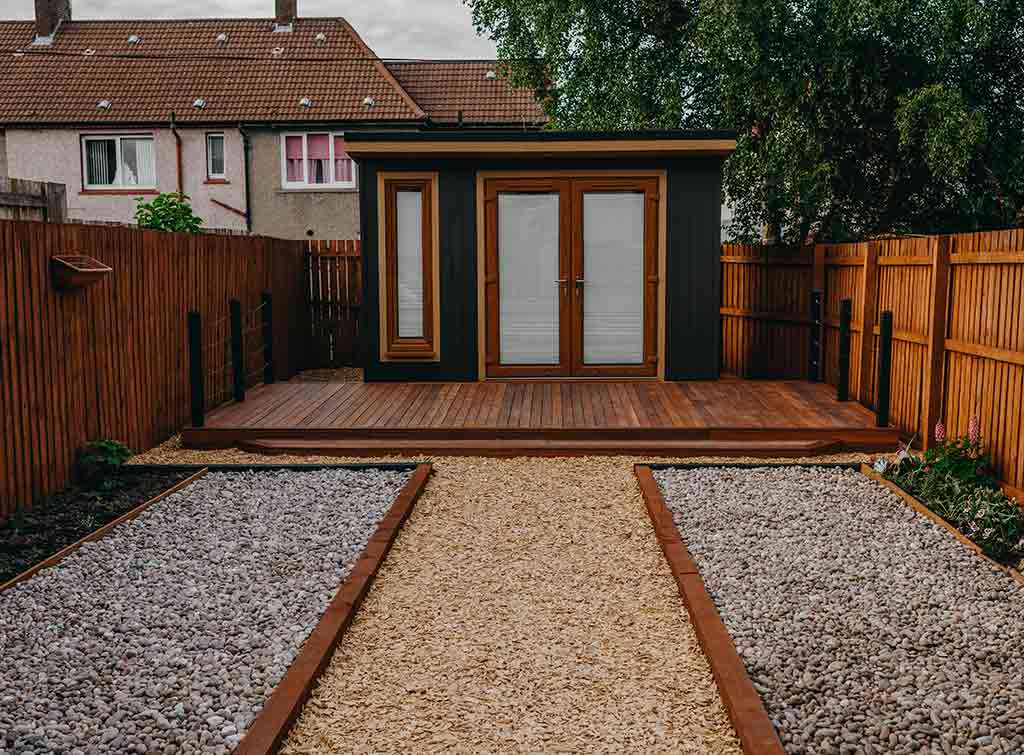 An outbuilding is typically not attached to your home, making it a separate space with endless possibilities.
Below are a few of the different uses for outbuildings, please click to further explore the options:
Important considerations
Before beginning construction or renovations, it is essential you consider legalities and structural issues, including planning permission, damp proofing, foundations, insurance and utilities. All of this information can be found in the above cost guides or our outbuilding cost guide.
Outbuilding design ideas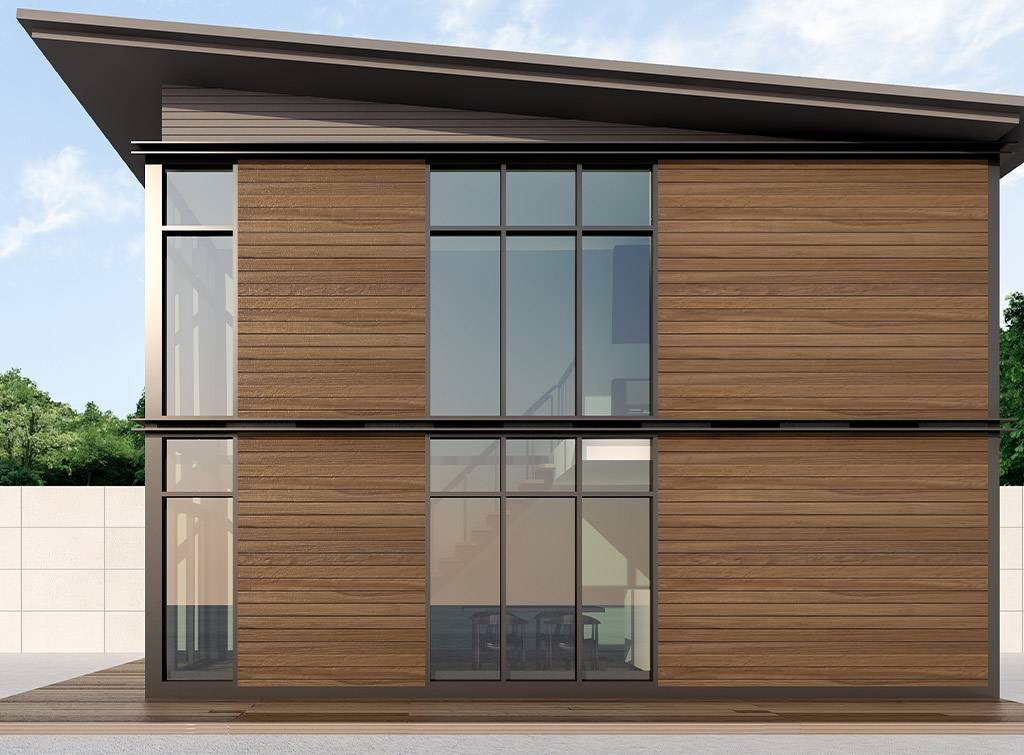 When planning for your perfect outbuilding, the design is an important consideration. The way your new project looks will usually depend on its purpose and the type of structure you start with.
The following outbuilding design ideas are a few of the different options to choose from:
If you are looking for an enclosed structure, a good starting point is a shed or garage.
An office or playroom will work best with a semi-enclosed structure, allowing natural light to flood in.
Open structures make for light and airy outbuildings, great during warmer months. This type of building would be perfect for a pergola or a carport.
For a completely unique outbuilding, why not choose a futuristic garden pod? This circular structure can rotate and offers unobstructed views of your whole garden.
Outbuilding conversion ideas

Most outbuildings can be converted into a functional, liveable area with a few renovations. This is a fantastic option to save garden space, money and the effort of installing a new outbuilding. The following outbuilding conversion ideas are a great way to begin your project:
Insulation: Adding this to a basic outbuilding is essential to provide warmth during colder months, as well as protecting any furniture left inside from leaks and damp throughout the winter.
Utilities: Connecting electricity is a must, however, you also have the option to add gas and water connections. Whether you need these utilities depends on how you plan to use your outbuilding.
Flooring: Consider adding flooring for a more comfortable, aesthetically pleasing outbuilding.
Garden outbuilding ideas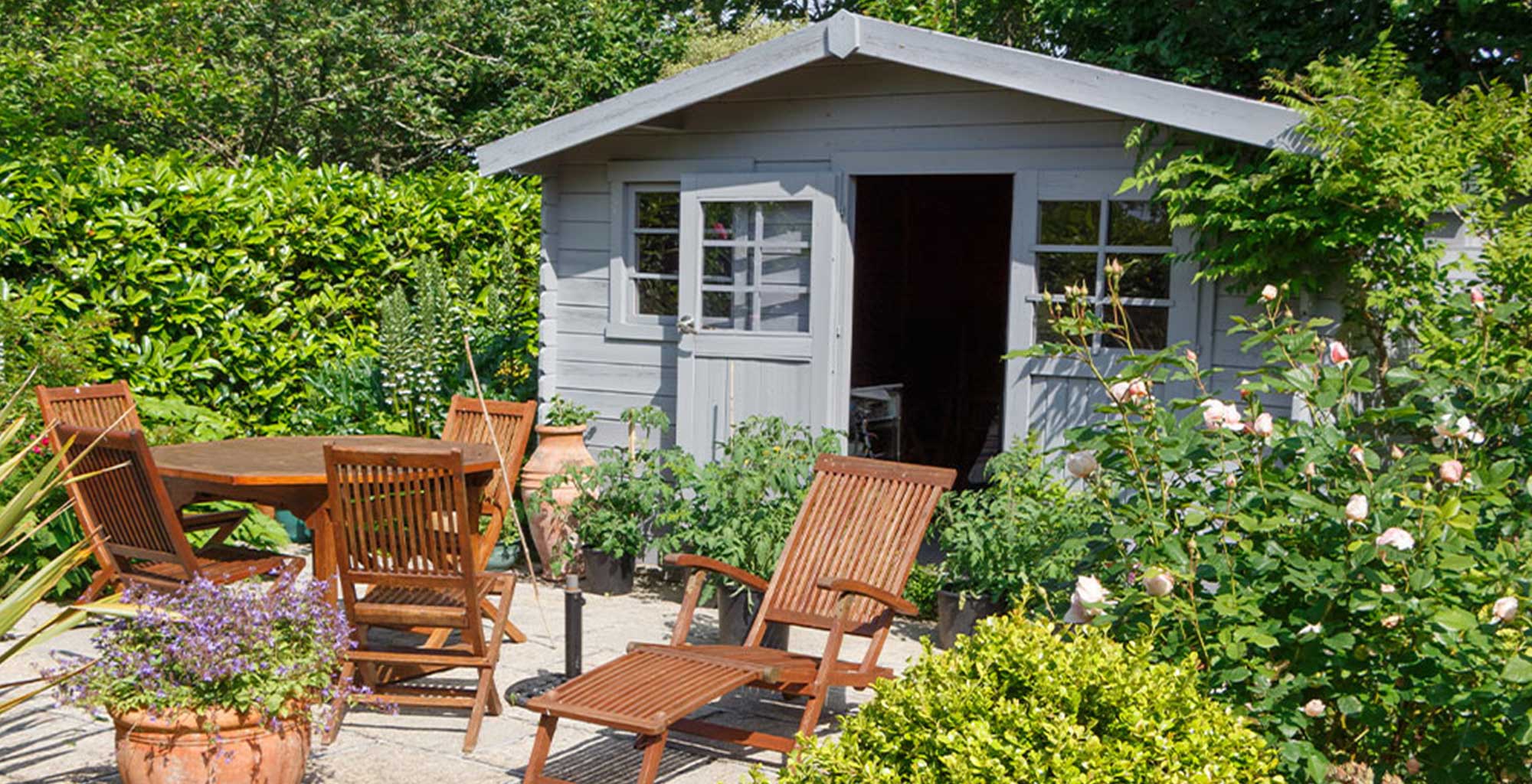 Garden outbuildings such as sheds, summerhouses and kennels can be beautiful focal points for your outside spaces. Stuck for garden outbuilding ideas? Consider the following:
Place an outbuilding further away from your house and install a picturesque, meandering path with solar lights for a magical effect.
Paint your outbuilding a bold colour to add a bright, sunny feeling to your garden.
Consider using detailing to decorate your outbuilding with delicate finishing touches. Alternatively, add a trellis with winding green vines.
Small outbuilding ideas
Sheds, carports and garages can all be converted into practical living spaces. If you already own an outbuilding but feel it is simply too small to convert into a usable room, check out our small outbuilding ideas below:
Choose slimline furniture like a compact desk or shallow cupboards for storage. You can even buy furniture that folds away after use.
Keep clutter tidied away to maximise the size of your new room.
Use mirrors and lighting to create the illusion of space.
Large outbuilding ideas
If alternatively, you are lucky enough to be converting a large outbuilding, the possibilities are endless. Summerhouses can be transformed into offices or gyms, whilst garages can be upgraded into new living rooms. If you have a particularly large space to play with, you could even consider building a granny annexe.
Perfect for teenagers who need more space or elderly relatives you want to keep close, a granny annexe is a self-contained living area. Check out our cost of building a granny annexe guide for more information.
Outbuilding ideas and trends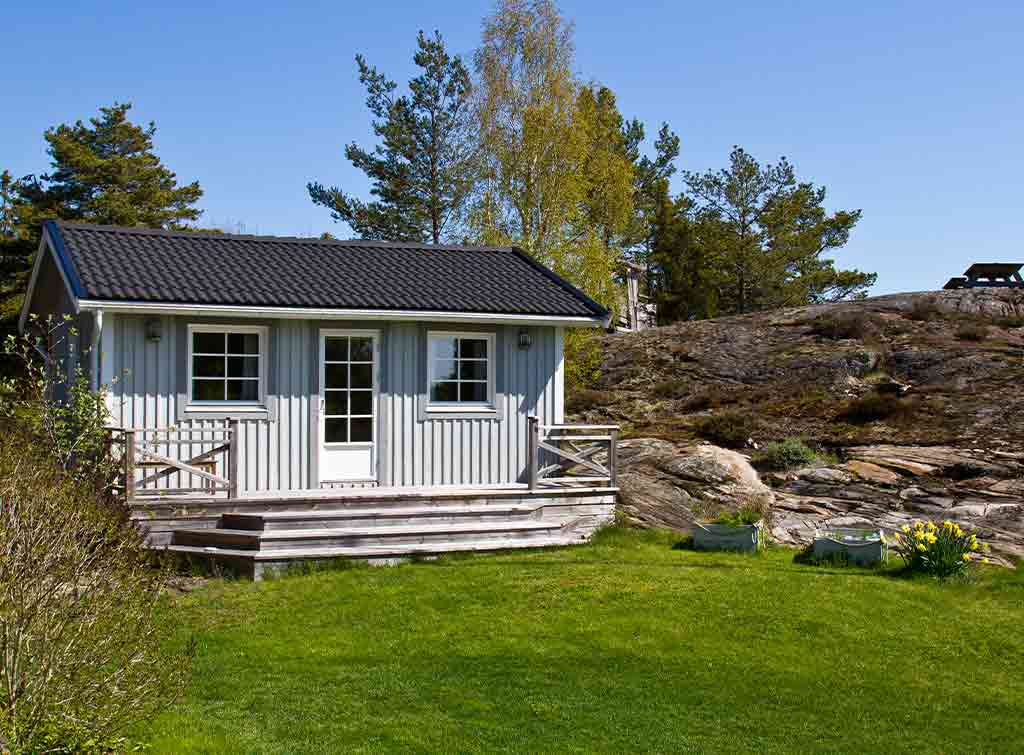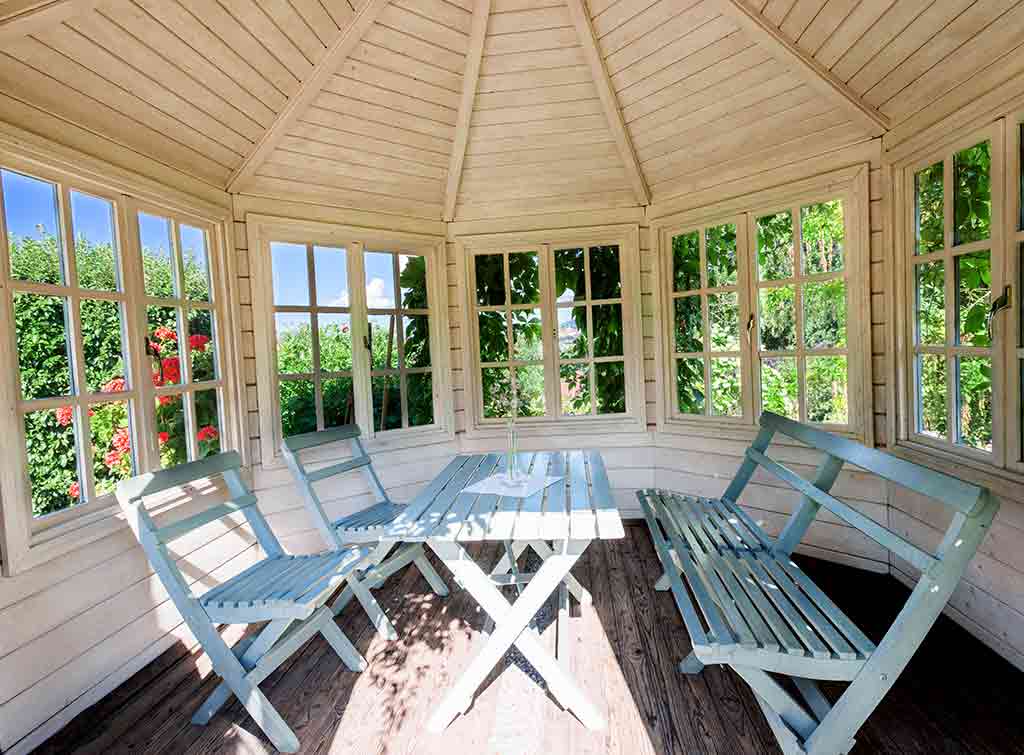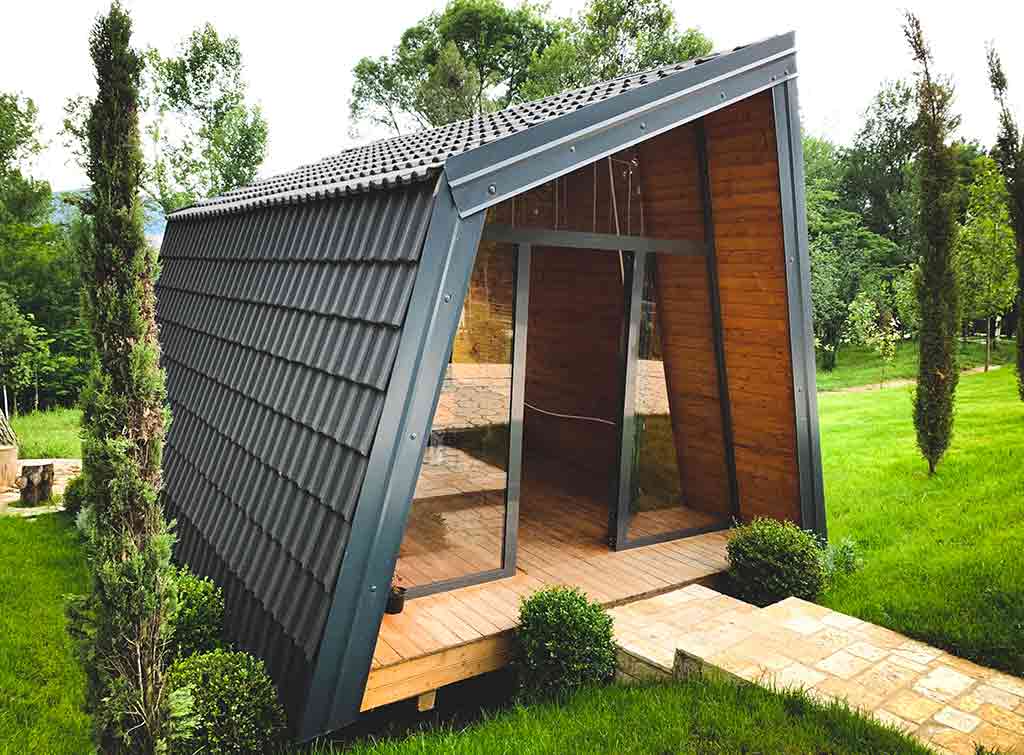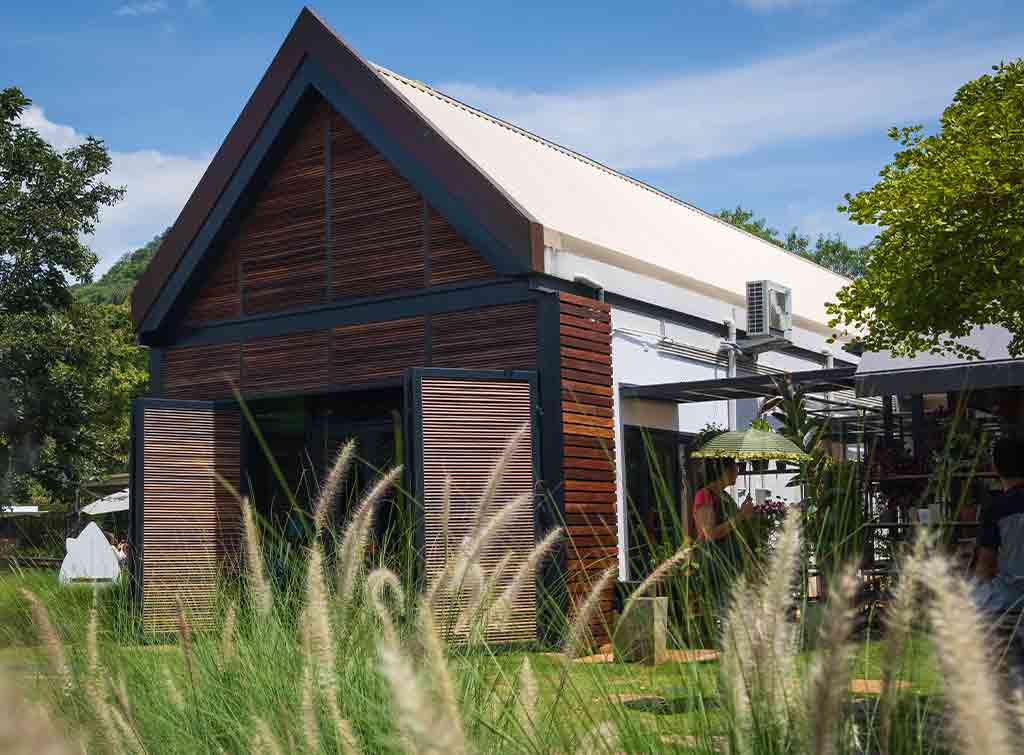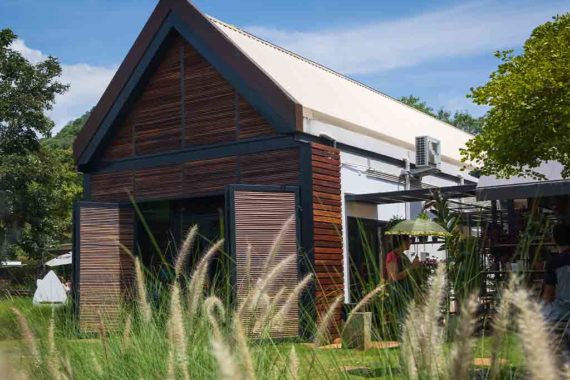 Summerhouse outbuilding conversion
This summerhouse has been beautifully decorated with white panelled walls and a black slate roof. Great for garden parties during chilly evenings, this space is bursting with potential. From an office to a home gym, this summerhouse is the perfect size for endless uses.
The added steps and railings further enhance the stunning aesthetics of this outbuilding.
Gazebo garden outbuilding
While gazebos are generally quite open to the elements, this gazebo benefits from added windows and walls to provide shelter on cold and rainy days. With large windows on every wall, this gazebo offers panoramic garden views.
The light and dark wood used creates a beautiful contrast, with light blue furniture for a pop of colour.
Kennels and animal outbuildings
Not to be forgotten, our furry friends can also benefit from a converted outbuilding. Here a small kennel has been built to offer shelter on wet and windy days. The wood used can be painted, stained or sealed to extend the life of the kennel and if necessary, comfortable flooring can be added, perfect for doggy dreams.
Wooden cabin
This image depicts a stunning, wooden cabin built in a large garden. With excellent protection from the elements and great views through the glass wall, this cabin can be enjoyed year-round.
The black roof and outer walls contrast well with the light wooden flooring and furniture to create a sophisticated, welcoming space.
Large outbuilding idea - Barn
The lucky owners of this incredible barn conversion have truly invested in a functional, beautiful living space. With incredible wood panelling, large swinging doors and a white roof, this barn is a fantastic example of what can be achieved with an outbuilding conversion.
Furthermore, the black detailing really offsets the dark wood, creating a modern, intriguing building.
See the tradespeople we've checked and recommend for your job
Tell us what you think
What others think of this article:
Need More Information?
Related posts