Last updated on May 14th, 2023
Rat exterminator cost guide
To give you an idea of average UK pest control costs for getting rid of rats, we've put together a rat exterminator cost guide complete with pointers on how to know whether you have rats or mice.
Hiring Advice
Practical measures for preventing scams and choosing reputable trades
A rat infestation on your premises can lead to costly structural and cosmetic damage, while also being unhygienic and dangerous. If you suspect an infestation or have evidence of one, it's important to deal with the issue quickly to prevent further damage.
Although mice are a more common sight in UK homes, rat infestations are becoming an increasingly familiar problem. The process for rat extermination is straightforward, and typically only requires two visits to your site.
If you have an infestation of any other type of pest, then take a look at our pest control cost guide which outlines relevant prices.
How much does it cost to get rid of rats?
| Cost provided item | Unit | Price range - Low | Price range - High | Average UK cost |
| --- | --- | --- | --- | --- |
| Pest control specialist | Per day | £200 | £260 | £230 |
| Rat/mouse removal | Two visits | £120 | £240 | £180 |
The typical rat removal process involves a mixture of bait boxes, traps, and rodenticide. This three-pronged approach is usually split up over two site visits: During the first visit, the exterminator inspects the site and lays the traps or bait stations.
The second visit is for clearing the traps. Next, you should look to remove the mice – read on to find out how you can work out rat and mice exterminator costs.
The cost of rat extermination is usually between £120 – £240, with the average quote around £180. The success rate of a trained exterminator is incredibly high, and plenty of tradespeople offer an initial consultation and aftercare visits free of charge.
Mouse exterminator costs are usually the same as those for removing rats.
See the tradespeople we've checked and recommend for your job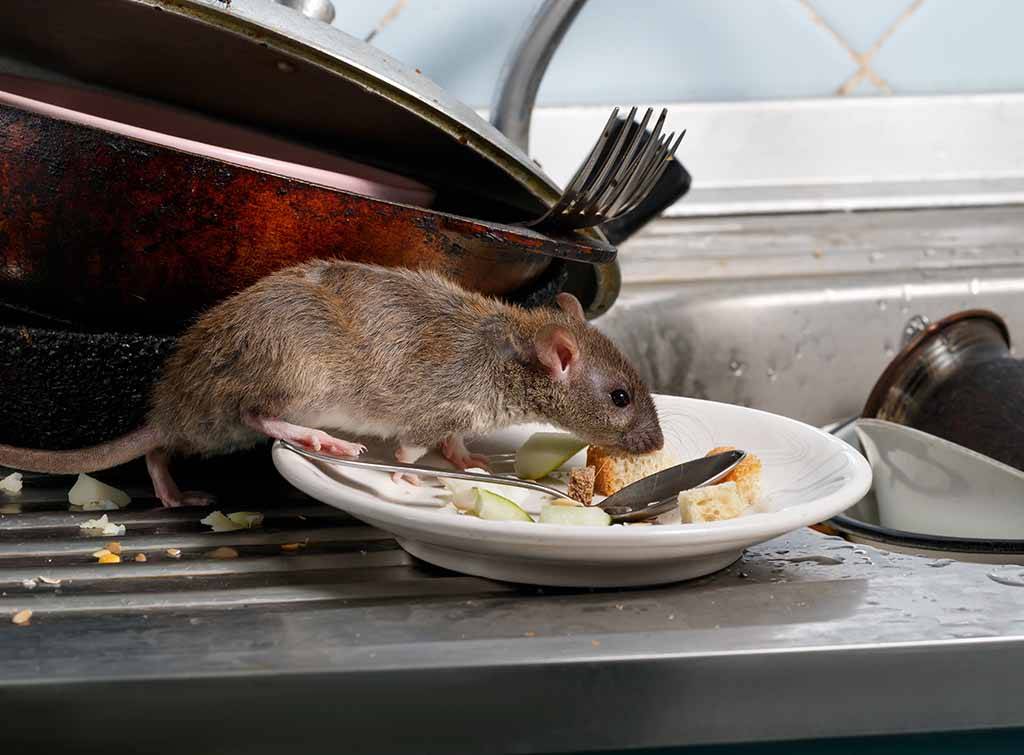 Factors affecting the cost of rat removal
When looking into rat exterminator prices, you should consider that there are a few factors that may increase the cost. If you have a larger than normal infestation that requires multiple visits, the cost of the extermination will rise.
If you require rats to be removed from your attic or other hard to reach spaces, your exterminator may be required to use specialist equipment to complete the task, and this will add to your rat removal costs.
How long does it take to remove rats?
The removal of rats from a property takes place in two stages. Initially, a pest control professional will visit your property and scope the infestation. They will also devise a strategy for removing the rats. During the second stage, your site will undergo treatment, and this can take anywhere between 1-3 hours.
How to know if you have rats
If you suspect that you have an infestation but have not seen any rats on your property, there are a few key indicators that you may require a rat exterminator. Rat droppings are a common visible sign of an infestation. This may be typically accompanied by a growing smell of urine. Other tell-tale signs of a rat infestation include scratchings, footprints or gnaw marks on wooden surfaces.
We have another guide you can read if you would like to know more about how to identify rats in your home, including how many there may be.
Problems caused by rats and mice
Rats and mice are typically destructive pests and can wreak havoc on furniture, attics, and your electrics. If you have an infestation in your attic or walls, your property could be prone to dangerous electrical faults and blackouts.
The health risks associated with an infestation justify the associated rat exterminator prices. Rats and mice can carry various serious diseases such as leptospirosis, salmonella, listeria and hantavirus. These can spread to humans via rat urine, faeces, or airborne particles. Rat bites and scratches can be dangerous to children and adults as well.
If you have been injured from a rat infestation or know someone who has been, you should contact a medical professional immediately.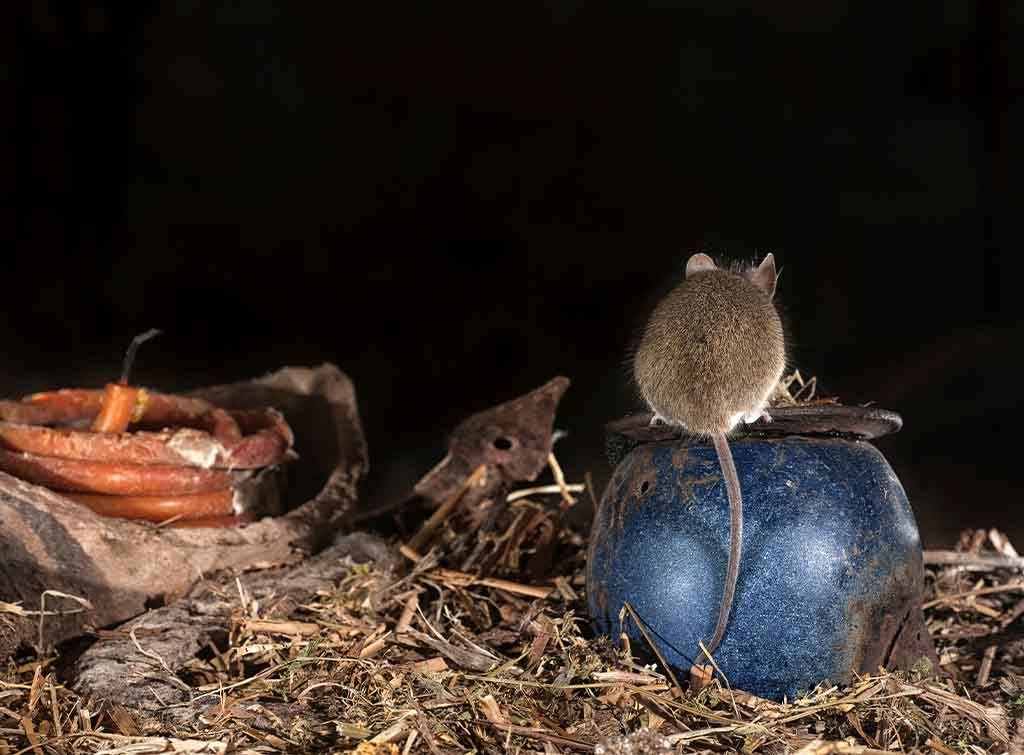 Common rat control methods
The most common methods for rat removal are conventional spring traps. In more severe cases rodenticide may be required. Using traps is the most dependable option if you want to keep your rat exterminator costs down, but can be ineffective for large infestations.
Rodenticide is a poison that is typically placed as bait, and after being ingested causes expiration. If you have rodenticide on your property, do ensure you keep your pets and small children out of reach of the poisonous bait.
See the tradespeople we've checked and recommend for your job
Can I get rid of rats myself?
Rats are stubborn pests and require an experienced hand to ensure successful removal. Specialist equipment and poison are required, and it is not advised for the inexperienced to attempt an infestation extermination.
Rat removal cost calculator
To calculate the cost of rat extermination, you'll need to factor in the size of the rat infestation and the location, e.g. attic vs garden – each of these will impact the cost. Then you need to add the labour cost. To get accurate prices, speak to local rat exterminator and ask for a breakdown of costs for the various options available.
Rat exterminator quotes
We always recommend obtaining at least three quotes from our trusted tradespeople. Our request a quote feature is perfect for getting quotes – you post details about the job you want doing and we'll send it out to local tradespeople in your area.
Rat exterminator hourly rates
Hourly rates are uncommon in this industry, with the average day rate for a pest control specialist being around £230.
Rat removal checklist
The average rat or mice exterminator cost is £180 per site.
Rats and mice are very destructive pests and should be dealt with as soon as an infestation is discovered.
Rats and mice infestations can be a significant health and hygiene risk.
Signs you have an infestation include rat droppings, gnaw marks on furniture and a strong smell of urine.
Rat infestations should be dealt with by a professional to ensure the extermination is completed successfully in the first instance.
See the tradespeople we've checked and recommend for your job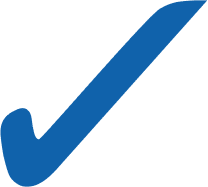 The tick you can trust
8/10 homeowners would choose a tradesperson endorsed by Checkatrade over one who isn't*
Claims are sourced from a survey conducted by Deep Blue Thinking on a nationally representative UK sample in November 2021. *8 out of 10 people would choose a trade endorsed by Checkatrade compared to one that isn't endorsed.
Claims are sourced from a survey conducted by Deep Blue Thinking on a nationally representative UK sample in November 2021. *8 out of 10 people would choose a trade endorsed by Checkatrade compared to one that isn't endorsed.