In this guide we look at the average uPVC door repair cost and how much it will cost to make your existing door as good as new.
uPVC doors are a popular choice in the UK, thanks to the fact that they tend to be durable, energy efficient and affordable. Despite being durable, however, they can get damaged due to heavy use, vandalism or accidental damage.
How much does uPVC door repair cost?
The price of repairing your uPVC door will depend on a number of factors, including the type and extent of the damage, the quality of the door itself, and the urgency/timing of the repair.
The cost of hiring a professional tradesperson to repair your door can vary greatly depending on the problem, from around £42 to repair a door hinge up to £305 to repair a full glass door using toughened glass.
Price of door repair vs replacement
In this guide we talk about the various costs of door repairs, but it is first worth establishing how bad the damage is. If your door has severe or complex damage then it may need (or be cheaper) to be replaced.
Get quotes for the repair work and compare them with the cost of a brand new door to help you decide which is the best option for you
| uPVC door repair costs | Materials | Labour | Total |
| --- | --- | --- | --- |
| Door handle | £40 | £75 | £115 |
| Door seal (5m) | £14 | £30 | £44 |
| Door hinge | £12 | £30 | £42 |
| Painting external door | £40 | £225 | £265 |
| Door frame | £155 | £90 | £245 |
| Double glazed door units | £85 | £90 | £175 |
| Repair a screen door | - | - | £300 |
| Half glass door (toughened glass) | £100 | £90 | £190 |
| Full glass door (toughened glass) | £215 | £90 | £305 |
Common types of door repair
The most common issues homeowners have with their uPVC include:
Door alignment
Failed double glazing
Faulty door locks
Broken and worn hinges
Damaged handles
Broken or poorly insulated glass
Worn or missing seals
Scratched or dented door panels
What factors affect door repair costs?
There are a variety of factors that will impact the price you pay to repair your uPVC door, including:
Scope of the repairs – the extent of the damage that needs fixing will affect the cost
How long the job takes – more extensive work will take longer and incur additional labour costs
Materials required – prices will vary depending on the quantity and quality of materials needed
Emergency or out of hours – you'll pay a premium for a door repair specialist to visit out of hours or within a short timeframe
Find a door repair expert near you
What does uPVC door repair cover?
There is no one standard door repair. The work required will depend on the type and extent of the damage to your door. The most common services offered by your local door experts will generally include:
Replacing door handles, seals, hinges – one of the most common issues and most straightforward to fix
Painting the door – most damage repairs will need a lick of paint to finish the job
Repairing door frame – this involves removing the door, replacing the frame and re-hanging the door
Replacing the full door – heavily damaged doors may need to replaced completely
Front door repair cost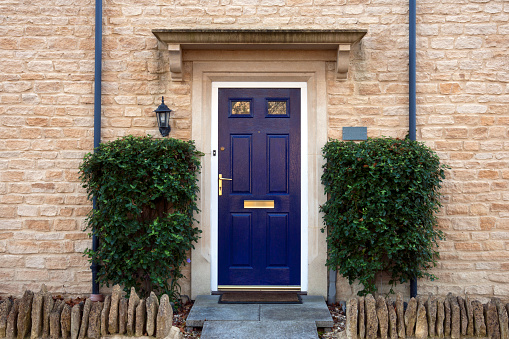 Your front door provides an important feature as the entryway to your home. Therefore, you want to make sure it's in the best condition possible.
From wooden panels or plain uPVC, to glass accents and doors with decorative windows, there are a whole variety of front doors out there.
The cost to repair your front door depends on the type and quality of the door itself, as well as the type of damage. Among the most popular front door issues are:
Rusty hinges – these can often be fixed with a can of WD-40 (£3)
Split wooden panel – for a DIY job use wood filler or PVA wood glue for varnish and natural finishes (£5-£20)
Loose frame – often caused by loose fittings that can be remedied with a pack of door frame plugs and screws (£5)
Alternatively, if you're not a DIY enthusiast or the damage is more extensive you can hire a professional door repair expert for £130-200 per day.
Find a door repair expert near you
Screen door repair cost
A damaged screen door can be extremely annoying, especially in the warmer months.
The cost to repair your screen door will depend on the material, quality, size and location of the door.
The total cost can vary greatly (from £70 to £600), but on average you can expect to pay around £300.
Glass door repair cost
If you have to repair a glass door you can expect the cost to be in the region of £190 for a half door, or £305 for a full door – in both cases these would be door repairs using toughened glass.
Additional costs to consider
As well as your door and door accessories (handles, hinges, locks), there are other repairs that you may need to consider.  Other common door-related repairs include external lights, the doorbell and the front door canopy. Each of these repairs will have their own costs, so it's worth speaking to your local door experts for costs and professional advice.
Can I repair my uPVC door myself?
If the damage is fairly light, you may be able to keep the costs down and repair it yourself with a home door repair kit.
For example, a small hole in your door can be fixed using a filler or adhesive that is specifically designed to be used for uPVC door repairs. Just make sure you always follow the manufacturer's instructions.
For any heavy or complex damage to your uPVC door, we would recommend hiring a professional to carry out the work. The cost of the door repair will give you peace of mind that your door is safe, secure and in good working order.
Find a door repair expert near you
Useful door repair checklist
Identify the type of door you have and the extent of the damage
Take photos of the damage and speak with a local door repair specialist expert for professional advice
If using a DIY door repair kit, always follow the manufacturer's instructions
When hiring a professional door repair expert, shop around for quotes to get competitive prices
Always hire a tradesperson with proven door repair experience and who meets all licensing, certification, and training requirements to install/repair front doors
Choose the best quality materials you can afford (saving a little money now could cost you more in the future)
Tell us what you think
What others think of this cost guide:
Need More Information?
Related posts