Deck vs patio: Which is better?
Explore our full guide to decks vs patios, including the differences between the two, the pros and cons and average costs. Find out which is better.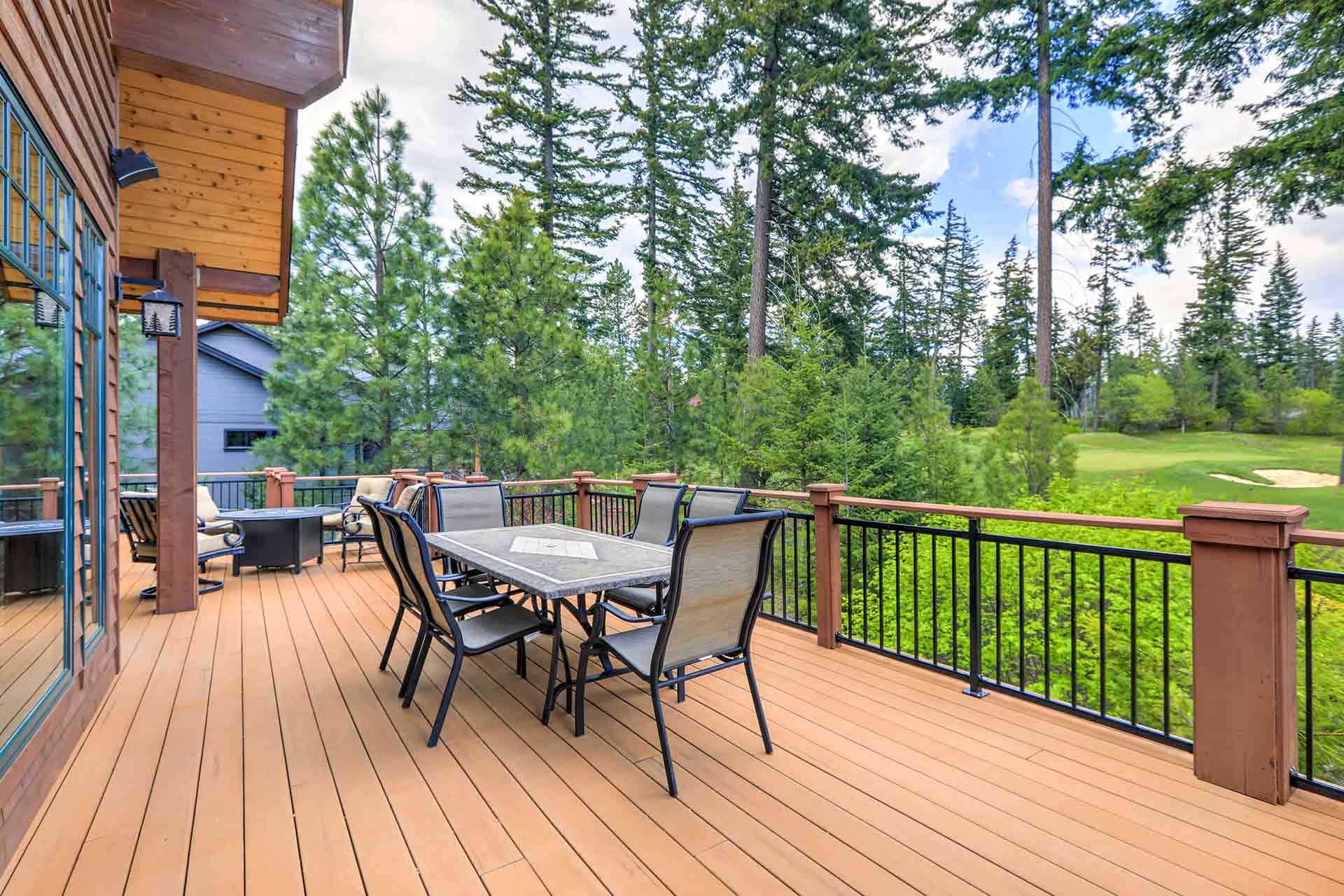 It's no secret that modern day living can be stressful at times and what better way is there to relax after a long day than sitting in the garden. One of the best ways to enjoy your garden is to design different areas. Perhaps one area for growing fruit and veg, another area for wildflowers and another area to sit, chill and entertain. But what's the best for this area? You may be weighing up if you'd like decking or a patio.
Read on to find out if decking or a patio is better suited for you as we look at the pros and cons of each, as well as average costs.
Deck vs patio – which is better?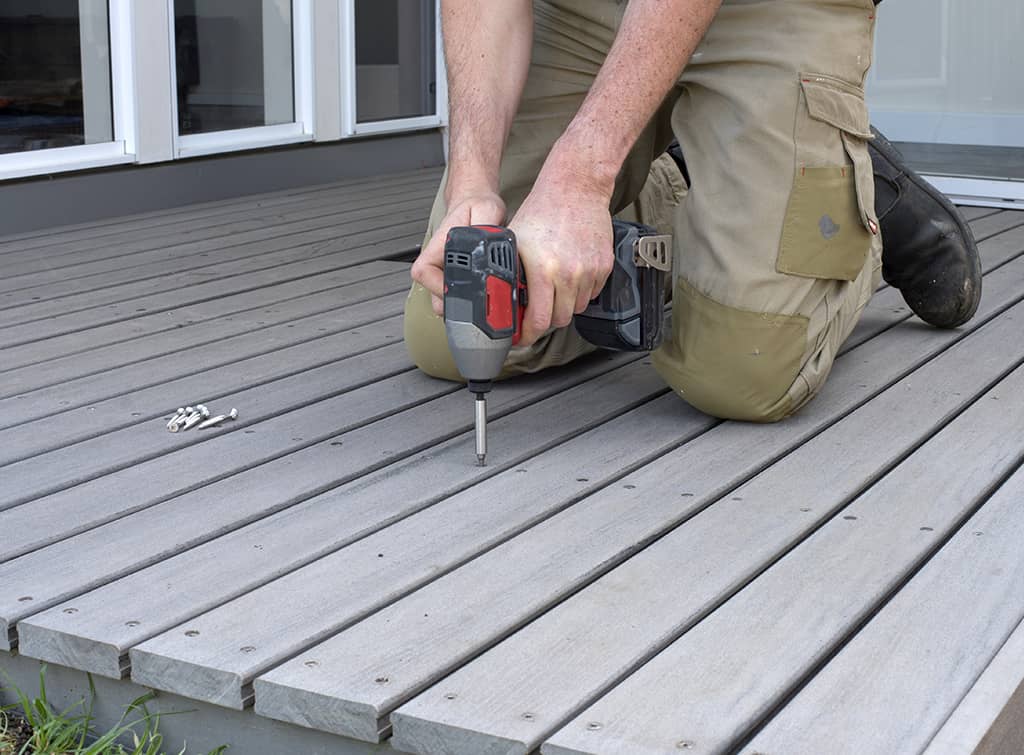 Firstly, let's look at the differences between decks and patios. Usually, a deck is made using some kind of timber or composite wood materials. They can be attached to your home but aren't always, and they can also be raised if your garden is on uneven ground, to create a flat surface.
Patios on the other hand are often made from stone, paving slabs or concrete and will need to be built on even ground.
Whether you choose a patio or deck you can look forward to a space where you can entertain, relax, or socialise, making your garden a more functional and beautiful outside space. You could consider adding a dining table, a barbeque, a pergola, or even a hot tub to further enhance your deck or patio.
Pros and cons of patio vs decking
When it comes to choosing between a patio or decking, there are many advantages and disadvantages of each option. From maintenance to appearance and practicality, these two surfaces will be better suited to totally different outdoor spaces. As such, it can help to compare them side by side before making any decisions.
Below we've summarised the main benefits of patios and decking:
Maintenance: Decking is definitely more difficult to maintain than patios as it's made from wood that needs to be kept clean and sealed regularly. Patios need little maintenance and using a power washer every few years can keep them looking their best.
Cost: Decking is generally more expensive than patios, so if you're on a budget, a patio may be the better option.
Garden slope: If your garden is on a slope, it's entirely possible to build a raised deck overlooking the rest of your outside space. This creates a flat surface for your garden furniture. Patios need to be laid on an even surface so aren't usually the best choice for sloped gardens, although it's possible to install a raised patio which will be costly and time-consuming.
Lifespan: Patios are quite hardy and can last for many years if properly cared for. Although, it's worth noting, that they can develop cracks if not properly installed. While decks can also last a long time with regular maintenance, they are vulnerable to poor weather.
See the tradespeople we've checked and recommend for your job
Raised patio vs deck
If your garden is on a slope, you may consider building a raised patio instead of a deck. This means you can still have all the benefits of a patio including easy maintenance and durability. Wooden decks are beautiful but can stand out, whilst a patio will blend more effectively with your garden.
Another benefit of installing a raised patio instead of a deck is that you can completely customise its shape. Decking comes in boards that are long and rectangular, but with patios, stone, concrete and paving are available in any shape you choose.
Finally, raised patios are solid with no open space underneath like many raised decks. As such you won't get any unwanted visitors living underneath.
Concrete patio vs wood deck
When comparing concrete patios to wooden decks, the best option for your home really depends on your requirements. For example, if you want a low maintenance, durable outside space, concrete is the better option, however, if you'd prefer a stunning, warm feel to your garden, wood is the winner.
There are of course other factors to consider like cost. Generally, concrete is much cheaper to buy than wood, although you may save on labour times if using decking boards that easily click together. What's more, if your garden is uneven, wood decking is the perfect way to build a flat surface for relaxing.
What is cheaper, a wood deck or concrete patio?
We've covered a range of different points in this article but you may be wondering if a deck or patio is cheaper. Usually, patios will be cheaper to build but will often require extensive labour to make the ground flat and even for building.
It's also worth considering resale value. A deck adds more value to your home when you come to sell it so it may be the better investment.
Head on over to our patio vs deck cost guide for more on the costs on both jobs.
Professional deck vs patio installation
Once you decide whether you'd rather install a patio or deck, you need to choose how you want this to be done. You could go the DIY route, but be aware this is not an easy job. It'll be time-consuming, arduous, and possibly confusing, unless you have experience or training. Add to this the risk of mistakes that could cause damage and injuries, and hiring an expert looks more and more like the best option.
If you do choose to work with a tradesperson to build your ideal patio or decking, our free search feature will majorly reduce the time and stress of looking for the right expert. Just input your postcode to find tons of experts all in one place. Our trusted professionals each have their own profile page if you want to do a little research before choosing the best one for your project.
Alternatively, you could check out the HomeOwners Alliance website where you'll find tips on hiring the right expert as well as a number of home improvement guides.
Deck vs patio cost
As we mentioned previously, patios are generally cheaper to build than decks but this isn't always the case. It may assist you when budgeting for your new garden renovation to know some of the average deck and patio costs.
Below are the links to our guides on patio and deck costs with a wide range of prices as well as factors to consider:
Which trade should you use for the job?
If you're looking to have a patio or deck installed, you'll need to choose the tradesperson most suited to the job. Most general builders will be able to build a basic deck or patio, but for more complex jobs we would recommend hiring a garden landscaper.