Stylish alternatives to using carpet on stairs
Whether you're looking for a DIY revamp project, or if you're building your own staircase from scratch, here's our round-up of carpet alternatives for your staircase.
Unless you live in an Italian Palazzo or an English stately home, chances are that like most people, your staircase will be covered with carpet. Whether you're looking for a DIY revamp project, or if you're building your own staircase from scratch, here's our round-up of alternatives to using carpet on stairs.
The main piece of your staircase is the area you tread on, known unsurprisingly as the tread. The edge of the tread that faces forward is called the nosing and the upright piece that joins the tread to the next step is called the riser. Now we've got our stair anatomy covered, let's talk about the different ways you can play with decor and discover carpet alternatives.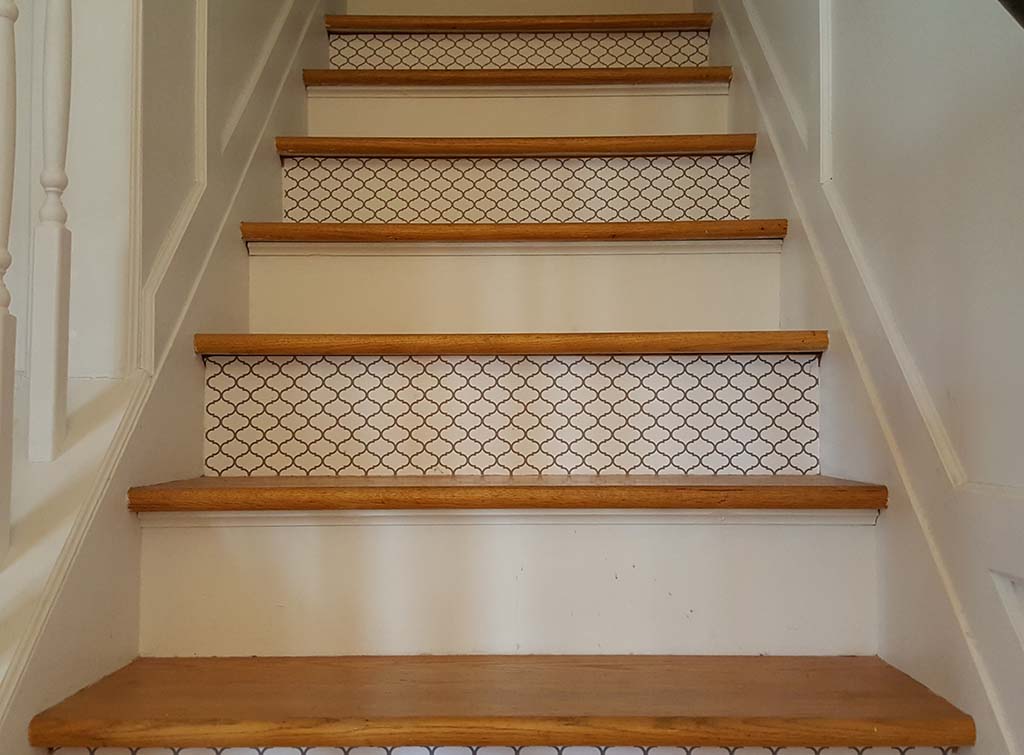 Wood stairs
If carpet isn't your thing, then why not go for the natural look and strip it back for a bare wood look. It doesn't have to be boring or plain. Jazz it up with a wood stain and pick a shade that goes from barely-there natural to white and wood stairs to a deep dark black varnish. You could even make it really personal with some decorative engraved patterns or motifs.
Wooden stairs are a classic look but with the right colour, wood options can make any space look airy and modern and are a great alternative to carpet. With so many different wood varieties, you can choose an option that suits your design aesthetic and is naturally durable and simple to look after.
Leather stair treads
Yes – you can use leather as an alternative to carpet on your staircase! Now you might be thinking that leather is a bit of an odd choice. It is rather extravagant but it is actually very practical. Leather is a natural material that is resilient and very hardwearing, as well as non-slip. If you're worried about upkeep, then the good news is that leather flooring requires the same maintenance as a hardwood floor.
There are a few different ways to incorporate leather as an alternative to carpet on your stairs. Option one is to wrap the entire stair tread in leather – this is definitely a luxury option. Option two is to use a leather panel as an in-lay in the stair tread and option three is to use leather on the riser section of the stair. Leather can be dyed in so many different colours, and with stitching and embossing options as additional details, leather is an incredibly versatile, if not luxury alternative to carpet on your stairs. It would certainly get the neighbours talking!
Cork stair treads
Cork is made from the bark of oak trees which naturally regenerates, so it is an environmentally friendly option as an alternative to carpet or hardwood floors. It is so versatile and can be installed in all areas of the house for practical or decorative uses. It is naturally soft underfoot but also durable and very low maintenance, as well as economical on price.
See the tradespeople we've checked and recommend for your job
Tiled or mosaic stairs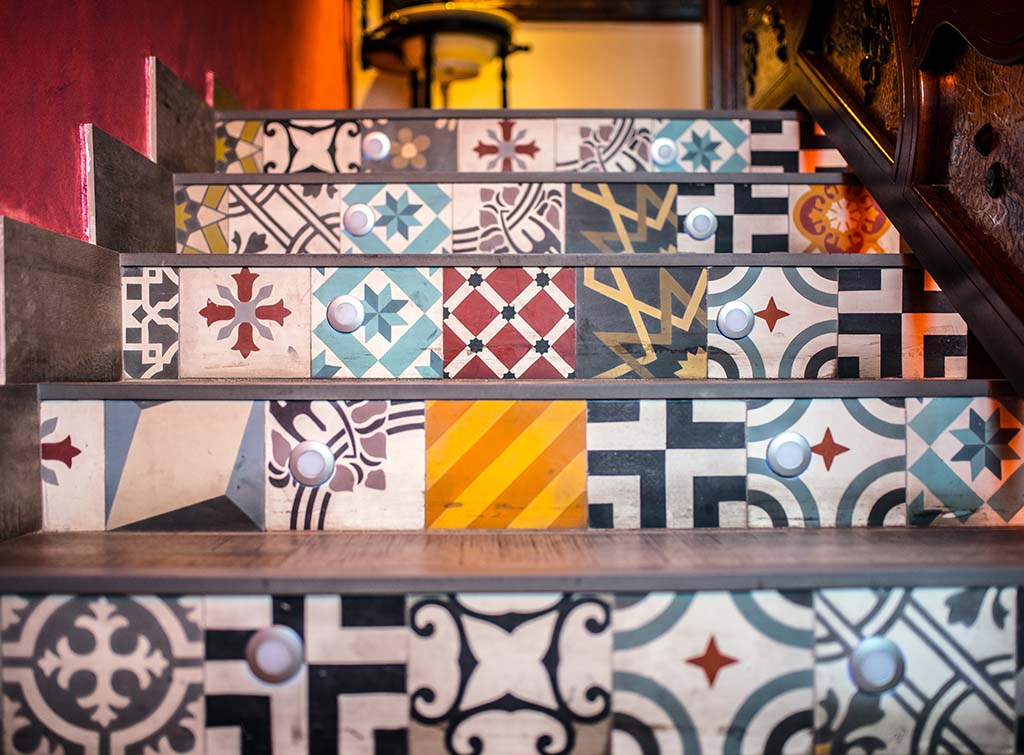 Think of a hacienda or a villa in the rolling countryside. A tiled or mosaic staircase can add a pop of colour and bring those holiday vibes into your home. There are so many tile designs to choose from, or you could even create your own design with a family mosaic.
Using tiles as an alternative to carpet means you can really let your individuality shine in your home. Whether you like a modern look with sleek white subway tiles or an eclectic boho feel, a tiled staircase is definitely the option for you if you want to showcase your design flair.
Tiles are more prone to damage and will require more maintenance and care than the other options listed. In comparison to carpet, tiles are also a heavier material. Your staircase treads and risers will also need to be in good condition and be flat and straight to work well with tiles.
Luxury stair designs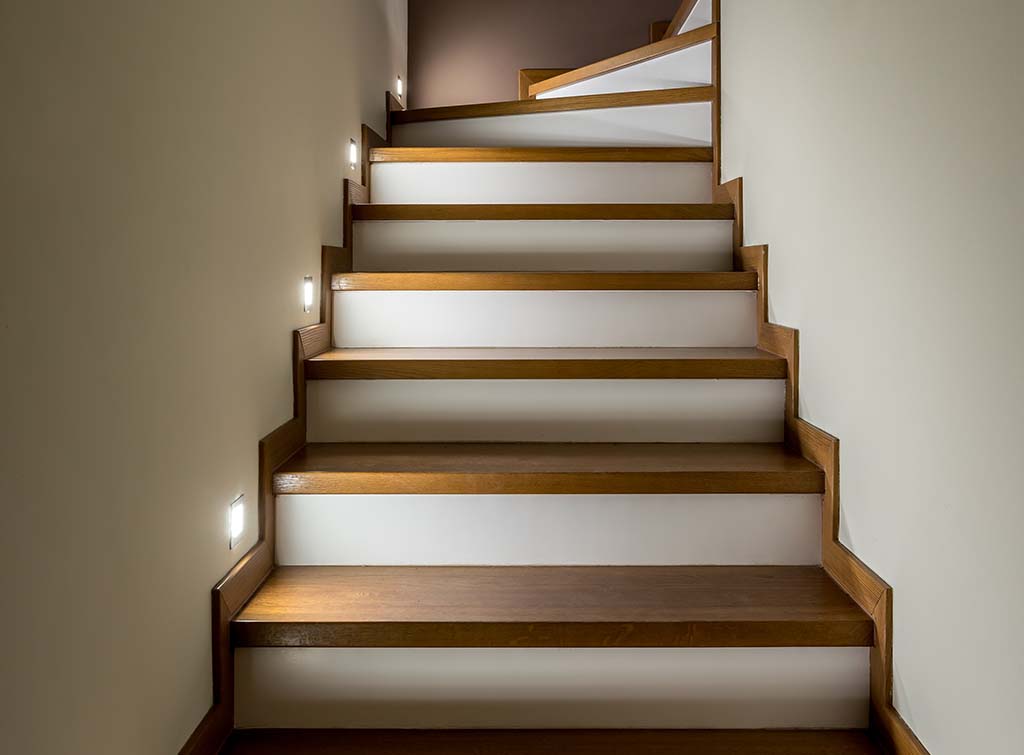 As well as considering an alternative to carpet on your stairs, there are also some other design options you could consider.
Floating/open stairs – These are really popular in modern homes, especially beachside properties.
Add lighting – Adding lights is a simple way to create impact with your staircase. It's also practical too. From hidden illumination of the bannister rail to sunken spotlights in the stair tread, there's an option to add lighting across a range of budgets. For more inspiration, take a look at our staircase lighting ideas.
Concrete – Not to everyone's taste, but if you are designing and building your own home, then concrete stairs could be an option for you. Concrete stairs are popular in modern architecture and design, and there are some eye-catching designs using poured and polished concrete.
Glass – Glass is quite a statement and a world away from your traditional carpeted staircase. A glass staircase can really help to open up a space and allow the light to flow much better. If a complete glass staircase seems a little extravagant, consider adding in glass elements such as a glass stair railing mixed with other materials for a more subtle option.
Stone/marble stairs – Stone stairs are usually reserved for exterior areas unless you live in a country house. Stone or marble indoors will also feel quite cold and can be slippery, so it is not always the most practical. Both are very hardwearing but will need care and attention as the years go by to maintain their integrity.
With all these alternatives to carpet for your stairs, it's possible to ditch the traditional look and make it a design feature in your home.
FAQs
How much does a new staircase cost?
It depends on a number of factors including what materials are required, the size, location and design of the staircase. For more information take a look at our new staircase cost guide.