What is a handyperson?
In this article, we'll cover:
Most of us will have heard the term 'handyman' before, but it's not always clear what they actually do. In this guide, we're going to answer the question. We'll look at the type of work they do and when you might want to hire one.
What is a handyman?
A handyperson is someone who carries out a variety of jobs that typically don't require specialist qualifications to do – such as repairs and general home improvements. That's not to say that they aren't qualified professionals. Many of them have qualifications and/or accreditations in certain fields.
Some of the common jobs that a handyperson is hired for include:
Assembling furniture or equipment
TV mounting and installation
Changing light bulbs
Ensuring fixtures and fittings are in good working order
Clearing gutters
Painting and decorating
Maintaining property exterior through the different seasons
Minor plumbing and carpentry
Small repairs, such as putting up shelves or pictures
Safety measures, such as fitting smoke alarms and carbon monoxide detectors
Other odd jobs
Find handypeople your neighbours recommend
What is the average hourly rate for a handy professional?
The nature of a handyman/woman's work means that the hourly rate for a handy professional can vary, depending on the type of work you're hiring them for and their individual experience.
So, what is the going hourly rate for a handyperson? Here are some average prices:
Flat pack furniture assembly – £70
Put up 8 basic shelves in living room – £200
Paint woodwork (skirting boards and door in 4m x 4m room) – £95
Picture & mirror hanging – £45
Put up curtain rail – £45
Minor electrical work – £60
Minor plumbing work – £60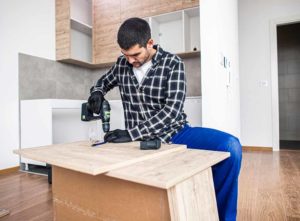 To find out more about what is the hourly rate for a handyperson in the UK, check out our guide to handyman prices.
Benefits of hiring a handyperson
There are a number of reasons why hiring a handyperson can be a good idea, especially for anyone who's not great at DIY projects.
Here are some of the benefits to hiring a handyperson:
1. Save time and effort
The average handyperson has a wide range of skills that can come in very useful to save you the time and hassle of doing the job yourself. If you're busy, or lacking the motivation to get those odd jobs done, hiring a handy professional will quickly get those tasks ticked off your to-do list.
2. They have the tools for the job
Generally speaking, a handy professional knows exactly which tools are needed for the job and will come equipped ready to carry out the work – saving you from having to shell out for tools you may not use very often (or ever again).
3. Get multiple jobs done at the same time
The fact that a handyperson covers a range of different jobs means that you can benefit from a single visit. For example, in one session they can put up shelves, put together some flat-pack furniture, and tidy up your front garden. Just think of the satisfaction of having all that done in one go.
4. Save money on small jobs
Very often you'll have small jobs that need doing but don't warrant the cost of a trained engineer or contractor. They can get those small tasks sorted for a lower cost than hiring a specialist to come out and do the same work.
5. They usually have lots of contacts
If you hire a handyperson for a job that turns out to need a specialist or someone more qualified, chances are they will know someone who's right for the job. They deal with a range of jobs involving different trades on a daily basis, so they'll be able to pass on recommendations to get the job done right.
Find handypeople your neighbours recommend
Hire a local handyperson your neighbours recommend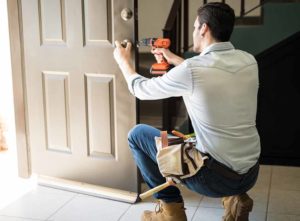 Our handy (mind the pun!) search tool is a quick and easy way to find local handy professionals who come recommended by your neighbours and checked by us.
If you're ready to get quotes for the work, use our request a quote feature, it makes the process of getting multiple quotes as quick and painless as possible.
Simply post details about the job and we'll send it out to local painters and decorators in your area. Give it a try now!
FAQs
What is a handyman allowed to do?
As a general rule, a handyperson can carry out small repairs and home improvements that don't require qualified tradespeople and are often repairing or replacing fittings like-for-like. If the job you need doing involves major plumbing or electrical work, or involves a gas appliance, then you need to hire a qualified plumber, electrician or Gas Safe engineer.
What industry is a handyman in?
A handyman would usually be considered to be part of the 'general home repair' industry or 'maintenance services', which include handymen and general contractors.
Good jobs, guaranteed
Get covered when you book with Checkatrade.