How to build a fence
Curious how to build a fence properly? Our guide is packed with fascinating step-by-step instructions when building featheredge, picket, wire and wooden fences.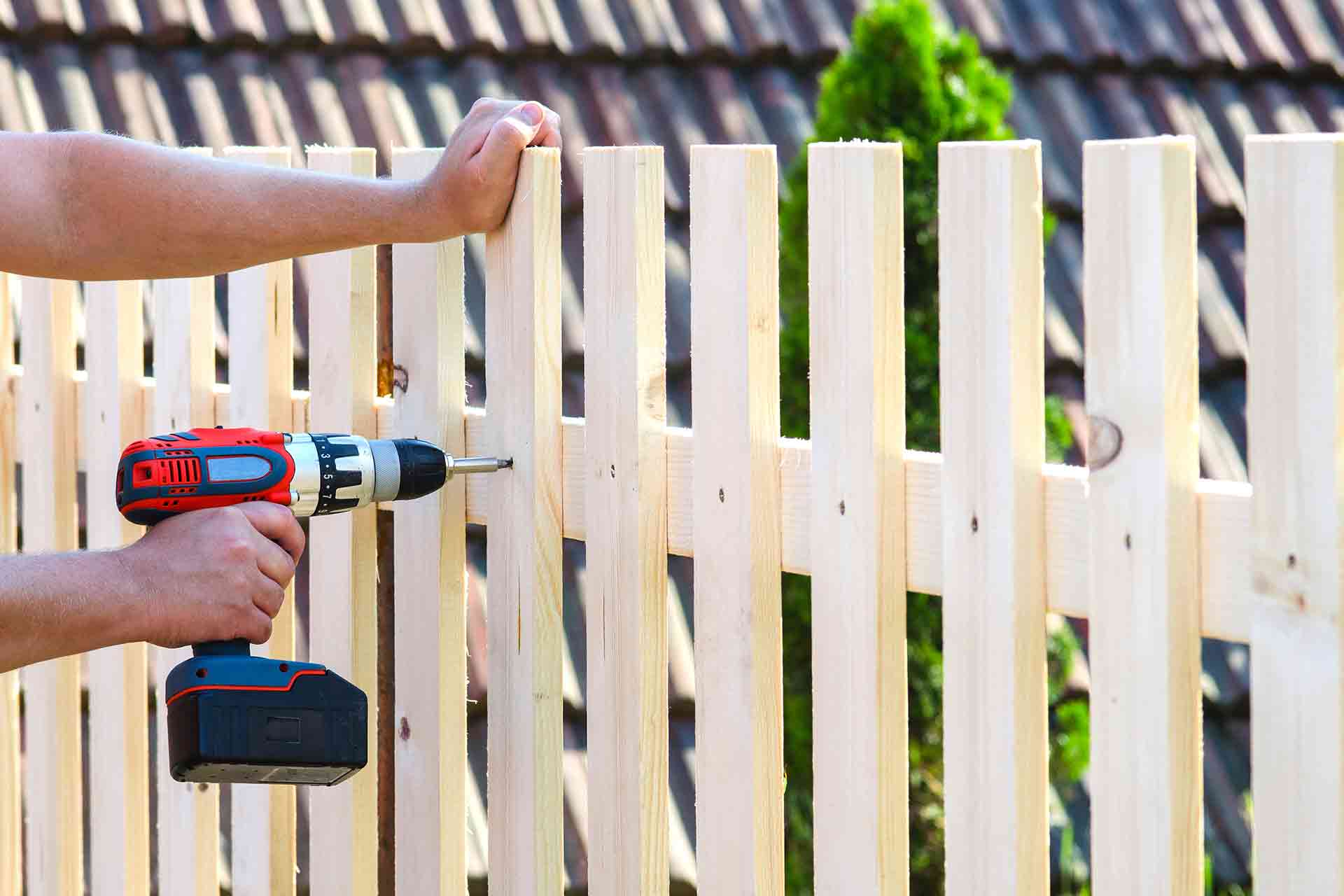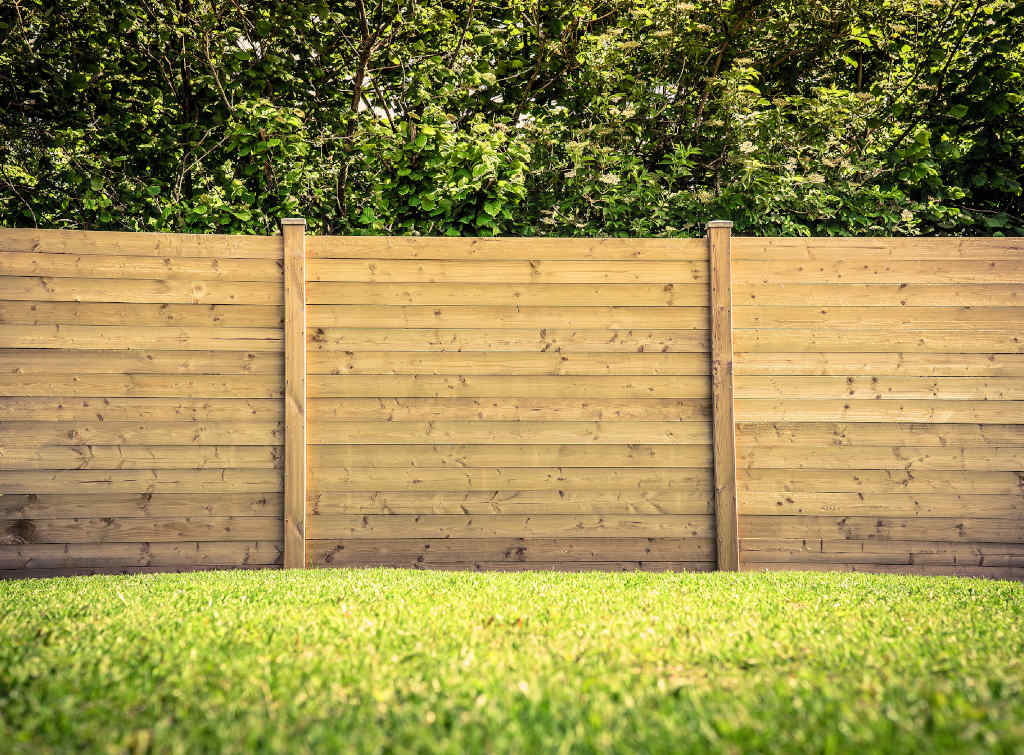 Fences have been used for years to mark property boundaries, give privacy, protect animals and children, and keep homes secure. With so many fencing options to choose from, finding your perfect fence and installing it can be a challenge. That's why learning how to build a fence can be such a rewarding project.
This guide covers a range of tips for constructing different types of fence, including:
How to build a fence on a slope

How to build a picket fence

How to build a wire fence and more
The most popular type of fencing people choose is wooden panel fencing. These fences offer excellent privacy and have no gaps allowing small dogs or children to escape your garden. When learning how to build a fence, panel fences are a great place to start.
If your garden is adjacent to that of a neighbour, you will need to come to an agreement when building a fence. Also check exactly where the boundary between your properties is as the current fence may not be in the correct position.
Top tip: Tearing down an old fence and putting up a new fence needs to be done legally with your neighbour's consent and not checking this could open you up to legal issues in the future.
See the tradespeople we've checked and recommend for your job
Tools and materials
Before beginning, collect all the tools and materials you will need. These include:
Spade
Gloves
Mask
Goggles
Tape measure
Spirit level
Drill
Auger
Hammer
Saw
Builders line
Trowel
Fence panels
Fence posts
Pieces of timber
Fence post supports
Concrete
Fence post caps
Sealant
How to build a fence step-by-step
Now you are properly prepared, let's dive into how to build a fence, step-by-step. Just follow the below instructions:
Firstly, you will need to mark where your fence will sit.
Measure carefully, then use a builder's line to show how your new fence will be positioned. It is also helpful to mark out where you want each fence post to be positioned.
Then, dig holes where your fence posts will sit and drive each post into the ground.
It may be worth using concrete to hold your posts in place during adverse weather. Do this by mixing your concrete and pouring it into each hole around the fence posts.
Your fence panels may need to be trimmed to reach the exact length of fence you require. You will need to first detach the framing batten from one end of the panel. Then you can trim the panel using a saw and reattach the batten.
Using a pen or pencil, make six small marks along both sides of the batten framing. Ensure these are at an equal distance from each other.
Use your drill to make a pilot hole over each of the marks.
Position your first fence panel and with a spirit level, check that it is sitting exactly horizontally.
Next, use your hammer to add six nails through the batten framing and the fence post.
Do the same with the next panel and so on until your fence is properly fitted.
Check the posts are level, then submerge your post caps in water.
You can then use silicone sealant to fix your post caps to your posts. Nail these into place.
See the tradespeople we've checked and recommend for your job
How to build a fence on a slope
Wondering how to build a fence on a slope? Surprisingly, it is possible to install a fence even if your garden is on a hill. You will need to make a few adjustments to the above instructions, but the general process is similar.
You can do this by using a method called stepping, as described below:
Stepping involves constructing the fence so it has multiple steps down to match your sloped garden.
You will need to plan exactly at what points your fence will step down. If your slope is gradual, you should only need to step down every few panels.
Remember to always ensure that your fence posts are higher than the panel they are adjacent to for a clean finish.
We would recommend installing gravel boards when building a sloped fence. This will prevent unsightly gaps at the bottom of the panels.
Instead of fitting your fence at an angle, each panel should be level and it is important to keep checking this is the case.
You can also use infill pieces of timber to make your finished fence look more appealing.
How to build a featheredge fence
Featheredge fencing looks fantastic in any garden and is a great alternative to traditional panels. You will still use similar posts, but your fencing will have horizontal wooden boards instead of vertical panels.
If you are unsure how to build a featheredge fence, you just need to follow our 'how to build a fence' section instructions.
How to build a wooden fence from scratch
Traditional, natural, and beautiful, wooden fencing is extremely popular throughout the country. Wood is also a great material to work with and can be affordable. So instead of buying pre-built fence panels, why not learn how to build a wooden fence yourself?
You can use our step-by-step 'how to build a fence' guide, however, this time you will be building the fence from scratch. Follow the below instructions to construct a stunning fence of your own:
Once you have marked where your fence will sit and have installed your fence posts, you will need to install horizontal boards between the posts. Do this using nails and remember to check they are completely level.
Now you can begin installing your vertical (or privacy) boards.
Start adding your boards and nail them in place when you are happy with their positioning.
Continue placing boards, using a spirit level, and checking they are an even distance from each other.
Once all the boards are installed, it is always worth staining, treating, or painting to protect them.
See the tradespeople we've checked and recommend for your job

How to build a picket fence
For many people, owning a home with a white picket fence is a dream. Conjuring up images of beautiful, landscaped gardens and pretty cottages, these fences can look incredible if properly installed. That is why it is not surprising so many people search for 'how to build a picket fence'.
Smaller and easier to build than a traditional fence, this is also a good project for anyone looking to improve their DIY skills. Use the following tips along with our 'how to build a fence' guide for a brilliant finish:
Plan exactly what distance you'd prefer your boards to be from each other.
Install your fence posts as described in our 'how to build a fence' section.
Trim and fit your horizontal boards between posts. Check they are level, then fix them in place using screws or nails.
Using a mitre saw, cut your picket boards to the right length, shaping the ends as you go.
It may be a good idea to paint or seal your boards before installation, but this can also be done after.
Finally, measure and position your picket boards evenly, then fix them in place. Also, remember to keep checking your boards are level as you go.
How to build a fence with concrete posts
Concrete posts are long-lasting and durable and are a great way of stabilising your fence panels and ensuring they look their best for years to come. They also aren't at risk of rotting like timber and don't require regulator treating.
Learning how to build a fence with concrete posts can be a little tricky so ensure you know what you are doing. You will need to follow the instructions in our 'how to build a fence' section but use concrete posts instead of wood. You also won't need to nail your panels to the concrete posts, you can just slide them into the grooves on the posts.
See the tradespeople we've checked and recommend for your job
How to build a wire fence
An excellent way of keeping dogs and children confined to your back garden is to use wire fencing. This fencing is affordable, durable, and doesn't obstruct views from your outside space. There are different options when it comes to wire fencing. You you could consider barbed wire, a barbed wire fence with t-posts or chicken wire garden fence – whatever suits your needs.
If you are unsure how to build a wire fence, read on for our tips:
If you have children or pets, check that the gaps in the wire fencing aren't big enough for them to fit through.
Follow steps one to four in our 'how to build a fence' section to install your fence posts. Ensure you install posts in each corner of your fence as well as brace posts (to keep your corner posts stable) about eight feet from each corner.
Next, fit a brace wire between your corner posts and around your brace posts.
You should also use nails to fit a wooden beam between the tops of your posts.
Then, make holes that are deep enough to stabilise your line posts and fit these in place.
Use a fence stretcher to make stretching your fence simpler.
Start fitting the wire from corner post to corner posts, stretching as you go.
Using a staple gun, fix the wire between your posts, then add the rest of the wire lengths.
How to build a chain fence
Chain link fences are another affordable option for marking property boundaries and preventing animals or children from escaping from your garden. Depending on your level of DIY experience and skill, figuring out how to build a chain fence will usually take you one to two days.
Use the following tips to install your new chain fence:
Always check the legalities involved. For example, in some areas, you may be restricted as to the height and position of your chain link fence.
Again, check that you are building your fence in the correct place with the permission of your neighbours.
You will need to install posts to support your new fence. Do this by following steps three to four in our 'how to build a fence' section.
Next, use tension bands to give support to your tension bar. Install a brace band onto each of your posts, using two for your corner posts.
Add post caps onto the top of your posts using a mallet.
Join rail caps to all of your brace bands then attach the rails.
Trim, file, and install the rails.
Unroll your chain link fence and join the fence to the posts using a tension bar.
Always stretch out your chain fence to prevent loose, saggy sections.
Detach any extra mesh from your fence.
Join the chain fence to the top rail by bending and looping the mesh.
See the tradespeople we've checked and recommend for your job
How to build a block fence
Building a fence using blocks offers excellent privacy and security in your garden. You can relax without the worry of nosy neighbours watching you and can rest easy knowing your children are safe.
Consider using cinder blocks. Not only do they look great, but they also aren't too expensive, making them a good choice for those on a budget.
Wondering how to build a block fence? Follow these steps:
Calculate the size of the footing for your wall and mark the corners with four wooden stakes.
Use string between the stakes to show the outline of your wall footing then use a shovel to excavate the area.
Use rebars to stabilise your wall.
Mix and tip concrete into the space you have dug out, then use a float to even out the surface.
Mark where your blocks will be positioned then use mortar to cover the area.
Start laying your blocks, covering the ends with mortar.
When you begin the second layer, begin with a half block to stagger the blocks for stability.
Keep adding blocks, periodically using a spirit level to check they are even.
Use a mallet to strike the wall joints.
For more information about building a retaining wall, including prices and considerations, please see our retaining wall installation cost guide.
How to build a vinyl fence
Vinyl fences are designed to go the distance. They are easy to maintain and won't fade or degrade over time. They also don't need to be sealed or painted. Most vinyl fences will come either as panels or boards and rails, and both types are designed to slot together.
If you are unsure about how to build a vinyl fence, use the below tips:
Measure and mark out where your fence will sit then follow steps three to four of our 'how to build a fence' section to install the posts.
Attach the bottom rails between your posts and check all the posts and rails are level.
Trim the panels or boards to size. Then, install them by clicking into place.
You will likely need to use screws to hold your vinyl fence in position.
Use silicone to attach the post caps to the top of your fence.
See the tradespeople we've checked and recommend for your job
What about professional fence building?
While we hope this guide helps to support you in your fence building project, you always have the option of hiring an expert. It can be fun and fulfilling to expand your DIY knowledge but using a professional will guarantee a high-quality finish in a shorter time period.
Interested? Use our handy search engine to connect with vetted tradespeople near to your home.
To learn more about owning a fence, you should also check out our fence ownership and responsibilities guide, full of tips to prevent legal issues down the line.
How much does a fence cost to be installed by a professional?
As we previously mentioned, it is a great choice to hire a tradesperson to build a fence for you. If you do intend to go down this route, it may be useful to know how much this will cost on average. Please note, the amount you pay will vary depending on a number of factors such as size and style of fencing.
The average cost for fencing panels is £36.50 per panel and the average cost of fence installation is £1,400.
Once your fence has been built, it is important to protect it from the elements. You can do this by painting or staining the fence.
If you would prefer to hire a professional for this job, you will pay an average cost of £11.50 for painting 10 panels, £30 for wood staining 8 – 12 panels, and £162.50 for labour.
For further guidance, please see our fence panel installation cost guide and our fence painting cost guide.