How to hide pipes behind a toilet
Use our How to Hide Pipes Behind a Toilet guide to give your bathroom a minimalist makeover with an aesthetically appealing finish.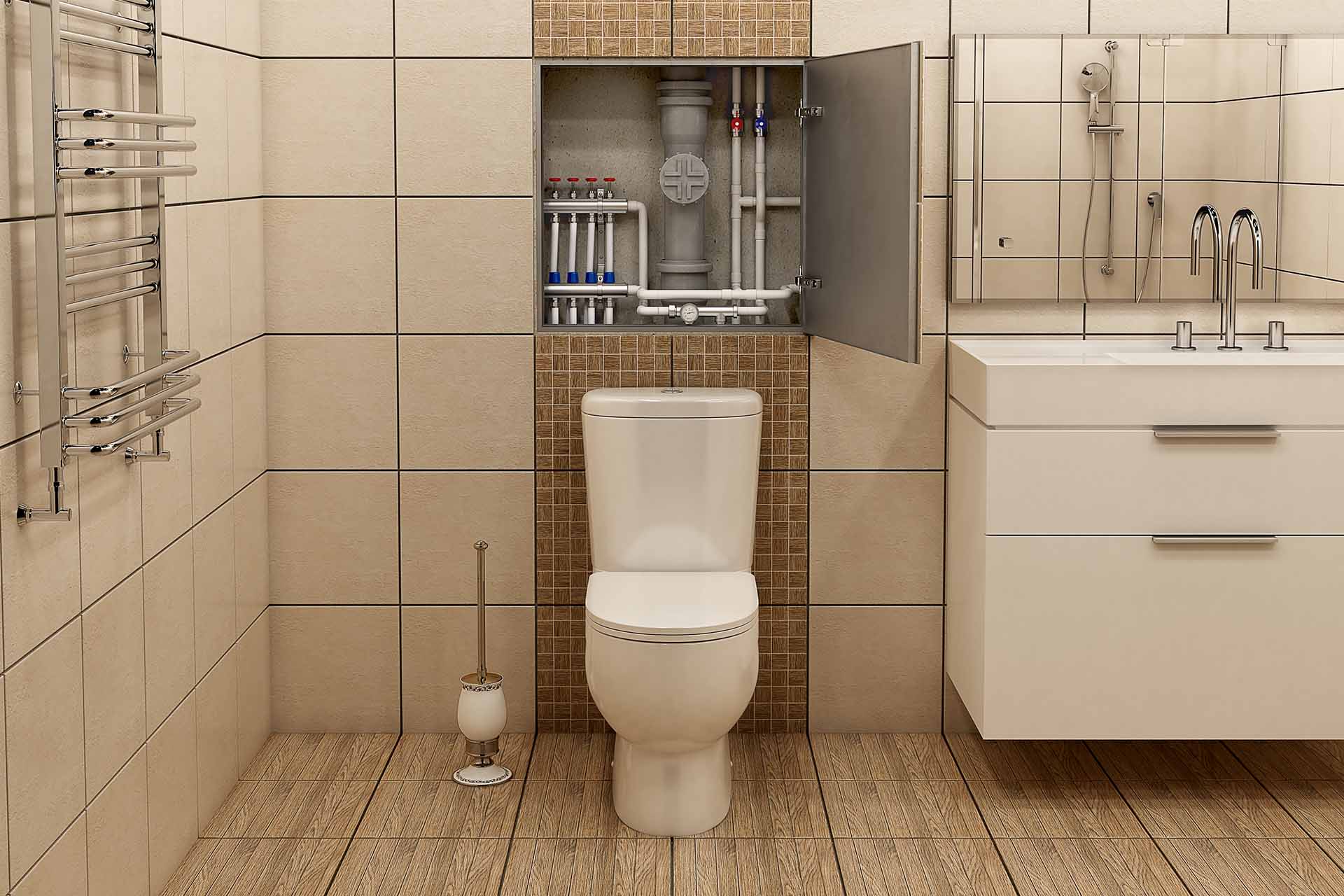 People want to know how to hide pipes behind a toilet because of one thing: aesthetics. As bathrooms are often the smallest rooms in our homes, with square footage shrinking and house prices rising, finding ways to maximise your space is a priority.
Enter the wonderful world of hidden pipes! By tucking away those exposed fixtures, your bathroom not only looks better but it feels better.
So, if you're asking, 'how do you hide unsightly plumbing?' and 'what can I use to hide pipes?' read on for our top tips.
How to hide pipes behind a toilet
We're going to take you through the 5 ways you can hide pipes behind your toilet. But before we get started, it's worth understanding what kind of pipes you currently have in your bathroom and how to cover each type up.
Every house has supply and drainage systems that supply indirect and direct water to your property through a single stack or two-pipe system. Older houses tend to have indirect two pipe drainage systems while newer properties will use direct and single stack drainage systems.
Now you know what you're working with, read on for our tips around hiding these affronts to decor.
How can I hide the pipes behind my toilet?
Concealing toilet pipes can be done in several ways, including:
Hiding them with bathroom furniture
Boxing them in with a DIY skirting board
Building fake walls
Installing bespoke storage units
Installing a floating toilet/wall-mounted design
We're going to take you through each method and the pros and cons of each.
See the tradespeople we've checked and recommend for your job
How to cover toilet waste pipe
Hide them with bathroom furniture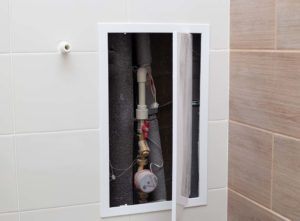 One of the best ways to hide your unsightly pipes is to redecorate. Cabinets, tallboys, floating furniture and specially designed units that fit around your toilet are all great options. They're also perfect if you're looking at ways to save space and maximise the storage capacity in your bathroom.
The pros are a new aesthetic (who doesn't like a redecoration project?!) but the cons are how much it can start to add up.
Boxing them in with a DIY skirting board
For pipes that run along or near to the ground, boxing them in is a cheaper alternative to buying new furniture and redecorating. This method also doubles up as an extra shelf, which equals more storage opportunities!
The only issue is the labour involved. To get started, you need confidence in your DIY skills, wood such as MDF, a tape measure, nails, hammer and a saw. Wood glue and waterproof stain are also must-haves. And to make sure you end up with a professional finish, we recommend hiring a handyman your neighbours recommend.
Build a fake wall
For pipes that run up your walls, you can easily hide by installing a fake wall. This isn't an easy option for everyone, so you'll need to hire a builder to make sure it's up to spec and doesn't fall down while you're on the john.
A plumber and electrician might also be needed if you want to move your toilet or install lights. Fake walls are great options for bathrooms that can handle the design, but as they tend to jut out further from the original wall, some careful planning is needed to make sure it doesn't look awkward.
Read our guide, how to design a bathroom like a pro for more information.
Bespoke storage units
For bathrooms with difficult angles or irregular shapes, hiring a carpenter to build bespoke storage units is worth the investment. Not only will this help you maximise space by utilising every nook and cranny, but the end result will look slick and clean.
Check out our carpentry prices guide for more information.
Install a floating toilet design
Floating toilets (aka: wall hung toilets) are contemporary, stylish and space-saving alternatives to traditional units. Consider installing one in your bathroom for a clean and minimalist result. Just don't forget to get a matching sink to complete the look!
Our toilet installation cost guide has everything you need to know about how much this option will set you back.
See the tradespeople we've checked and recommend for your job
FAQs
Should I hire a professional?
If you're thinking of attempting any DIY work, we ask you to think about the risks associated with bad repairs – not to mention the extra costs involved when it comes to correcting any mistakes. If you're in any doubt about taking on a task, we highly recommend hiring a local expert your neighbours know and trust.
When you hire one of our trusted professionals, you're able to see their profile and view their customer reviews. Even better, those reviews are from your neighbours and checked by us to make sure they're legitimate. Not only that, but if you book one of our members for the job, we guarantee their work, which gives you the extra peace of mind and security that you and your house is in safe hands.
Are there any ways to conceal pipes cheaply?
If you're strapped for cash and want a quick way to improve the aesthetic of your pipework, consider painting them and decorating your bathroom using an industrial aesthetic.
You can also replace any old or rusty pipes to make them more attractive. Copper, chrome and satin finishes are all great upgrades.