How to lay artificial grass: Turf chores
Laying astro turf comes with a host of benefits. That's why we've put together the 'How to Lay Artificial Grass' guide.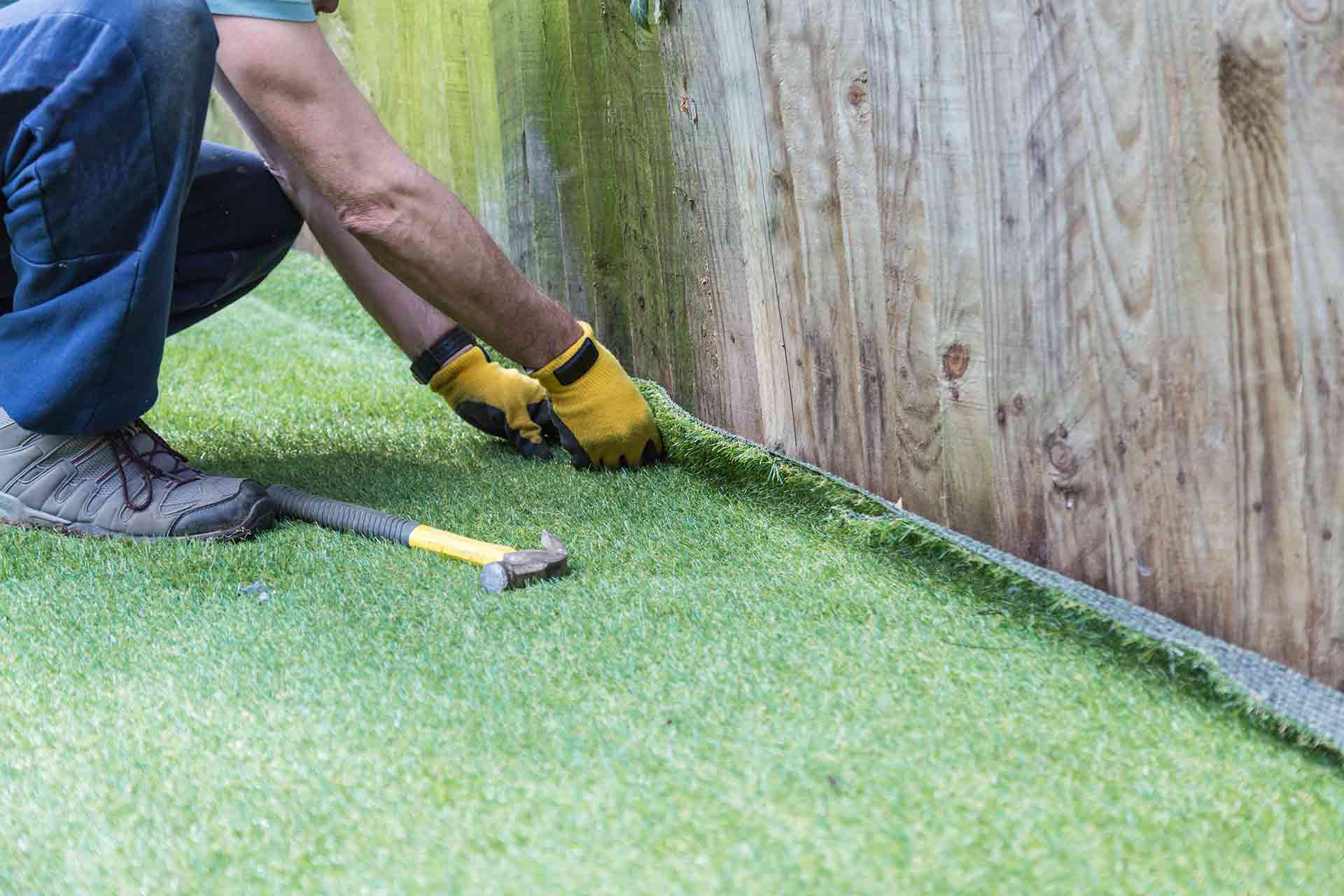 Laying astroturf comes with a host of benefits. That's why we've put together our 'how to lay artificial grass' guide. We want to make your life easier so you can enjoy:
Reduced water usage (and consequently reduced water bills)
A low maintenance garden
Playground safety all year long
Weatherproof aesthetics
Low installation expense
Now you know the why let's get onto the how. Read on for our top tips around fake grass installation.
Tools required for the job
Before you get started, there are a few things you need to equip yourself with. Add these to your arsenal:
Turf Cutters
Large shovel
Sharpened Stanley knife
Joining tape and adhesive
Tape Measure
Compacting planks
Ground pins or galvanised nails
A medium-sized hammer
Garden broom or stiff brush
See the tradespeople we've checked and recommend for your job
How to lay artificial grass
Now you're ready to begin laying artificial lawn to turn your garden into a low maintenance oasis. Follow this step-by-step guide to ensure a perfect finish.
Plan and tidy the area
It's all in the planning. Before your begin laying astroturf or artificial grass, work out what area you want to cover. Do you want a pattern? A curve? A straight edge? When you've decided on the aesthetic, clear your garden and remove any existing turf to a depth of 2 inches. To do this, use your cutter or spade and remove any obstructions as you go (e.g. stones or bricks).
When the area is clear, lay a type 1 stone sub base (e.g. crushed gravel).
Top tip: Make sure any cables or pipes are below the digging level.
Create an edge
Unless you have an existing perimeter, such as a fence or bricks, then it's worth creating an edge. Consider an edging system such as log rolls or classic Everedge lawn edging. The beauty of these products is their ease of use. You can create wavy borders, circular patterns or neat squares that hold their shape all year long.
Just lightly hammer the edging into the soil using a piece of wood to soften the blow. Leave around 3cm above the soil line.
Top tip: Use a tape measure to check your measurements.
Lay the base
Now things are starting to take shape, your next step is to lay your base. For this, you want to use granite dust or sharp sand (preferably the former) to create a smooth surface. Apply around 6mm and use a piece of straight timber to level it out. If you're using sand, make sure the depth doesn't breach the 20mm mark.
Apply weed membrane
Once you've created your neat and compacted base, you need to apply a weed membrane. They help prevent/limit weed growth whilst allowing water drainage. Lay the membrane down and secure it with 4-inch galvanised steel nails around the perimeter. Hammer the nails around 0.75 meters apart for a sturdy finish.
Once this is complete, trim the edges. Where/if the membrane overlaps, secure them together with gaffer tape.
Roll out your artificial grass
You're almost there! The penultimate step is to carefully roll out the artificial grass. Ensure the weed membrane stays intact as you lay the astroturf in vertical lines from your house. When it's in position, trim the excess with an edging knife and pat it in.
Add the finishing touches
Finish your handiwork by applying kiln sand to the turf. Use a blower or your stiff brush to ensure an even finish and create a natural-looking aesthetic. We recommend around 6-8kgs of sand per metre of turf.
Leave for a day to settle, and then dress your outdoor space. Check out our garden design ideas for some high-level inspiration!
Top tip: Apply the kiln sand on a dry day to ensure the best results.
Conclusion
Hurrah! You're ready to dress your low-maintenance garden and bask in the glory of your artificial grass laying skills. However, if this all sounds a little laborious, then we have several professional tradespeople ready to help you.
And don't forget to check out our artificial grass cost guide for a comprehensive break down of pricing. You can also check out our gardener prices for the most up-to-date information.
See the tradespeople we've checked and recommend for your job
FAQs
Should I hire a professional?
If you are in any way unsure about your gardening abilities, then we always recommend hiring a professional to help you. It also eradicates costly mistakes that might set you back more in the long run. Read our garden landscaping cost guide for more information.
How much does it cost to lay artificial grass?
Thankfully, we have our very own 'How much does artificial grass cost?' guide to help you out. It has everything you need to know about how much laying artificial grass will set you back.
Can I lay artificial grass on soil?
Not unless you want weeds to destroy your work within a few weeks. Sadly, preparation really is key when it comes to laying astroturf. You need to dig 3 inches and remove all grass, weeds and stones before following our step-by-step guide.
Can I lay artificial grass on concrete?
You can! We just recommend cleaning the concrete and installing a foam underlay first. This helps mask slightly uneven surfaces, level the grass, and encourage drainage.
Can I lay artificial grass on decking?
Absolutely. All that changes is the preparation.
Thoroughly clean the decking
Apply a damp-proof treatment and leave for 48 hours
Apply an underlay, such as marine plywood and shock pad to even out the surface and encourage drainage
Lay the grass and secure it with spot glue or screws
Leave for an hour to settle
Dress your garden