How to make a water feature
Water features can add a special touch to a garden, providing a calming atmosphere or a dramatic display to enjoy. In this guide, we look at how to make a water feature for your own garden. Nowadays there are a huge range of water features to choose from and we'll show you some of the…
Water features can add a special touch to a garden, providing a calming atmosphere or a dramatic display to enjoy. In this guide, we look at how to make a water feature for your own garden.
Nowadays there are a huge range of water features to choose from and we'll show you some of the most popular, including how to make a water feature out of a pot. If you need inspiration before you start then why not check out our water feature ideas
To plan a budget for your water feature project, you can check out our guide to water feature costs.
4 top tips for how to build a water feature
When you're planning to make your own water feature, the exact process will depend on the type of water feature you want. Here are a few tips to help you, no matter which type of feature you choose:
1. Choose the best location
Picking the right spot in your garden for your water feature is an important decision. You want it to fit in with the surroundings, and often features look best amongst plants. Also, consider things like trees – if it's under a tree it will need more maintenance to clean out leaves, etc.
2. Decide what supplies your water feature will need
Will you need a pump? Is there an electricity supply available? Will you need a water supply? Some water features can be self-contained without needing a water supply, and solar-powered features won't need electricity. But some may need both, so it's worth deciding what needs your water feature will have before you start.
3. Pick an appropriate style for your feature
Do you want a modern or traditional look to your water feature? Funnily enough, modern water features made from glass or steel tend to look good in any garden. On the other hand, traditional water features can look a little out of place in slick, modern gardens.
4. Plan lighting for your water feature
Lighting is a key element if you want to enjoy your water feature day and night. Uplighting can work really well for many water features, others look best with a built-in downlight.
See the tradespeople we've checked and recommend for your job
How to make a water feature out of a pot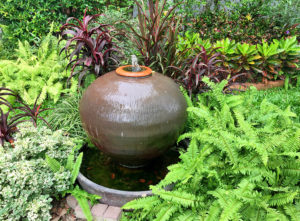 Using a plant pot is one of the simplest ways to make your own water feature. Here's a quick guide for how to make a water feature out of a pot:
Take a submersible water pump and place it in a large plant pot (at least 24 inches in diameter)
Feed the electrical wire through the pot's drainage hole leaving some slack within the pot to elevate the pump later
Close the drainage hole with premixed, quick-drying cement, or an alternative water-tight filler
Seal the entire inside of the pot with a liquid water sealant suitable for the material of your plant pot, and leave to dry
Elevate the pump either using bricks or blocks so that it will be positioning just below the surface of the water when the pot is full
Fill the pot with water, ensuring the water level is above the pump, and connect the pump to the power supply (if the pump isn't solar-powered)
How to make a floating tap water feature
One of the magical water features is what's called a floating tap water feature. If you've not seen one, it looks like a tap is floating in mid-air with water flowing out of it. We're about to let you in on the secret of how to make a floating tap water feature…
Tools you'll need:
Water tap in your preferred style (not too heavy)
Waterproof bucket
Water pump (either mains or solar-powered)
Epoxy modelling clay
Colourless acrylic pipe (diameter to fit the water pump opening)
Silicon glue
Large decorative stones
Drill with a compass saw attachment
Gloves
Make your own floating tap water feature
Drill a hole in the bucket large enough to feed your water pump plug through
Place your electric pump inside the bucket and feed the electrical cable through, fixing it in place (suction cups are often a good option)
Seal the hole around the pump cable with the water-resistant epoxy modelling clay (inside and out) and leave it to harden – use gloves for this part
Fix the tap to the top of the acrylic pipe at a slight angle using silicon glue – the angle will allow the water to flow up and out of the top of the pipe
Attach the colourless acrylic pipe onto the opening of your water pump and fix it in place
Fill the bucket with the decorative stones and then add water
Turn on the pump (connect to mains supply first, if needed) and, hey presto, you have a magical floating tap water feature
See the tradespeople we've checked and recommend for your job
How to make a pebble water feature
Building a pebble fountain is another very popular water feature in the UK, and it's relatively simple to do. Here's our quick guide for how to make a pebble water feature: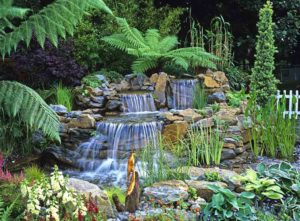 Tools you'll need:
Pebble pool sump and lid
Water pump, including fountainhead (mains supply or solar-powered)
Clean pebbles
Spade (to dig a hole)
Building sand
Make your own pebble water feature
Dig a hole where you want your pebble water feature to be, using your sump as a guide for the size and shape of the hole you'll need – dig slightly deeper than the sump
Add a layer of building sand to the bottom of the hole to create a base for the sump to sit on and place the sump on the sand
Position your pump in the empty sump and run the power cable to the power source (if not solar-powered)
Add the fountainhead and put the pebble pool lid in place and fill with water
Test the pump and adjust the spray settings, if needed
Add pebbles to your water feature, once you know the pump is working properly, and turn the pump on
How to make a water feature without a pump
If you'd rather not have the hassle of using a pump for your feature, you can build your own gravity-powered water feature. Gravity fountains date back to 4,000BC and the principle of using gravity is how the Romans transported water.
A gravity fountain water feature works by moving water through multiple chambers using a combination of gravity and pressure.
Creating a gravity water feature can be a little tricky, so it's worth speaking to a local water feature specialist for their advice and guidance.
See the tradespeople we've checked and recommend for your job
Looking for garden feature inspiration?
Water features aren't the only way to enhance your garden. Check out these guides for other ways to add a wow factor to your outside space:
FAQs
How do you make a mini water feature?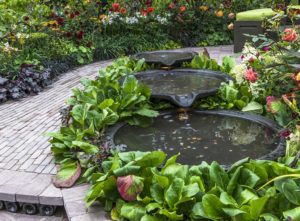 Making your own mini water feature is the same principle as any other water feature, only on a smaller scale. The best small water features are water gardens, fountains and small bowl features.
Can you have a water feature without a pump?
You can indeed. They're less common, but gravity-fed water features use the power of gravity and pressure to move water in a continuous flow.
How do you make a simple homemade fountain?
Here's our quick guide to creating your own simple homemade fountain:
Take a large bucket or waterproof container
If using a bucket, drill a hole in the bottom of the bucket
Fit the water pump and thread the power cable through the drainage hole
Seal off the power cable hole (and any other drainage holes)
Position the pump in place so that it will be just below the water level and connect to the power supply, if needed
Fill the bucket or container with water
Turn on the pump