How to stop damp coming through walls
Keep your home dry with our guide on how to stop damp coming through walls. With tips to help you prevent health and structural issues.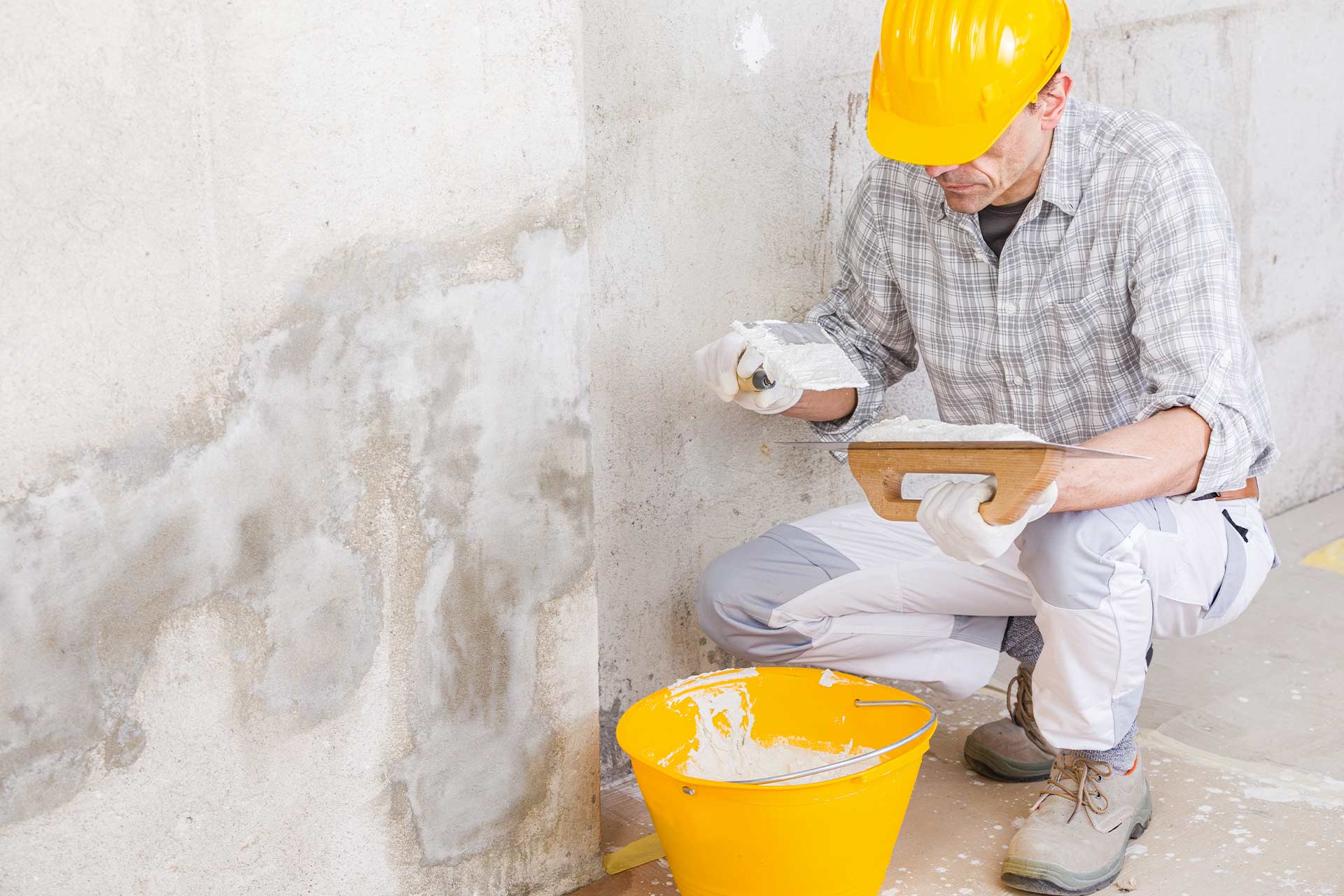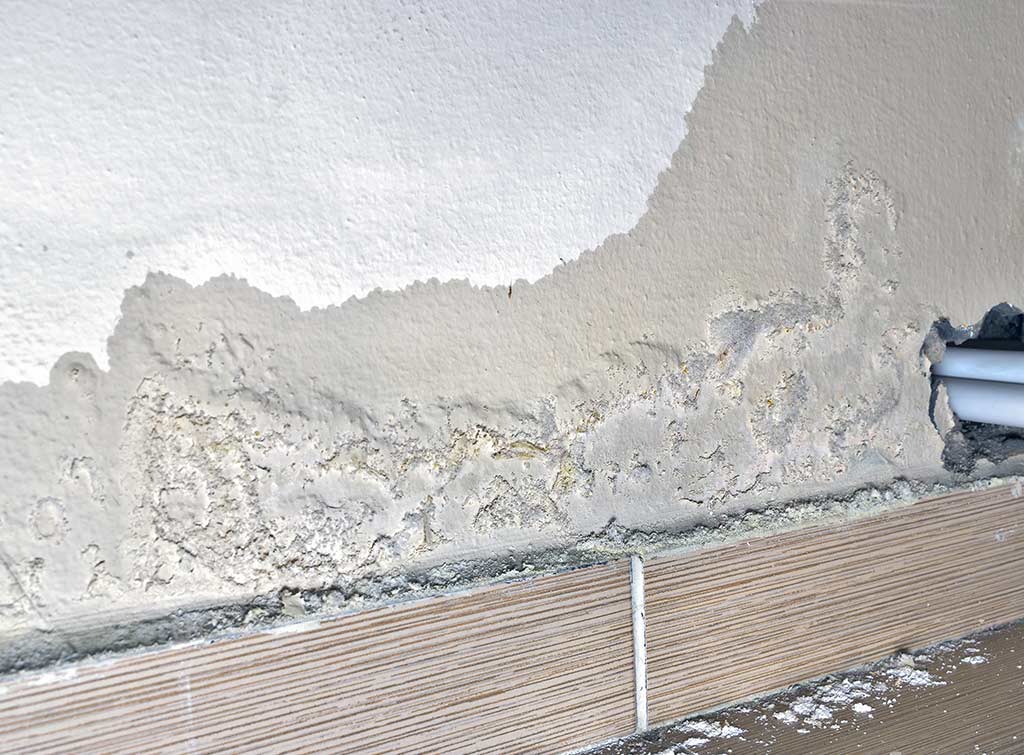 While common, damp can be dangerous and destructive, which is why dealing with damp walls needs to be done as a priority. If left untreated, damp can lead to mould, releasing tiny spores into the air inside our homes, affecting our health when breathed in. It can also weaken the structure of your walls and cause unsightly stains.
Wondering how to stop damp coming through walls? This guide is here to help you deal with damp, whether it's coming through paint, your floors or even through brickwork. We will be looking at prevention, remedies and even whether a dehumidifier can help.
How to stop damp coming through walls
Anyone living with damp will know how pervasive it can be. Damp can affect the air you breathe as well as the structural integrity of your home.
So, how do you stop damp walls? There are a number of prevention methods to stop damp in its tracks. Read on to learn how to stop damp coming through walls:
Ventilation: Properly ventilating your home can stop damp from building up on your walls. This is particularly important in bathrooms and kitchens where steam is a real issue. It's important to regularly open your windows and doors to allow air to properly circulate. You can also consider installing an extractor fan in damp spaces.
Central heating: It's important to evenly heat all the rooms in your home. Rooms that aren't heated are at a higher risk of damp.
Leaks: Regularly check for leaks and cracks in your gutters, walls and roof.
Lagging: Unless you lag your pipes, they can be susceptible to condensation and damp.
Windows: Ensure your window frames have no cracks or rotting.
Fireplaces: These can also be a source of damp so check regularly.
Condensation: If this builds up on your windows, wipe it away before it spreads and turns into mould.
See the tradespeople we've checked and recommend for your job
How to stop damp coming through wallpaper
Once damp settles into your walls, it's only a matter of time before it starts spreading through your wallpaper. This can lead to stains, mould and peeling, ruining the appearance of your room. The best way to stop damp coming through wallpaper is prevention.
Keep your home well ventilated and ensure you have no leaks. Wallpaper offers little protection from damp, so for more tips, please see our 'how to stop damp coming through walls' section.
How to stop damp coming through paint
As with wallpaper, damp will easily spread through the paint on your walls. Unsure how to stop damp coming through paint? Use the following tips:
Identify the source of the damp – is it caused by rising damp, condensation or coming through cracks in your walls?
Repair or remedy the cause of your damp. Do this by repairing cracks, replacing damaged windows, or adding an extractor fan.
Use a dehumidifier to remove any remaining moisture from the air in your home.
Next, deal with any mould that has formed. You'll need to use a dedicated mould remover in order to kill any patches of mould on your walls.
You can then use paint to stop damp coming through your walls. In fact, damp proof paint is a great option for any home that is prone to damp. Remember, painting over damp with normal paint is only a temporary fix, the damp will simply come through the paint over time.
How to stop damp coming through plaster
Damp is very adept at moving through all the different components in your walls. It usually starts seeping through a crack or hole in your masonry then enters the wall, the plaster and finally the paint.
Wondering how to stop damp coming through plaster? This starts with prevention. Check out our 'how to stop damp coming through walls' section for more tips.
How to stop damp coming through brickwork
During wet weather, water can enter the walls of your home, causing many issues from health to structural. Penetrating damp is no laughing matter, it can enter the smallest holes in your walls and cause damp patches on your internal as well as external walls.
If you're unsure how to stop damp coming through brickwork, start by checking your external walls. Look for cracks, holes and gaps. Unless these are repaired, damp can lead to spalling where the fluid in your brickwork freezes and causes pieces of the masonry to crack and fall off. Once you have fixed any obvious leaks, cover your walls with a waterproof paint like Dryseal waterproofer.
How to stop damp coming through garage floor
Many people think damp only comes through the walls of their homes; however, you may be surprised to know that damp can also show up on your garage floor. If your garage flooring appears to be sweating, you'll need to know how to stop damp coming through a garage floor.
First though, we need to consider the cause of a damp garage floor. Often caused by condensation thanks to warm air hitting the cold floor, damp can also be due to moisture seeping through from under your home. So, let's look at how to stop damp from coming through a garage floor. To do so, use the following tips:
Raise the temperature of your garage.
Reduce the humidity in your garage using a dehumidifier.
Properly ventilate the space just above your garage flooring with a fan.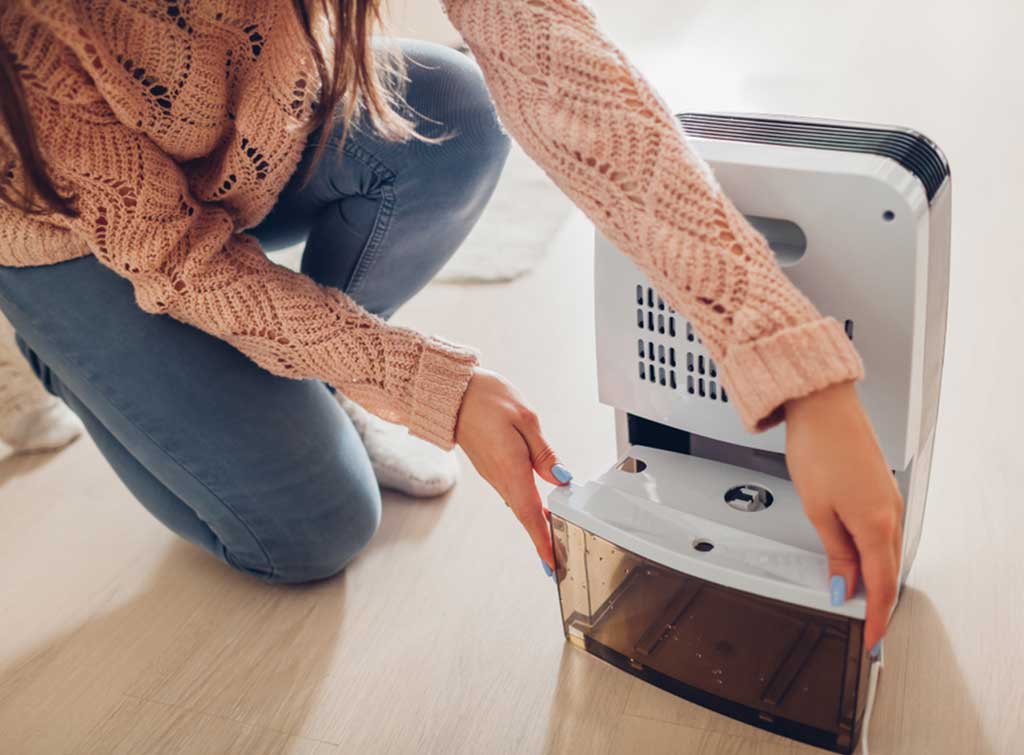 Will a dehumidifier get rid of damp?
Dehumidifiers work by sucking the moisture out of the air in your home. They're an excellent way of preventing condensation from forming and causing damage.
Many people ask "will a dehumidifier get rid of damp?" and the answer is yes, to a certain extent. Dehumidifiers can help to reduce damp in a room and dry out damp patches, but they cannot undo any damage that's already happened.
You can choose to purchase or hire a dehumidifier, depending on how often you plan to use it. What's more, our dehumidifier hire cost guide is full of handy information for anyone looking to hire one of these clever little machines.
In need of expert assistance?
It's essential that you don't put off dealing with damp as the issue will only get worse, causing untold damage to your health and home. As such, if your damp problem is severe or you're confused about where to begin, hiring a professional is a great option available to you. Having the advice and experience of a tradesperson means your issue should be resolved quickly and efficiently.
Thankfully, our qualified members are here to assist you no matter the extent of your damp problem. Just use our free search feature to connect with a range of trusted experts today.
How much does professional damp proofing cost?
Of course, if you're looking for the help of a professional, it can be useful to know how much professional damp proofing costs. On average, a damp proof course will cost £850, although this will rise to £1,500 if you're having your external walls damp proofed.
Choosing to hire a dehumidifier is a brilliant way of reducing damp in your home, and our dehumidifier hire cost guide is a great source of prices and important guidance. Alternatively, if you do spot a leak in your home, our water leak guide covers everything you need to know.