Looking for cheap feature wall ideas for your home?
A feature wall is a great way to create an area of interest in an otherwise regular room.
If you think your room (or even outdoor space) is too boring, here are some inexpensive feature wall ideas to make it pop.
Create a feature wall on a budget
Feature walls don't have to be expensive to be stunning. Think of your favourite feature wall ideas and we'll tell you how you can recreate them cheaply. The idea is to find a way to create a visual impact, and that doesn't always need expensive materials.
Inexpensive feature wall ideas that draw the eye
Here are our suggestions on creating a wall that looks good and doesn't cost you the earth.
See the tradespeople we've checked and recommend for your job
A classic painted feature wall
A classic, but just because it's an old idea doesn't mean it no longer works!
A painted feature wall is one of the most inexpensive ways of creating a bold, bright look in your room.
And, we make it so easy to find a painter near you!
Wallpapered featured wall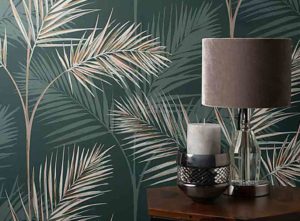 A busy wallpaper might not work well for the entire room.
But if you use it for a section of a wall, it creates an area of interest and breaks the monotony of monochromatic walls.
It's one of the more inexpensive feature wall ideas you can implement, and the beauty of it is that there are so many choices of patterns, styles and themes that you can choose.
Do you need someone to wallpaper your wall? Find a tradesperson near you!
An inexpensive wooden feature wall
Nothing beats the natural look of wood, and it makes a great feature wall for almost any type of room.
But, if you're worried about the cost, you can always use laminate boards to give you the same look at a fraction of the price!
Or, take a look at some wallpapers. Some even do wood effect now, so you can get the hardwood look for a fraction of the price.
See the tradespeople we've checked and recommend for your job
Tiled featured wall on a budget
An easy-to-care-for option, a tiled wall can add an extra texture to your feature wall.
If you want a tiled feature wall idea on a budget, tiling just a section of the wall is going to be much cheaper than doing the entire wall.
The beauty of tiles is that you can wipe off any marks, which means if you're hosting parties, or have children running about, then you don't need to worry about any damage. A clean and polish will make them good as new.
Looking for reliable tilers near you? Find them here.
A stone feature wall on a budget
A stone accent wall adds a rustic charm to a room, and it breaks up the regular texture of your walls.
However, stone, like wood, can be very expensive. So, are there any inexpensive stone feature wall ideas?
Yes, there are!
There are now alternative options on the market such as stone veneers, which will give you an authentic stone look for your feature wall, but for less.
A cheap nature mural feature wall
Are you a nature lover, stuck in a concrete jungle? You can always bring in a slice of the wild into your home with a mural feature wall.
Add a panel depicting a woodland or your favourite scene from nature.
Put some potted plants around it, and, voila! A cheap nature mural feature wall idea that transports you into the wild.
See the tradespeople we've checked and recommend for your job
An inexpensive exposed brick feature wall
An exposed brick wall can be really attractive when done well, but it can be a laborious task that can end up costing more than you bargained for.
The good news is that you don't have to start chiselling away at your walls, instead, you can opt for brick veneers to give it an authentic brick look, without the mess.
You can even take a look at some wallpapers to see if there are any realistic brick patterns.
A low-cost panelled feature wall idea
A wooden panelled wall looks sophisticated and stylish, and can add posh hotel vibes to your home. You can either opt for a full room, floor to ceiling, or a full room with the panelling halfway.
But, if you're looking for a way to save some money, why not consider just having a section of the room panelled?
In this example, the panelling is around the bed to create a focal point, but you could have a section on a chimney breast or a wall with a mirror on – it doesn't need to be loads of panelling to make it look good.
A mirror feature wall
A mirror feature wall is a great way to achieve some style out of practicality.
Consider one in the bedroom, or in a hallway, so you can have a look before you leave the house. The bonus of a mirror wall is that any light will be bounced around, making the room look bigger and brighter.
If you're worried about fingerprints from little ones, then consider having the mirror wall start about midway up the wall, so it's out of reach.
See the tradespeople we've checked and recommend for your job
Cheap outdoor feature wall ideas
Who says a feature wall can only be indoors? While a lot of our indoors feature wall ideas can also be applied on outside walls, here are a few cheap outdoor feature wall ideas that will look stunning.
An espaliered tree outdoor feature wall
Espaliered trees have always been very popular due to their space-saving benefits and fruity benefits.
These trees are trained to grow along a wall, with the wall absorbing heat from the sun and keeping the tree warm.
A wall of espaliered trees is a cheap outdoor feature wall idea, although it might take a few years to come to fruition.
Do you need a gardener to help you train your fruit trees?
A living outdoor feature wall
A living wall is quite literally what it says on the tin. It is a wall that has plants growing from it, and depending on what sort of plants you go for, it can offer a multitude of benefits to nature and help with your wellbeing too.
Once you have invested in your living wall, it's just a case of maintaining it, and throughout the changing seasons, you will experience the different stages of your wall.
If you've only got a small space to transform, it doesn't matter, you can make the most of every bit of that wall.
Find a garden designer near you to help you plan and plant your living feature wall!
Like what you see? There's more where this came from. Check out Checkatrade's blog for more tips, ideas, how-tos, and inspiration.
See the tradespeople we've checked and recommend for your job
Tell us what you think
What others think of this article: