When it comes to conservatory ideas, it's all about the ambience and elegance. How they look and feel is what makes them so popular. Not only are they cheaper than extensions, but they also add value to your home and connect you to your garden (even when the UK weather is being its notorious self!)
Amid the myriad of conservatory design ideas circulating online, choosing the right one for your home can feel overwhelming. However, despite what the internet will have you believe, it requires only a few considerations.
Questions to ask yourself include:
What square footage am I working with?
Which conservatory design will fit in with the style of my house?
How do I want to use my conservatory? (i.e. For dining, sunbathing, botany or reading etc.)
Once you've answered these questions, it's just a matter of choosing your design and deciding how best to decorate it.
You can also use our conservatory ideas and tips guide to further inspire and help you make the right design decisions.
Find your nearest conservatory specialist
For more information regarding how to plan a conservatory installation, check out our how-to guide.
Conservatory ideas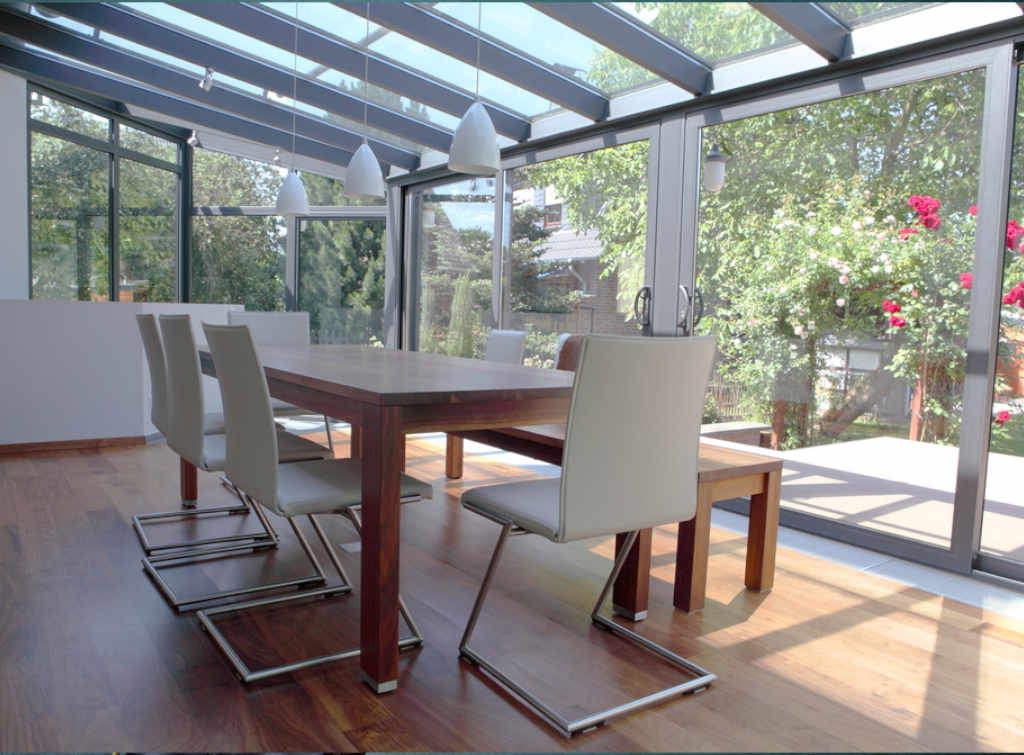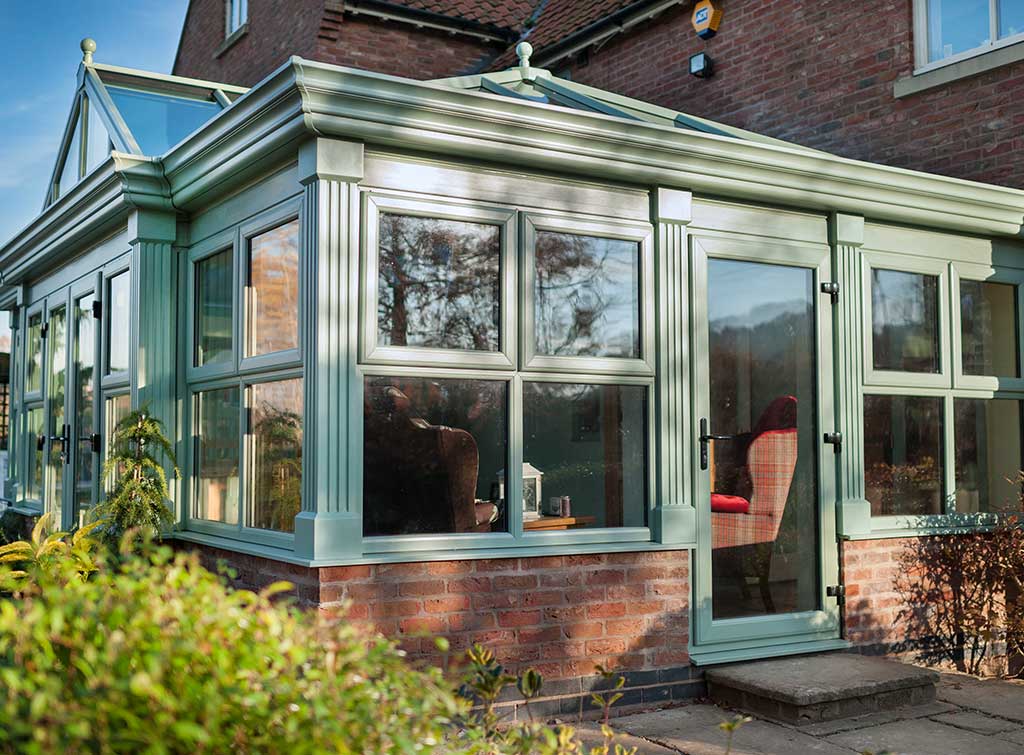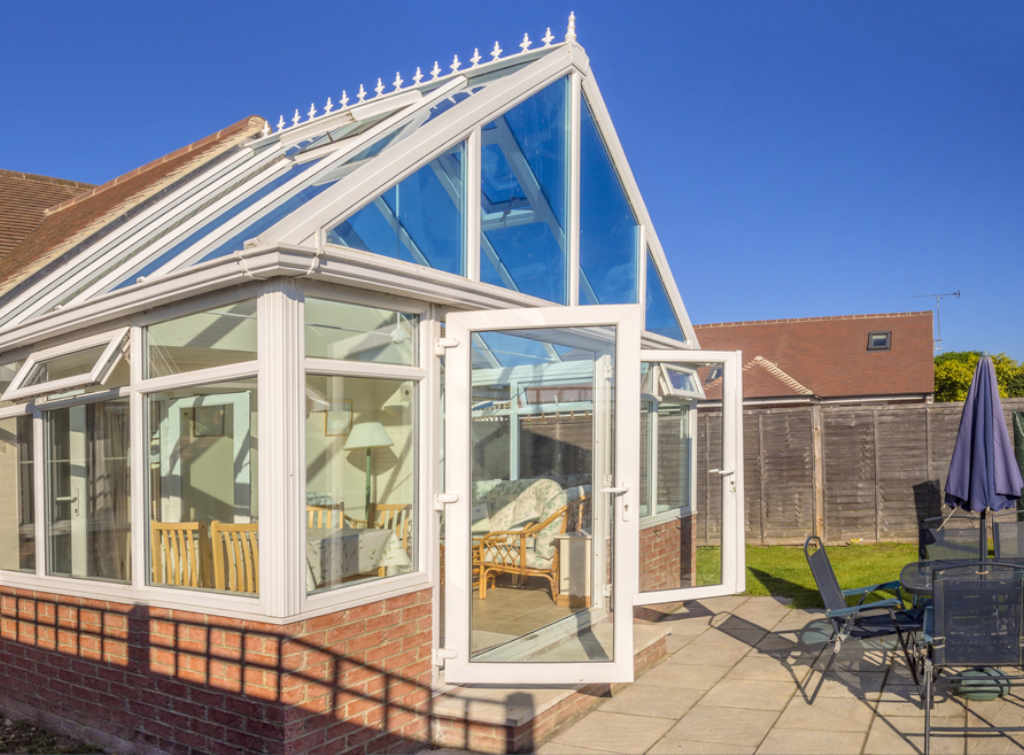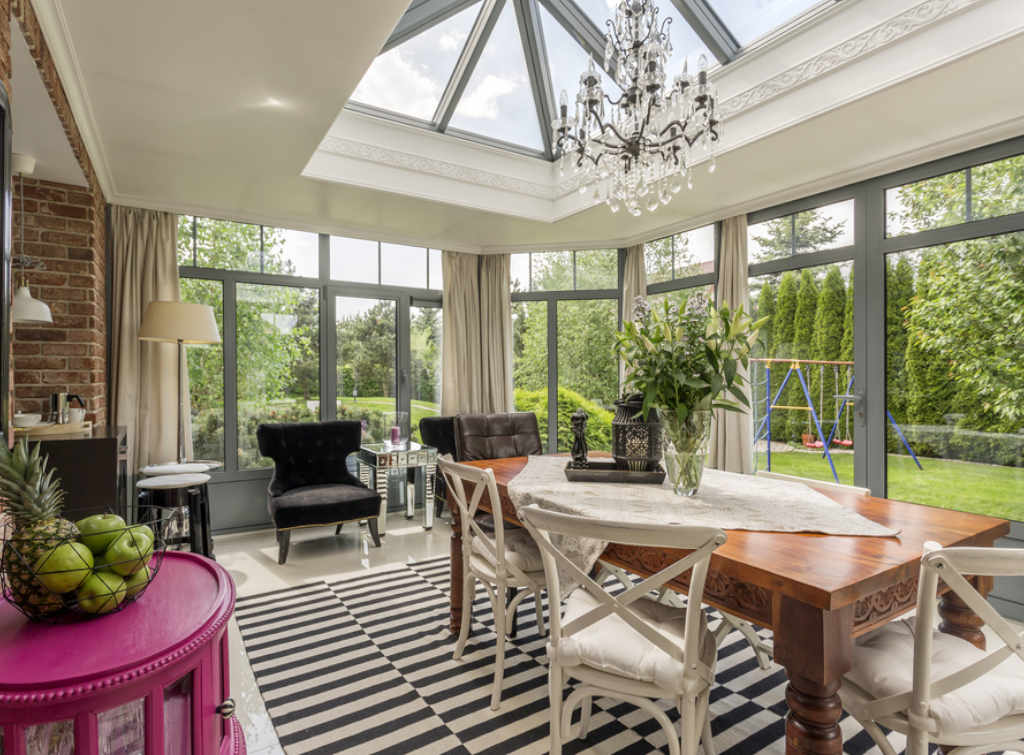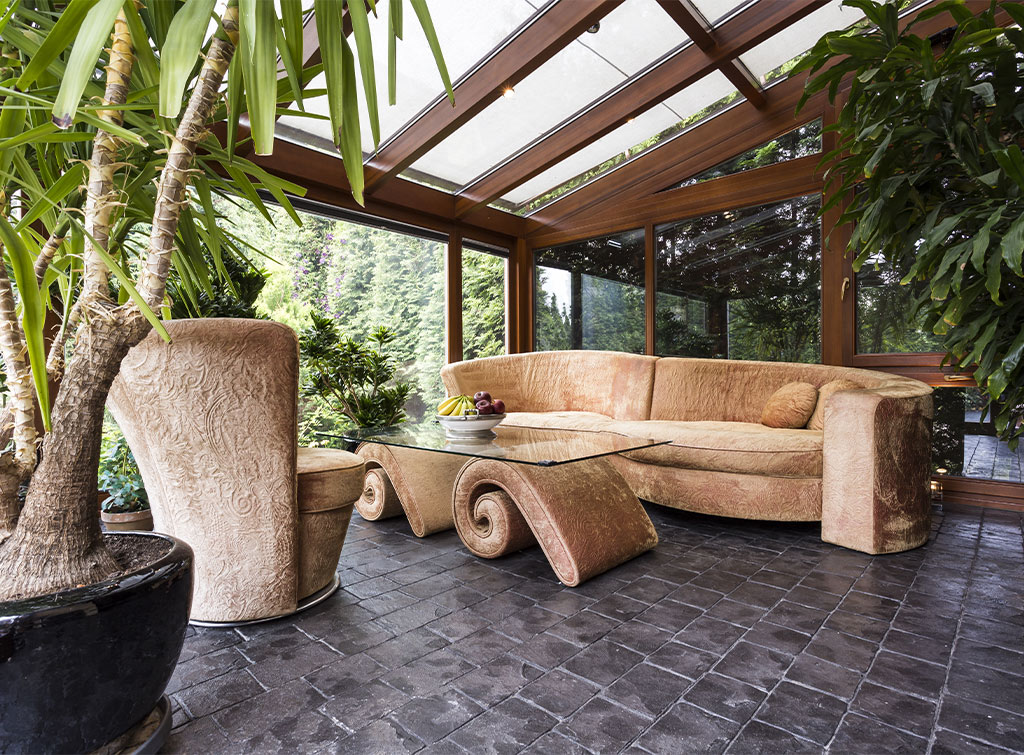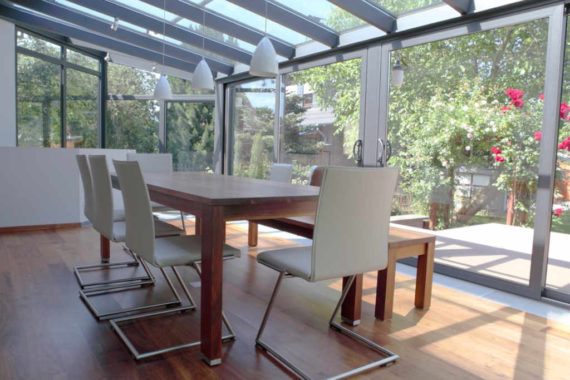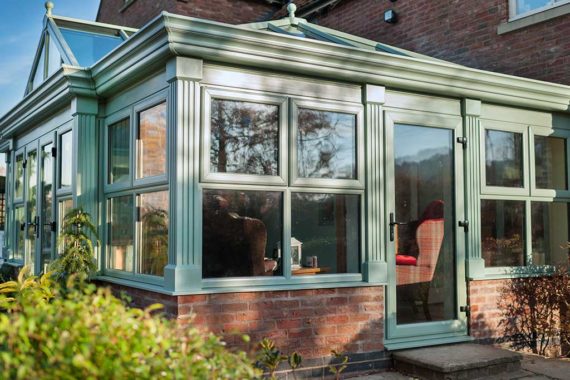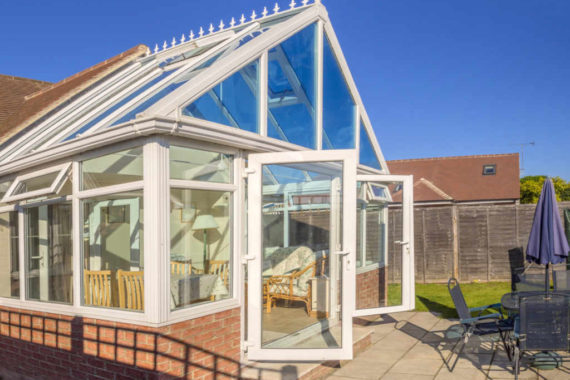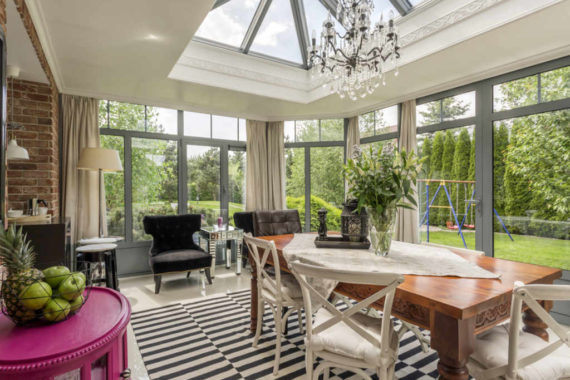 Modern conservatory ideas
There are infinite possibilities when it comes to modernising your conservatory. Due to their adaptable nature, most people choose bespoke options that suit their style and taste. Differences can include the type of glass that's used, the kind of windows installed, the preferred panelling and, of course, the shape and material of the roof.
Glass extensions are a sleek and effortless way to upgrade your conservatory. Not only do they invite lots of light and warmth into your home, but they also work with almost any brickwork or cladding design. Double glazing and integrated doors offer a seamless transition into your garden, while landscaping your outdoor space gives you something beautiful to look at on a rainy day.
Modern conservatory design ideas
Burst with botanicals
A warm and welcoming aesthetic is ideal for any modern conservatory. Bringing nature indoors with tall parlour palms and hanging baskets full of mandevilla (rocktrumpet) is ideal. Better yet, if you're opting for an orangery, the world is your botanical oyster.
For a fragrant oasis, attach bougainvillea and jasminum azoricum to trellises; decorate tables with pots filled with stephanotis floribunda, and place giant phoenix palms in lonely corners.
Succulent popularity is spiking in the world of interior design. If you're less green-fingered than the average gardener, having a selection of cacti displayed in terrariums, vases and/or refined concrete pots is a (literally) effortless way of modernising your space.
Modern conservatory interior ideas
Add parquet for personality
A stunning addition to any conservatory, wooden parquet floors are contemporary, stylish and intricate. Whether you choose a walnut, oak, aged or chevron design, these floors will transform your conservatory into a tranquil retreat fit for royalty.
Modern conservatory colour ideas
Deal in teal for a stylish colour theme
Teal is a multifaceted colour. Available in a spectrum of shades – from pale celeste and aquamarine to rich evergreen and ocean blue – choosing the right shade for your conservatory is just a matter of light. The brighter the room, the darker you can get away with. That said, to maintain balance, we suggest you stick to the middle of the palette.
Pair this versatile colour with neutral furniture and bronze or brass accessories for a striking yet warm aesthetic.
Modern garden dining idea
A fantastic way to utilise your modern conservatory is to turn it into a garden dining room. Think quintessential picnics with jute decor and polished brass place settings. Place a low hanging lantern above a traditional wooden bench for a rustic feel, then decorate the bench with table runners, plumped patterned cushions and wildflowers such as these lavender pots.
Small conservatory ideas
When it comes to decorating a small conservatory, maximising your space and working with the light is essential. Stackable rattan furniture is perfect for keeping things neat and compact, while natural colours like sand, cream, white, lilac, and grey are gentle colour combinations for an airy and peaceful atmosphere.
Bring nature inside with jute rugs, woven Scandinavian baskets and a hanging chair or two. They take up less space than sofas or tables and are great for unwinding after a long day.
Conservatory ideas for small spaces
Turning your small conservatory into a natural sanctuary is a great use of space. Neutral woods and potted plants work well together, leaving you to inject colour with accessories like accent chairs, floor lamps and cottage-style cushions. Perfect for enjoying a Sunday afternoon reading or taking a restorative nap while rain patters on the rooftop.
Space saving conservatory ideas
Whether you turn your small conservatory into a kitchen, dining room, reading nook, home-garden or zen retreat, there are several space-saving designs that can help make the most of your space. Think stackable coffee tables, fitted pantry shelves, L-shaped window benches and foldaway furniture. Finish the look with decorative cushions, throws and plants.
Built-in storage and corner shelves keep your conservatory floor clutter-free and roomy. Pick a rug for the perfect finish and get ready to enjoy a minimalist environment.
Lean to conservatory ideas
Also known as sunrooms, lean-to conservatories are rectangular-shaped structures attached to the wall of your house. Perfect for growing herbs or filling with air-purifying plants, lean-tos can house workbenches, banquet tables or swing benches that look out into your lovingly landscaped garden.
Conservatory ideas for lean tos
Floor-to-ceiling windows with white panelling and peripheral planters are great for lean-tos. 2020 has been about sustainability and eco-friendly furniture. Growing your own food is a top trend that works on so many levels, so think about adding trough planters and populating them with healthy vegetables, wildflowers or your favourite herbs.
Sit amongst your greenery by adding a small table and chair set like these bistro designs. For those with more space, add a two-seater couch and pair it with a low coffee table like this lovely Indah design.
Dressing your lean to conservatory
Keep it simple and elegant with wicker furniture and bright decor. Light grey floor tiles work well in sunrooms with lots of light, as do anti-bleach furniture choices like rattan sets or twisted metal love seats.
Consider floor cushions and recliner chairs for your lean-to conservatory, and surround yourself with sun-loving plants for a lung-friendly and green-fingered oasis.
Bungalow conservatory ideas
Also known as extensions, bungalow conservatories are versatile spaces that come in various designs. Think about turning yours into a second living room or dining space. Include modern decors such as industrial swing lamps, white tiled floors, a large area rug and a big corner sofa set.
For spaces big enough, an indoor firepit such as the fire olive lamp for cold evenings or summer nights is a lovely touch.
Bungalow conservatory design ideas
Grey is a stylish and modern colour that works well with most colour splashes or shade. Keep the conservatory decor neutral in terms of furniture, cabinets or accessories. Think about adding some rope macrame hanging planters for a bohemian edge, then finish off the look with some wall shelves and floral artwork.
Find your nearest conservatory specialist
Tell us what you think
What others think of this cost guide:
Need More Information?
Related posts