Make the most of your space by incorporating one of our kitchen diner ideas. They're perfect for creating a fun space to cook, entertain, eat and relax. As a result, they bring the whole family together by transforming the space into a versatile and functional design solution that encourages socialisation.
Kitchen diners are increasing in popularity – especially with homes opting for more open-plan designs and multi-use furniture. In response to diminishing square footage and real estate competitiveness, merging the kitchen and dining room into one room is a practical and stylish living solution that bridges the divide between food preparation and entertainment.
That's why this blog is going to look at the latest kitchen diner ideas, trends and uses. Let us inspire your next renovation by helping you maximise your square footage. In return, you'll reap the benefits of greater task management, time-efficiency and kitchen versatility. Not only that, but our designer diners will become the main hub of your home.
Why not hire one of our expert tradespeople to help you reinvigorate your kitchen? Discuss your options and start planning your renovation today!
See the tradespeople we've checked and recommend for your job
Kitchen diner ideas and designs
Practicality, multi-use, and a touch of the vintage are all on-trend this year. So, why not incorporate sustainable wood, mix and match furniture, and keep things simple and timeless? Stay on the designer diner tick list with stylish elements like a kitchen island or peninsula, breakfast bar or open plan layout. Not only that, but adding colour splashes and mood lighting are great ways to reinvigorate your space and keep it fresh and interesting.
Looking for more inspiration? Read our breakfast bar ideas for more kitchen design trends.
Small kitchen diner design ideas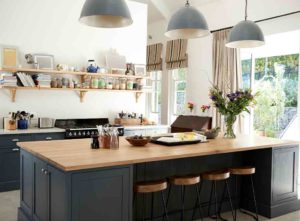 Declutter your kitchen by incorporating lots of storage units – be it floating cabinets, floor to ceiling shelving units, or versatile kitchen islands.
The key is to use a combination of lots of different storage solutions to avoid overpowering your kitchen and boxing it in. For example, why not add a hanging shelf that sits above your kitchen island? Adorn with jars, utensils, cookbooks or plants for a fun and fresh vibe.
Open plan kitchen diner ideas
Bright, light and spacious designs don't mean boring. Add interest by bringing a touch of the outdoors indoors, with floor-to-ceiling glass doors that invite sunshine and vitamin D.
Introduce warmth with wooden countertops or a bold feature wall and matching accessories. The trick is to hint and not overpower your space. Less is more when it comes to interior design ideas.
L-shaped kitchen diner ideas
L-shaped kitchens make excellent diners because of their layout. They also complement a kitchen island, breakfast bar or dining room table and chair set. Make your space work for you by tying in accessories to set the tone for your decor, whilst also keeping clutter to a minimum.
Low hanging lights are a classic and timeless feature that offers an opportunity to inject a pop of colour or add interest to an otherwise low-key finish.
Things to consider when designing your kitchen-diner
When it comes to planning, installing and decorating your kitchen diner, there are a few things to consider.
What colour combinations work best for your desired aesthetic?
Where is the light coming from and how best can you utilise it?
Do you need to hire an electrician to install extra plug sockets?
Is your design ergonomically viable?
Have you stocked your shelves and drawers with the right accessories or produce for better task management?
Do LED mood-lights, inset ceiling lights or a combination of both create the atmosphere you're looking for?
Are you able to move around your kitchen island?
Will your space accommodate guests for entertainment purposes?
See the tradespeople we've checked and recommend for your job
Most kitchen installations require an electrician, plumber, handyman (or all three!) to help you fit your designer diner. We recommend getting 3-4 quotes and narrowing down your options from there. And before you go, don't forget to check out our kitchen fitting cost guide to help you understand the likely prices involved in your renovation project.
For more ideas like this, check out our carousel content below.
See the tradespeople we've checked and recommend for your job
Kitchen diner ideas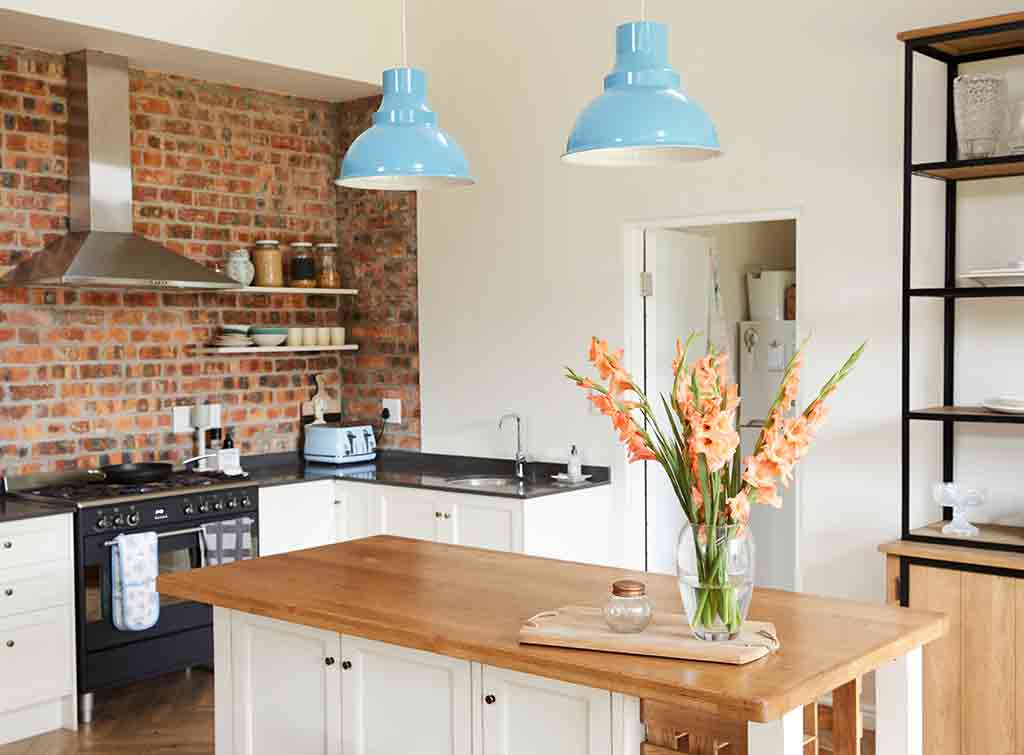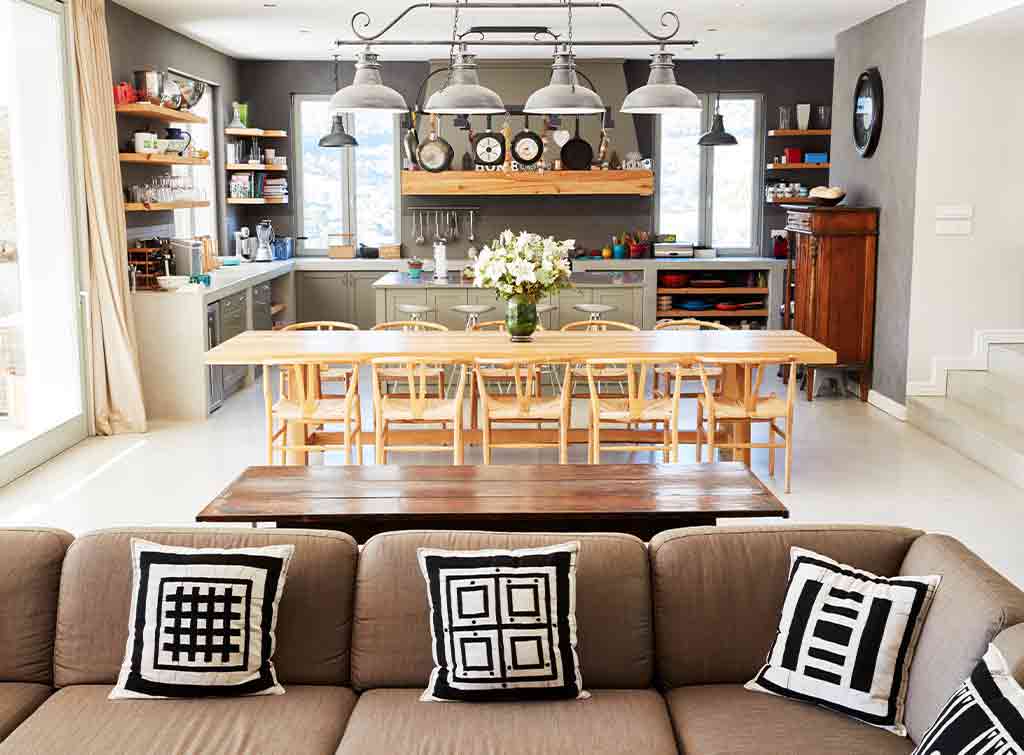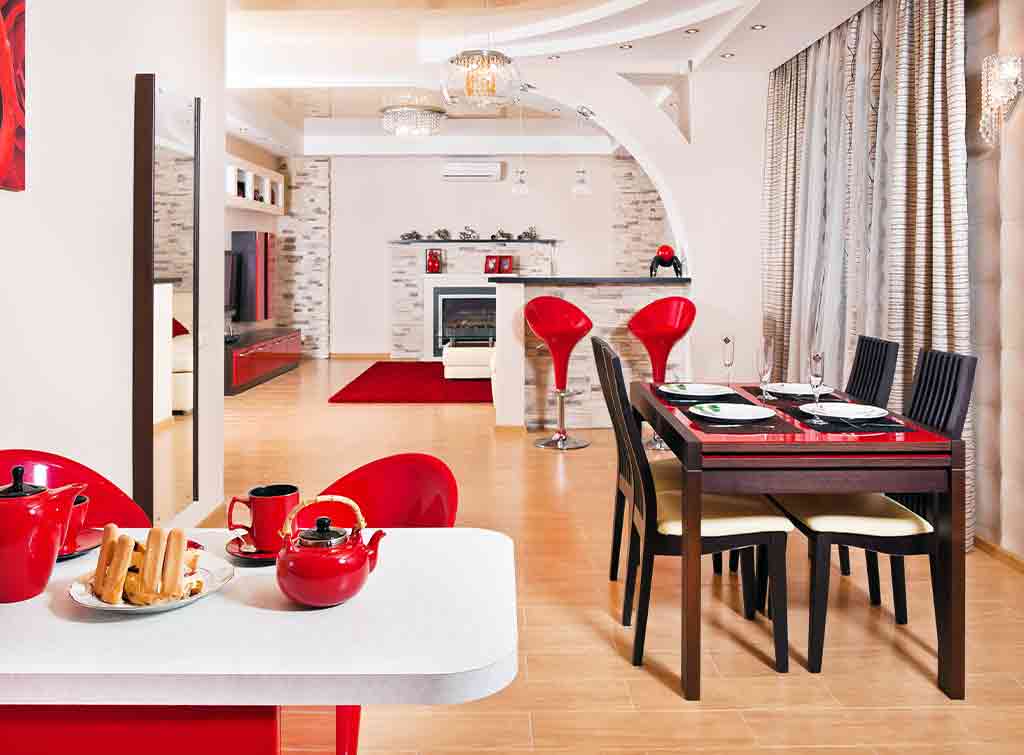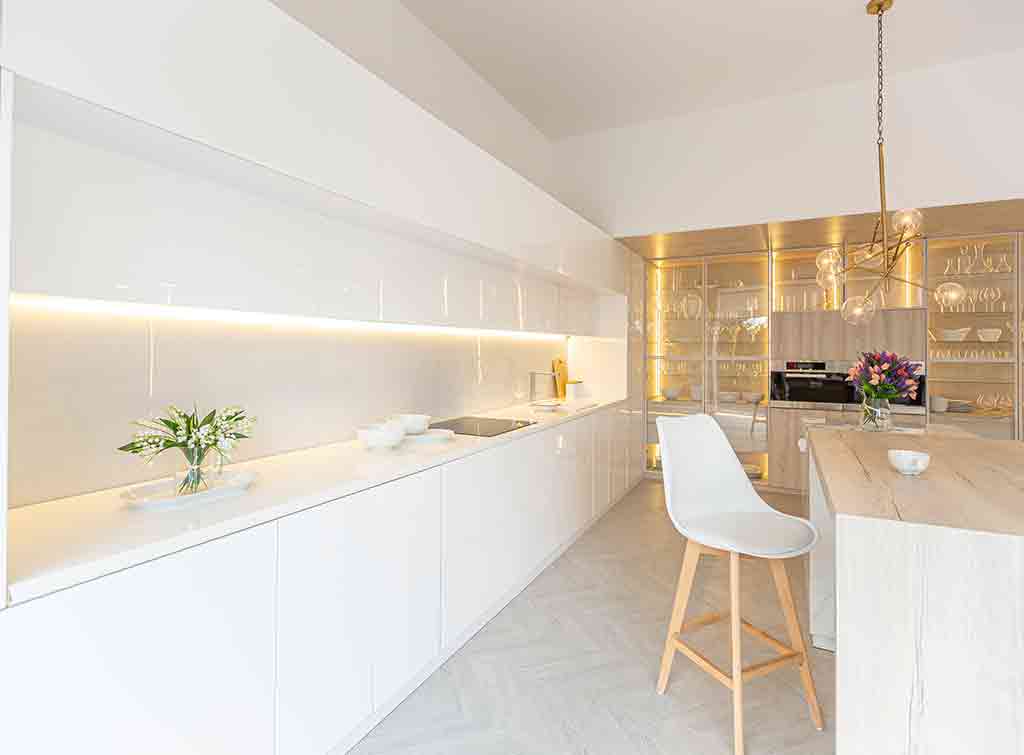 Small kitchen diner ideas
Add a splash of cottage-gore to your kitchen diner with open bricks, vintage hanging lights, wildflowers, and classic units and countertops. This rustic and elegant kitchen has been brushed with a touch of nature.
Small open plan kitchen diner ideas
This open-plan L-shaped kitchen, dining and sitting room is a beautiful example of open-plan living. Each space is unique, yet keeps one or two design elements to tie the areas together.
Modern kitchen diner ideas
Retro and vintage design is making a comeback (if it ever truly went away). This white and red kitchen diner uses clashing textures to great effect. Open beams, brushed bricks, wooden floors and floor-to-ceiling drapes offer a modern twist on a classic look.
Narrow kitchen diner ideas
This industrial and shabby-chic kitchen diner is perfect for narrow or small kitchens. We love the shorter breakfast bar that branches out from the L-shaped kitchen counter, while the complementary colours and neutral floors give the illusion of depth and space.
Long kitchen diner ideas
Add a touch of whimsy to your kitchen diner by incorporating under-unit mood lighting, light wood and white furniture. Clean, minimalist, stylish and warm, the lighting is the star of this design.
See the tradespeople we've checked and recommend for your job
Tell us what you think
What others think of this article:
Need More Information?
Related posts