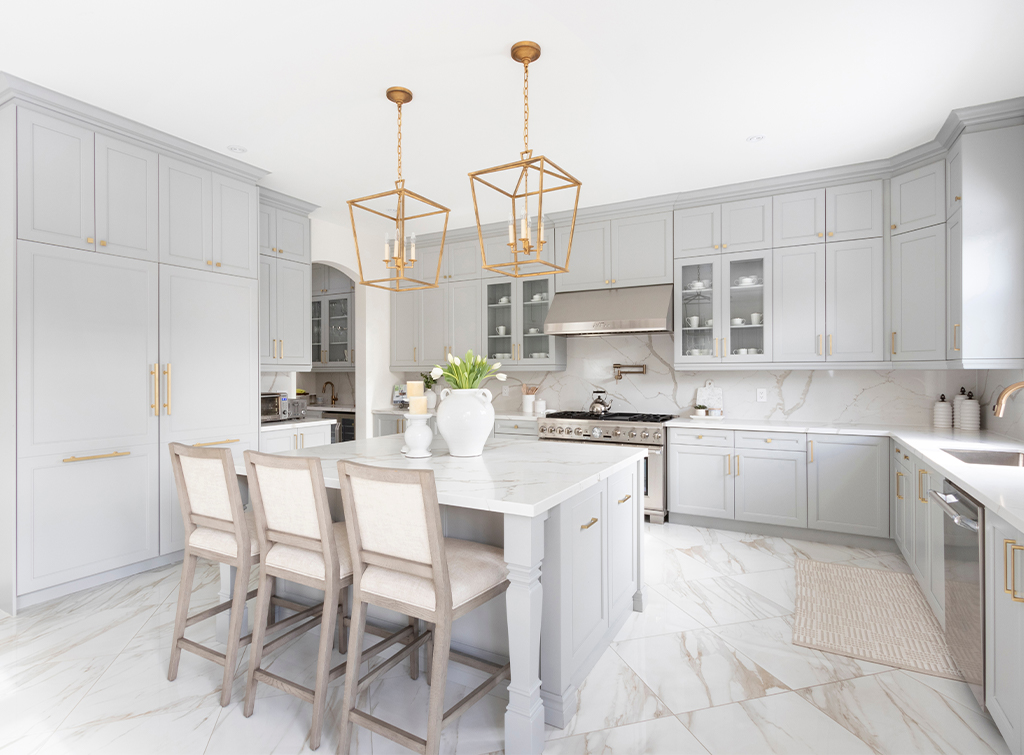 Kitchen flooring needs to be two things – functional and stylish. After all, we spend a lot of time in the kitchen cooking, cleaning, entertaining and dining. It's important to have flooring underfoot that meets the demands of modern living and completes the overall look and feel of the space.
Today's kitchen floors come in a wider range of materials and finishes than ever before, including some you might not think would suit the daily activity of a busy family kitchen. Yet up-to-the-minute manufacturing and finishing techniques mean that even modern kitchen floors are up to the task.
Whether you want to make a contemporary statement or opt for something innovative and sleek that subtly complements your overall décor, we've put together some of our top modern kitchen floor ideas.
What is the best flooring for a modern kitchen?
When choosing the best flooring for your contemporary kitchen, you need to consider what overall look you want to achieve. There are a number of different materials that will seamlessly integrate into a modern home, such as natural stone, tiles and vinyl. Still, it comes down to the aesthetic and practicality you want from it. Popular modern kitchen floor ideas include:
Find a local flooring specialist
Modern kitchen flooring – What to consider
As well as the overall look of your kitchen flooring, you also need to consider the maintenance required and how functional it will be for your space. For example, some flooring options simply require regular cleaning with warm water and a mild detergent. However, hardwood flooring in a kitchen may require regular oiling to keep it protected from water damage and stains.
Before you purchase your kitchen flooring, you should also consider underfloor heating. If this is something you'd like to incorporate, you may need to look at which flooring options and materials will provide the best heat circulation.
Modern kitchen flooring on a budget
Naturally, materials such as hardwood and natural stone tiles are higher in price than vinyl and laminate. But that's not to say you can't still achieve a similar look using more budget-friendly materials.
If you find a hardwood or natural stone style you love, you will probably be able to find something similar made of vinyl. Vinyl and laminate are generally more straightforward and quicker to install, so are usually cheaper in terms of labour costs than hardwood and tiles. Find out more about average costs for modern kitchen floors in our modern kitchen floor cost guide.
To get an estimation for the cost of your kitchen flooring installation, and to get advice from a local flooring expert, use our Checkatrade search to find reliable and trusted flooring experts in your area.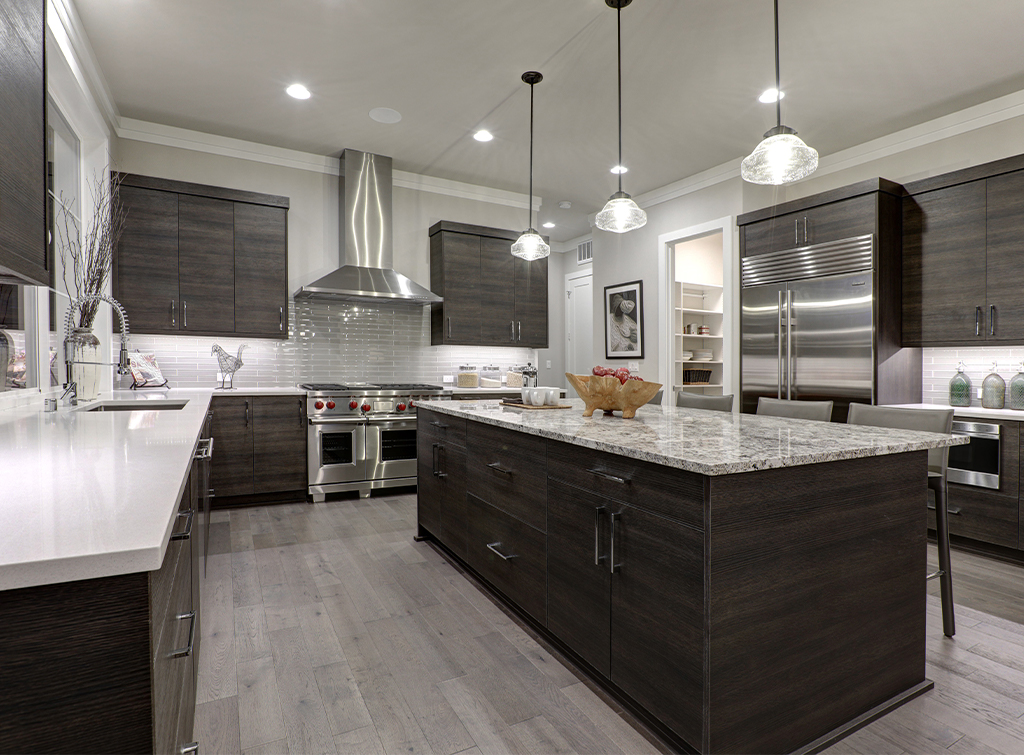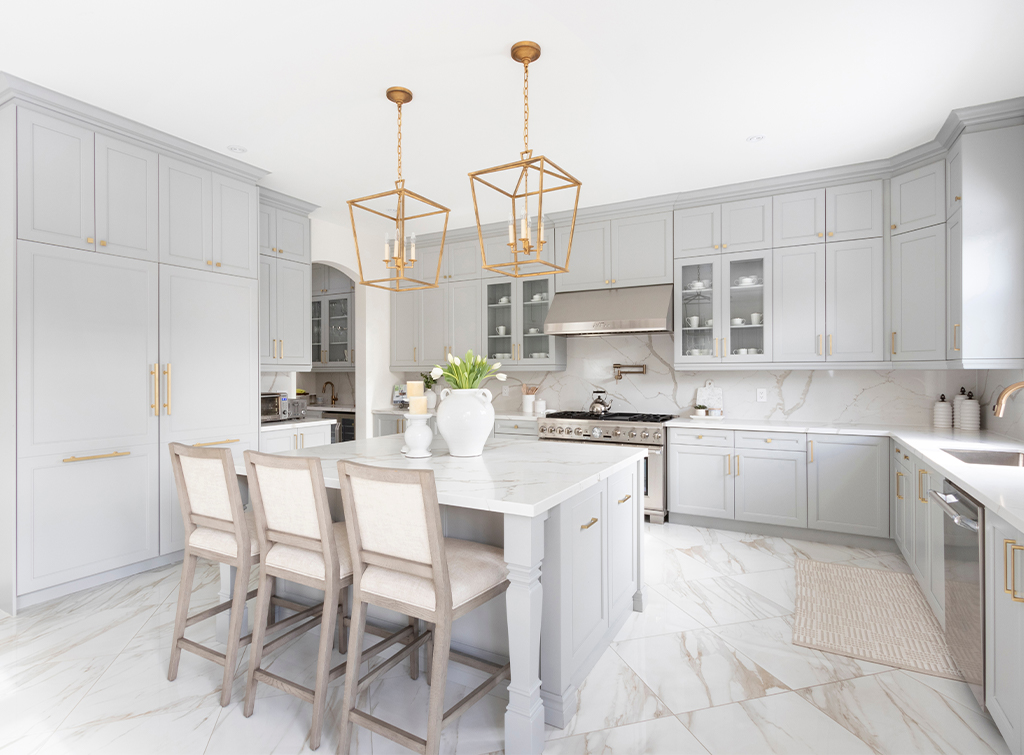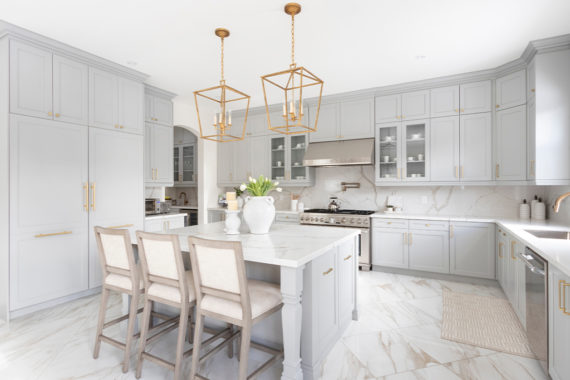 Tile Flooring
Tiles are great if you want to create a real statement with your kitchen flooring. You can choose from a huge selection of geometric and colourful patterns.
Laminate Flooring
Laminate flooring can provide a stunning hardwood effect at a fraction of the price of real hardwood. It's also highly durable and versatile.
Vinyl Flooring
Vinyl has come a long way from its 1960s roots. Modern vinyl kitchen flooring allows you to replicate the look of almost any other type of flooring affordably and practically. For example, you could choose vinyl to imitate hardwood, herringbone flooring or natural stone.
Hardwood Flooring
If properly maintained, hardwood can make for beautiful kitchen flooring. It's perfect if you want to combine modern and traditional interior themes.
Natural stone Flooring
From slate and travertine to limestone and marble, natural stone tiles can provide an elegant floor for many sleek modern kitchens.
Find a local flooring specialist
Tell us what you think
What others think of this cost guide:
Need More Information?
Related posts