Read 'Accelerate!' for free – Learn the secrets to become a successful tradesperson
Do you feel like your company pays the bills and hasn't developed as you had imagined? Wouldn't it be great if you could get advice from some of the most successful entrepreneurs in your industry? Well, you can in our free promotion of "Accelerate!", featuring Homeserve founder, Richard Harpin. Get your free copy today to truly make your business fly!
What is Accelerate!?
Accelerate! was commissioned by Richard Harpin. Richard is the founder and chief executive of Homeserve and chairman of Checkatrade. He has over 25 years of experience in the home improvement industry and wanted to share his knowledge to help other businesses thrive.
In Accelerate!, successful business owners, including Richard Harpin, share their stories and offer tips on how to succeed in a competitive market. Much of the book is focused on growing your business in the digital age.
In the book's introduction Richard Harpin tells us that he wants to "help a million trades… grow their business in a digital world."
This ambition is matched by the huge success Richard has experienced since Homeserve acquired Checkatrade in 2017.
Download Accelerate! for free to discover more secrets to business success.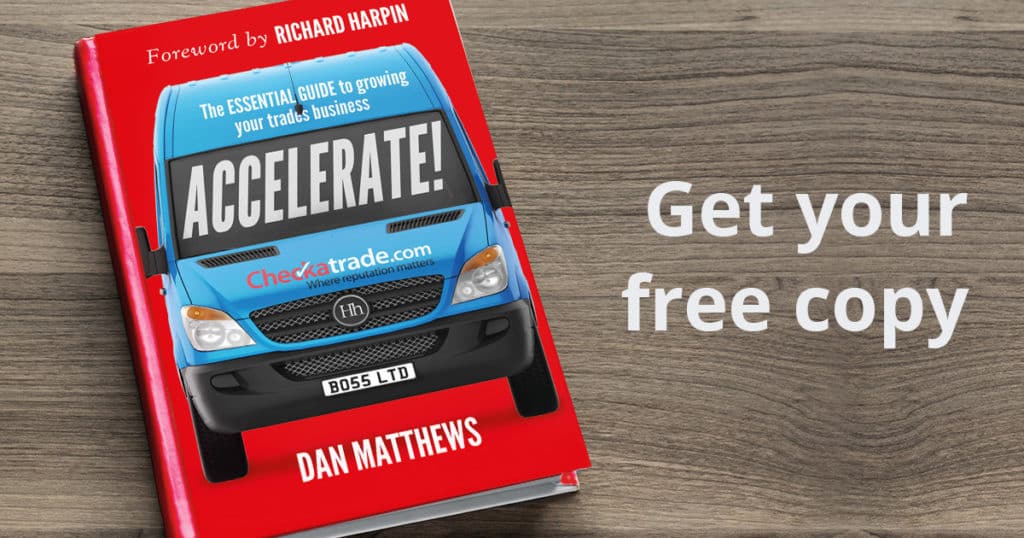 Building your business in 2022 – success in a digital world
In 2022, it has never been more important to build your online reputation. According to recent research, over 90% of people read online reviews before buying a product or service.
For most people, your online profile is the first contact they'll have with your brand. As we all know, making a great first impression is extremely important. That's why building success in the digital world directly links to real-life success.
In Chapter 4 of Accelerate!, detailed information is given on how to succeed in the online world. It explains how your website in 2022 is your shop window or showroom.
"It is so cheap and easy to market your business online, it would be criminal not to take advantage."
Success in the digital world is about standing out from your competitors. Your company message should be consistent across all points of contact:
Your website
Your social media profiles (Facebook, Twitter, Instagram etc.)
E-mail
Review sites (e.g. Checkatrade)
All the essential information about building your online image is available in the free Accelerate! book.
Beating your competitors while boosting your profits
Standing out amongst your competitors is the key to success. To do this, you need to offer your customers something unique. As living costs continue to rise, the best way to attract new customers is to offer them financial savings.
Following huge growth in the home improvement market in 2020 and 2021, things are changing. Demand is already starting to fall as customers try to save money as costs rise. This is why customer experience is more important than ever.
It all starts with the first contact made by a potential customer. To keep them interested you must act fast. In Chapter 5 of Accelerate, we look at how to attract new customers through a comprehensive sales strategy.
"Your sales strategy is the opportunity to approach business coherently."
Planning is an integral part of improving sales. Look at your current customer base and how you can retain loyal clients.
Customer focus is essential but equally important is how you manage quotes and branding.
Quotes, customer service and branding
Your customers always come first. Being clear and open with your customers right from the start is the best approach.
In Accelerate!, Richard explores how to tailor your pitch to attract customers without impacting your profit margins.
"Pitches should be friendly but professional, informative but to the point."
Your quotes should always be realistic. To get quotes done efficiently, you should use an adaptable template. This will remove the need to spend your weekends and evenings writing up new quotes.
Customisable quoting with multi-choice options for your customers saves you time and offers your customers a bespoke experience.
This links directly to your brand. Here, your message could be 'customised customer quotes for a truly bespoke service.'
This branding places focus on the customer while highlighting that you don't just offer the standard service, rather that each customer's needs are unique.
The importance of your online reputation
Today, your online reputation is one of the most important factors in achieving business success.
Online reviews play a big part in your online reputation. Our new research reveals the power of reviews with half of adults (46%) NEVER purchase anything online without checking reviews first.
Expert analysis suggests that several different review criteria affect search results including:
Amount of reviews
Positive reviews vs negative reviews
Regularity of reviews
Location of reviews
Detail of reviews
Overall, reviews affect your online reputation wherever they are found. Some platforms, however, have more influence over customers and search engines than others.
Customer reviews on industry-specific sites, however, play a more important role in influencing customer action.
"Positive reviews online are full of stories about tradespeople who went out of their way to help."
When you exceed customer expectations, they are far more likely to leave you a glowing review and recommend your business to their friends and family.
That's why Checkatrade is the UK's number one website for finding a tradesperson. In fact, 8 out of 10 people would choose a tradesperson we've checked over one we haven't*.
Download Accelerate! now to find out how Checkatrade was transformed into one of the UK's most recognisable brands.
Supercharging your trade business summary
When you want to supercharge your trade business, Accelerate! is the most concise yet comprehensive collection of information available today.
Download the e-book today to find out about:
Getting your name out there
Online marketing
Building your sales strategy
Effectively using the latest tech and IT systems
Building your team
Financial planning and profit
Legal information
Business growth
Industry success stories
As you will hopefully soon find out, Accelerate! can be your key to business success.
One extra tip not found in the book
In the digital age, your image is your identity.
People shop with their eyes. Investing in professional photography to showcase your work online and on social channels is a great way to promote your business.
Through careful planning, branding, and promotion, your business can thrive. Equally important to business success, are finance management, legal organisation, and employee management – all of which is covered in Accelerate!.
Common business questions, answered
How can I start a business?
Starting a business is all about planning.
First, you'll need a detailed business plan (see chapter 8 for detailed information on setting up as a sole trader, limited company etc.)
Visit https://www.gov.uk/set-up-business for all the legal and technical advice you need.
Once your business is officially registered, it's time to put Accelerate! to good use and start building your brand.
What makes a business successful?
Read Accelerate! and you'll find out!
The answer is customer focus. When you start to read Accelerate!, you'll soon realise that the customer is at the heart of every business decision you'll ever make.
*Claims are sourced from a survey conducted by Deep Blue Thinking on a nationally representative UK sample in November 2021. 8 out of 10 people would choose a trade endorsed by Checkatrade compared to one that isn't endorsed.