How to make a website for a new business
Are you a new business owner? Have you recently started a trade company in your local area? Do you want to grow your business and maximise success? To do this you're going to need a business website!
How to make a website for a small business?
Today, a business website is essential. Customers use the internet for everything. From product research to opening hours and location, your website is the one-stop shop for all your customers' needs.
Creating a website may seem daunting. With a bit of knowledge, however, you'll soon have a stylish and user-friendly website to promote your company.
Whether you decide to build it yourself or hire a web designer, the more you know about the process, the higher your chances of building business success.
The first thing to do, as with all marketing, advertising and company promotion, is to know your customer base.
Who is your website aimed at?
Your customers, of course! But who your customers are will influence the design and content of your website.
All business websites should provide certain information. This includes:
Your business name and logo
Your address and contact details
Information about the products/services you provide
The area you cover
For businesses targeting the homeowner market, you should also include helpful information about how your products/services will improve their lives.
Provide case studies with before and after pictures. Clearly advertise any promotions and offers. And give people an easy method to make direct contact.
For businesses working in the commercial or B2B sector, your website should clearly advertise this. Again, highlight what products and services you offer. Also mention any high-profile projects or clients you have previously worked with.
Once you know how you want your website to look and what information to include, it's time to start building.
How to buy a domain name
Without a domain name, there's no website. It's the URL or link that you'll share with your customers and use on social media to direct people to your website.
Where possible, your domain name should be concise, easy to remember, and include your business name. Avoid numbers, acronyms, and abbreviations as they may be confusing and easy to mistype.
Part of your domain name will include your TLD (Top Level Domain). This is the suffix at the end of the URL, and could be '.com', '.co.uk' or '.org'.
Once you've chosen your domain name, you'll have to check its availability and purchase it through a domain registrar. WordPress, Wix, and GoDaddy are popular domain registrars.
Buying a domain name usually costs between £7 and £12 per year.
Want to maximise your website's potential?
Join Checkatrade to boost your visibility
Start our checks now
Hosting your website
All websites need a host. This is the server where all your website data is stored and made accessible to the public.
So, how much does it cost to host a website? Well. website hosting can cost anywhere from £2 per month to more than £400 per month. The most cost-effective way is to opt for shared hosting. This involves sharing a server with other sites.
Dedicated hosting is more expensive but means that your website will be hosted on your own private server. This will make it quicker and more responsive. It also won't have to compete against other websites on the same server.
Some website builder platforms include hosting in their monthly packages. This is worth considering when starting out.
Others may offer free website hosting. This, however, will mean that they will use adverts to make their money. Banner and pop-up ads may slow down your website and make it frustrating to use for your customers.
Which website builder is best?
The best website builder for a new business will depend on personal preferences, budget, and expectations.
Some of the most popular website builders for new businesses are:
Wix
WordPress
Weebly
Squarespace
GoDaddy
Have a read of our website builder comparison to find out more detailed information.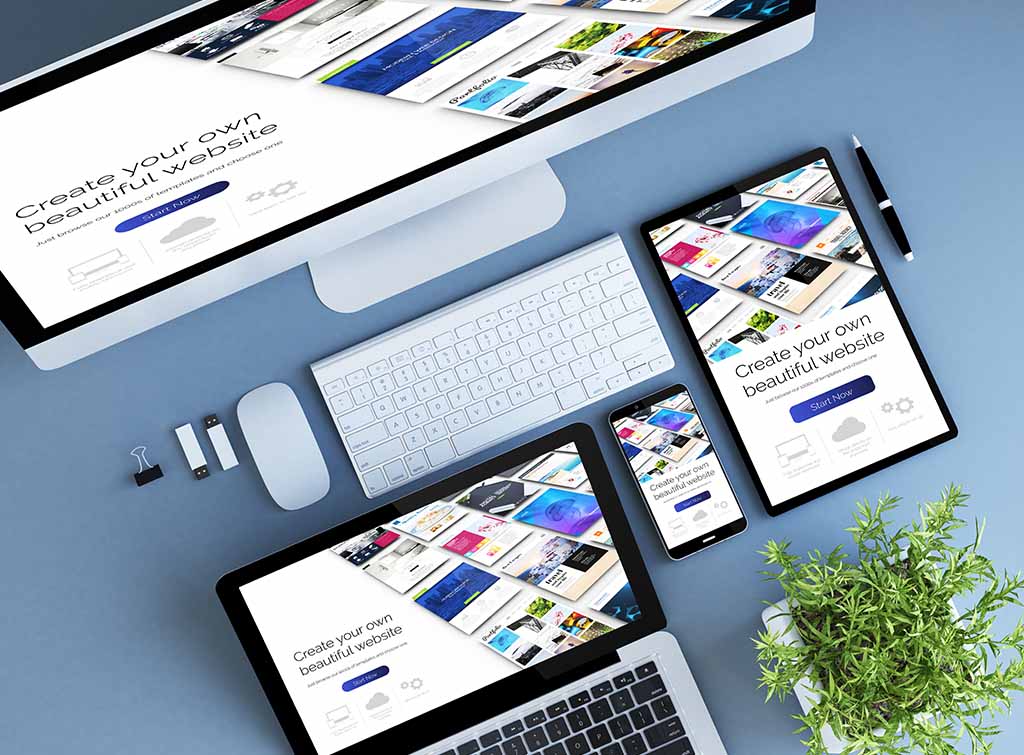 What is the easiest website designer for beginners?
If you're daunted about how to create a small business website, you'll probably be wondering what is the easiest website builder to use. Luckily, many website builders are beginner-friendly.
Squarespace is often cited as the most user-friendly website designer for beginners. It is very intuitive and offers wide scope for customisation.
Other popular website designers for beginners include Wix, WordPress, Weebly, HostGator and Shopify.
Want to maximise your website's potential?
Join Checkatrade to boost your visibility
Start our checks now
Build your own vs using a web designer
Building your own website might sound like a daunting prospect. It is, however, relatively straightforward for someone with a good basic knowledge of computers.
Website builders use page templates where you can add content. This includes adding written information, pictures, videos and links to other pages, social media, and external sites.
If you'd prefer to hire a professional web designer, perhaps the most important consideration is cost. So, how much do web designers charge?
Well, you'll be looking at paying anywhere from £10 to £50 per hour. Typically for a new business, a six-page bespoke website costs around £700. Find out more about the website design costs in our dedicated guide.
Building your website pages
Whether you decide to build your website yourself or hire a web designer, there are certain essential elements of any business website.
To give you an idea of a website's structure, you should look to include the following pages:
Home page
About us page
Product/Services pages
Contact page
Blog/news section
All your website pages should include your business name and contact details. This will enable customers to contact you at any stage of their customer journey.
Going live – publishing your website
Before publishing your website, it's important to carry out some tests. Make sure that your website is accessible on all major search engines: Google Chrome, Firefox, Microsoft Edge, Safari, and Internet Explorer.
Scroll through all the website pages on each browser. This will ensure that all images are showing correctly, all links are visible and work, and the formatting is correct.
Finally, make sure that your website shows correctly on all device types. This includes mobiles, tablets, laptops, and desktop computers.
Once all checks are complete, it's time to publish. When your website is live, you can start marketing your business online and sharing your website address with your customers.
Want to maximise your website's potential?
Join Checkatrade to boost your visibility
Start our checks now
FAQs
How much does it cost to make a small business website?
Building a website for a small business can cost anywhere from £100 to £10,000. The cost will depend on size and complexity of the site.
How much does it cost to run a website?
Website hosting can cost anywhere from £2 per month to more than £400 per month. If you use a website builder like Squarespace or Wix, you'll also have a subscription fee to pay. Exactly how much you're charged will depend on the website builder you choose and the plan you pick, but you can expect to pay between around £5 and £50 per month.
Can I make a website for free on my own?
Yes. Most website builders offer a free option. This will limit the scope of your website, however, and free websites don't usually look very professional.
How long does it take to create a business website?
A typical small business website should take between two to three months to build.
How do I get analytics for my website?
Some website builders offer data about how your website is performing as part of your package. However, Google Analytics is the most popular free web analytics tool out there. To get it for your website, you first need to sign up for an account. You can then add it to your site using your Analytics Property ID.
What's needed to build a website?
To build a website, you'll need a domain name and a host. Most people who decide to build their website themselves will also opt for a website builder, which will provide templates for you to customise to your business' needs.
How to get free images for a website?
If you're looking for free images for your website, you can use free image sites such as Unsplash and Pixabay.