7 reasons you shouldn't join Checkatrade
Save yourself. If you like free time to chill out rather than work on your Checkatrade profile, close this page and run in the other direction. Scream if you must. But whatever you do, do NOT join Checkatrade. If you think we're kidding, read on for the top 7 reasons we're not.
There are several reasons why you may not want to join Checkatrade. We're going to take a look at the main few.
Here's why choosing to sign up to our platform is the biggest mistake you could ever make.
1. With great legitimacy comes great responsibility
If you manage to pass our 12-point checks, you'll join our online community and we vouch for you. We believe in you so much, we guarantee your work for your customers.
However, with great legitimacy comes great responsibility. As a result, you'll have to live up to our hype game. And like Icarus, if you fly too close to the sun, there's nothing we can do for you.
So, although we're 99% sure you could move the moon with your bare hands, you'll need to make sure you take on a manageable work-life balance and only accept jobs you can handle with open arms.
Like overly zealous and proud parents, we're not always right about our opinions on your limitations.
2. Your diary won't see as many clean pages again
Signing up to Checkatrade and doing all the right things with your profile will mean less of those wonderful white spaces in your diary.
Forget sitting at your kitchen table in the morning and enjoying a freshly brewed coffee. You're a flask person now.
Studies revealed how 8/10 people would choose a tradesperson we've checked over one we haven't*. That means it's easier to win work and make sure your diary never again knows the horror of loneliness.
Top tip: Checkatrade members could win even more work by telling their customers about the Checkatrade guarantee. Yet ANOTHER way to make sure you have no social life, and we're still only at reason number 2 not to join.

3. The competition has a name, and it's called envy
We all like to be liked. However, joining Checkatrade means eating at the cafeteria table alone forevermore.
Shunned from local society due to your enviable success, expect fake smiles or outright hostility from your competitors – and don't expect an invite to your local tradesperson gala any time soon.
Not heard of the gala? Oh dear, it's happening already…
Why not comfort yourself by reading all your juicy reviews indexed in Google?
4. The Checkatrade jingle will haunt you
If you haven't heard our jingle yet, this is your first warning to never Google it, click the below link, or join as a member.
You won't be able to get the jingle out of your head, especially when you hear it each time a lead notification blares through your phone.
If you've woken up in the middle of the night, dazed and disorientated with an insatiable need to check, check, check everything you own, it's already too late.
5. You will become obsessed with your profile page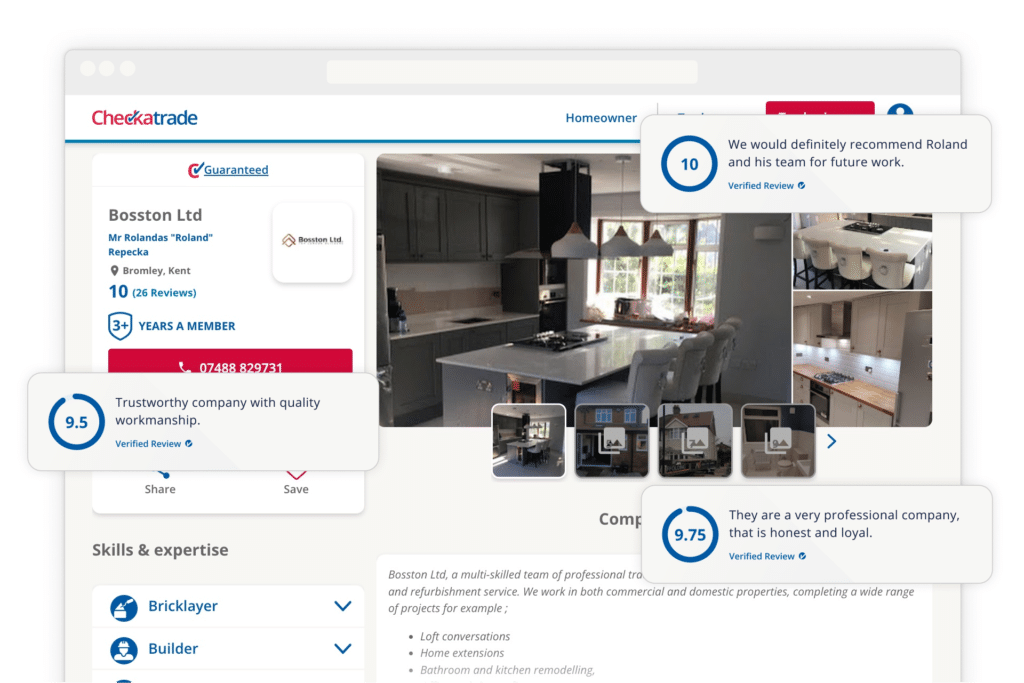 Instagram is out; Checkatrade profiles are in.
Forget pleasing an algorithm no one understands. All you'll want to do is obsessively check your profile page and bask in the glory of your best work.
It's a showcase, a shrine, an art piece, and it's all yours.
Reason 5.1 – You don't have time or can't be bothered to work on your Checkatrade profile
Imagine we hand you your very own Checkatrade profile. You think, "job done, I'll sit back and relax now."
Think again. You'll have to put in the effort on your end to make your profile work.
"Work!? What kind of work?" we hear you ask.
You would need to regularly add new photos to your profile. You would even need to experiment with your profile description, services, and postcodes to see what works in getting people to find your profile.
If it sounds like too much effort then Checkatrade definitely isn't for you. Run while you still can!
6. Fame is a burden few can handle
Being in demand is a HASSLE. Eurgh, the endless praise, the adoring fans, the need to wear sunglasses at all times. It's not for everyone.
Save yourself the burden of repeat business, glowing reviews, and numerous recommendations. The last thing you need is a high level of success; it just goes to your head. Stay happy and humble.
7. You can never hide your identity
This brings us to our next point. It's with a heavy heart we tell you how you'll never win at hide-and-seek again.
Due to all the free marketing materials, including vinyl stickers for your van, you'll stand out like a sore thumb.
When combined with your Checkatrade level of fame, this is problematic. It does your street-cred no favours when you can't beat your 6-year old nephew at a game invented by toddlers.
So, what's your decision?
We hope we've made our point and the reasons why Checkatrade may not be right for you to join.
Of course, we can't stop you if you're the rebellious type, but let our warning stay in your head if you do sign up for the most trusted and popular trade site in the UK.
*Claims are sourced from a survey conducted by Deep Blue Thinking on a nationally representative UK sample in November 2021.