The importance of having a written contract
A written contract is essential for completing trade business transactions and for building positive working relationships. What is a contract? A written contract is a signed agreement between two parties, say, a builder and a client, which shows a visual form of the working relationship. A contract is a legally-binding document that holds parties to…
A written contract is essential for completing trade business transactions and for building positive working relationships.
What is a contract?
A written contract is a signed agreement between two parties, say, a builder and a client, which shows a visual form of the working relationship.
A contract is a legally-binding document that holds parties to a working agreement and mitigates risks for both a business and a client.
When should you have a contract?
We caught up with Checkatrade member Kevin Robinson from Home Fixed to find out more about written business to client contracts and just how important they are.
So, when should you have a written contract between a builder and a client?
"As soon as possible", says Kevin. "You should have a basic contract in place for you and your client, so you have something from the start that really outlines what you're going to do for the client and what the terms are."
We couldn't agree more – you should have a trade contract in writing with every client you work with. This is best practice to maintain compliance and communicate with your client exactly what the relationship between you entails. It's also essential to update the terms outlined in the contract if they change as the project progresses.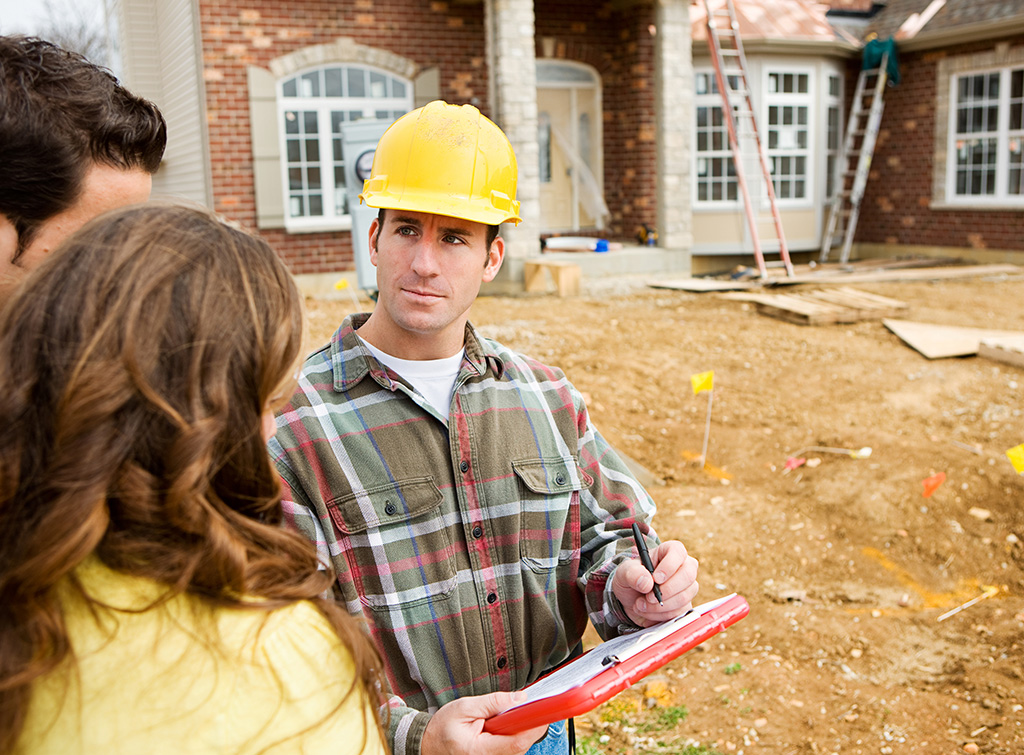 The importance of having a contract between builder and customer
Contracts are essential as they serve as a record of the agreement for both parties. This can prevent future conflicts and reduce the risk of one party not keeping to their part of the agreement.
As well as protecting both parties, a written contract can serve as a communication tool, laying out the terms of the work. "A contract gives confidence to the customer that you have your affairs in order and that they have something to fall back on in writing – and so do you," says Kevin.
The contract also protects the revenue builders and trades businesses stand to make through their services. It is a binding agreement that in exchange for their services, the customer will make payment. This increases efficiency and shows a business to have professional and reliable values.
Skilled tradespeople get your business started
Join Checkatrade today
What should be in the contract?
A contract should be in writing, whether that's physical or in a digital format. You should ensure the following is included:
Customer and builder details
You need to include the details of your business, as well as those of the customer receiving the work.
Work to be carried out
You need to fully outline the work that will be carried out and be specific about what the work entails. This minimises the chances of disputes regarding the work.
Materials to be used
Include the materials that are to be used, and you are ensuring the customer is fully aware of what each material will be used for.
Price of the job + VAT
The price of the job, including VAT, should be included in the contract to avoid any dispute once the project is complete. A customer should also know precisely what they're spending before you begin work.
Start and finish date
Include the dates the work will be carried out and completed, so the customer knows what to expect from the project and how long the work will take.
Planning permission, guarantees and insurance
You should make your customer aware of any planning permission involved from the outset, as well as the insurance you hold and any guarantees on the work they will receive.
Cancellation
The contract should also include any terms and conditions regarding cancellation of the job.
Signature of customer and builder
Finally, the contract should be signed by both the customer and the builder to bind the agreement.
Contracts are just one aspect of running a successful trade business, so check back here soon for more useful advice.
Over one million customers visit Checkatrade every month to find relevant trades, so it pays to be listed. If you would like to join as a professional trade member, start your application today.