Working out your target audience
Want to explore who your target audience is without all the marketing jargon? We break down how to work out who your target audience is and how you can find them.
In this article, we'll cover:
What is a target audience?
Your target audience, aka, target market, refers to the people who are most likely to hire you for your services. There's no point trying to market your product or service to an audience who has no interest in what you're offering.
To work out your target audience, you will need to look at:
Your industry (construction, engineering, technology etc)
Location (UK-wide, city-wide, local towns etc)
Behavioural tendencies (personal interest, purchasing likelihood, consumer status etc)
Demographic characteristics (wealth profile, family orientated, homeowners etc)
Defining your target audience alongside your business and marketing plans will focus your efforts and improve your likelihood of success. As you understand your target audience, you can work out how to speak to them (tone of voice), what problems they need solving (pain points), and their preferred approach to work (ideal product). When you've nailed this, selling your products or services gets a whole lot easier.
How to find your target audience
So, how do you find your target market? Let's break down each step.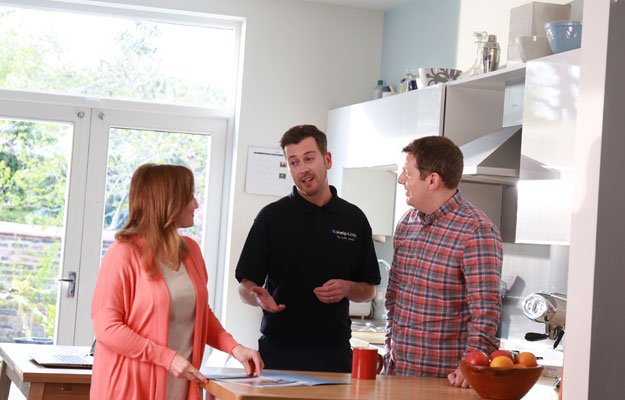 Work out what your product or service brings to the table
There's no one-size fits all approach to marketing your product or service, even if you're looking at industry-specific advice.
For example, selling your freelance gardening services is very different to selling your 10-person strong gardening business. You may target the same kind of people – those who want their gardens to look beautiful – but their behaviour profile will look different. Some people would rather hire a sole trader, whereas others prefer hiring a larger, more established company.
A good way to analyse your target market and work out who's more likely to choose your services is to ask them. This could be a simple poll on your social media channels, a survey via email, and/or face-to-face while you're out and about working. Other ways to ask or research what your target market wants is through Reddit, trade forums, and even public libraries.
Check out the competition
There's a difference between inspiration and plagiarism. Taking inspiration from competitors in terms of where to pitch your services to the right audience is different to stealing how they do it. There's no point in being a poor version of someone else. You need to put your own best foot forward.
This might feel daunting when there are so many people in your niche; however, your competition isn't going anywhere, so you might as well learn from them and put your own spin on things. Plus, you might discover gaps in the market that you can fill.
Your unique selling point doesn't even have to fill a practical gap in your competitors' niche. You might set yourself apart because of your pricing structure, hiring practices, areas you work, or aftercare packages you offer. The world is your oyster!
Define your target audience profile and segment accordingly
We've touched on this already; however, it's worth clarifying how to segment your target market using various audience characteristics. This essentially means creating an ideal customer profile based on their:
Age
Location
Socio-economic status
Behaviour
Lifestyle
Values
Interests
Gender (if applicable)
Once you've worked out what your ideal target audience looks like, you can align your marketing efforts to pitch to them.
Research the best marketing strategies for your business
After all that research, it's time for even more! With your ideal customer in mind, you'll need to work out what market share you're tapping into. This requires some clever mathematics and more market research.
For example, your industry might be worth millions, but if you break that down by your target market, their spending habits, how many hours you can realistically work, and how much others are charging for the same services you are, you get a more realistic idea of what market share is available to you. In turn, this lets you build a picture of scalability. Do you want to grow year on year or maintain a steady stream of clients in an easy-to-manage pipeline?
Market research like this also helps shape your marketing strategy. Your market research might uncover how homeowners in a certain area choose products and services. For example, homeowners in Putney, London, are more likely to be looking at larger house extensions because they live in a more affluent area with a higher socio-economic status.
Please note: This sort of market research is an ongoing process. It requires tracking your results and refining your offer as you build upon and update your data.
Get the tick that people trust
8 out of 10 people would choose a trade endorsed by Checkatrade compared to one that isn't*
Find out more
How to reach your target audience
It's all well and good talking about research for defining your target audience and a strategy for marketing to them, but how do you actually reach them? Where do you pitch your services? Social media and your website are the obvious answers, but where else?
Checkatrade
Being a Checkatrade member means you're right where your target customer is looking. A potential customer simply has to search for the service they need and the location they're in and they will find the relevant tradespeople in their area. Plus, homeowners trust Checkatrade. In fact, 8 out of 10 people would choose a trade endorsed by Checkatrade compared to one that isn't endorsed*.
On Checkatrade, you can create a profile to showcase your previous work to help boost your reputation. Plus, customers can leave their reviews that future customers are able to see, making your services look all the more desirable.
And as a bonus, we throw in a bunch of marketing freebies and trade discounts. What more could you ask for? Get the tick people trust and take advantage of all our hard work. (You can thank us later).
Read our guide on attracting new customers to your trade business for more advice.

*
Print marketing
Remember newspapers and magazines? Well, they're not dead yet! Print marketing is alive and well, especially in the trade industry, where word of mouth, flyers, work boards and leaflets are great ways to attract new customers. It gives you credibility, professionalism and can help drive people to your website.
Read our blog: Why print marketing isn't dead for trade businesses, for some tips.
Digital marketing
Diversifying where you're found online is a smart move. A robust website, a strong social media presence, and maybe a podcast or vlog will all help to build your profile.
Take a look at our digital marketing tips for tradespeople for guidance on all things PPC (pay per click), SEO (search engine optimisation) and social media.
Did you find this content useful? For more top tips like this, check out our guide on how to become your own boss.
Get the tick that people trust
8 out of 10 people would choose a trade endorsed by Checkatrade compared to one that isn't*
Find out more
*Claims are sourced from a survey conducted by Deep Blue Thinking on a nationally representative UK sample in November 2021.