Bay window roof repair cost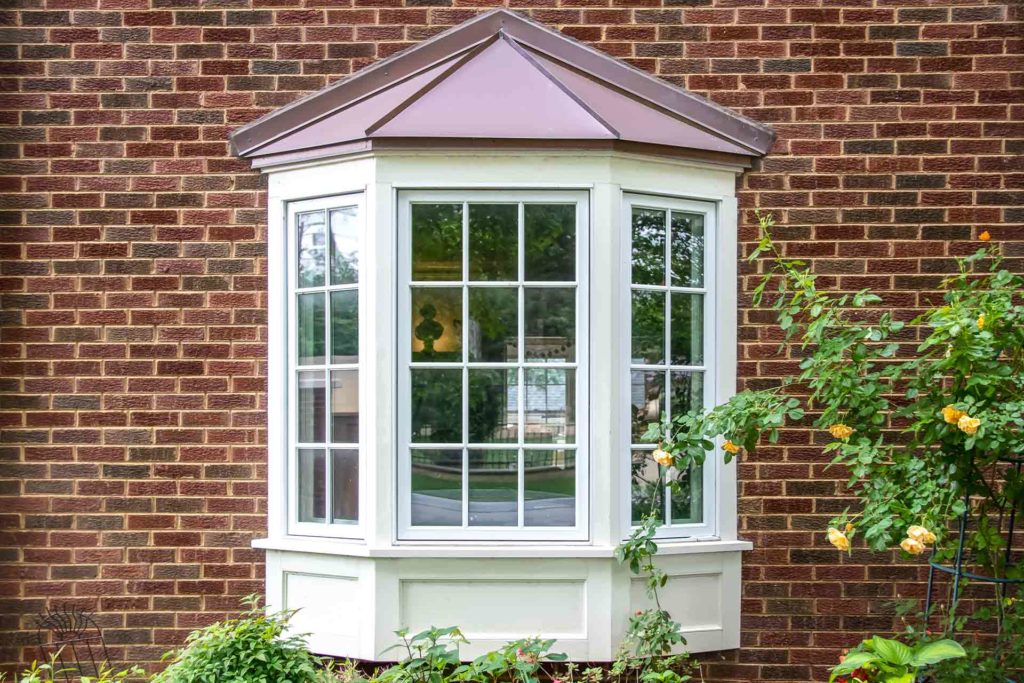 In this article, we'll cover:
As a well-loved architectural feature, a bay window can add instant character and charm to any style of home, from a new build to a period property. However, the roof of a bay window, whether it's flat or pitched, is like any other roof and can leak, or look worn and dated over time.
Patch repairs are possible if it's simply a slipped slate, tile, or fallen branch, but a leaking or bowed roof will need replacing. Either way, a skilled roofer can guide you through what's needed and help you ensure your home retains its graceful curb appeal.
In this nifty guide, we bring you advice on the average cost of repairing a bay window roof, the choice of materials you can use, and tips on additional services, such as adding insulation.
How much does a bay window flat roof repair cost?
The cost of repairing a flat bay window roof is usually priced per sq. m and will also depend upon your choice of roof material, whether you'll need to hire scaffolding, and the size of the bay window.
The most common types of material for flat bay window roof repair are:
Lead – a popular option that will evoke a timeless feel, however, the lead flashing can attract thieves.
Fibreglass – a modern, lightweight alternative to lead that can be aesthetically pleasing as it can look like lead when aged, yet comes with a hefty price tag.
Felt – a low-cost option that suits any roof, however, it requires installing with a hot flame.
EPDM rubber roof – another modern, lightweight option that is flexible, hardwearing, and will last for many years, yet isn't as aesthetically pleasing as other surfaces and can shrink over time.
The cost to repair a pitched bay window roof
A pitched bay window roof covered with slate, clay tiles, or lead flashing, is more commonly found on period homes. Depending on the age and damage of the roof, it may be possible to simply replace any cracked slates with new ones, however, your roofer will be able to advise the extent of the repair.
| Repair type | Low cost per sq. m | High cost per sq. m | Average cost per sq. m |
| --- | --- | --- | --- |
| Lead flat roof | £90 | £105 | £97.50 |
| Fibreglass flat roof | £95 | £120 | £107.50 |
| Felt flat roof | £40 | £60 | £50 |
| EPDM flat roof | £80 | £90 | £85 |
| Slate or Clay tiled roof | £75 | £200 | £137.50 |
Labour costs and time frame
Replacing a bay window roof should only take a day. Labour costs will of course depend on the size and style of your bay window and type of material you choose. Typically, roofers work in pairs and charge around £200 – £300 per day. However, if the work is a simple repair job and isn't going to take all day, you may find they charge by the hour, typically between £18- £25 per hour.
Consider adding or upgrading the insulation at the same time
Though small, the roof over a bay window has all the components of a standard roof and can therefore be packed with standard loft insulation or insulated plasterboard, with space for an air gap. Although it's not necessary to install insulation in a bay window roof to meet current building regulations, it will help reduce your homes' heat loss. This, in turn, will help make savings on your energy bills, so it's certainly worth considering.
Find a trusted roof expert near you
FAQ
How do I know if my bay window roof needs replacing?
A bay window roof is like any other roof and will need replacing over time. Typically, when they start to leak, the first sign is water dripping onto the sill or running down the inside of the window. Or you might spot damp patches in the bay or bows in the roof itself.
How long does a bay window roof repair take?
It should take no longer than a day, and the roofer should return the following day to ensure there are no leaks.
Can I convert a flat bay window roof to a pitched one?
If you'd prefer the charm of a pitched bay window roof rather than a flat one, then it is possible to convert the roof, however, may have to get planning permission, particularly if you live in a conservation area.
Good jobs, guaranteed
Get covered when you book with Checkatrade.