Last updated on May 1st, 2022
Cost of walk in shower installation
Whether you are looking to save time, renovate your bathroom or to create an easier bathing experience, read on. Our guide provides the cost of walk in shower installation and everything else you need to know about the process.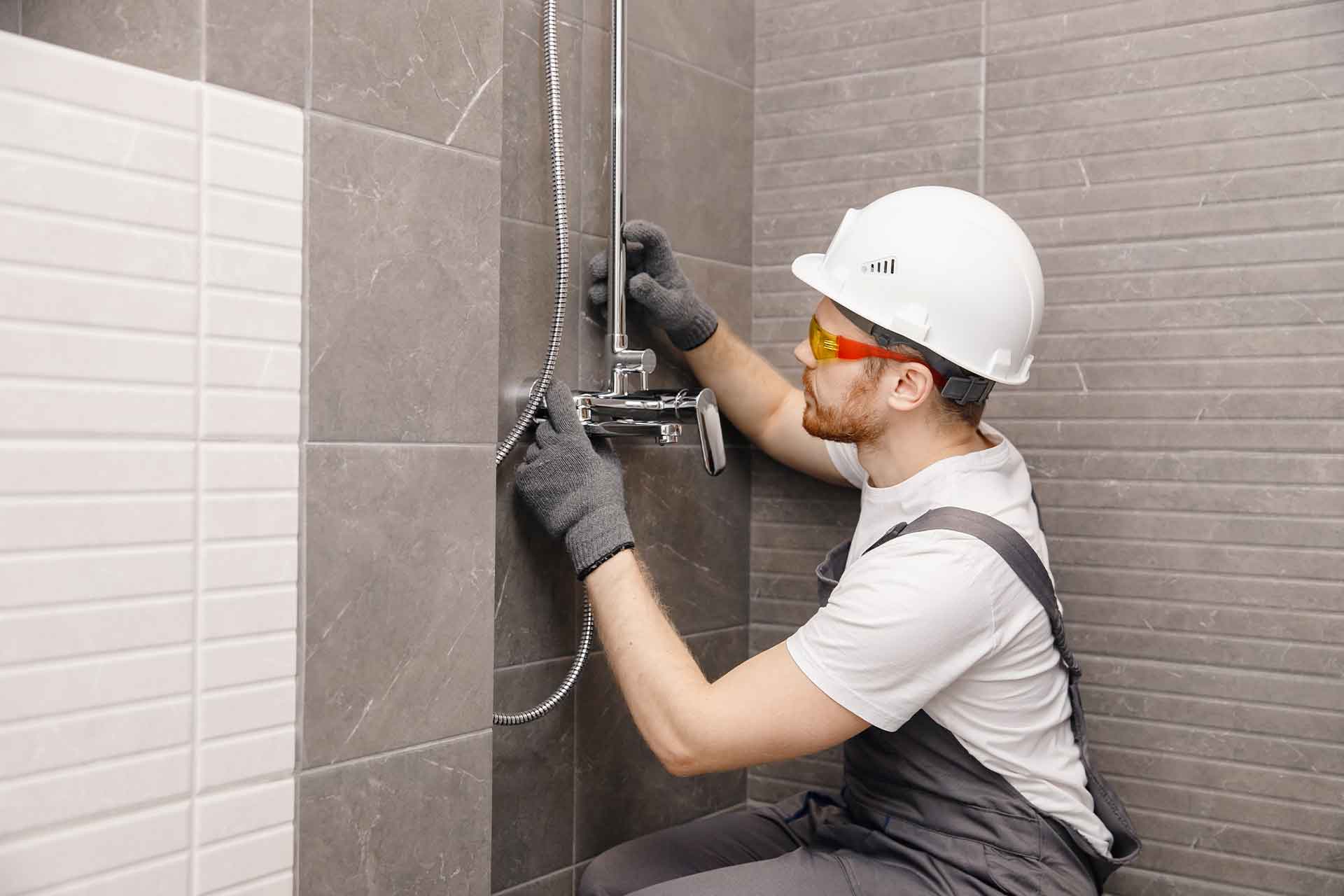 Why install a walk in shower?
Installing a walk in shower can completely transform an old, dated bathroom into a modern haven for relaxation and rejuvenation. Since we don't always have the time to use a bath, replacing one with a walk in shower presents a quicker, more invigorating option.
Walk in showers are also perfect for the elderly and those with limited physical abilities who would have difficulty stepping over the side of a bath. Not only a practical option, walk in showers create the illusion of space for smaller bathrooms. They also offer fantastic aesthetics without breaking the bank.
You might also enjoy our bathroom installation cost guide, or shower installation cost guide.
Walk in shower cost
Project
Cost + VAT
(Range low - high)
Average cost
Walk-in shower
£200 - £2,000
£1,100
Installation cost
£113
Electric shower costs
£60 - £200
£130
Power shower costs
£100 - £500
£300
Mixer shower costs
£50 - £150
£100
Bath removal
£300 - £500
£400
Walk in shower costs can be broken down into the price of the shower itself and the price of installation.
The average walk in shower cost is £1,100 and the average walk in shower installation cost is £113, giving a total of £1,213.
Types of shower
Every component of a shower can be chosen independently, although, it is relatively common to purchase a set including the screen, tray and other parts. Below we have summarised some of the most common options available:
Corner: Walk in showers can be installed in many different configurations. Corner walk in showers unsurprisingly fit into a corner and are a perfect replacement for an old shower cubicle.
Recessed: Comprised of a glass screen with a left or right opening to allow for entry. Recessed showers are well suited to replace an old bath.
Floating: A minimalistic option where a single pane of glass is fitted parallel to a wall with openings at both the left and right side.
Power: Perfect for houses with low water pressure, power showers increase the water pressure for a more enjoyable showering experience.
Electric: These showers rapidly heat cold water instead of taking hot water from your water tank.
Mixer: With no need for electricity, mixer showers take hot and cold water and mix it together. Adjust these to achieve your perfect shower temperature.
Steam room shower: Using hot water to achieve steam, these showers raise the room temperature and humidity to mimic the effects of a steam room.
See the tradespeople we've checked and recommend for your job

Should I get a wet room or walk in shower?
Both wet rooms and walk in showers offer excellent aesthetics and are perfect for those with limited mobility. The main difference between the two is that wet rooms do not need a shower tray.
Walk in showers use glass screens to direct water into the shower tray drain which can be flush with the floor to prevent tripping. Alternatively, wet rooms are usually open plan but can also use glass screens with the water running into a drain in the floor.
Benefits of walk in showers
With a wide variety of benefits, walk in showers are an excellent choice for any bathroom. Below are some of the main benefits to these popular showers:
Space saving: With no space needed for a bath or shower cubicle, walk in showers can be used in small spaces.
Easy to use: No need to step into a bath or cubicle, walk in shower trays can be fit level with the floor tiles, making them the perfect choice for elderly or disabled people.
Light and space: Glass screens create the illusion of a larger bathroom and let light flow freely throughout the room.
Easy to clean: Without a bath or cubicle to clean, you can simply wipe down the glass screen, saving time and energy.
Appearance: Stunning and modern, walk in showers look amazing in any room.
Factors affecting the cost of walk in shower installation
There are a number of variable factors that can affect walk in shower installation costs. The following list summarises the most common of these:
Walk in shower type: Including options such as electric, power and mixer showers, the type of shower you choose will impact your walk in shower cost. For example, power showers usually are more expensive than mixer or electric showers.
Size of walk in shower: If you choose to have a larger glass screen, tray or even multiple glass screens, this will affect the average price of your walk-in shower.
Style of walk in shower: There are several different styles of walk in shower, such as recessed and floating options.
Quality of materials: With a large number of options for your shower, the quality of materials used will not only affect the life of your shower but the total price you will pay.
Current bathroom fixtures: If you have a bath or shower cubicle you will need to have these removed before you can install your new walk in shower. Bath removal costs are on average £400. You may also need to pay to remove any fixtures of fittings that are in the way of your new shower.
Location: The location of your home will impact your cost of walk in shower installation. Areas with higher living costs, such as London, in general will be more expensive when it comes to any work you have done.
Replace bath with walk in shower cost
When choosing to install a walk in shower you will need to remove your old bath. To calculate the cost of replacing your bath with a walk in shower, take into account the average bath removal cost (£400) and the average walk in shower installation cost (£1,213.)
To replace bath with walk in shower, the average cost is £1,613.
Walk in shower cost
As we previously discussed there are three main types of shower (electric, power and mixer) each with different price tags. Below are the average costs of these showers:
The average electric shower cost is £130.
The average power shower cost is £300.
The average mixer shower cost is £100.
There is also an additional cost to convert the space into a walk in shower. This can range from £200 - £2,000 depending on the factors above.
Can I install a walk in shower myself?
Whether you can install a walk in shower yourself will largely depend on your experience and skill level, not to mention physical ability. If you are considering tackling the installation yourself, please consider the following:
Installation can be complex, especially if you are installing an electric shower which needs to be connected to an electricity source.
Your measurements must be accurate, otherwise you will end up with the incorrect size of shower tray or screen.
If your walk in shower is not correctly installed moisture will seep into the walls and flooring causing leaks, damp and mould.
Glass screens are very heavy and difficult to work with.
You may not achieve a professional look without hiring an expert.
Due to the above reasons, we would recommend hiring a professional.
See the tradespeople we've checked and recommend for your job
FAQs
Which shower tray should I choose?
When choosing a tray, consider the following factors:
How large is your bathroom and the space you wish your shower to take up?
There are multiple options with different appearances.
Some models are more durable than others.
What extras can I choose?
There are many extra options to choose from, including:
Underfloor heating.
New tiles and flooring.
Different shower heads.
Adding or enhancing windows, for example with frosting or blinds.
Storage such as cupboards, shelves and drawers.
Useful walk in shower installation checklist
Walk in showers are practical and if installed properly look fantastic.
Different options include recessed or floating screens and power or electric showers.
You should consider the size, type and style of walk in shower to calculate the installation cost.
It may be necessary to remove any old baths, cubicles, fittings and fixtures, at a cost.
Installing a walk in shower is complex, arduous and can be dangerous.
See the tradespeople we've checked and recommend for your job