Last updated on April 28th, 2022
Cost of unblocking a toilet
In this guide, we outline the average cost of unblocking a toilet, including labour costs and the average time it will take.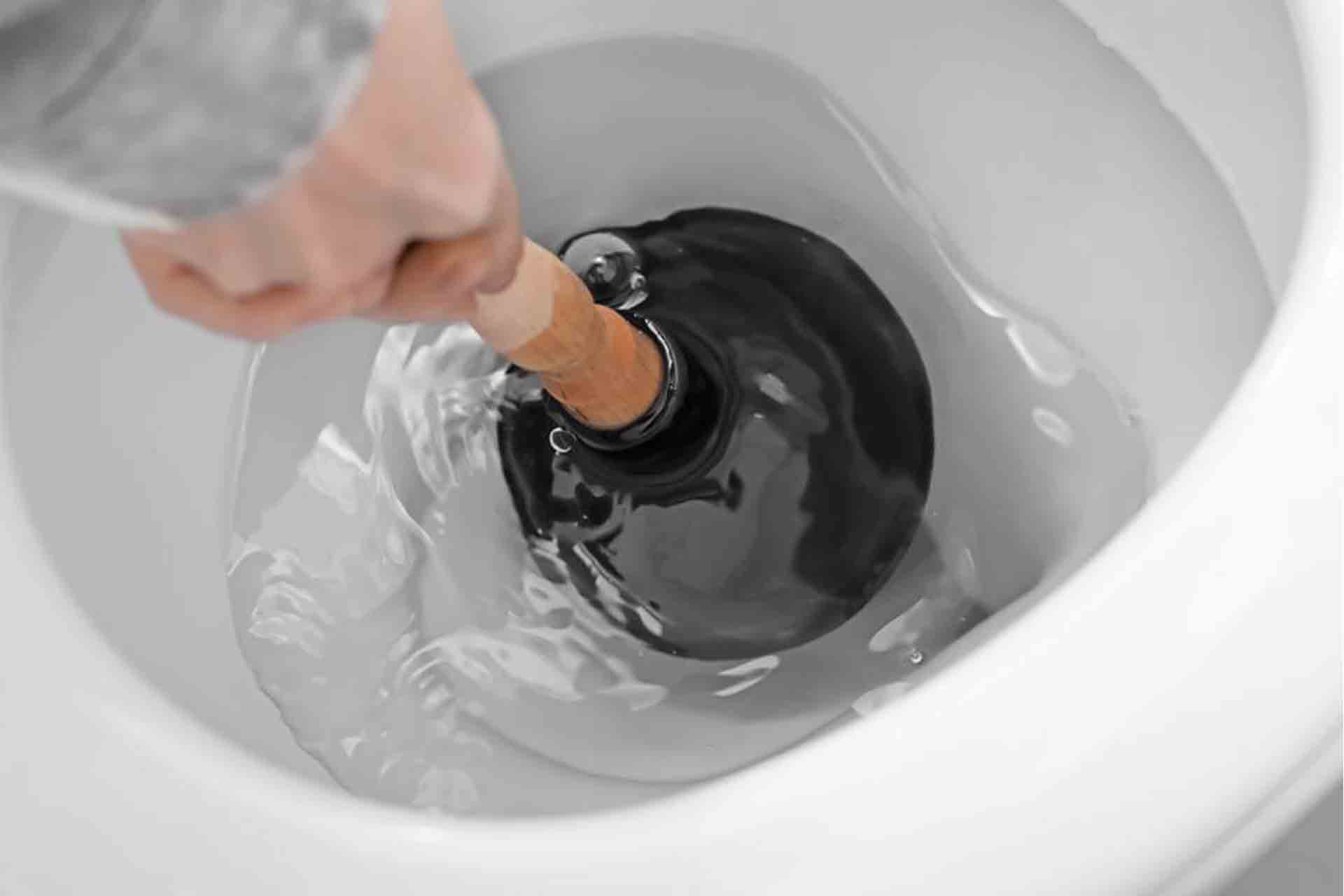 A blocked toilet is an emergency that can turn a happy home into a hellish one pretty quickly. If you've tried to clear the obstruction yourself, but it just won't shift it's time to call in a professional. If you have problems with a blocked drain, check out our drain unblocking cost guide.
How much does it cost to unblock a toilet?
The average cost of unblocking a toilet is £112.50. This includes the call out charge for a tradesperson and the cost to unclog the toilet.
| Job | Unit | Price range (low - high) | Average cost |
| --- | --- | --- | --- |
| Unblocking toilet | Materials & labour | £75 - £150 | £112.50 |
| Drain auger | Materials only | | £5 |
| Plunger | Materials only | | £4 |
| Chemical cleaners | Materials only | £3 - £20 | £11.50 |
| Bicarbonate of soda and vinegar mix | Materials only | | £5 |
How do I know if my toilet is blocked?
It's pretty obvious when a toilet is blocked. The water doesn't disappear down the toilet, it fills up the bowl.
One of the most typical errors is to continue to flush the toilet. This can cause the water to overflow, giving you more to clean up and manage.
If left, sometimes water can find a way around the blockage, but if the blockage remains, it will clog up again so it's better to get it sorted as soon as you can.
What causes a toilet to become blocked?
The leading cause of a toilet becoming blocked is a build-up of material. In some cases, items such as children's bath toys or small cosmetics bottles can drop into the toilet.
Using too much toilet paper can cause a blockage. Also, putting items down the toilet that shouldn't be flushed away, such as wet wipes can quickly lead to a blockage.
Over time, blockages can occur as material accumulated in the pipe. If you notice that your toilet isn't flushing correctly or the water isn't flowing quickly after the toilet has been flushed, there could be a problem.
Other, more serious blockages can be caused by the plumbing vent becoming blocked or the main sewer line backed up.
DIY toilet unblocking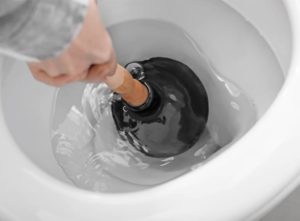 If your toilet is blocked, there are a variety of methods you can attempt to use to unblock it, including:
Using a plunger
Adding a Bicarbonate of soda + vinegar mix to break down blockages
Using chemical cleaners
Drain snakes (drain auger)
Draining rods
Water jetting
While these methods may prove effective if the blockage remains, you should call a professional to remove the obstruction for you.
If you choose to unblock the toilet yourself then be careful, particularly if you are using any implements or tools. These can damage or scratch the porcelain toilet bowl, leaving nasty marks that are impossible to get rid of.
Find plumbers your neighbours recommend
Calculate the cost of unblocking your toilet
To calculate the cost of unblocking your toilet you'll need to know what's causing the blockage and how long it will take a plumber to fix the problem. The main cost will be the price of labour based on the time the plumber spends working on the job. You may also need to factor in the cost of materials if any parts of the toilet or pipework need to be repaired or replaced.
Quotes for unblocking your toilet
We always recommend obtaining at least three quotes from our trusted tradespeople. Our request a quote feature is perfect for getting quotes – you post details about the job you want doing and we'll send it out to local tradespeople in your area. Try it out!
Hourly rates for unblocking a toilet
The average hourly rate for a plumber is around £40 – £60 per hour. The exact price you'll be quoted will depend on the individual plumber, their experience and where you live. To find out more, check out our guide to plumber costs.
What factors will affect unblock toilet costs?
Unblock toilet costs are affected by several factors, such as:
Location – expect to pay more if you are in a city, such as London.
Call-out costs – if you book an emergency plumber, this will add substantially to the cost of unblocking toilets.
The severity of blockage – simple jobs may take half an hour, but challenging blockages will take longer to shift and cost more.
Find plumbers your neighbours recommend
FAQs
How long does it take to unclog a toilet?
The time it takes to unblock your toilet will depend on the severity of the blockage.
In most cases, a tradesperson should be able to unblock your toilet in between 30 minutes – two hours.
What should I do if my toilet is blocked?
Some people can find a blocked toilet embarrassing, but there's no need to.
If your toilet has become blocked, the first thing you should do is stop flushing. Continuing to flush your toilet will lead to a build-up of water that can overflow, potentially damaging your floor.
Ensure everyone in your household is aware that the toilet is blocked too.
If you feel confident at tackling the blockage, then do so. Ensure you wear protective gloves to avoid coming into contact with wastewater.
If you have been unable to deal with the blockage, then call a professional. Toilet blockages are frequent and nothing to be concerned about. A trained tradesperson will be able to sort the problem.
When your toilet is back up and flushing, avoid blockages by using small amounts of toilet tissue.
Toilet unblocking takeaways
A blocked toilet is nothing to worry about or be embarrassed about and can be sorted out quickly.
The average cost to unblock a toilet is £112.50.
It should take a trained tradesperson between 30 minutes – two hours to unblock your toilet.
Looking for some help to unblock your toilet?
If you are searching for a local tradesperson to unblock your toilet, then find one on Checkatrade.
Find plumbers your neighbours recommend