Last updated on October 4th, 2022
How much does a double glazed door cost?
There are a wide range of double glazing doors available to choose from, from french and patio doors through to stable doors and front doors. Each of these styles may come in a wide array of colours and materials.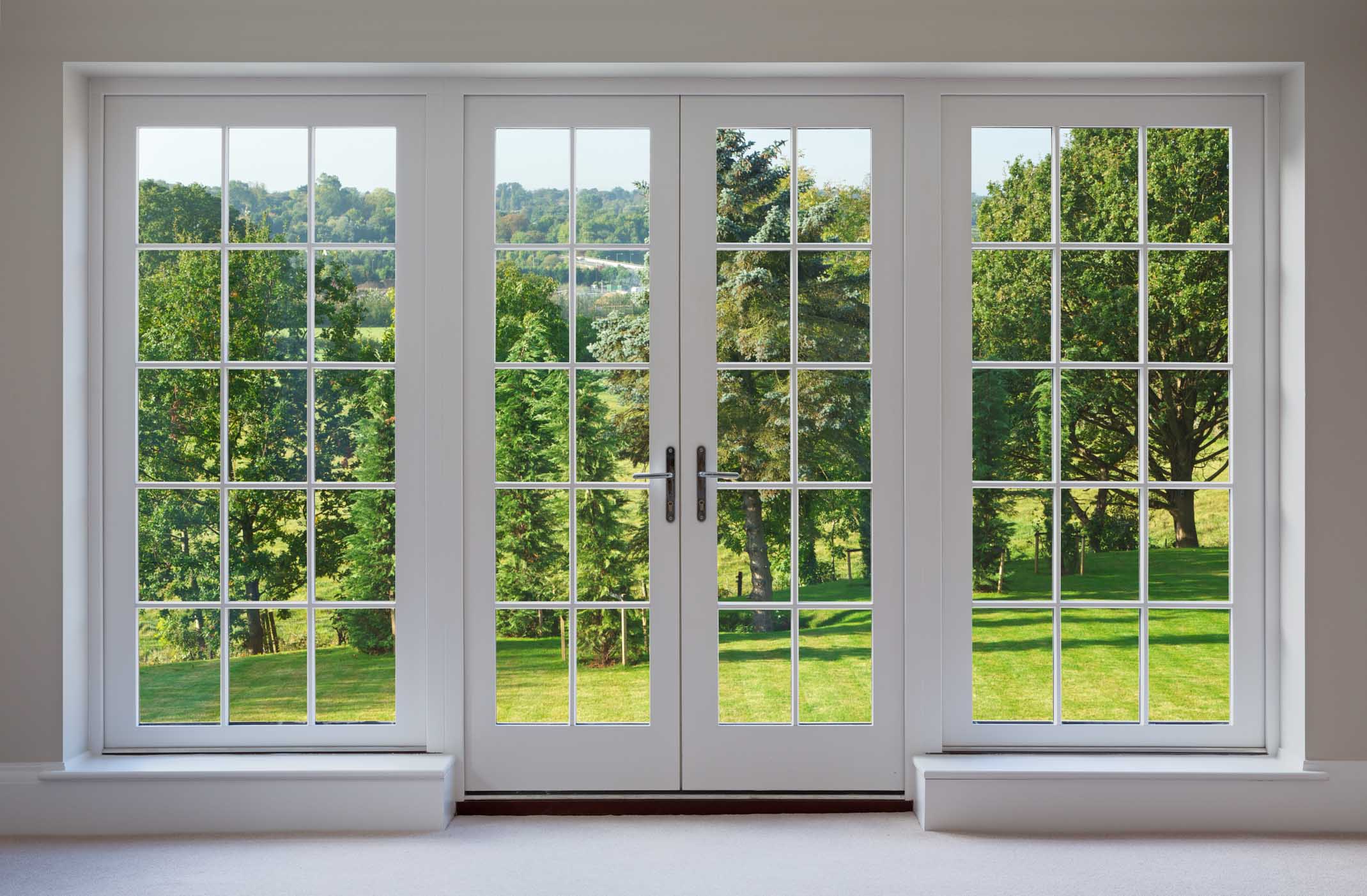 There are a wide range of uPVC double glazed doors available, from double glazed patio and french doors to stable doors and front doors. Each of these styles come in different colours and have different accessories to choose from, such as a variety of locking mechanisms and handles. So how do you know what it is you're looking for?
For many, this is when the cost will then become a deciding factor. But with so many options available, prices can vary hugely. We have put together this useful guide on some of the average prices for new double glazed doors in 2023.
Our expert double glazing door expert Jason Phillips from All About Windows says that "you should consider investing in the best quality you can afford for your front door, as cheaper solutions are often not highly durable and will likely require replacing after a short period of time."
What are the differences between patio doors and French doors?
Although both doors make great additions to your home, there are many differences between the two which may help to aid your decision in which one would best suit your needs.
The main difference is how each door opens. French doors open outwards on a hinge, whilst patio doors slide along a track and open sideways. They also feature many aesthetic differences. Patio doors are generally more modern and are best suited to a modern property, whereas French doors look great in period and heritage properties.
Please note that these costs do not include any additional building work required prior to fitting the doors.
| Door Type | Glazing Style | Average Cost |
| --- | --- | --- |
| French 1.2M x 2.1M | Fully Glazed | £950 - £1050 |
| French 1.5M x 2.1M | Fully Glazed | £1,000 - £1,100 |
| French 1.8M x 2.1M | Fully Glazed | £1,075 - £1,175 |
| Front Standard Roller Lock | Arched Top Light | £600 - £700 |
| Front High Security Lock | Arched Top Light | £675 - £775 |
| Front Standard Roller Lock | Diamond Leads | £600 - £700 |
| Front High-Security Lock | Diamond Leads | £650 - £750 |
| Bifold | Fully Glazed | £5,000 + depending on size |
| Patio | Fully Glazed | £450 - £1,800 depending on size |
How much should you pay for your double glazed doors?
The average cost of labour to install uPVC double glazing doors is around £25 per hour or £200 per day. Do check out the estimated costs of the different types of double glazed doors in our cost table.
Front doors
Your front door can seriously improve – or negatively impact – the kerbside appeal of your property. Whether you are looking to invest in new doors before you sell, or are hoping to improve the appearance of the home you take pride in, then the addition of a new double glazed front door could make a world of difference to your property.
The average price of a front door ranges from £600 – £800. This price is dependant on many factors and is based on an average front door size of 900mm x 2,100mm. To find out more about front door costs, take a look at our front door cost guide.
See the tradespeople we've checked and recommend for your job
Double glazed door cost calculator
When calculating the cost of your new double glazed doors, you need to factor in the size of the doors. Larger doors require more materials and potentially additional services (like cutting, painting, etc) to support them. And with those extra requirements for the fitting, the higher the cost will be.
Another major cost factor is the style of door you choose, as there are vast cost differences between a basic uPVC glazed unit and wooden units, or ones with more unique designs.
Beyond size and style, the cost of your doors will be determined by the accessories and locking mechanisms you choose. Handles are the major factor here, with varying materials and styles coming in at different prices. Finally, colour is a key consideration when costing your project. White is the cheapest and from there you can add cost as you choose more bespoke colours and shades.
Double glazed door fitter hourly rates
You can expect to pay between £225 – £300 a day in labour to fit a door, so between £28 – £37 an hour. Bear in mind that there are considerable regional variations in price across the UK, with hourly rates in London and the South East being more expensive.
Double glazed door quotes
When pricing your double glazed door project, it's important to get a number of quotes from different tradespeople in order to decide on a price and professional you're completely comfortable with.
Thankfully, it's easy to get multiple quotes from window and door specialists who are recommended by your neighbours. Simply enter your postcode in the free search tool below to get started.
See the tradespeople we've checked and recommend for your job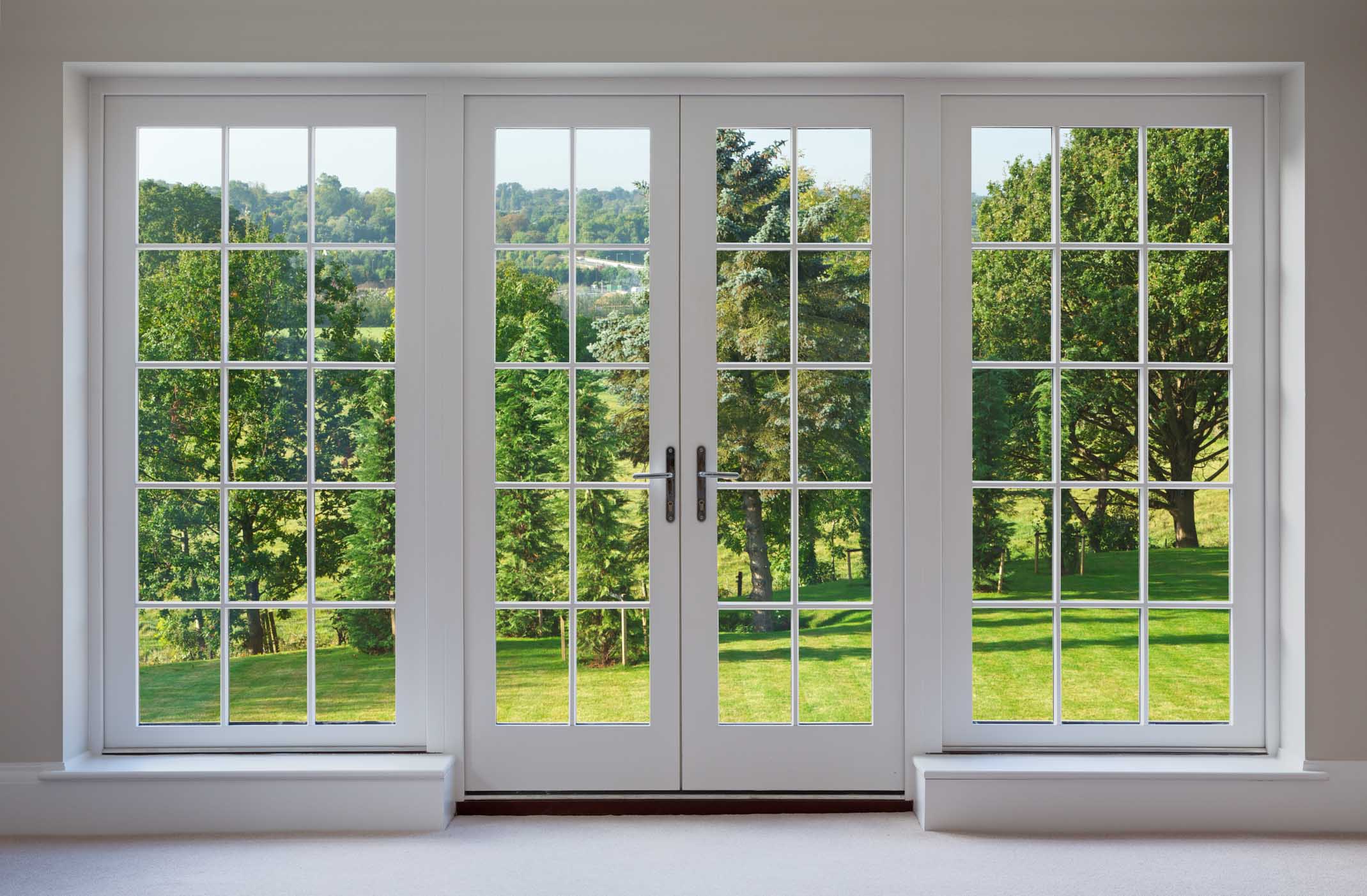 Why should you invest in double glazed doors?
Double glazing has many benefits. Not only does it offer more strength and security to older single glazed windows and doors, but it also provides many thermal benefits. Double glazing will help to keep your home warm in the winter while also keeping the cool air circulating indoors in the summer.
These additional benefits may save you money on your heating bills over time, therefore becoming an investment worth making.
The aesthetics
For many people, the key thing they wish to consider when installing a new door on their property is whether it looks good, particularly for any external doors which others are to see. These different styles all offer their own appeal, and the choice you make will often depend entirely on the existing design of your home.
If you have a more country rustic property, then a stable door may suit you best. For those with a modern property, then something more streamlined will be far more suitable. In terms of appearance, the decision remains up to you.
See the tradespeople we've checked and recommend for your job
Choosing a double glazed door
Here's just a few of the questions to answer for your new double glazed door:
Do you want a back door that slides, or would you prefer bifold doors to bring your garden even closer to your home?
Are you looking for a larger glass pane on your front door, or do you require a smaller amount of privacy glass to allow some light into your hallway?
What type of handle do you want? Make sure to strike the right balance between good looks and practicality.
Are you willing to compromise on aesthetics to spend your budget on getting a door with the highest possible security fittings?
These are all things to consider.
You must establish what budget you have for this new door and then take into consideration what your priorities are. Any good door fitter will be able to offer you advice on which options they feel best suit your property and will be able to explain any pros and cons to various choices to you.
Finding a professional to fit your new double glazed doors
Find a professional on Checkatrade to install your double glazed doors. All members have to pass 12 checks, and once their profile is live, you can also take a look at their recent photos and reviews.
To find a member near you, simply enter your postcode in the search bar below.
See the tradespeople we've checked and recommend for your job