Last updated on September 7th, 2022
Roof cleaning cost guide
In this guide, we'll look at the average house roof cleaning cost, which includes moss removal and other essential maintenance.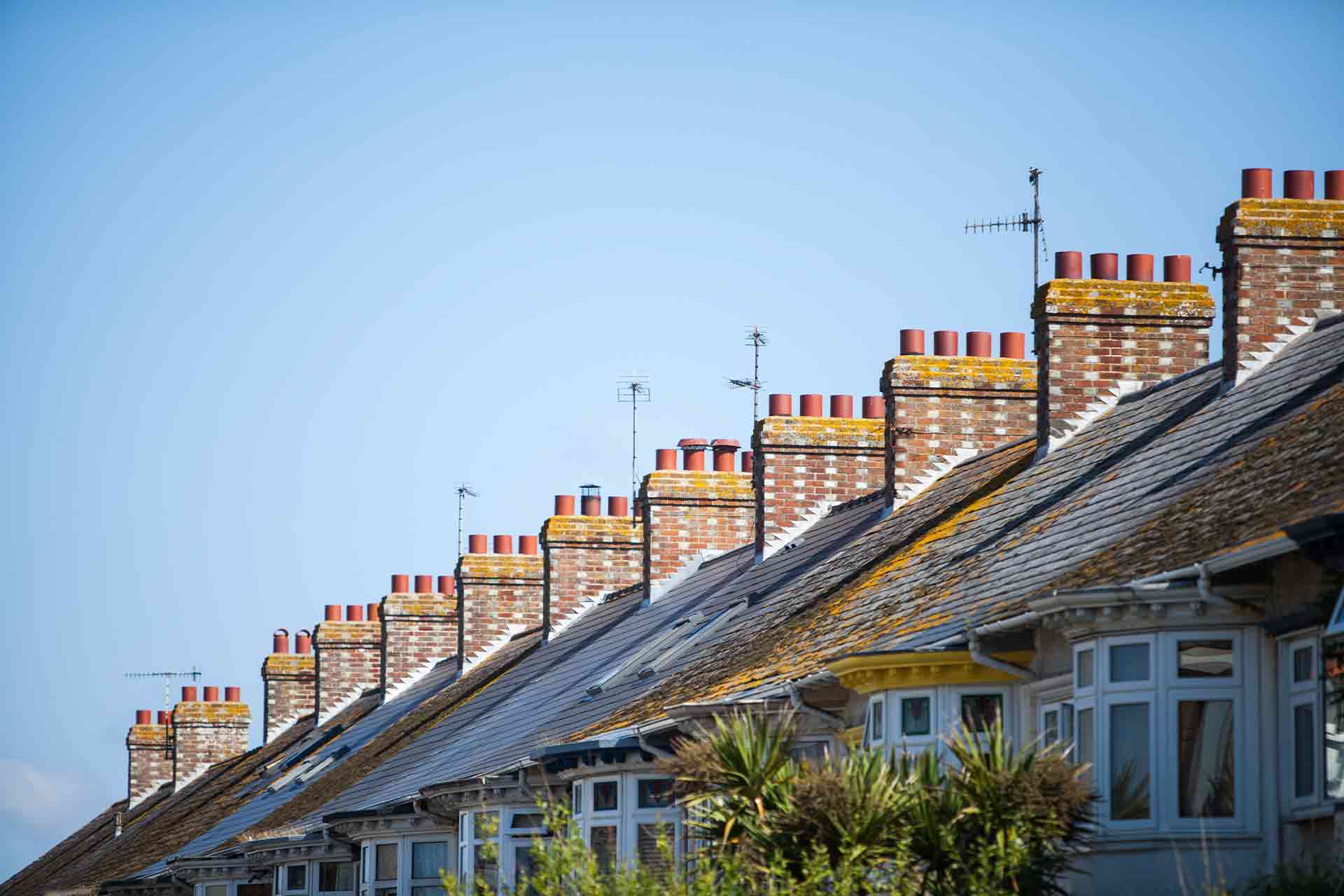 Roof cleaning is an important part of property maintenance, for a number of reasons.
A moss-covered roof can detract from the appearance of your home but when left untreated, it can also cause other problems such as damage to roof tiles or retention of excess water.
How much does roof cleaning cost?
The cost of roof cleaning can vary depending on the size of the roof and its pitch, as well as how accessible it is for the cleaning crew.
Most contractors charge per square metre, but they may also factor accessibility or other details (such as whether or not the building is listed) when giving you a price.
Please note: the costs in this guide DO NOT factor in the cost of scaffolding or platforms if they are required for your roof clean. For the cost of scaffolding, check out our cost guide on it. As a rough ballpark, you can expect to pay anywhere between £18 per m2 for scaffolding, depending on the size required.
If you're looking to spruce up your roof with a fresh lick of paint after it's clean, check out our guide to roof painting costs.
Soft wash roof cleaning cost
Soft washing is a type of roof cleaning that uses less pressure than pressure washing whilst still applying treatments that can kill any moss and algae.
It is a good alternative to pressure washing for roofs at risk of tiles dislodging. Roof soft washing costs on average, between £12 – £16 per m².
Soft cleaning your roof could be an alternative to steam cleaning if you are concerned about the potential damage to your tiles that the added heat from the steam may cause.
The best way to find out which technique is best for your roof is to contact a professional and get their expert advice.
Roof moss removal cost
| Technique | Low price per sq m | High price per sq m | Average |
| --- | --- | --- | --- |
| Hand-removal and biocide treatment | £8 | £15 | £11.50 |
| Pressure washing | £5 | £12 | £8.50 |
| Steam cleaning | £9 | £13 | £11 |
| Soft washing | £12 | £16 | £14 |
| Scaffolding (if required) | £16 | £20 | £18 |
Without regular cleaning, you may find that a build-up of organic materials on the roof leads to excess debris. This can clog your gutters and cause other problems.
One of the main elements of roof cleaning is the removal of moss. If neglected, moss and other plants can start to grow out of control. They can weaken roof tiles and widen cracks, as well as acting like a sponge when it comes to water retention.
How much does it cost to clean moss off a roof?
It can cost between £16 per square metre to remove moss from your roof, depending on the cleaning technique used.
Roof moss removal and house roof cleaning techniques
| Technique | Roof size | Low | High | Average |
| --- | --- | --- | --- | --- |
| Hand-removal and biocide treatment | Small | £520 | £975 | £747.50 |
| Pressure washing | Small | £325 | £780 | £553 |
| Hand-removal and biocide treatment | Average | £600 | £1,125 | £862.50 |
| Pressure washing | Average | £375 | £900 | £637.50 |
| Hand-removal and biocide treatment | Large | £680 | £1,275 | £977.50 |
| Pressure washing | Large | £425 | £1,020 | £722.50 |
There are three approaches that can be used to effectively remove moss from a roof. These are:
Hand-scraping, with or without biocide treatment
Pressure washing
Roof steam cleaning
Hand-scraping is the cheapest fix, but without biocide treatment, the process will need to be repeated sooner. Biocide treatment is more expensive, but the results last for longer.
Pressure washing is an alternative to the above combination. It leaves your roof looking cleaner but there is a risk of tile damage. It is cheaper, but without adding biocide treatment into the mix, there's also a good chance the moss will grow back sooner.
Steam cleaning is the most eco-friendly option as it doesn't use any nasty chemicals. The steam will kill any moss and weeds and remove them from the roof. It will also leave your roof looking brand new.
*roof sizes used in calculations are based on the m² of a home multiplied by an assumed roof pitch of 1.05
How long does roof cleaning take?
Just like with the cost, the time it takes to fully clean a roof varies depending on its size, pitch and any access issues. And of course, how much debris and moss is on the roof.
Typically, you should account for at least a day for the job.
Small roof (terrace, small semi) = 65 m²
Average roof (semi, small detached) = 75 m²
Large roof (detached) = 85 m²
*Roof sizes used in calculations are based on the m² of a home multiplied by an assumed roof pitch of 1.05
See the tradespeople we've checked and recommend for your job
FAQs
Does moss have roots?
Roof moss has thin root-like growths, which help anchor the plants to the surface. Known as rhizoids, these growths can loosen roof tiles and other damage.
Does moss have seeds and when will it grow back?
Moss depends on moisture to reproduce, not flowers or seeds, which is why it thrives on top of your roof. Once ripened, moss spores can be blown about, spread and start to grow. Without biocide treatment, you may notice moss starting to grow back in a very short period of time.
Roof moss prevention – how to stop it growing back
Preventing moss from growing back is simply a matter of regular maintenance, arranging for effective roof moss removal with biocide treatment every couple of years.
Will pressure washing my roof damage the tiles?
It depends on the type of roof you have, but there is a chance that pressure washing could cause some damage. Slate roof tiles could potentially be dislodged with the force of the water. If in doubt, always consult a professional. Steam cleaning could be your best option.
See the tradespeople we've checked and recommend for your job