Home trends for 2023: What's on other homeowner's list of jobs to do
Want to know what home trends will be trending in 2023? Whether you're just being nosy about what others are doing to their home, or you're looking for home inspo, we spoke to our members and looked at our 2021 and 2022 search data to see if we can pick out what's going to be popular this year in home improvement.
Another year means more home trends. And just like the world of fashion, trends come and go… and come back again!
Using our search data and after speaking to Checkatrade tradespeople, there are a few home improvements that will be in demand for 2023. Some of these grew in popularity in 2022, and will only continue to grow in 2023.
From feature wallpaper right through to home automation, these are the things that people have been searching for on Checkatrade, and that our members have noticed become more popular.
Feature wallpaper – striped, jewelled and even on ceilings!
Wallpaper is no longer seen as a garish look back to the 60s and 70s. Now, with so many designs and styles to choose from, it's one of the best ways to make a design statement in your home.
Checkatrade member, Wayne De Wet has noticed that demand for striped wallpaper with jewelled detailing has been increasing.
Sean Saunders from Sean Saunders Painting and Decorating has found that statement ceilings are becoming more popular, with wallpaper on ceilings, and dark-coloured ceilings.
And they're not wrong. Our search data shows that searches for wallpapering increased by 52% in 2022.
Sean also noted that there was an increase in demand for murals. Spot on Sean, our search data shows a 258% increase in searches in 2022 for wall murals. There was also a 367% increase in searches for specialist paint effects.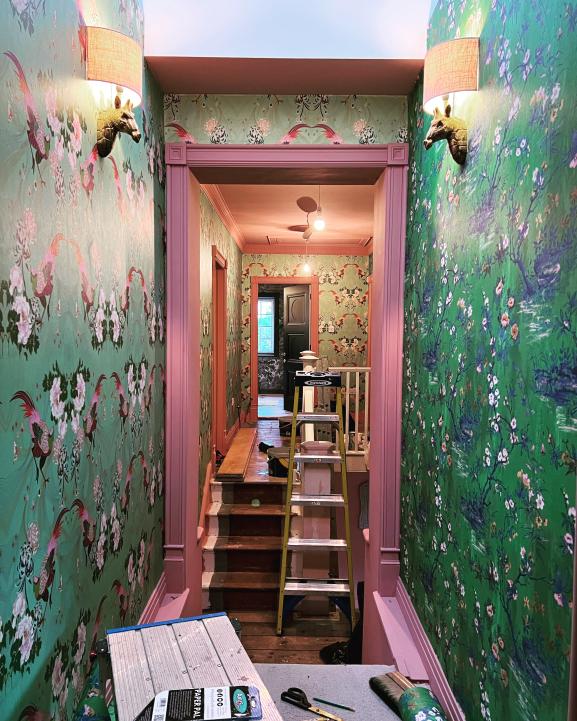 Colour trends
The Dulux colour of the year for 2023 is Wild Wonder™ – a positive, glowing tone, inspired by the natural world. Expect to see bold earthy tones in homes this year.
See the tradespeople we've checked and recommend for your job
Fitted alcove furniture
Last year we saw that media walls adorned the walls of many UK homes, and this year, David from Woodwork by David J Law notes that the new trend is leaning towards fitted alcoved furniture.
Fitted alcove furniture is a great way to save space, and, it looks great too. Imagine all the extra storage you could have!
Our search data backs up what David told us, there was a 52% increase in searches for cabinet makers/handmade furniture. People are looking for a personal touch when it comes to storage and furniture.
Renewable energy in the home
It's no surprise that the demand for renewable energy is increasing. With rising energy costs and people trying to reduce their carbon footprint, homeowners are looking into green alternatives to power their homes.
Renewable energy searches were up 505% vs 2021. Top jobs include:
Biomass energy, which increased in searches by 1579%
Wind turbines, which increased by 1036%
Solar battery storage, which increased by 914%
Window shutters
Shutters and blinds add a touch of chic to any window, and it's no surprise that they have increased in popularity.
In 2022, searches for made-to-measure shutters were up 352%.
Not only do they keep the sunshine out during the warm summer months, but they also keep the heat in in the winter, and they provide that all-important privacy.
Other blind searches that increased in 2022 were:
Sail shades by 562%
Electric/remote blinds by 369%
Roof blinds by 222%
Smooth ceilings
Plasterers saw a 542% increase for skimming – are the days numbered for Artex ceilings?
Home automation
Home automation searches went up by 394% in 2022.
Most of us like to remain connected most of the time, and the same is true for our homes.
Some of the techy home trends we expect to see continue are:
Smart appliances
Voice and gesture activated control
Smart TV's becoming a hub for home control
Energy efficiency
Smart speakers are already commonplace in many homes. 2023 is set to see that continue with an increase in voice-activated home controls, including our TVs acting as the main control hub for all the smart devices and technology in the home.
For those of us that are spending more time outside of the home, we can keep a close eye from a distance and remain in control with the help of smart appliances, such as ovens and washing machines that can be controlled by apps on our computers or smartphones.
We are all becoming more conscious of our energy consumption, especially with rising costs, and as a result, we will start to see more frequent use of smart lighting and the use of occupancy sensors to keep lighting costs down.
Home security
Related to home automation trends, we can also expect to see a continued focus on home security. Technology can be confusing, so combining the control of these smart home systems together can be really helpful.
In 2023 we can expect to see an increase in:
Access control that integrates lighting, CCTV and alarm systems
Remote arming and occupancy simulation
For more information, read our home security systems guide.