Space saving bedroom ideas
Space is a commodity these days. With square footage dwindling, house prices increasing, and city living squeezing in tower block after tower block, you need to get creative with storage.
There's a reason you're looking for space saving bedroom ideas. Space is a commodity these days. With square footage dwindling, house prices increasing, and city living squeezing in tower block after tower block, you need to get creative with storage.
One of the ways developers maximise space is to incorporate open plan living with reduced square footage in the rooms homeowners don't use as much. That's why bathrooms and bedrooms are the first to slim down. Their sacrifice makes way for a larger kitchen and living area for you to roam around in.
However, what this means is that you need to find a way to keep your bedroom clutter-free. Thankfully, there are a few ways to design your bedroom to maximise square footage and make the most of dead space. Read on for our expert advice to help you save space in your bedroom.
Space saving bedroom ideas
When it comes to what things to put in your room, there are two words that will help you save space and fill empty corners: bespoke storage.
Fitted wardrobes
The main items you want to store in your room are clothes, accessories and shoes. The rest of your bedroom tends to be used for decorative purposes or for items you don't have a home for yet. That's why a great option is to hire a carpenter and install a fitted wardrobe. This not only saves space, but it's a great way to manage your storage needs based on what you currently own. You can add shelves, shoe racks, poles, and hooks as required. Find out how much fitted wardrobes cost.
Bespoke storage units
For items that don't fit neatly in your wardrobe, a bespoke storage unit is perfect for keeping all other items off your floor. Consider making use of an awkward corner by adding a tall shelving unit with space for decorative boxes. Alternatively, include drawers in your storage and forgo a dressing unit. Another idea is to turn your units into a multi-purpose solution. For example, make an area with drawers, use the gap for a chair, and cupboards to hide anything else you'd like hidden.
Re-arrange your current design
Consider the layout of your bedroom and where you're able to save space. For example, do you need a chest of drawers or could you replace them with a multi-purpose solution instead? Why not hire a designer to help rearrange your bedroom to make the most out of your layout?
Take a look at our guide on how to divide a room for inspiration.
See the tradespeople we've checked and recommend for your job
Space saving ideas for small bedrooms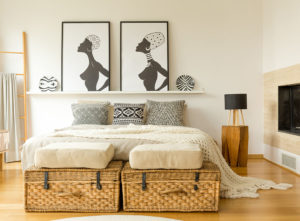 Here are a few things to put in a bedroom that has limited square footage.
Divan beds
As your bed takes up most of the floor space, a divan bed offers the perfect storage solution for your bedroom. Consider one with drawers on either side or one that opens up from the bottom. Even if a divan bed isn't your preference, you can buy under-bed storage with wheels and compartments that add extra storage.
Tidies
Decluttering your room can be as simple as adding storage solutions in other storage solutions. For example, a compact charging station or 'bed pocket' that lets you hide your electronics and wires is great for hiding clutter. Also, why not add a drawer, cupboard, and wardrobe organisers that let you stack or separate items? This will make your belongings easier to find and limit the build-up of mess.
Floating shelves
One of the best tricks for saving space is to build upwards, not outwards. Floating shelves offer the perfect solution to design decor challenges while limiting how often you stub your toe. Consider incorporating floating shelves with drawer attachments instead of bedside tables. This will give the illusion of more space even if it doesn't offer extra square footage. Alternatively, add floating shelves to a feature wall and fill them with books for a modern aesthetic.
Take a look at our small bedroom ideas for more ideas.
What to put in an empty corner of a bedroom
There are several space saving bedroom corner ideas that can maximise your floor space and make use of an awkward layout. Consider adding a tallboy or corner shelf to fill an empty corner and stack it with books, decorative boxes, or trinkets. Another way to dress a corner is to add an accent chair and floor-standing lamp to create a reading nook. If you're not a huge reader, add a storage pouffe, ottoman, or chaise lounge. Other options include corner 'snuggle' chairs, bookcases, or hanging plants and picture frames.
Space saving bedroom ideas and their costs
Did you find this helpful? If so, we have plenty more where this came from. Check out our blog for more ideas, how-tos, inspiration, and expert advice, including our bedroom ideas for couples.