How to find and hire the best local patio contractors
Give your garden a practical, beautiful upgrade with a new patio. Learn how to find the best local patio contractors, the questions to ask and average prices.
Having a patio in your garden gives you the space to entertain, relax and socialise. As patios are flat and stable, they also make great surfaces for tables, chairs, fire pits, barbeques and more. If you're looking to transform your outside space, you'll need to know how to find local patio contractors.
This article covers all you need to know about finding the best professionals to bring your patio dream to life. We'll also be exploring what to look for in a patio contractor and some of the most important questions to ask at the start of your project.
Top tips for finding the best patio builders near you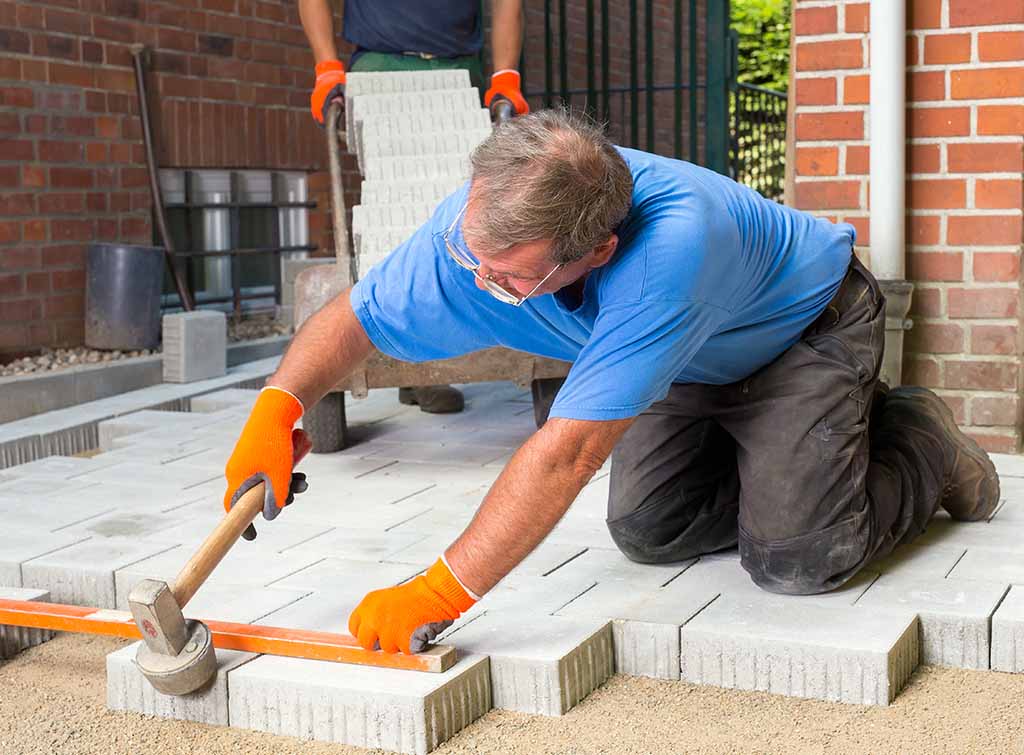 A great place to start is by using our search feature. Simply put in your postcode and we will show you the patio installers near you, along with all their past reviews from your neighbours.
We recommend you get three quotes from tradespeople so that you can compare them. This will also give you the chance to speak to them to find out more information about them.
You can make sure who you hire is right by checking that they:
Will be happy to answer your questions
Will make suggestions to ensure your new patio is the right fit for your garden
Have examples of their past work you can view
Have great customer recommendations
Have years of experience
Don't ask for all the money upfront, payments should be made throughout your project.
What to look for when choosing a local patio contractor
Each company and individual will have their own range of skills and qualities, making research key in finding the best one. Spending a little time talking to potential patio contractors and reading online reviews or testimonials are two good ways of getting to know each tradesperson a little better. You should make sure any professional you hire is:
Hard-working
Trustworthy
Experienced
Knowledgeable
Qualified
Friendly
Insured
Eager to answer your questions
Willing to talk through your job and create a written contract
See the tradespeople we've checked and recommend for your job
What questions should I ask local patio contractors?
When you invite a tradesperson to your home to do an assessment for a project you're planning it's always worth having a list of questions prepared. Otherwise, you may forget all the important issues you want to address.
Below, we've listed some of the essential questions you should ask local patio contractors:
Can I see past customer reviews and testimonials?
Do you have insurance in case something goes wrong with the job?
How long have you been operating as a patio contractor?
Do you offer a guarantee for your work?
Can I have a written quote?
How long do you estimate it'll take to lay my patio?
Are you a member of any trade organisations?
Can we create a payment schedule?
When can you start work on my patio?
Can I see other examples of your work?
Asking these questions should help reassure you that you are making the right decision by hiring a particular tradesperson. If you hire a Checkatrade member, you'll be able to see a lot of this information on their profiles. Find out more about the checks we do.
Can I install a patio myself?
Tempted to try your hand at patio construction? There's no denying this can be a tricky job, especially for anyone inexperienced in DIY, however, our how to lay a patio guide takes you through the process step by step.
Remember, if you decide to do the work yourself, there's no guarantee that the results will be how you pictured in your head. For this job, we'd recommend hiring a professional.
How much does a patio cost to be installed by a professional?
Deciding to enhance your outside space with a long-lasting, impressive patio is a great choice. What's more, having a patio installed can be quite affordable with paving slabs costing from £25 per m2.
You'll also need to pay for installation which costs an average of £200 per day. Most patios can be installed in three days or less so installation costs will usually cost up to £600. Check out our patio laying cost guide for all the prices and factors you need to consider.
Ready to hire someone?
Once you're ready to go ahead and start construction on your patio, try our online search feature. Just type in your postcode and you're one click away from a range of different experts.
To erase that 'fingers crossed' feeling that comes with inviting someone into your home, our members all pass 12 thorough background checks. We also verify customer reviews to make sure they're legit. We're that confident in our members that we offer a guarantee of up to £1,000 if there are any issues with your patio (T&Cs apply).