How to design a kitchen in 4 steps – including 18 top tips
The kitchen is often described as the heart of the home and if you're planning a new kitchen, you want to make sure your new kitchen is perfect for you and your home. In this guide, we look at how to design a kitchen with a step-by-step guide and our top tips for designing a…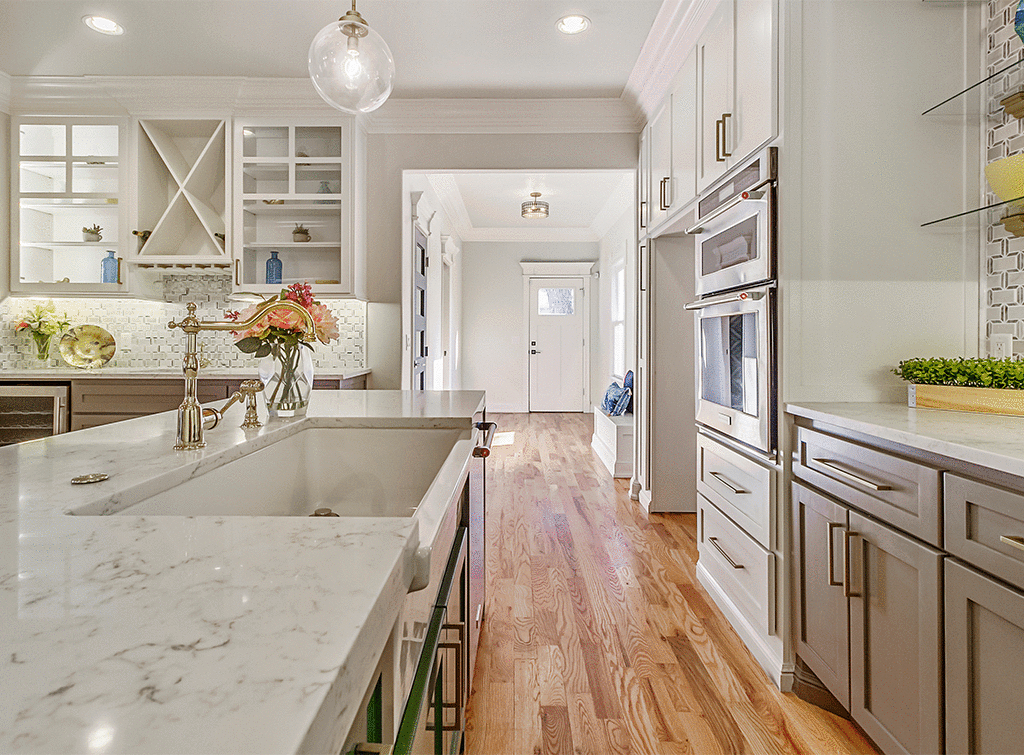 The kitchen is often described as the heart of the home and if you're planning a new kitchen, you want to make sure your new kitchen is perfect for you and your home. In this guide, we look at how to design a kitchen with a step-by-step guide and our top tips for designing a kitchen.
With planning and some creativity, you can design a kitchen that is both functional and stylish for you to enjoy time in – whether that's cooking, cleaning, eating or entertaining. Keep reading to find out more about how to design your own kitchen.
How to design a kitchen in 4 steps
If you're wondering how to plan a kitchen design, here are the four steps to help you get there…
1. Plan your budget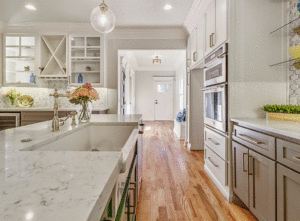 Many of your decisions throughout the kitchen design process will be influenced by your budget, so you'll need to know how much you have to spend from the very beginning. Having a clear idea of your finances will then help you keep your spending on track.
2. Write a wish list
Before you start planning what goes where, make a list of all the features and appliances that you want to include in your kitchen. Think about what you currently have in your existing kitchen and what you want and/or need in your new kitchen. It's useful to do this planning before you speak to a kitchen designer, so that you can give them your wish list to work with.
If you end up with a long list, try and prioritise the items so that you know which ones are the most important – in case some need to get culled because of budget restraints.
3. Make a mood board
Once you have a list of what you want to fit into your new kitchen design, it's time to gather your ideas for the look and feel of the kitchen. When you're looking to design your own kitchen, the style you choose is completely down to your personal taste. Creating a mood board helps you figure out exactly what style you're going for – whether you do it perusing Pinterest or ripping out inspiration from interior design magazines.
You might even want to get samples from kitchen suppliers, such as tiles, fabric swatches and paint testers. Don't worry too much about budget when you're creating your mood board – you can adjust your final choices of materials and suppliers once you know exactly what you're trying to achieve.
4. Hire a professional kitchen designer
If you want to design a kitchen that makes the most of every inch of the space, achieves all the functionality and features that you need, and looks great, a professional kitchen designer is the answer. Experienced kitchen designers are skilled in working with kitchens of all sizes, styles and budgets.
A kitchen designer will have the latest knowledge of kitchen products, appliances, fixtures and fittings. And they also often have a whole host of clever tricks to maximise space and storage that will help them design a kitchen that you'll love.
For the best kitchen design, we always recommend that you work with an experienced kitchen designer. You can find designers that your neighbours recommend easily here at Checkatrade.
See the tradespeople we've checked and recommend for your job
10 top tips for how to design a kitchen layout
When it comes to the detail of designing a kitchen and how to design a kitchen layout, here are our 10 tips to help you create a kitchen that you'll love for years.
Research different kitchen layouts to find the one that works best for your kitchen space
Plan enough space to move around so that it's easy to access all the cabinets and appliances – a decent walkway in kitchen should be at least 36-48 inches wide
Create a focal point to give your kitchen a central point that attracts the eye, like a bold backsplash or dramatic flooring pattern
Account for doors opening so that you don't end up with cabinet or appliance doors knocking each other
Create plenty of counter space to allow you (or the chefs in your house) to prepare meals, and ideally locate them near the key appliances – such as the cooker and refrigerator
Make recycling easy by allowing space for multi-unit recycling containers
Provide plenty of plug sockets to be able to use multiple countertop appliances, such as a kettle, toast, blender and coffee machine
Choose a paint colour to suit the room – if you want bright cabinets or a feature floor, a pale paint such as white, grey or cream will provide the perfect subtle backdrop
Buy the best worktop you can afford as your worktop is the most used element in the kitchen and you want it to stand the test of time
Design a lighting scheme that includes ambient, task and accent lighting to bring your kitchen to life day and night
Looking for kitchen inspiration? You're in luck. We've put together some of our favourite kitchen ideas for you.
See the tradespeople we've checked and recommend for your job
How much does it cost to design a kitchen?
The average cost of designing a kitchen will depend on the size, quality and complexity of the kitchen you plan to install. Most kitchen suppliers will offer a free service to help you design your own kitchen, but you'll be limited to having to use their products and suppliers. If you want an impartial kitchen design service to make the most of your kitchen design, a professional kitchen designer is the way to go.
The cost of a new kitchen is somewhere in the region of £5,000 – £14,000. Kitchen designers will either charge a cost per hour or as a percentage of the total cost of the kitchen.
The typical cost of a kitchen designer can range from £50 to £150 per hour, similar to the cost of an interior designer. Or, for bigger projects, the fee will be around 8-12% of the total cost of the kitchen. ​
8 tips for how to design a small kitchen
For homes with a small kitchen space, there are some smart ways you can make the most of the limited space you have:
Use light colours in small kitchens to enhance the feeling of space
Make the most of windows and natural light sources to flood the room with as much light as possible
Save space with a sliding door, if you can
Consider foldable furniture (tables and chairs) to maximise the usable space
Keep your colour scheme simple with as much consistent use of colour to create the illusion of a bigger kitchen space
Keep your worktops as clear as possible and try storing appliances in a cupboard when not being used
Use clever corner storage units to utilise awkward corner spaces
Design a kitchen with long, clean lines where possible to visually elongate the room
How to get a quote for a kitchen designer
As with all home improvement projects, we always recommend getting at least three quotes from different kitchen designers in your area. You'll want to shop around to make sure you're paying a fair and competitive price for the work.
Thankfully, our request a quote feature is perfect for multiple getting quotes – you simply post details about the work you need doing and we'll send it out to local tradespeople in your area. Try it out – it's quick and easy!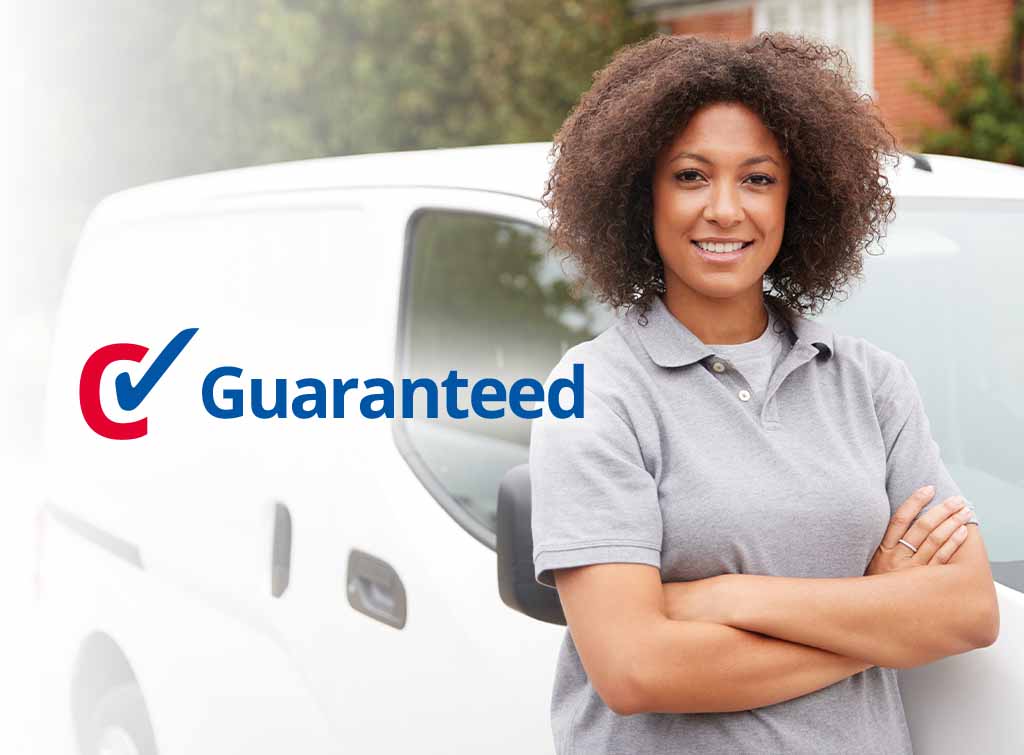 Why hire someone from Checkatrade?
Not only do we check our members, but so do your neighbours.
On top of being able to get recommendations you can rely on, we also guarantee the work of our members. That means that should something go wrong, we will be there to help make it right.
Find out more about the Checkatrade guarantee.
FAQs
Is it easy to build your own kitchen?
No, not really. A project to build your own kitchen can be a complex job involving electrics, gas, water and joinery.
It's a job best left to the professionals. At the very least you need to hire a plumber, Gas Safe engineer and qualified electrician to carry out work on the plumbing, gas and electrical elements of the kitchen. You can then build the cabinetry around them.
Check out our cost guide for a kitchen fitter.