How to fix a window
Discover our complete guide on how to fix a window. Including repairing cracks, broken handles, scratches and fogging. With step-by-step instructions.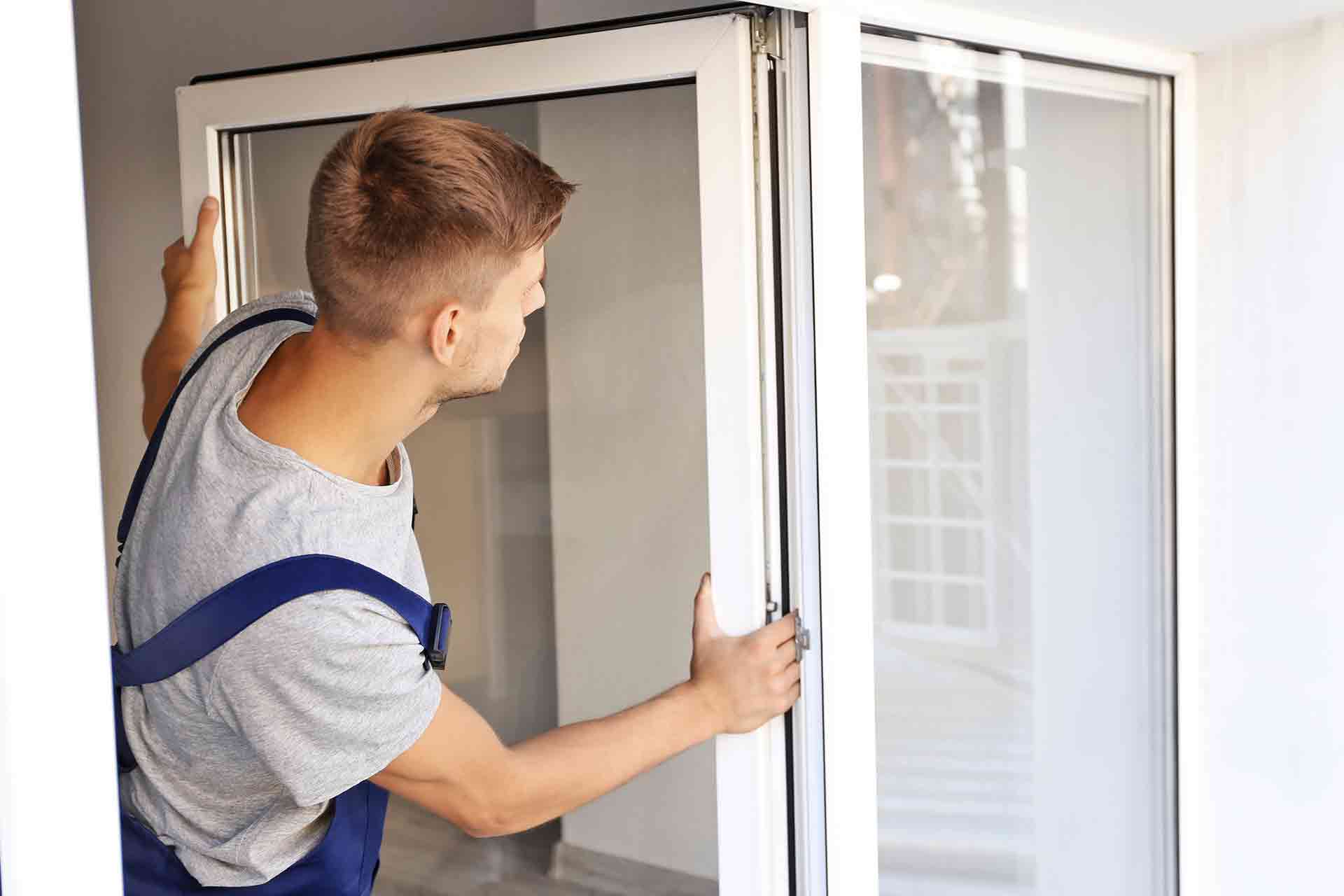 Without windows, our homes would be dark and stuffy places to live. What's more, living with no proper ventilation and light would greatly affect our health and wellbeing.
Eventually, windows can become damaged, becoming a real eyesore, and could even present a security risk. If your windows are broken, damaged, worn down or old, learning how to fix a window is essential.
From removing scratches to fixing rotten window frames, you will have a better understanding of common window issues, whether to repair or replace them, and the best ways to fix any issues.
How to fix a window
Broken or cracked window glass is a common problem that can be hazardous unless repaired. Having loose glass in your home may injure yourself, your family or your pets, so dealing with the issue promptly is vital.
The best way to fix a broken window is to replace the glass itself, and we will be covering how to do this below. However, until you can buy a new pane of glass, you'll need to temporarily cover your window. Do this using polythene sheeting, cardboard or even plywood cut to size and sealed in place.
Here's a step-by-step to fix your window:
Take any broken glass out of the frame whilst wearing thick gloves and goggles to prevent injury. Make sure you spread a few sheets of newspaper on the floor before beginning as this will help you to clean up the glass afterwards.
You may need to use a hammer to carefully loosen any large pieces of glass.
Get rid of any remaining putty using a chisel and hammer.
Sweep up any dust, clean and seal the window frame using primer.
Rinse your hands with water to prevent the putty from being too sticky, then knead it until it forms a smooth texture.
Go around your window frame, spreading a layer of putty about 3mm thick.
Position your new frame of glass and gently push into the putty. Remember to not push on the centre of the glass to prevent any damage.
Use a hammer to carefully tap glazing panel pins every 20cm. Ensure they protrude 5mm from the window frame.
Remove any excess putty from your window using a putty knife.
Spread a layer of putty around the rebate and push it into place. You can then use your putty knife to remove any excess and smooth the layer of putty covering up the pins.
Finally, run your putty knife under a tap and use it to finish smoothing the putty around the window.
See the tradespeople we've checked and recommend for your job
How to fix a window that won't close all the way
Not being able to shut a window can be very frustrating and there are a number of reasons your window might not close all the way. These include issues with paint, humidity, window tracks and window fasteners.
Wondering how to fix a window that won't close all the way? Identify the issue and use the below tips to remedy this:
Loose fastener: Overuse, excess force and expansion can all cause your window fasteners to become loose. This puts your home at risk from thieves so should be mended as soon as possible.
Excess paint: If you have painted your window frames, it's likely this is the cause of the problem. Remove any excess layers of paint to fix the issue.
Dirty window tracks: If debris or grease builds up in your window tracks it can prevent the window from closing. Regular cleaning and lubricating of the track will help to stop this problem.
Humidity: Wood loves to contract and expand depending on the weather outside. This can be an issue when your windows are made from timber. If you live in a hot area, you may find other window materials more effective, otherwise, you may need to call a window repair expert to help with this.
See the tradespeople we've checked and recommend for your job
How to remove scratches from glass
Unfortunately, glass is always at risk of scratches and scrapes. And, thanks to adverse weather and accidents, your windows may become scratched over time.
Unsure how to get a scratch out of glass? Before you call in the professionals, there are a number of ways to remedy your issue yourself. To learn how to remove scratches from glass, try the following method using toothpaste:
Thoroughly clean your window to remove dust and grease, then grab a microfibre cloth and a tube of toothpaste (baking soda toothpaste is very effective).
Dampen the cloth, then squeeze a small amount of toothpaste onto it.
Run the cloth over the scratch on your window in small circles for about half a minute.
Check to see if the scratch is still there. If it is, repeat the toothpaste application.
Finally, clean the glass and admire your hard work.
Please note, you can also use baking soda, nail polish and metal polish to remove scratches from glass.
How to fix a broken window handle
Many windows use handles to open, close and lock. These handles can be very easy to use but may become damaged or loose over time. Knowing how to fix a window handle can be very useful, although, if your issue is with the metal in the handle, it's probably time for a replacement.
If you want to learn how to fix a broken window handle, just follow the below guidance:
Firstly, check your handle is loose by looking for gaps around the base plate.
Once you're sure this is the issue, take off the screw head cap and tighten the upper screw.
Next, rotate the handle until the lower screw is exposed. Use your screwdriver to tighten the lower screw.
Lastly, refit the screw head cap.
See the tradespeople we've checked and recommend for your job
How to fix rotten wooden windows
While wooden windows look incredible, unless they are properly maintained, they can be susceptible to rot. This is where a fungus degrades the wood of your frames, causing further issues. Thankfully, it's possible to repair many windows affected by rot.
So, if you're wondering how to repair a window frame that is rotted, use the below steps:
Decide whether to repair or replace your windows. If the rot has taken hold and caused large patches of damage, you'll need to replace the windows.
Remove the small patches of rot using a chisel and clear away any debris.
Use a drill to make holes in the window frames, leaving an inch between each hole.
Use wood hardener to fill the drill holes and cover the window frames where the rot was removed.
Allow this to dry then add a second coat.
Use wood filler to rebuild your window frames. Use a knife to add pressure to the wood filler and allow to dry.
Next, use sandpaper to smooth the newly rebuilt patches. Keep sanding until they are completely flush with your frame.
To finish, paint the wood frame to protect against further damage.
Great work, you now know how to fix rotten wooden windows!
Repairing windows that have foggy panes
While double glazed windows offer a range of benefits, including increased energy efficiency, they can begin to fog up over time. This fog is usually a build-up of condensation and often occurs when the window seals are damaged.
Repairing windows that have foggy panes is possible and cheaper than buying replacement windows, however, repairs can be tricky. If you'd like to learn how to repair condensation in double glazed windows, use the following tips:
You can choose to replace the window seal or one of the panes of glass to remedy fogging. This may not be possible, and it's far simpler to replace the entire window.
You can also try using a defogging spray to stop your windows from fogging up. Also, shaving cream can be effective at eliminating fogging.
Finally, there are companies who can defog your windows that are more cost-effective than replacing the entire window.
See the tradespeople we've checked and recommend for your job
Refurbishing sash windows
Sash windows are beautiful features in any home but eventually, they can become damaged and worn. Before you rush out and order new windows, restoring sash windows is often possible and can be cheaper.
Refurbishing sash windows can involve removing decayed wood, mending broken pulleys and replacing sash cords that are of poor quality. While you may be able to do these tasks yourself, you risk making the damage worse and ruining your stunning windows.
Hiring a professional will guarantee great results with little risk. They will usually:
Repair any damaged timber
Fill any gaps or cracks
Replace the putty
Clean out any joints
Repair or replace the sash
Balance the pulleys
Paint and seal the window
See the tradespeople we've checked and recommend for your job
Dealing with defective lintels
Lintels are positioned above windows and doors to support the load of your home. Frustratingly, these can become cracked and dealing with defective lintels should be done as soon as possible. One of the most common types of lintel material is concrete and these can be excellent at increasing the structural integrity of your home.
Concrete lintel repair is relatively simple, if you see cracks forming, you'll need to repair them. This will prevent water from seeping into the crack and causing the steel inner reinforcement to begin to form rust. This can then destroy the concrete from the inside outwards. You can stop this from occurring if you fill the cracks straight away.
On the other hand, if you're dealing with defective lintels, your best option is to completely replace the lintel for safety.
FAQs
Will repairing/replacing windows add value to a home?
When buyers come to inspect your home, they will start outside. This means your windows are one of the first things they'll see, making a lasting impression. As such, if your windows are damaged or old, this can put off potential buyers.
So, will repairing/replacing windows add value to your home? Absolutely! New or repaired windows will also be more energy-efficient and look stunning.
Can house windows be repaired?
In many cases, it's entirely possible to repair your windows. Whether or not your house windows can be repaired will depend on their age, damage, condition and style. For example, windows that are very old and degraded may be impossible to repair, but newer windows with a small amount of damage can be repaired.
If in doubt, speak with a specialist.
Is it better to repair or replace windows?
It can be difficult to know whether it's better to repair or replace windows in your home. Generally, it will depend on how damaged and old your windows are, although this is by no means a black and white subject.
Thankfully, our double-glazing repair guide covers this topic in detail. Hopefully, this will simplify your decision.
Can fogged windows be fixed?
If you're dealing with condensation on your windows, you may be wondering can fogged windows be fixed? While this is often possible, it may be easier to replace the windows.
For further information, please see our 'repairing windows that have foggy panes' section.
What time of year is best to replace windows?
Deciding when to replace your windows can greatly impact your comfort. You definitely don't want to have holes in your home during the colder months, otherwise you'll have to crank up your central heating, ending up with a huge energy bill. In addition, if caulk is being used to fit your windows, the outside temperature should be in the range of 5 – 20 degrees.
So, what time of year is best to replace windows? We would advise you to wait until the spring if at all possible.
Do I Need Planning Permission to Replace Windows?
Replacing your windows can be an exciting process, but it's important to consider any legal ramifications. Many people ask "do I need planning permission to replace windows?", and the answer is, it depends.
If you're replacing your windows like for like, you probably won't need it. However, if you plan to change to a different style of window, you may need to apply for planning permission. The following instances are all times where planning permission is needed:
You're switching to new bay windows.
You're installing a skylight that is either higher up than your roof or sticks out over 15cm from your roof.
You're installing a new upper-floor side elevation window that can be opened and doesn't have glazing that obscures views.
Getting help from a professional
If you're feeling unsure about how to fix a window, why not consider hiring an expert to take on the job? This will help to save you precious time and energy that can be better spent. In addition, you have the peace of mind that your window will be repaired to a high quality that will last for years to come.
Luckily, our wide range of highly qualified members are here to complete your project to the best standard. Simply put your postcode into our free search feature to find professionals in your local area.
How much does professional window repair cost?
The amount you'll need to pay for professional window repair will depend on the type, the issue, the age and the condition of your window. Below we have gathered a range of resources for you, with prices, tips and considerations to assist you when deciding to pay for professional window repair: