How to install a loft ladder in 10 steps
Open up your home by learning how to install a loft ladder. Access your loft with our step-by-step guide including top tips and advice. For hatches and ladders.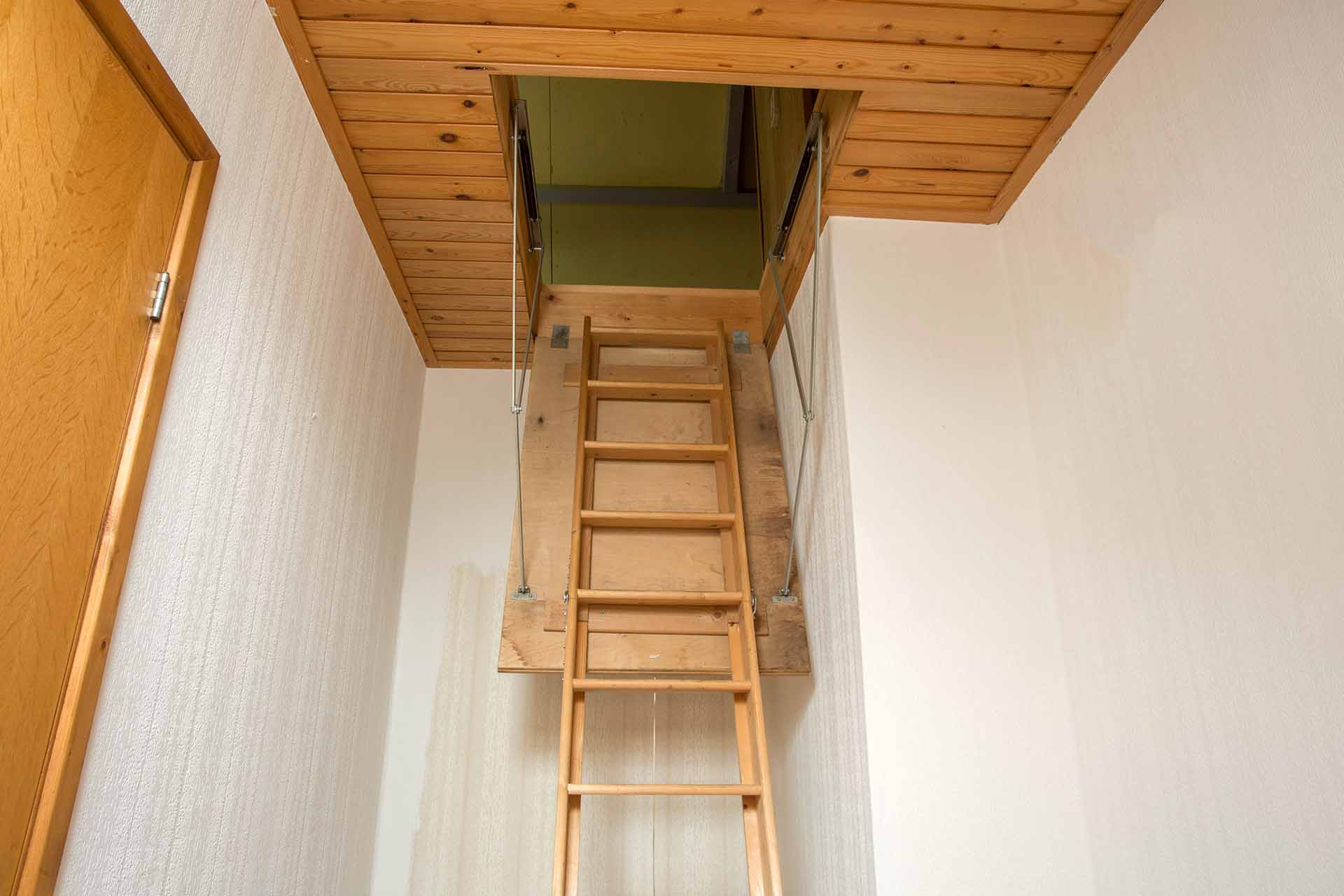 Unlock the unused loft space in your home with this guide on how to install a loft ladder. We've included step by step instructions, tips and answers to your FAQs to help make your project a success.
So, where do you begin? Firstly, you'll need to gather all the tools and materials you need. These include:
Screwdriver
Hammer
Drill
Tape measure
Stud detector
Jigsaw
Straight edge
Sandpaper
Screws
Nails
Pencil
Ladder
Timber
Once you've got these, you can work your way through the steps below to install your loft ladder.
See the tradespeople we've checked and recommend for your job
How to install a loft ladder and hatch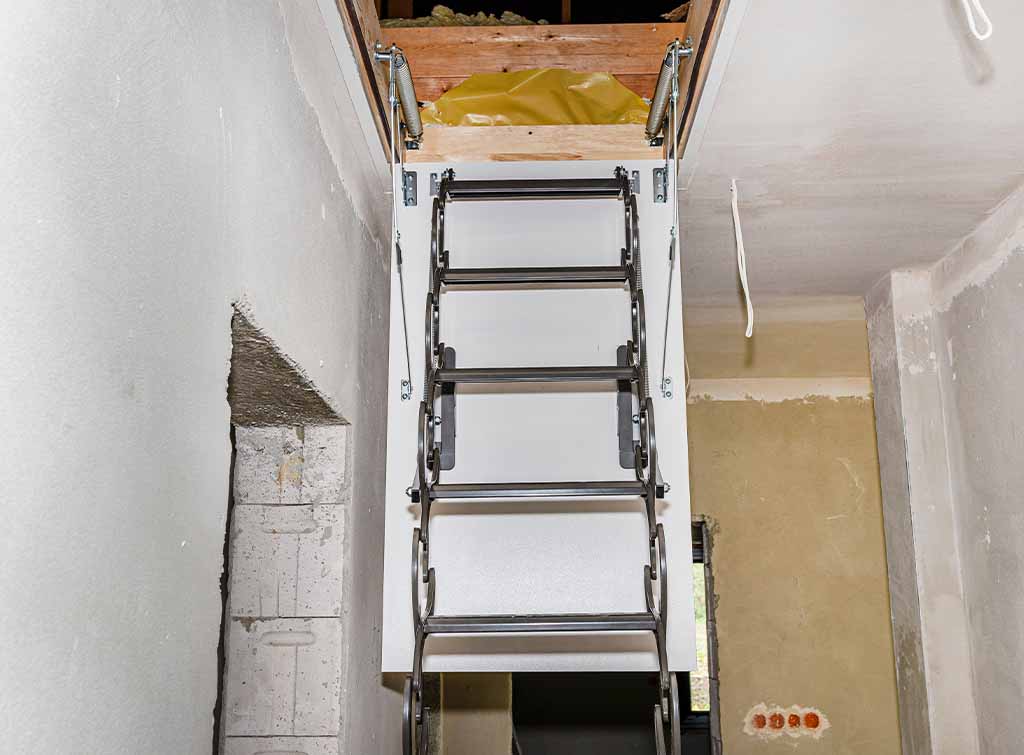 Before you install your new ladder, you'll need to create an opening in your ceiling. This is an integral part of installing a loft ladder and hatch. You should start by choosing the right location for your new hatch.
You want to ensure there'll be enough headroom when you enter the loft by picking a location that is at least a metre from an external wall. You also should try to avoid creating a hatch on an existing staircase for safety.
Then, use the below steps to add a hatch to your loft:
Firstly, check there are no pipes or cables running through the area where you plan to install your hatch by using a stud detector.
Once you've chosen your hatch position, use a pencil and straight edge to mark out the shape and size of the opening you need to create.
Top tip: Line up both sides of your loft hatch with existing ceiling joists for a sturdy support for your ladder.
Make four holes at each corner with your drill then slide your jigsaw into place and start cutting along the lines you marked.
Remove the piece of ceiling you cut out and sand down the edges of your opening.
Top tip: We'd recommend asking a friend to assist you with fitting your loft hatch frame.
You can now install the frame of your hatch to properly support the weight of your loft ladder.
Measure the length of your hatch on the ends where there are no ceiling joists in place. You can then cut 2 planks of wood the same length as this.
Use screws to firmly attach these planks between the ceiling joists to create a rectangle/square to hold your ladder in place.
For best results, we'd suggest adding strips of finishing wood along the edges of your new hatch.
How to fit a loft ladder step by step
After you've created a hatch to your loft, you're probably wondering how to fit a loft ladder. The method you use to install this ladder will depend on the type of ladder you buy but generally, you'll need to:
Attach the ladder supports to the hatch frame you installed earlier.
Once the supports are in place, ask a friend to help lift the ladder up to your loft hatch.
Check that your ladder will by flush with the ceiling before attaching.
Fit your loft ladder to the supports and nail in place.
FAQs
How easy is it to install a loft ladder?
This really comes down to whether or not you need to create an entirely new hatch or just replace a current ladder. Cutting out an even opening can be very tricky, especially if you have no prior DIY experience. When it comes to installing the loft ladder, this is a little more straightforward.
For the best results, work with a professional.
Can you install a loft ladder yourself?
You can install a loft ladder yourself, but we'd strongly recommend asking a friend for help lifting the ladder. You should also consider if you have the necessary equipment and skills to tackle every step of the installation. If you're not confident then definitely work with a professional.
Playing it safe
Once you appreciate how heavy and cumbersome loft ladders are, you may realise that this isn't a job for you. Particularly if you need to create a loft hatch as this can be a very difficult skill to master.
So how can you play it safe, prevent mistakes and save time? We'd recommend hiring a tradesperson to carry out the installation for you.
Finding the right professional for your job can be a bit of a minefield and it's no surprise that people feel concerned about inviting a stranger into their homes. The best solution to this is to use our free search feature to contact one of our valued members. They pass rigorous checks to ensure you get the best service possible and are recommended by your neighbours.
In addition, we now offer a free guarantee of up to £1,000 if something goes wrong with your project. This means you can hire one of our members without worrying about any unexpected surprises.
Looking for more guidance? Why not visit the HomeOwners Alliance website where you can find a wide range of home improvement guides and much more.
How much do professional loft conversion and loft boarding cost?
If you'd like to unlock the potential in your loft, there are a few ways of doing so. You could add loft boarding to make accessing your entire loft possible or even pay for a loft conversion and turn the space into a fully functioning room. Interested? Check out our how to board a loft guide for step-by-step instructions on boarding a loft yourself.
If you're thinking on a larger scale, why not choose to convert your loft? Our loft conversion planning guide covers all the important things to consider and answers your FAQs. Alternatively, if you'd prefer to hire a professional to do the work for you, our loft boarding cost guide and loft ladder installation cost guide contain all the prices and information you'll need.
Which tradespeople should you use for the job?
There are in fact tradespeople who specialise in installing loft ladders so hiring one of these professionals is a great choice. Or you could hire a general builder who should have the skills to complete this job.