How to repair an outside wall
With most homes in the UK being built using bricks (or at least a combination of bricks, concrete blocks and timber), outside wall repair is a common need for many British homeowners. In this guide, we look at how to repair an outside wall, as well as the common causes of cracks and damage.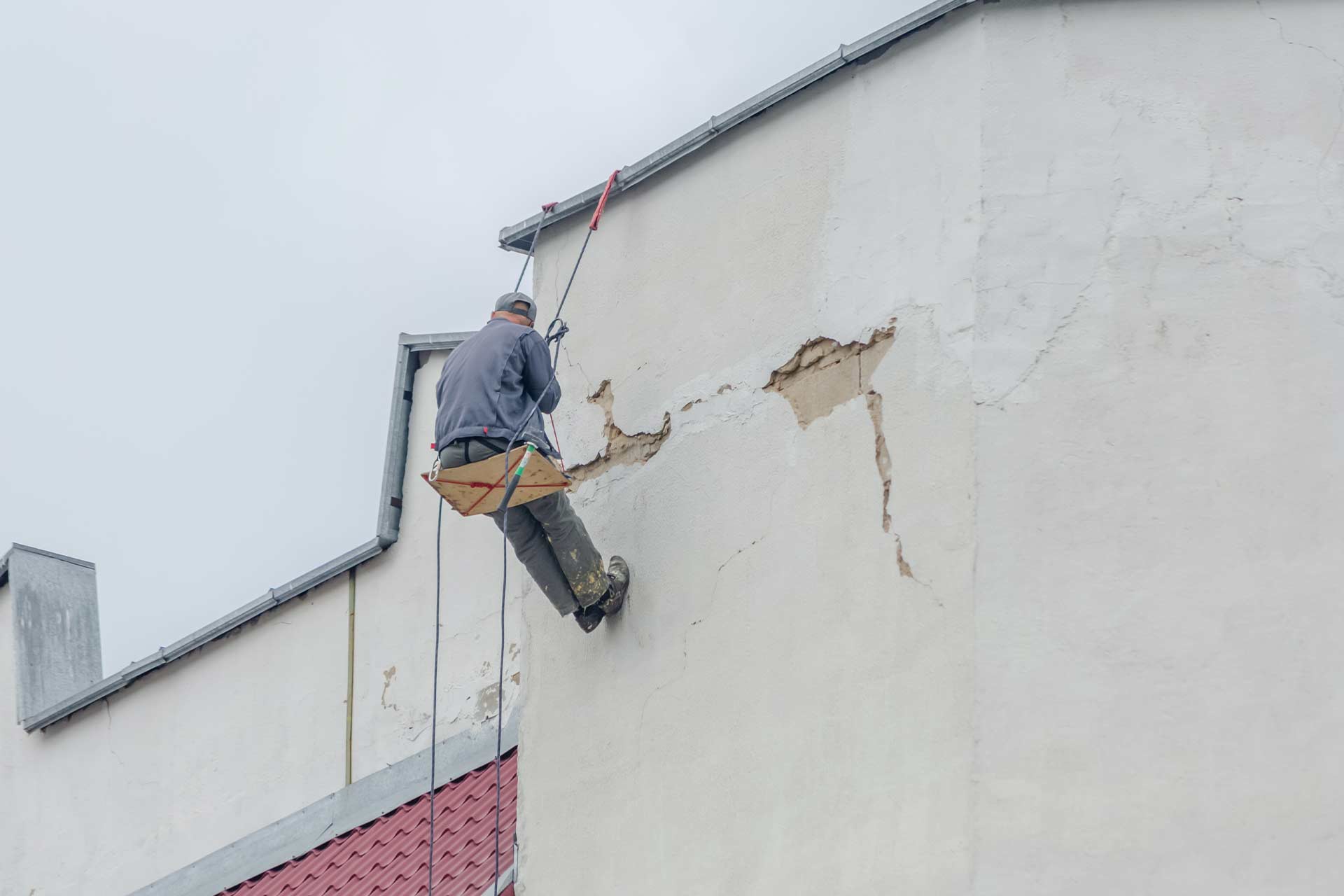 With most homes in the UK being built using bricks (or at least a combination of bricks, concrete blocks and timber), outside wall repair is a common need for many British homeowners. In this guide we look at how to repair an outside wall, as well as the common causes of cracks and damage.
It's important to keep an eye on the condition of your property both inside and out, and if you notice that you might need to repair an outside wall then it's best to act sooner rather than later.
It's also important to understand exactly why your outside wall needs repair, so that you can treat the cause and not simply fix the visible signs of the underlying issue. The source of the damage will also directly affect the type of treatment that will be needed.
What causes cracks in walls?
 There are a number of reasons why you might see cracks in the walls of your house, here are some of the most common:
1. Building movement fractures
When the foundations of a house move, they can cause movement fractures in the walls of the building. Sometimes these cracks are historic and don't necessarily mean there is an active problem with the property. That said, it's important to have a structural surveyor review the property to understand the root cause of the cracks.
If it turns out to be an issue with subsidence, then you'll need to get a structural engineer involved. To find out more about prices, check out our guide to subsidence repair costs.
2. House settling cracks
If your house is a relatively new build, the cracks you see might be caused by the house 'settling'. Similarly, the cracks might be the result of the building's materials expanding and contracting over time. Either way, they might warrant some degree of outside wall repair to improve the appearance of your home.
3. Minor cracks
Very often houses show signs of minor cracking on the outside walls, which tend to be nothing to worry about. But it's always sensible to keep an eye on them, in case they change or worsen over time. And how you repair the outside wall will vary if the cracks do develop further.
See the tradespeople we've checked and recommend for your job
How to repair an outside wall
First of all, you need to know what's causing the issue. If there are structural problems then you've got more than just a spot of rendering or painting to do. However, if it turns out that the cracks are minor or historic then you may just need some cosmetic outside wall repair work.
Here's a summary from the Building Research Establishment (BRE), which classifies the degree of cracking and the action that might need to be taken:
Level 0 = Hairline cracks less than 0.1mm wide. No outside wall repair needed.
Level 1 = Fine cracks up to 1mm wide and cracks rarely visible in external brickwork.
Level 2 = Crack width up to 5mm, generally easily filled. Outside wall repair might involve some external repointing.
Level 3 = Cracks 5mm – 15mm wide that might need some opening up and can be patched by a mason. Often repair will require repointing of external brickwork and possibly some outside wall brickwork to be replaced.
Level 4 = Pretty major damage with cracks 15mm – 25mm wide. Most likely some sections of the outside wall will need to be replaced, not just a repair.
Level 5 = Crack widths that are 25mm+ and show signs of serious structural damage needing major outside wall repair work – the wall may even need to be partially or completely rebuilt.
As a general rule, categories 0, 1 and 2 usually only require redecoration and no major wall repair work. For cracks in categories 3 and 4, it's likely that more major work will be needed. And category 5 is the one where you need urgent attention from a professional surveyor.
Even if you only have minor cracks showing on your outside wall, we always recommend monitoring them closely to see if they increase in length or width. Any increase in crack size is a sign that there's an underlying issue that needs fixing.
How to repair render on an outside wall
Whether you're planning to repair the render yourself, or you want to hire a professional to carry out the work, it's useful to understand the process of how to repair render on an outside wall:
Step 1 – Review all of the outside wall(s) to identify the areas of render that need repair. It's often handy to mark them with chalk so you can easily find them again.
Step 2 – Check for hollow render by lightly tapping a hammer on the walls. You'll hear a hollow sound in areas where the render has come away from the substrate.
Step 3 – Remove old render from the cracked or damaged areas. If patches of render have fallen off, it's best to cut back the edges to a sound surface. Take care when removing any old render to make sure you don't accidentally pull off sections of good render.
Step 4 – Make sure that all edges of the patch(es) being repaired are cut squarely to avoid feather edging. At the same time rake out any loose pointing and roughly repoint the brickwork where needed.
Step 5 – Before applying any new render make sure you brush out any loose dust and debris.
Step 6 – Apply new render using thin coats applied onto the areas of the outside wall needing repair, and take time to ensure that the render is well pushed in.
Step 7 – For the final coat of render, you want to create a neat butt joint between the old and new render. Leave a slight bulge in the middle of the patch of render so that the finished result is flat and flush after you've consolidated the render.
The cost of repairing render on an outside wall is around £30 – £60 per m2. To find out more, check out our guide on the cost to render a wall.
See the tradespeople we've checked and recommend for your job
Garden wall repair
Garden walls often provide a feature as well as marking the boundary of the plot of land that a property sits on, and they often need repair work. It's also reported that collapsing garden walls are sadly one of the most common causes of masonry-related deaths.
With that in mind, it's important to have your garden walls inspected regularly to see if any repair work is needed. Whether they're cracking or collapsing, garden wall repair may be needed due to:
Weather damage by strong winds or rain
Issues caused by roots of trees growing close to the garden wall
Extreme temperatures both hot or cold causing expansion and contraction of the wall materials
Alterations or additions to the garden wall, such as a gate or archway
Common garden wall repairs
Crumbling brickwork affecting a few bricks. It may not need attention, but if crumbling spreads it can weaken the wall. Keep an eye on the issue and if needed, replace damaged bricks.
Damage to mortar pointing. If you notice damage to the pointing of your garden wall then it's likely that you'll need to do a spot of repointing.
Tree-related damage. This could be from the roots or branches damaging the garden wall. It's not as simple as removing the tree(s), as this can lead to further issues with soil stability. Instead, you may need to rebuild sections of the garden wall with bridges built-in to overcome any roots.
Leaning walls or damaged foundations. If you have a wall that's looking a little squiffy and not standing upright, you may need to take action swiftly as the possibility of the wall collapsing could be quite high. Seek professional help to identify the issue, and the garden wall repair may involve rebuilding parts or all of the wall.
If you're looking for ideas to build or update your garden wall we've put together some of our favourite garden wall ideas for you.
Garden wall repair cost
Here are some of the average costs per square metre for the most common garden wall materials in the UK:
Bricks – £50 – £300 per m2
Natural stone – £60 – £125 per m2
Concrete – £40 – £55 per m2
Facing bricks – £55 – £75 per m2
Flint – £100 – £120 per m2
Sandstone – £70 – £130 per m2
Slate – £100 – £150 per m2
You can read more in our guide to the cost of building a brick wall.
Brick wall maintenance
Here are our top tips for keeping your brick walls in shape with good maintenance practice:
Regularly inspect your walls for signs of damage, both internally and externally. If you notice signs of cracking, flaking or water damage then contact your local wall repair experts.
Keep your gutters clean and clear to avoid damage from overflowing water, flooding or water retention. Ideally, you should organise gutter cleaning twice a year.
Treat your walls with waterproof sealant and/or waterproof paint to protect them from the elements.
If you have any concerns about damage to your walls, speak to a local masonry specialist to get their professional advice. And if you think there may be severe structural issues then contact a local surveyor to come and inspect the walls in question.