Increasingly, homeowners are adding touches of flair to their driveways to make them more visually appealing. In this blog, we detail the key tips that style-conscious homeowners should take on-board to help make their properties stand out from the crowd.
When looking to make a change to your home, there are few better places to start than your driveway. It's one of the first areas that visitors see upon entering your property, so it's important to make a good first impression. In this blog, we detail some of the best ideas on how to get the most from your driveway design, detailing kerb and edging options, lighting choices and the various styles of flagstones you can specify.
Kerb and edging
One of the best ways to make your driveway look prettier is by decorating it with some kerb and paver edging stones. Not only are these accessories stylish but they can help add a practical finishing touch. Nowadays, companies supply kerb and paver edging stones in a variety of materials, including concrete, sandstone and limestone. What's more, these options are available in a variety of colours and patterns. Such expanded design choices can make all the difference when looking to define a property's external aesthetic.
Lighting choices
Lights are amazing at illuminating driveways and making them look larger. Not only do driveway lights help to make your home look more attractive but can also help to add another of layer of security. Solar lights are becoming increasingly popular as they can be installed without the need of a professional; but they don't provide the same level of illumination as wired options. If you want a brighter lighting solution for your driveway it's better to go for wired – and it's important to bring in a qualified electrician to ensure all the wiring is up to code. As always, use a site like Checkatrade to find a quality tradesperson who will complete the job to a high standard.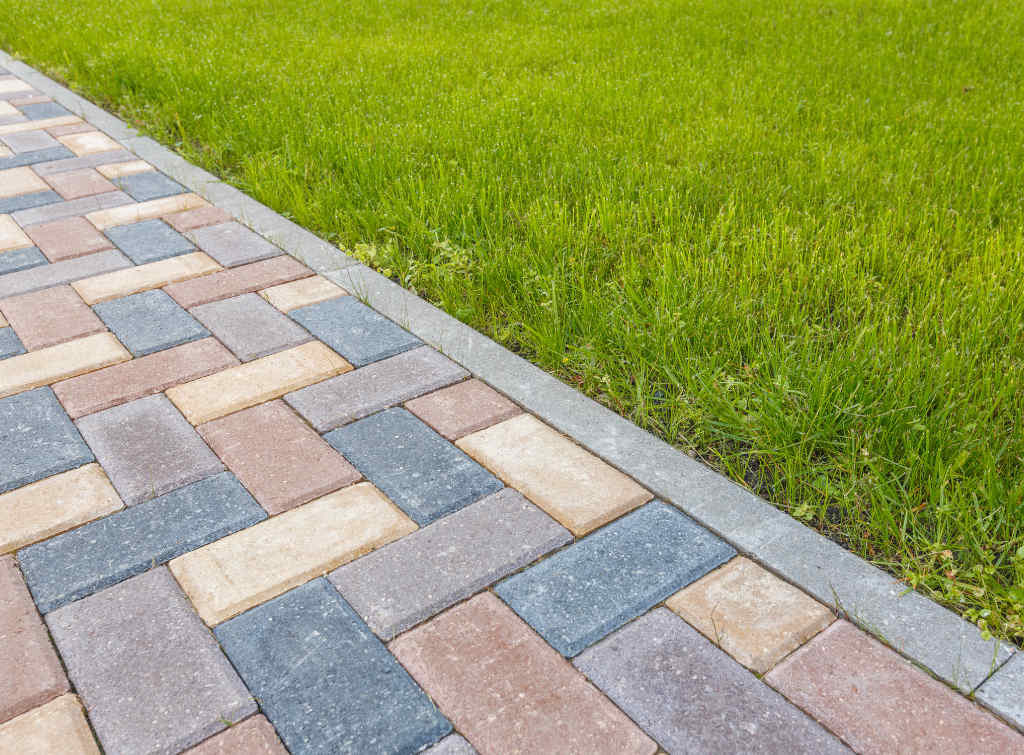 Choose a pattern
A great way to make a big statement on your drive is to establish a pattern with your paving installation. There are a number of suppliers who now offer slabs, flags and pavers in a number of eye-catching patterns. Free download top tips for paving your driveway.
Working with a trusted installer, the like of which you can find on Checkatrade, will help to ensure that the job is completed to a high standard. Applying pavers in a pattern is harder than just laying them, so don't attempt the task yourself if you're not up to the job.
Find an expert to build your driveway
Add some plants
Offer some visual intrigue to your driveway with low-maintenance grasses or shrubs. Some plants can be grown out of gravel, whilst others will require you to pot them. Adding a front garden doesn't only look great but can have a number of additional benefits. For example, planting some lavender will help to create a pleasant smell on your drive, whilst a bamboo tree can add an additional level of privacy.
There are so many design options on offer for homeowners looking to renovate their driveways. As such, before starting any project ensure that you've done a bit of reading to make sure you're getting the most from the task. Not only are you able to bolster design, but by adding plants or adding lights you can make your driveway more functional. Hopefully, this blog will give you some great tips on how to get the most from your design. However, always remember that there are professional garden designers on hand who can help you get the perfect solution for your garden.
Find an expert to build your driveway
Tell us what you think
What others think of this cost guide:
Need More Information?
Related posts