Open plan living: Your guide to creating an open plan living space
Open plan living goes hand in hand with our modern-day, fast-paced lives. Read more about how to create an open plan design in your home.

We've all seen pictures of the open plan living dream of clean white walls with floor to ceiling windows, overlooking an infinity pool or lush green garden terrace. Open plan living has become a huge part of our everyday lives, with socialising at home becoming a bigger part of our lives.
Not all of us can afford the infinity pool, but in this guide, we break down how it's perfectly possible to plan out and recreate your own version of an open plan living space in your home.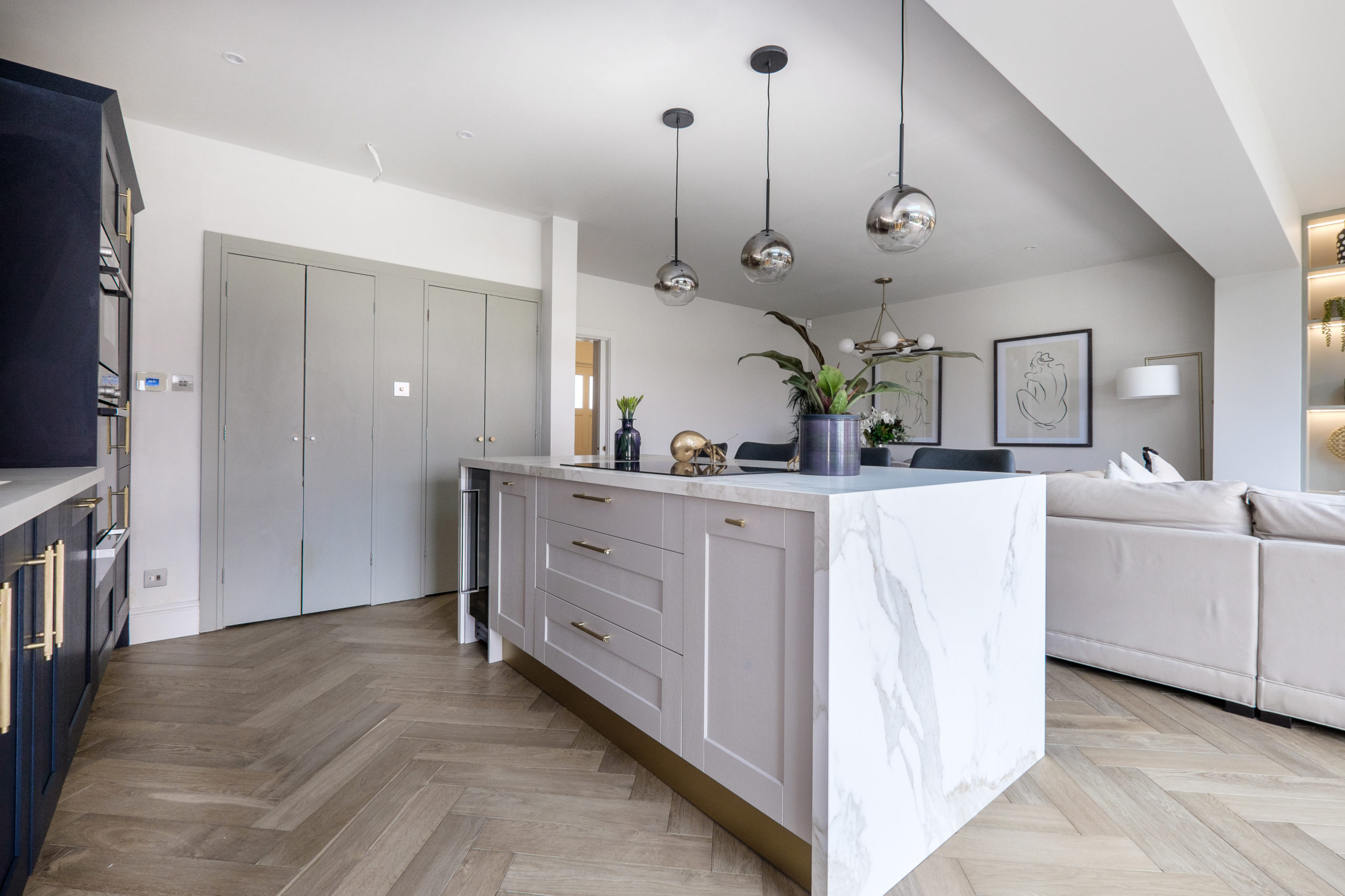 Open floor plan ideas
Believe it or not, open plan living has been around since the 1950s but began to grow in popularity in the 70s and 80s. Houses being built today are smaller. With more people to house and less space to build on, living in a smaller home and accommodating a family means that rooms can quickly start to feel small.
The everyday homes of the past were designed for function, but in the last 40 years, our lifestyles have changed. We no longer want to separate entertainment from food preparation. Open plan living is better suited to our modern-day, more flexible lives. As our families get larger, it's simply easier to live in an environment with less restriction and more free-flowing movement.
When it comes to open plan design, the three most popular options are:
Open plan living doesn't mean that all rooms are open and you're left with one big open space. The best open plan living spaces are created by thoughtful combinations such as those above.
Open plan kitchen and living room ideas
An open plan kitchen and living room allows for free and easy movement in two of the busiest areas of your home. Joining these two spaces together means that families can spend time in each other's company (and keep an eye on each other!). It also makes functional tasks such as cooking, cleaning or even childcare easier to manage and more social.
Open plan kitchen and dining room
Combining your kitchen and dining room is purely practical, as much as it is important for entertaining or spending more time together with your family. Gone are the days of the serving hatch – remember those?
Open plan kitchen, living and dining room designs
If you're looking for the ultimate open plan living ideas, you can decide to combine your kitchen, dining and living room as one harmonious space. This type of open plan layout is probably what springs to mind when most people think of open plan living. It's also what we often see in the Ikea showroom!
See the tradespeople we've checked and recommend for your job
Open plan layout ideas
Design in 'zones' – Coming up with the most successful open plan design is thinking about how will the space be used and what are the functional requirements. On paper, sketch out your open space and draw in your 'invisible walls' so you can plan out your open plan space into zones.
Broken plan or open plan – Open plan doesn't have to mean one big space with straight lines. You can get clever with using different features or hardware to break up your space.
By using sliding doors, bifold doors, shelving units, fireplaces or pieces of furniture, you can create features in your open plan space to add flexibility and privacy. Partial or partition walls are also a good compromise if it is not safe to completely knock out a wall.
Play with heights – Depending on how much space you have to play with, consider a split level floor or adding a mezzanine. You could create a cosy sunken den area for family time or tuck away your working space on a mezzanine in your living room.
Consider a skylight – Whatever style of open plan floor design you choose, adding a skylight can transform how your space feels. Light is such an important factor in any living space, and adding a skylight can give the illusion of space in a smaller area.
Decorative elements for an open plan room design
Painting and decorating – Use paint and colour on the walls to visually designate areas in your open plan space but still create a cohesive look. Many modern open plan living room designs include painting door frames and skirting boards.
Another option is to add colour elements to accent open plan architectural features, such as archways. With any open plan living space, pick a harmonious palette to keep that open feel.
Furniture and decorative accessories – Careful choice of these items helps to create a put-together look. Think about choosing seating that can be easily moved or serves multiple purposes.
A swivel 'cuddle' chair or a low coffee table that can double up as an eating space with floor cushions gives you ultimate flexibility. L-shaped sofas are also a great choice as they can help to create a living zone without walls.
Plants or greenery – Playing with textures and bringing the outside in is another flexible and fun way to break up your open plan room design. Remember, for a low maintenance open plan green space you can opt for artificial greenery.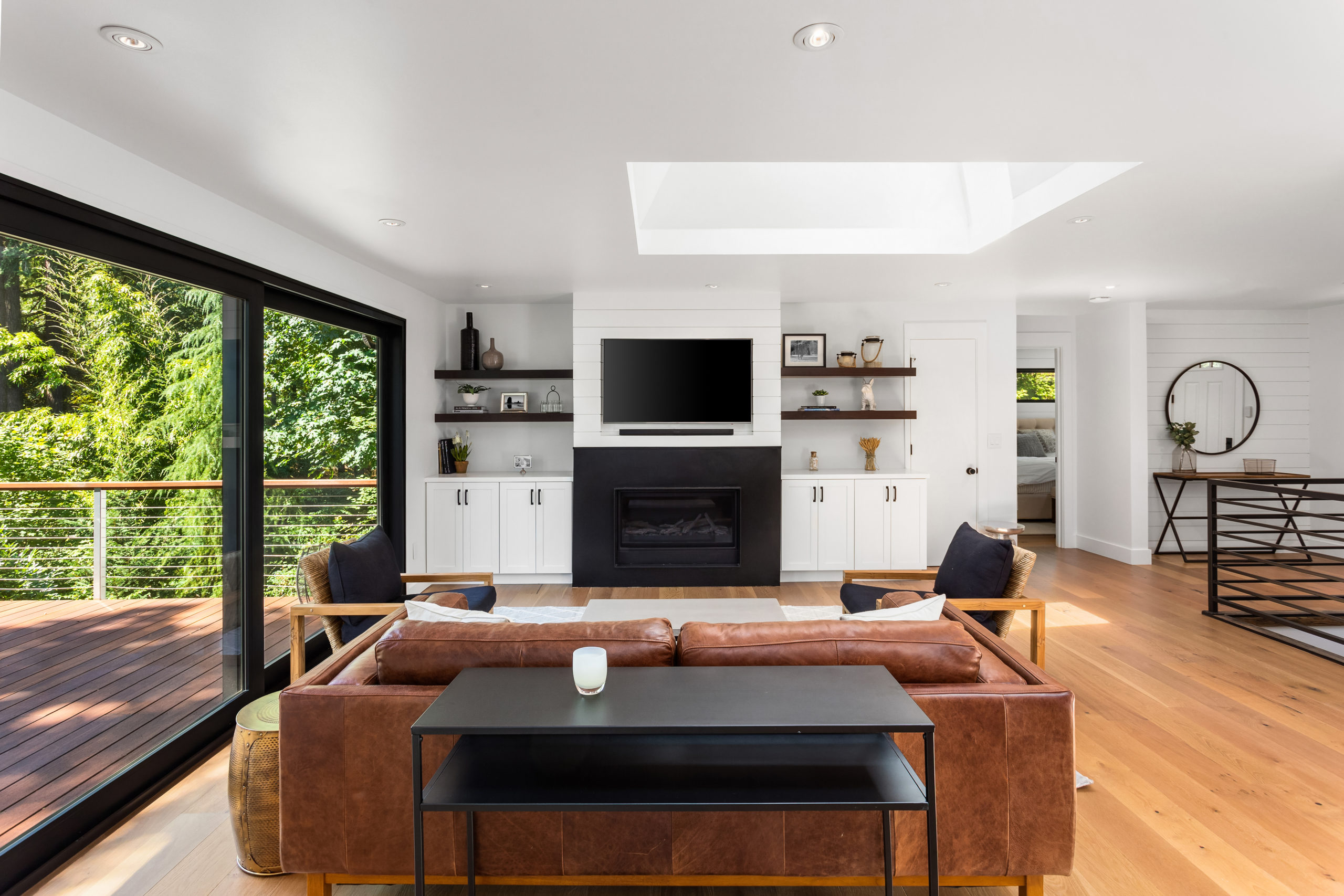 Flooring  – Having an open plan kitchen, dining, and living space doesn't necessarily mean having just one type of flooring. It's sensible though to consider a flooring choice that is practical for high-traffic open plan spaces. Wipeable and washable flooring makes sense in kitchen and dining rooms, but feels clinical in a living area. Clever use of rugs and decorative matting can give you the best of both worlds.
Lighting – More light is one of the biggest benefits of an open plan room design. When planning your open concept, consider the functionality of each zone. Make sure you provide enough light for what takes place in this space.
A statement light fixture over a dining table is a great choice for function and design. Add floor or side lamps for cosiness in seating areas, and dimmable spotlights throughout for flexibility across your space.
What are the pros and cons of open plan living?
Pros
Better traffic flow in the home
Increased property value
More light
Flexibility
Social interactions
Cons
More costly to heat and cool
Construction costs
Noise control
Clutter
Lack of privacy
For many, open plan living is the dream. It offers up some very attractive positives, especially increasing the value of your home. There are some downsides that are important to consider if you're contemplating an open plan living space.
Whilst the work to transform your open space is done it will be messy so bear this in mind. You'll need to think practically about cooking and washing up, and where you can go to get respite from the building work.
Depending on the scale of any building work, moving into a hotel or B&B is an option, but it is costly. You could stay with family or friends, or live in a caravan in your garden whilst the work is being done. Others just brave it out, knowing that the disruption is only temporary and it will all be worth it.
See the tradespeople we've checked and recommend for your job
Costs of open plan living
How much work is required to create your open plan layout will have a big impact on the cost. Removing walls, moving electrical circuits or altering plumbing will of course be more costly, but it is an investment. For more information on costs, read our open plan living cost guide.
That being said, open plan living spaces are very desirable and according to research from the Federation of Master Builders and the HomeOwners Alliance, an open plan kitchen, dining, and living area could add anywhere between £5,000-£50,000 to the value of your home.
How to get started with an open plan design?
As with all home improvements, it's always best to plan before you lift a finger to do anything practical. Think about how you want this space to work for you. Are you looking to expand your useable kitchen space or create a larger relaxation area?
The next job is to call in a professional. An experienced kitchen designer can help with solutions you may not even know about. You'll also want to find ways to reduce clutter, such as budgeting for the cost to mount your TV and hide the wires.
Don't forget to use your budget wisely. If you need to cut costs, tackle some of the less expert jobs yourself, and pay for a professional to do the structural work.
FAQs
Do I need planning permission or building regs for open plan living room?
Unless you live in a listed building, you don't need planning permission for an internal change. However, you will need to ensure you comply with the building regulations. Note though, if you are making a structural change, building regulations will apply even where planning permission isn't needed.
If you're not sure, then simply call your local council's planning office, or use the Planning Portal to check. Of course, you do not need to get approval yourself if you use someone registered with a competent person scheme.