The best mens workwear for trades in 2023
Whether your work clothes are worn, you've updated your branding, or you need to kit out new staff, check out our comprehensive guide to the best mens workwear for trades. Even better, there's a way you can save on your next workwear and PPE order!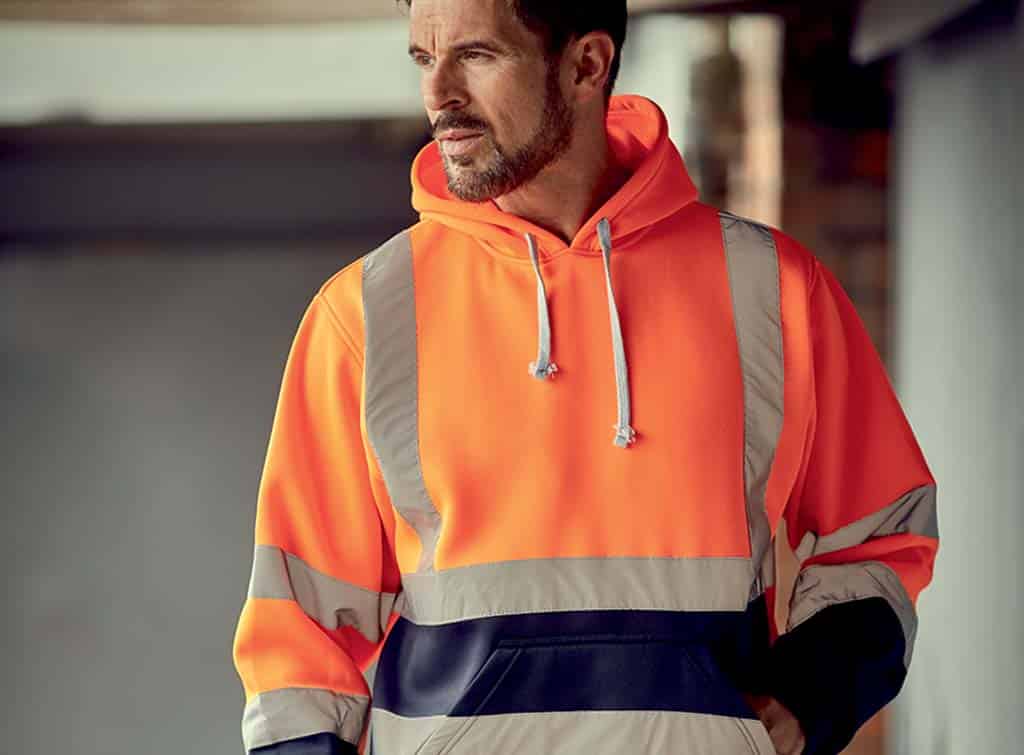 First impressions are key when it comes to representing your business. When your work clothes looks their best, your business looks its best, building trust and credibility with clients.
To help you find the right clothes for your line of work, we spoke to the team at Workwear Giant to get their advice on mens workwear options.
From work trainers and trousers to hoodies, jackets and embroidered clothing showing your brand, we'll cover it all. Let's get to it.
Mens workwear trainers
First up is all-important footwear, giving you the grip, stability and safety you need when you're working on-site.
The experts at Workwear Giant gave us three popular options for work trainers, all around the £40 mark, including VAT.
Hudson composite safety trainer
Made by Blackrock, they have a suede and mesh upper, steel toe caps and midsole protection.
If you're always on your feet, the sole is shock absorbent, and they come in blue with a high-vis yellow accent for great on-site safety.
They have have a safety rating EN20345 S1-P SRC.
Carson composite safety trainer
Also by Blackrock, the Carson has a water resistant nubuck black/grey upper, with metal-free toe and midsole protection, and a shock absorbent sole.
Newark safety trainer
A third, more lightweight option from Blackrock, the Newark has a flyknit upper with both steel toe cap and midsole protection. The sole is shock absorbent, and like the other options is also anti-slip, anti-static and fuel oil resistant.
Checka top tip: When it comes to choosing work footwear, you'll know the dangers you're likely to encounter on-site. Think about whether you'll be around plant machinery, lifting heavy items or working on potentially slippery or hazardous surfaces. Understanding this will help you get the best protection and peace of mind.
Mens workwear trousers
As well as providing protection and warmth, workwear trousers can also be like a Swiss army knife, giving you pockets, holders and straps for all of your tools.
Workwear Giant gave us four popular options for mens workwear trousers, ranging from £13 – £56 including VAT.
Result Work-Guard Holster Trousers
With a reflective back leg strip, an ID pass pocket, belt and hammer loops, and knee pad pockets, these workwear trousers are perfect for work on construction sites.
Check them out on Workwear Giant.
Other top options:
Portwest Holster trousers: Washable at 60 degrees to protect your professional appearance, these trousers have two front pockets and a rear buttoned back pocket, as well as twin belt loops reinforced for extra strength.
Portwest Action trousers: Featuring a UPF rating of 50+, these workwear trousers are great if you're a roofer or work outdoors all day. They have a reinforced seat and knees, and plenty of pockets right around, including a right leg pocket with tear release closure.
Uneek regular workwear trousers: A great entry-level garment, these low-cost trousers have twin, reinforced belt loops, an ample amount of pockets and are washable at 60 degrees to ensure thorough dirt-removal.
Checka top tip: To find the right workwear trousers for you, have a think about the tools you need to keep on you while working, and what protection you need for your legs.
Men workwear cargo trousers
Unlike holster trousers, cargo workwear trousers are typically less bulky, with streamlined pockets. The thick material offers great protection, and if you want to dial up the smart look while retaining adequate on-site functionality, then cargos could be for you.
Here's Workwear Giant's top three:
Uneek Super Pro: Featuring two front pockets, tuck away nail pockets, two side pockets, and two back pockets, as well as a wide phone pocket, you won't be wanting for storage. There's also a slot tool holder, reflective tabs, and knee pad pockets.
Regatta Pro: As you might expect from an outdoor clothing brand, these workwear cargo trousers have a water-repellent finish, as well as plenty of pockets (including a ruler pocket and knee pad pockets), and a hammer loop.
Result Work-Guard: Coming in at the higher end of the price range, these cargo trousers are windproof with pockets-a-plenty and hand warmer side pockets. You'll get articulated knees, twin needle stitching and reinforced hem panel, as well as being safe to wash at 60°C.
Checka top tip: With cargo workwear pants, just have a think about how much storage you actually need. The fewer pockets, the smarter they can look, so you'll need to strike the balance that's right for you, your work and your image.
What are the most durable work trousers?
While we're on workwear cargo trousers, we thought we'd tackle this common question.
There are many great brands in the mens workwear market, all making robust, safe and professional-looking work pants.
When it comes to durability, the adage 'you get what you pay for' usually applies. The higher the price, typically the greater the manufacturing standard, such as double stitching, the use of high wear resistant fabrics, and increased consideration of end-user needs.
The key is to find the right trousers to suit your budget and line of work. If you ever need advice, Workwear Giant are in your corner to get you looking professional at the right price.
Save on your next workwear and PPE order
Checkatrade tradespeople are saving on their work clothes for themselves and staff
Here's how
Mens workwear jacket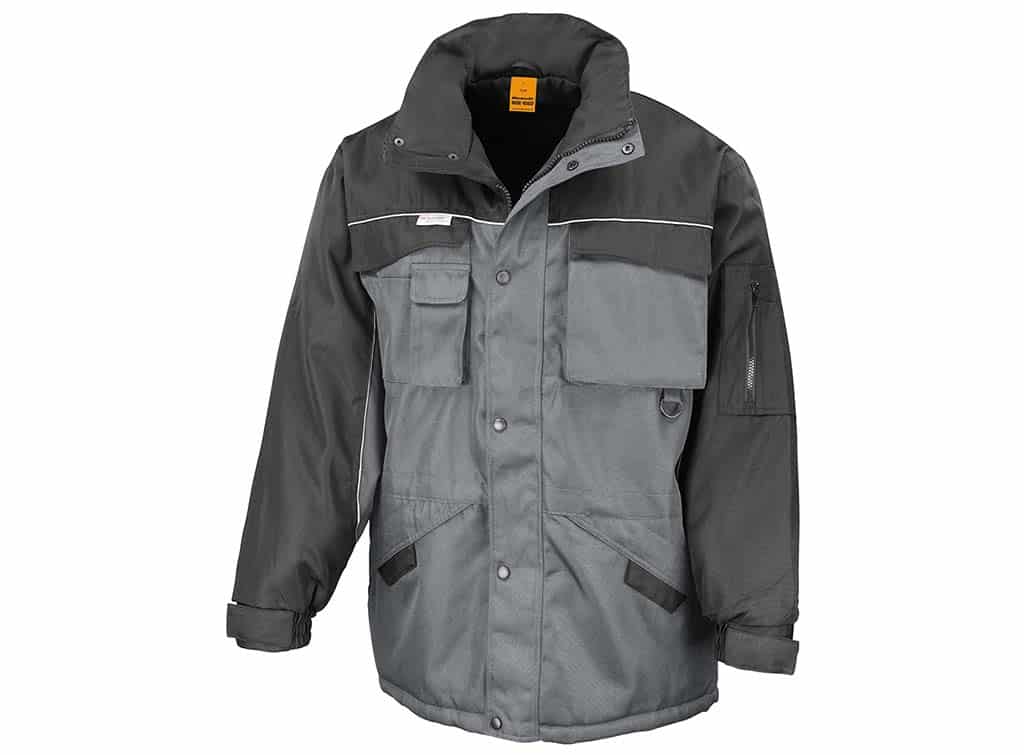 When the colder months come around, you'll need to wrap up warm if you're working outside. But you'll also need something safe, lightweight and functional.
To help you get the right work outerwear, Workwear Giant gave us four options for mens workwear jackets, ranging from £13 – £56 including VAT.
Checka top tip: When you're looking at buying a workwear jacket, think about your typical work environment. Is it predominantly outside? Will you have a number of jackets for the seasons or just this one? And will you be on-site at night?
Body warmer mens workwear
Really smart and ideal if a jacket is too cumbersome, body warmers and gilets provide warmth, functionality and a professional appearance.
Workwear Giant shared their most popular three mens body warmer workwear, ranging from £40 – £49 including VAT.
Portwest Shetland body warmer: Featuring a full length zip with studded storm flap, this body warmer has elasticated inner armholes, four front pockets, an inner zip pocket, and a smart cotton tartan lining.
Result Work-Guard Vostex: Waterproof, windproof and with deep elasticated weather protector armholes, this mens body warmer has plenty of pockets plus side hand warmer entry and reflective piping.
Russell Gilet: Featuring a stain resistant DuPont™ Teflon® coating, you get a full length zip with storm flap, elasticated gusset at armholes, ample multi-use pockets and it can be washed at 60°C for a deep clean.
Checka top tip: When it comes to body warmers and gilets, think about how agile you need to be as some are bulkier than others. Also consider that there may be less pockets than a jacket, so make sure there are enough for your specific tools and equipment.
Mens workwear hoodies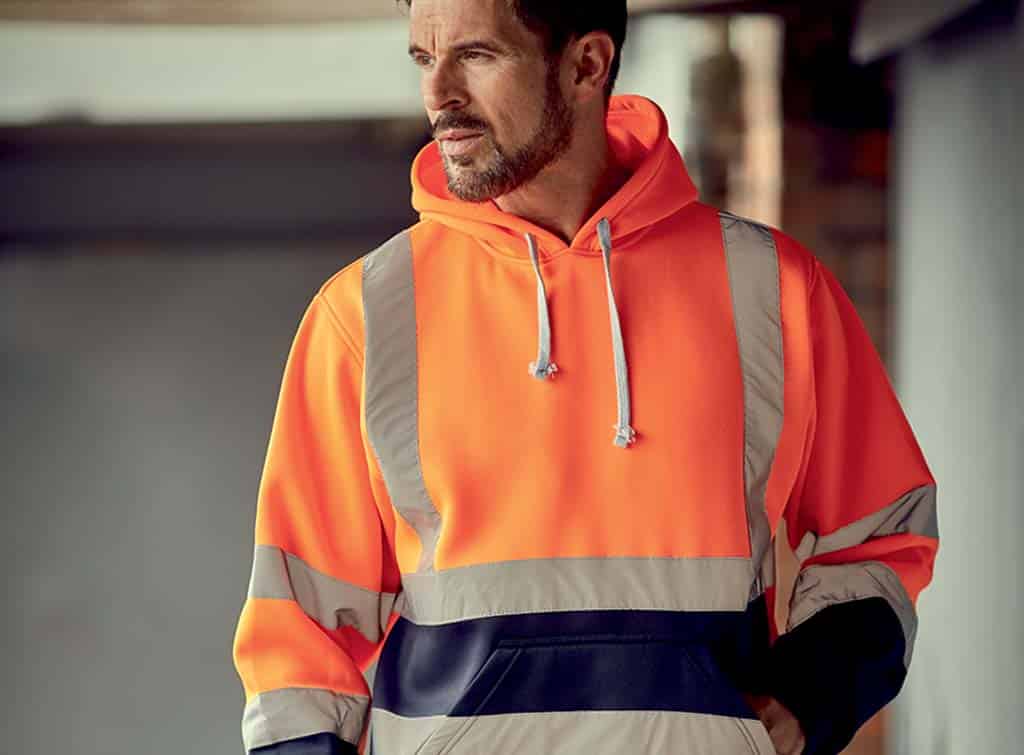 Very different to a normal hoodie, a mens workwear hoodie is all about safety. Typically shipped in orange, or navy and orange, you'll want one such as the Yoko Hi-Vis or the Pro RTX High-Vis.
Both conform to EN ISO 20471: 2013 + A1: 2016 class 3 and RIS-3279-TOM (orange/navy only) and feature two reflective bands around the body, sleeves and over each shoulder.
Mens workwear bomber jackets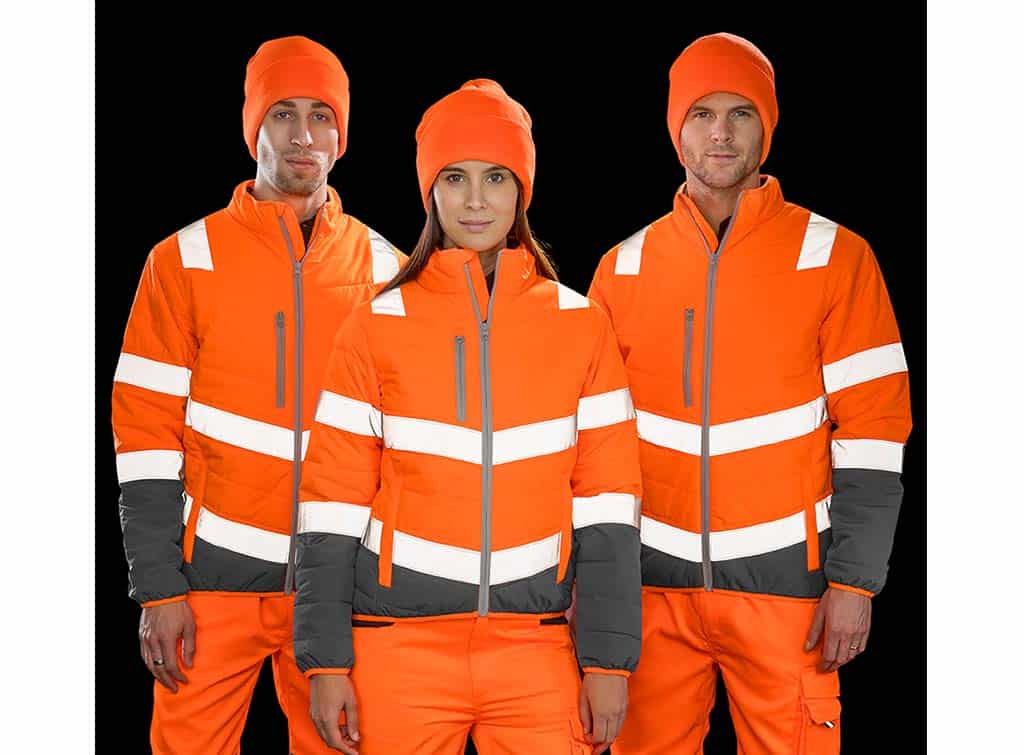 Coming in around the £50 mark, Workwear Giant's best-selling bomber jackets are both high-vis and feature reflective safety banding.
Result Safe-Guard Soft Safety Jacket: Lightweight and with plenty of pockets, the yellow conforms to EN ISO 20471: 2013 + A1: 2016, and the orange conforms to EN ISO 20471: 2013 + A1: 2016 and RIS-3279-TOM.
Warrior Memphis High-vis: Waterproof and featuring a fleece-lined body, this bomber jacket conforms to EN ISO 20471: 2013 + A1: 2016 class 3, EN343: 2003 + A1: 2007 class 3.1 and RIS-3279-TOM (orange only).
Softshell workwear
Softshell has seen a huge rise in popularity, both in terms of leisure wear and workwear. While the fundamentals of a softshell jacket are the same across manufacturers, there can be a big difference in features and quality.
Workwear Giant shared a couple of options with us.
Pro RTX Softshell: While low-cost, this softshell has some great features, including being showerproof and windproof. It comes in a relaxed fit with two front zip pockets, adjustable cuffs and an adjustable drawcord hem.
Russell Softshell Workwear Jacket: Sitting at the higher end of the softshell workwear market, this one is waterproof and breathable, featuring a DuPont™ Teflon® coating. It's textured polyester micro fleece backed, has articulated elbows, two deep front zip pockets and one multi-compartment pocket.
Checka top tip: With softshell, it's really about how smart you want to look, with the higher-priced more designed jackets delivering a better fit and slicker, more professional appearance.
Workwear polo shirts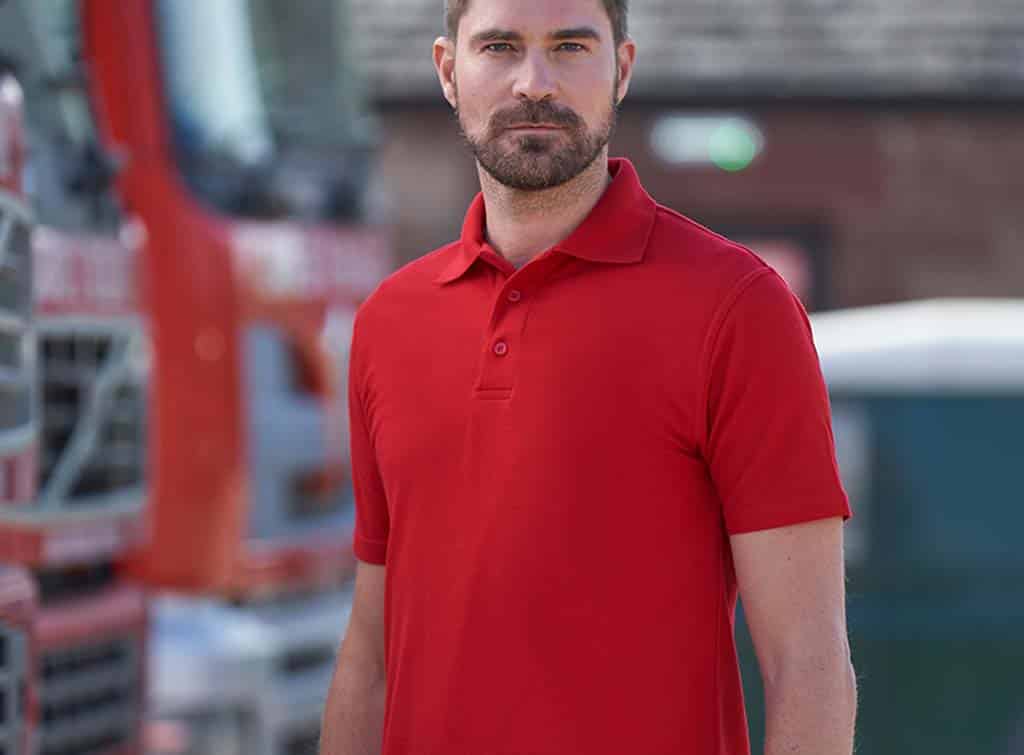 Unlike the leisure wear version, a mens workwear polo is usually high-vis and conforms to EN ISO 20471: 2013 + A1: 2016 class 2.
When it comes to choosing one for your uniform, it's down to whether you want a long sleeve, like the Pro RTX Long Sleeve, or short sleeve like the Pro RTX and Portwest Hi Vis.
After that, you just need to choose either yellow or orange.
Boiler suit mens workwear
At the lower end of the price range, you'll find similar boiler suits that all do the job, such as the Portwest Euro Work or the Warrior Stud Front. Both capable garments with good pockets, available at around £28 each.
Invest a little more in a boiler suit like the Result Work-Guard Lite, and you'll get extra comfort and safety features, such as breathable, water-repellant and wind resistant fabric, elasticated arms and waist, and reflective banding.
Workwear shorts
Always a great option when the warmer months come around, or if you do most of your work indoors, mens workwear shorts offer a great combination of safety, comfort and a professional appearance.
Workwear Giant's most popular three are all similar in design and price, coming in at around the £20 – £25 mark.
These are the Result Work-Guard Action, Pro RTX Pro and Portwest Action. All feature plenty of pockets, some also have a hammer loop.
Waterproof all-in-one mens workwear
Most 'all in one' waterproof workwear is actually a waterproof jacket combined with waterproof trousers.
The big decision you have to make here is whether you need high-vis waterproof gear or not. If you do, Workwear Giant recommends the super convenient Regatta High Visibility Pro Packaway Jacket and High Visibility Pro Overtrousers.
Both conform to EN ISO 20471: 2013 + A1: 2016 class 2, EN343 class 3:2 and RIS-3279-TOM (orange only).
If you don't need your waterproof workwear to be high-vis, then the Portwest Classic Rain Jacket and Rain Trousers are a great shout.
Embroidered workwear
When it comes to putting your brand on your workwear, embroidered workwear has an added feeling of quality, owing to the 3D nature of the technique and the textured feel.
Handily, Workwear Giant has a range of clothing that can be embroidered, as well as a great article on which type of branding is best: Embroidery Vs Printing.
Construction workwear in the UK
Every garment we've discussed in this guide could be classed as construction workwear. That said, some will be more suited to construction sites than others.
For example, if you're going to be working on a building site, you'll want everything you buy to be high-vis, even your footwear. You'll also want maximum protection from heavy objects, sharp items underfoot and the weather, both hot and stormy.
For advice on the best mens workwear and for a complete clothing solution, Workwear Giant offer a great range of construction workwear right here in the UK.
Fancy saving some money on your next workwear order with a discount code?
Did you know that Checkatrade tradespeople are able to get their workwear for less? In fact, they can save up to 50% off their workwear and PPE. The cheek of them!
If you want in on the action, then here's how you can get money off your workwear – whether it's for yourself or your team.
Becoming a Checkatrade member will save you money on workwear
If you're looking for more info on how being on Checkatrade gets you money off workwear, find out more about our partnership with Workwear Giant.
Once you're a Checkatrade tradesperson, you will receive a discount code.
Save on your next workwear and PPE order
Checkatrade tradespeople are saving on their work clothes for themselves and staff
Here's how
Professional, practical and safe
So there you have it, your comprehensive guide to the best mens workwear for trades in 2022. Now you can choose from expert-recommended work gear and match it to your specific needs.
You'll get the perfect balance of comfort and practicality, while knowing you've got hard-wearing workwear that gives you a professional appearance with great levels of safety built-in.
Note: Any prices we mentioned might have changed and don't include delivery (£5.99, collection is free), so just bear that in mind.