How to start and grow a carpet cleaning business
Want to know how to start a carpet cleaning business of your own? You're in the right place. We cover everything you need to know about starting, setting up, and developing a successful carpet cleaning company. Read on to find out more.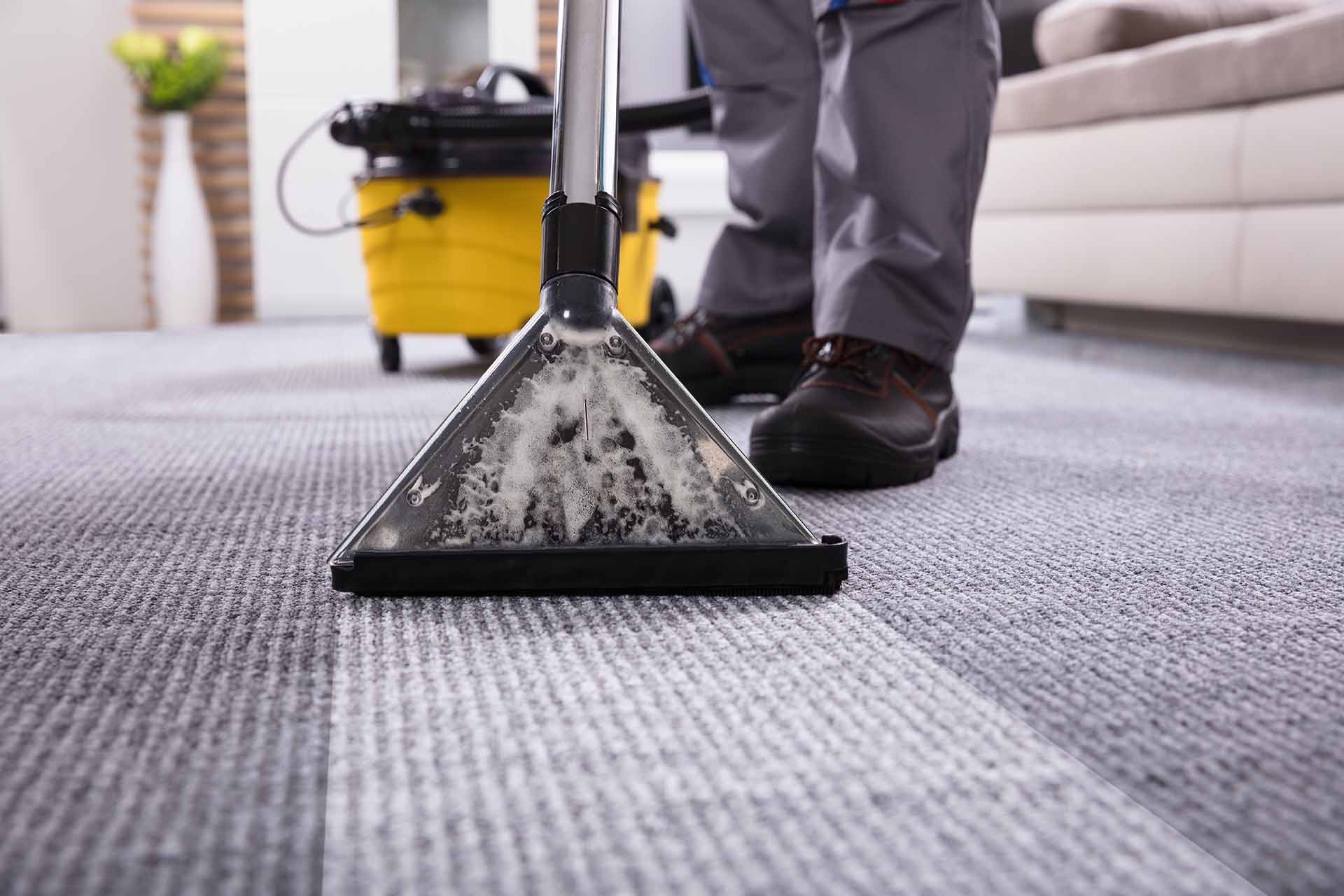 Carpets are often difficult to keep clean, especially in high-traffic areas that absorb all sorts of stains and dirt. And no matter how much hoovering's done, they will never look as good without using the right equipment. For this reason, carpet cleaning is a service that's always in demand and offers the perfect opportunity for tradespeople to go self-employed.
Whether it's domestic or commercial cleaning, this guide will take you through how to start a carpet cleaning business from scratch.
Covering everything from skills and equipment to bookkeeping and marketing, read on to discover how you can take that next step in your career and become your own boss.
No time to read all this right now?
No problem. Bookmark this for later, and for now, take one concrete action to get the ball rolling with your new business.
Sign up to our 'Become the Boss' series for help getting your carpet cleaning business started in no time.
You'll receive a series of 8 emails containing actionable tips and top advice from fellow tradespeople who were once in your position. At the end of it all, you could be the founder of your new business.
Simply add your email below to make the most of this free business advice.
How to create a carpet cleaning business plan
Your business needs a thorough plan that outlines the type of services you'll be offering and the audience you'll be targeting.
Specialising allows you to find a profitable niche and gain a steady stream of opportunities. Here are several ideas you could use:
Commercial carpet cleaning, such as offices, hotels and care homes
Focus on a certain type of carpet cleaning, such as hot water extraction, carpet shampooing, encapsulation, or bonnet cleaning
Offer upholstery cleaning as part of your service
Specialise in cleaning delicate and valuable rugs
The next step is to identify a target market. You could choose to only work with other businesses or offer your services to homeowners.
The approach you choose will have a big influence on how you market the business and develop new opportunities, so consider which works best for your local area.
Of course, you could offer to work across different types of buildings but this will be more challenging when you're just starting up.
You also need to map out your pricing. Offering a competitive rate is crucial for securing new or repeat business. If what you charge is too high, customers will simply go elsewhere and you'll lose out.
It's key to research your competitors and get an idea of their pay-rates before settling on any figures.
Be careful not to set your prices too low though, or you may find that your business is making a loss at the end of the day. Keep in mind that city cleaning or specialist services may also be more expensive – so find out what's considered standard for your local area. For a general idea of carpet cleaning prices, read our handy guide here.
Another factor to include in your business plan is your startup costs. Because of all the upfront costs, you may find yourself operating at a loss when you start your business.
Professional carpet cleaning machines, for example, are absolutely essential for this line of work but also come at a premium. You may also need more than one unit if you're working on larger buildings with a small team.
If this is a cause for concern, you could look at taking out a business loan to cover the upfront costs — just remember to pay close attention to the interest rates and your affordability.
Not sure how to get started with your carpet cleaning business plan?
We have a fantastic guide for how to write a business plan. And a free business plan template for you to use. Simply add your email below.
Training and qualifications to start a carpet cleaning company
While qualifications aren't a requirement for setting up a carpet cleaning business, it's still important to have some credentials when starting up.
Qualifications show you have professional knowledge and training, which will make you look like a more reliable service when speaking to new clients. Here are some common industry courses:
NVQ Level 1 and 2 in cleaning and support services including carpet or soft furnishing cleaning
City and Guilds Level 2 Award Certificate and Diploma in Cleaning Principles
You should also consider joining a trade body if you want your service to stand out from other carpet cleaning businesses.
Becoming a member of the British Institute of Cleaning Science (BICSc), for instance, shows your skills are formally recognised and follow best practice. This can go a long way in attracting more customers to your business, especially in commercial environments.
What other skills do I need to start a carpet cleaning business?
Carpet cleaning involves using machinery every day, so having mechanical knowledge is useful. This will allow you to service and maintain equipment without suffering from downtime and repair costs.
In addition, there are some other 'soft skills' and personal attributes that will help to ensure the success of your business:
Health and safety knowledge is a must as you'll be handling potentially harmful chemicals and detergents
Carpet cleaning machines are heavy, so you'll need to be physically fit to transport your equipment
Basic numeracy skills are required for managing your finances and taxes
Make sure you can maintain a high standard of customer service for retaining clients and enhancing your business reputation
You'll need to be able to pay close attention to detail to ensure your work is spotless and satisfies customers
Leadership skills if you plan to employ a team
You'll need to be well organised to aid the smooth-running of your business
How do I start my carpet cleaning business?
With a business plan in place and your training and qualifications sorted, you can move on to the practical steps involved in setting up a carpet cleaning business.
Register your business
First, you'll need to legally register your business and choose a structure going forward.
You can set up your business either as a sole trader or a limited company – each has its own pros and cons so it will be up to you to decide what's best. Speak with an accountant if you need advice on this.
For example, sole trading is only affected by income tax rate while a limited company pays tax on all profits. That said, a company structure gives you more financial security when compared to a sole trader.
To help you weigh up the differences and come to a decision, read our guide sole trader vs. limited company.
Insurance
In the rare instance that a customer is unhappy with your work, it's vital to have insurance in place to protect your business from legal fees. Here are the main types you'll need for a carpet cleaning business:
Public liability insurance – Covers for claims made against you if a client feels you've damaged their carpet or rugs as a result of your service, for example
Professional indemnity insurance – This will protect your business in the event a customer claims your carpet cleaning service has caused them loss or damage
Tools insurance – Covers replacement costs if equipment breaks down unexpectedly, especially important for expensive machinery like a professional carpet cleaning machine
If you plan to employ others as part of your business, you'll need employers' liability insurance. This is a legal obligation if you employ anyone else as part of your business, even on a temporary or casual basis.
Checkatrade members get an exclusive discount with insurance provider, Covéa.
Finances
Managing your cash flow, understanding your tax liabilities, and keeping your books in good order is crucial to running a successful business. We have three articles to help you do this:
What tools and equipment are required for a carpet cleaning business?
Delays or sloppy work will damage your reputation and business opportunities. That's why it's really important to have a full inventory of equipment.
You should also invest in high-quality tools, as these will be less likely to break and leave you having to fork out more later on. Here are the essentials for a start-up carpet cleaning business:
Carpet cleaning machine
Hose set
Cleaning chemicals and detergents
Upholstery cleaning hand tools
Hose cuffs and connectors
Sprayers
Jets and nozzles
Protective gloves
Water claw
You'll also need to own a van for transporting all your equipment between jobs. This way, you can always turn up to a job fully prepared.
Save money setting up your carpet cleaning business
Checkatrade members save up to £470 per year on fuel, insurance, tools, equipment, workwear, and more
Tell me more
Marketing your carpet cleaning business
There are various different ways you can market your carpet cleaning business.
Word-of-mouth marketing can be a lucrative way to spread the word about your services.
Advertising in local print – for example in your local magazine, newspaper, or sending out direct mail – can also be very effective.
Checkatrade members have the opportunity to feature in our leading trade directory, which is delivered to homeowners around the country.
A great advertising method is to wrap your van in graphics that outline your business name and contact details. It'll only cost you a one-time fee, and you'll be able to advertise your business on the go as you travel between jobs. Read our advice on buying vehicle graphics.
Many customers will expect to find your business online, so it's a good idea to create a social media business page to expand your audience and showcase your best work. You're bound to impress users and attract new customers if you show off some striking 'before and after' shots. Learn more about social media marketing.
Save money and time marketing your business
Marketing your carpet cleaning business is going to be key to its success. But it'll either cost you in time or money (or both), so it's important to make sure you select the most effective marketing tactics that deliver actual results (i.e. customers!).
Signing up to Checkatrade opens up your business to over three million monthly site users, making it one of the most effective ways to get your name out there.
Instant credibility. Once you've passed our 12 checks to become an Approved Checkatrade member, your new business will benefit from our 20+ years of trust and experience.
8/10 people would choose a trade endorsed by Checkatrade, compared to one which isn't*
Instant exposure to your target market. You'll get a business profile on our leading trade directory and a search listing in Google, just as a website would, helping to gain enviable exposure to potential new customers. We make it easier for customers to find you.
A third of all trade work comes through Checkatrade** Homeowners are looking for your services on our website. Don't be one of the businesses that misses out.
What's more, Checkatrade members can display customer reviews, testimonials, and examples of their work on their profile page, helping to social proof their business and encourage customers to choose their business.
We'll also help you with free marketing materials and don't forget, our members get exclusive discounts on business essentials, helping to save money on your outgoings to keep your profits healthy.
Did we mention the app? The Checkatrade app is another benefit of your Checkatrade membership. It allows you to manage customer enquiries on the go, wherever you are, to supercharge your customer service, and free your evenings from paperwork and admin.
Worried about the cost of membership for your new business?
Checkatrade membership is flexible; you choose the level that suits your business (Approved, Lite, Standard, or Pro), and adapt it to your needs at anytime.
What's stopping you?
Give your new business the best chance of success
Join the best trades on the UK's leading trade directory
Start our checks now
Quick action: Sign up for our 'Become the boss' series
You could get your carpet cleaning business started right away with the help of our 'Become the Boss' series.
You'll receive a series of 8 emails containing actionable tips and top advice from fellow tradespeople who were once in your position. And at the end of it, you could be the founder of your new business.
To get trade business insider secrets sent to your pocket, put your email address in the form below so we can help you to get started.
How to grow your carpet cleaning business
Once your carpet cleaning company is well established, you may start to consider how you can grow your business.
In this next section, we'll outline how to identify, set, and achieve realistic growth targets for your carpet cleaning business.
What is business growth?
Many people associate business growth with getting more customers and having more work. While these are valid growth strategies, they are not the only ways to grow your business.
You can grow by making more (or higher value) sales, dipping into new markets with the services you offer, or broadening your geographical reach.
You can also grow by minimising your costs and running as efficiently as possible, to create strong profit margins.
Before we jump into this section, it's worth taking the time to consider what growth means to your business.
Give your new business the best chance of success
Join the best trades on the UK's leading trade directory
Start our checks now
What growth targets should you set for your business?
As we've mentioned, there are various growth targets to consider:
Getting more work
Increasing revenue
Developing a bigger team
Expanding your services
Narrowing down your target is the first step. Planning how you'll achieve it is more involved.
Achieving your growth targets
We have a FREE business development strategy template to help you do this, and a really useful article to explain what information to include:
How to create a business development strategy – Free template included
To help get you started, we've listed a few ways to help grow your carpet cleaning business, below.
1. Growth target: want more work?
To do this, you need to attract more customers, which means you need effective marketing. Some ideas for consideration:
Traditional marketing
Digital marketing
Check out our FREE marketing planning guide and checklist to help create a clear list of marketing tactics and responsibilities.
You need a marketing plan now more than ever – Free marketing planning guide included
2. Growth target: want increased revenue?
To do this, you'll need to make more sales and/or increase the value of your sales, while keeping your costs low.
We've selected these articles from our library of resources to help you sharpen your sales toolkit:
3. Growth target: want to develop a bigger team?
If, all too often, you find yourself stretched too thin, with more work than you can juggle, it could be a sign that it's time to take on a team.
To do this, you'll need employers' liability insurance;

it's a

legal requirement if you employ others

You'll also need to understand

company payroll

and learn about

holiday pay
Below, you'll find a selection of articles that'll help to guide you through the process of finding, selecting, and onboarding the right candidates to represent your business:
4. Growth target: want to expand your service offering?
To expand your service offering, you could look to enter new markets.
If you currently work with residential clients, why not research the potential of commercial contracts to provide carpet cleaning services to offices, retail, and hospitality?
Perhaps the services you offer are transferable, offering your business the scope to offer complementary services.
Whatever option/s you choose, invest in training and the best equipment you can afford to offer a professional and efficient service.
Make sure your growth targets are S.M.A.R.T
To help you feel as though your growth targets are achievable, make sure they're SMART:
Specific – what does the task involve?
Measurable – how will you quantify success?
Achievable – is this attainable given the resources, knowledge, and time available?
Realistic – is the target realistic to the confines of your job and your existing responsibilities?
Time-bound – when should the target be achieved by?
Final considerations for business growth
Lastly, four more important considerations to think about when planning your business growth:
For more tips to help grow your trade business, check out this article.
Grow your carpet cleaning business with Checkatrade
As with marketing, business growth takes time and effort, but we get it, when you're out grafting all day, it can be hard to find the time.
We have a solution that will help your carpet cleaning company thrive.
Launch and grow your business with Checkatrade to help you work smarter, not harder.
Checkatrade is the UK's leading trade directory, and for good reason. Here are just a few reasons to join the best trades with a Checkatrade membership:
Attract more customers
Checkatrade members receive more than 100,000 leads each week. 3 million homeowners used our trades last year.
Help to secure more work
Checkatrade is the tick that homeowners trust. As an approved Checktrade member, you'll benefit from our reputation, helping you to win more business.
Save money to keep healthy profit margins
Keep your profit margins sharp by saving money on business essentials. Checkatrade members save on average £470 per year each*** on everything from tools, equipment, van leasing, insurance, workwear, and more.
Save money setting up your carpet cleaning business
Checkatrade members save up to £470 per year on fuel, insurance, tools, equipment, workwear, and more
Tell me more
FAQs
How much can you make owning a carpet cleaning business?
On average, sole traders take home roughly £30,000 but the sky's the limit. You could take home double this amount, or more, but it depends on the amount of business you generate and how sustainably you can grow.
How much does it cost to start a carpet cleaning business?
Start-up costs for a carpet cleaning business can vary anywhere between £2,500 to £10,000. But it depends on the amount of tools and supplies you'll need to purchase. If you already own most of the equipment, you'll only have to pay for smaller expenses such as registration and insurance.
Is carpet cleaning a profitable business?
Initial overheads aside, carpet cleaning is generally an inexpensive business to run long-term. Your profit potential is favourable if you keep jobs to schedule and regularly maintain the most important equipment.
What equipment do I need for a carpet cleaning business?
The main equipment you need to start a carpet cleaning business includes a carpet cleaning machine, a hose set, cleaning chemicals and detergents, upholstery cleaning hand tools, hose cuffs and connectors, sprayers, jets and nozzles, protective gloves, and water claw.
*Claims are sourced from a survey conducted by Deep Blue Thinking on a nationally representative UK sample in November 2021.
**Checkatrade brand tracking survey April 2021
***Year runs from April 21' to March 22'. Saving calculation based on average spend across 12,505 members in 2020/2021/2022. Discounts differ depending on the partner. Products range from low value items to high value items. Some exclusions will apply on products.