How to start and grow a cleaning business
Thinking about becoming your own boss? What's stopping you? Our complete guide to how to start a cleaning business will explain the steps you need to take, offering plenty of practical advice and lots of tips to help make sure your cleaning business reaches its full potential.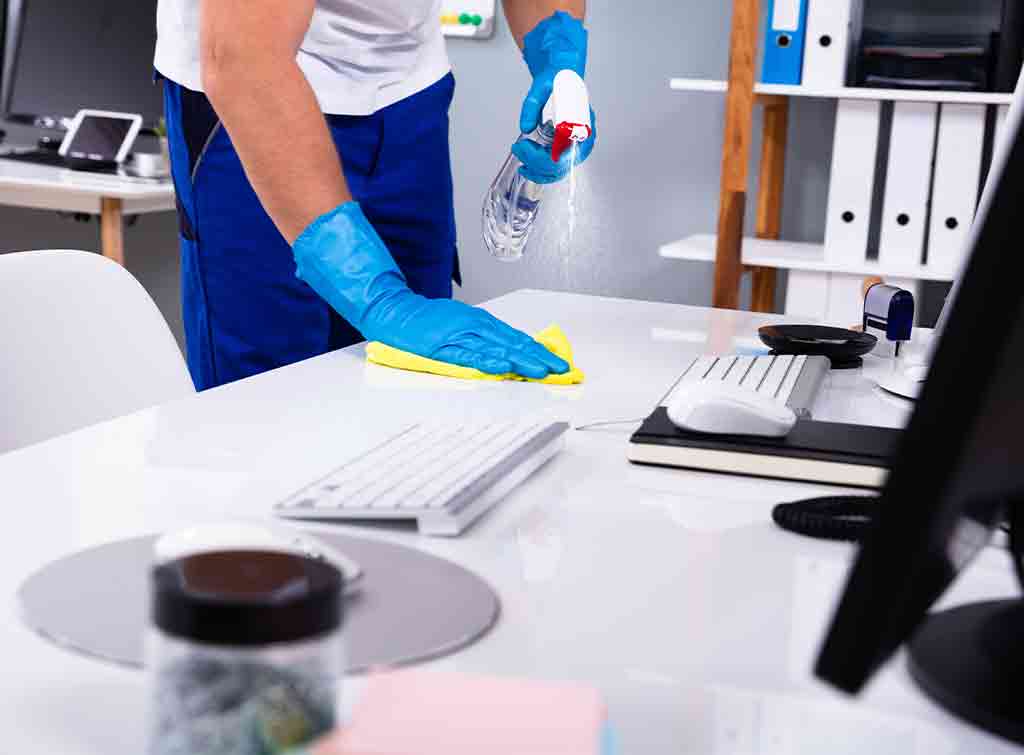 Demand for cleaners is rising and creating more opportunities for those looking to set up a business. That's why now is the perfect time to go self-employed and make the most of a booming market.
As a business owner, you'll benefit from being your own boss and choosing your hours, clients, and specialisms.
You may choose to work on residential properties or seek bigger contracts in commercial buildings. Either way, you'll need certain skills, tools, and knowledge to get going.
Read on to find out how to start a cleaning business and take that next step in your career. We cover how to set up a business, including registering with HMRC, getting the right insurance, and where to get the best deals on equipment and workwear.
We also have a number of FREE business templates to save you time, including a business plan template, a marketing planning guide, and a business development strategy template to help plan your business growth.
Want to get started right away?
Sign up for our 'Become the Boss' series for help getting your cleaning business up and running in no time.
You'll receive a series of 8 emails containing actionable tips and top advice from fellow tradespeople who were once in your position. At the end of it all, you could be the founder of your new business.
Simply add your email below to make the most of this free business advice.
Create a business plan for your cleaning business
Every business needs a clear business plan before it is launched. This will outline your goals and how you plan to achieve them. It will also make sure you remain focused with your business activity and allows you to make informed decisions.
Your plan should include detailed financial information. It should also outline your intended services and target audience to establish a niche and build a client base. Completely unique cleaning business ideas are hard to come by but there are some distinctions you can make to help you stand out.
For inspiration, here are several ideas you can use to get started:
If you're situated in a busy neighbourhood, offer a residential cleaning service to make the most of the market on your doorstep
Provide a commercial cleaning service to offices and shops if you're going to be located around a town or city centre
Choose a specialism such as graffiti cleaning, chemical spills, or carpet cleaning
Have attractive add-ons to your service, such as weekend availability or windows and wall cleaning included
When establishing your cleaning service, research competitors in your area to make sure there's a big enough market. Scouting out rivals will also help you to set a competitive pay rate.
Be careful not to set your prices too low or you may find your income fails to cover your outgoings.
We have a fantastic guide for how to write a business plan. And a FREE business plan template for you to use. Simply add your email below.
Training and qualifications
You don't necessarily need qualifications to set up a cleaning business, but they can really help attract customers. With qualifications, you'll appear more credible to potential customers.
These are the common standard industry credentials:
Level 2 Certificate in Cleaning Principles
Intermediate apprenticeship as a healthcare cleaning operative
It's also worth having a certificate in the Control of Substances Hazardous to Health (COSHH). This will show you've got a professional understanding of cleaning products and how to use them safely – particularly important if you're working in an environment where vulnerable people may live or work.
How can I make my skills stand out?
Joining a trade association can help you gain an edge over the competition and attract more business. Many require you to pass an assessment process to join, so having a membership will highlight your competence to potential clients.
Here are some of the institutions to consider:
The British Institute of Cleaning Science (BICSc)
British Cleaning Council (BCC)
British Cleaners Association (BCA)
The Federation of Master Cleaners
Other useful skills and attributes
As a self-employed cleaner, you'll face different challenges related to both your job and running your business.
Here are the key skills that'll help you to run a successful business:
You should be able to work independently, making sure you can manage your time effectively and cope with the workload
You'll need to have good attention to detail to ensure your cleaning is thorough. And work efficiently while taking great care. Sloppy mistakes can harm your reputation and also cause health risks to customers
Be sure to maintain a high level of customer service to keep clients satisfied
Health and safety knowledge will be necessary for handling potentially harmful chemicals and approaching cleaning jobs in a professional manner
You must have basic numeracy skills for organising your finances and taxes
How to start your cleaning business – step by step
To get your cleaning business off the ground, you'll need to tick various boxes. In this section, we'll guide you through what you need to do.
Choose a business name and logo
You'll want to build your brand with a business name and logo. Try to make your name short and relevant to your service, as this will be more memorable to potential customers. Once you've decided on a name, you'll need to register it.
Creating a logo will give your business a more professional look and can easily be made by a graphic designer for a small fee.
If you're familiar with editing software, you could even try to make one yourself to keep initial costs down.
Register your business
First of all, your business will need to be registered with HMRC to trade legally.
You'll also need to decide whether you want your business to operate as a sole trader or a limited company.
Sole trading is simple to set up, but you'll be personally liable for any losses or debts.
On the other hand, a limited company comes with more paperwork to manage but you won't be personally responsible for business debts.
There are more pros and cons to weigh up when choosing your business structure, along with different taxes that apply.
It's important you weigh up the different regulations and taxes that apply to each so you can settle on the arrangement that works best for you. If you're unsure or need some guidance, contact a professional accountant.
Get business insurance
Insurance is crucial for protecting you and your business from legal issues that could result in heavy fines and compensation fees. It's especially important for businesses in this industry as they are expected to deliver clean, safe environments without putting people at unnecessary risk.
There will also be times when you need to follow critical hygiene guidelines, particularly when working in healthcare environments.
These are the main types of insurance to consider getting:
Employers' liability insurance (a legal requirement if you employ other people)
Public liability insurance (mandatory for all Checkatrade members)
Contract works insurance
Legal expenses insurance
Tools in transit cover
Personal accident insurance
Legal expenses insurance
All Checkatrade members get money off with our insurance partner Covéa.
Finances
Cashflow
Cash flow is your income versus your expenditure. It's very important to keep an eye on all your transactions to ensure your business is making a profit at the end of each day.
Poor cash flow management is one of the top reasons for new businesses failing. Take a look at our article, 4 simple tips for successful cash flow management to help avoid the pitfalls.
Taxes
Various taxes will apply to your business and must be filed on a regular basis. If you're unsure which you should be documenting, take a look at our useful guide to understanding your tax liabilities.
Bookkeeping
Read our guide to bookkeeping for small businesses to help keep your books in order from day one. It'll help to reduce the headache of filing your year-end accounts with HMRC and will help to make sure you're tax efficient, as you stay on top of your eligible business expenses.
Funding
At first, your business may be operating at a loss due to the start-up costs of equipment and supplies. This is completely normal, but if this is cause for concern you could take out a business loan to cover your expenses. Always take the time to compare interest rates and make sure you can afford the repayments if you're borrowing.
Tools and equipment
It's important to invest in the right tools so you can carry out jobs efficiently and safely.
Make sure your equipment is high quality too as this will make life easier and reduce the likelihood of costly replacements.
Of course, if you're offering a specialist service you might need extra equipment, but these are the basic essentials for any cleaning start-up:
Cleaning chemicals
Mops
Microfibre cloths
Sponges and scrubbers
Protective gloves
Protective clothing
Vacuum
Keep in mind that you'll need a vehicle and a valid driving licence to transport your equipment between jobs. Here's the best vans for a cleaning company.
Nervous about the investment into a van for your cleaning business?
We can help you save money on your company van. All Checkatrade members get an exclusive rate with both Fiat and Mercedes.
Marketing your cleaning business
Of course, a key part of launching a new business is making sure your potential customers know about you! But what's the best way to market your new cleaning business?
If you have some experience in your local area, traditional word-of-mouth recommendations are still a valuable source of leads, but it's important to also employ marketing strategies if you really want to maximise your reach.
Print marketing
Your local area is key to generating business when starting up. Raise your profile by distributing flyers and leaflets if your target market is homeowners, or hand out business cards to potential clients if you're targeting commercial properties with your service.
You could also pay for an advertisement in the local newspaper. Another effective marketing tool is signwriting your vehicle with your business name and contact details to advertise on the go.
Checkatrade members have the opportunity to feature in our leading trade directory, which is delivered to homeowners around the country.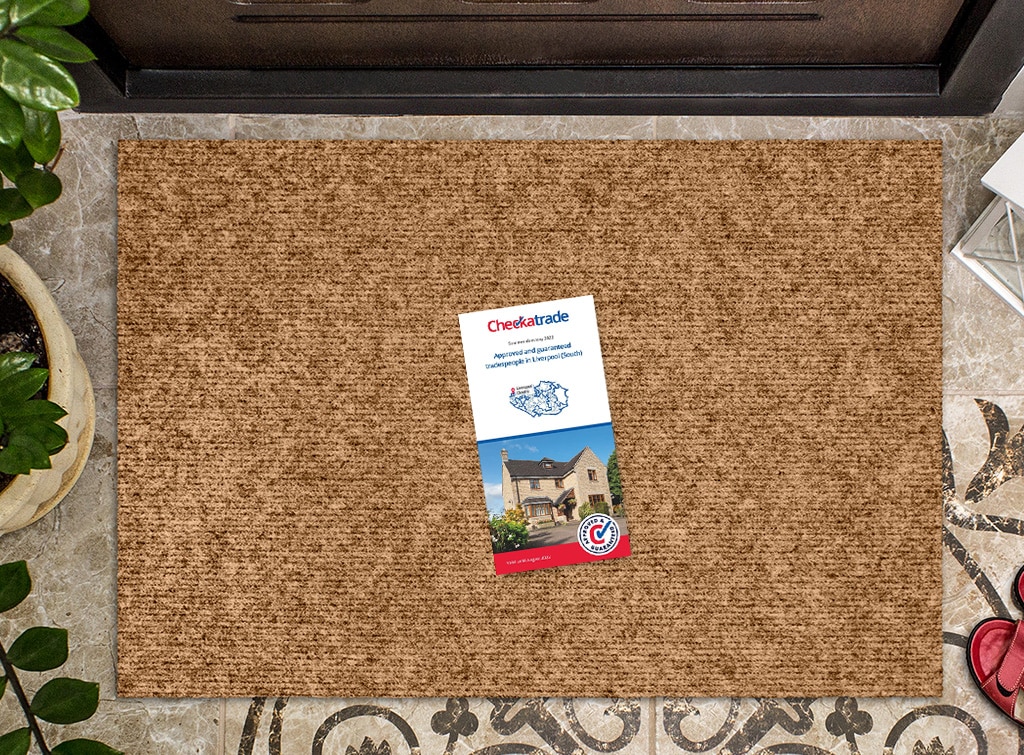 Online marketing
At the same time, it's important to build an online presence for your new business.
A cost-effective way to do this is to create social media profiles for your business and populate them with good-looking content to showcase the quality work you offer.
It's a great strategy for being able to connect with potential customers and start to build rapport.
Many tradespeople share updates, completed work, and videos online to showcase their best work. Be sure to keep it updated as no one likes an empty or out-of-date profile.
Save money and time marketing your business
Marketing will either cost you in time or money (or both!), so it's crucial you decide on the most effective way to market your new business, considering your budget and the time you have available.
With our digital marketing strategy and strong online presence, becoming a Checkatrade member makes it easier for customers to find you.
You not only get a business profile on the UK's leading trade directory, but you'll also receive a search listing in Google, just as a website would. This is something that can take months, even years, to achieve otherwise.
As a Checkatrade member, you can display customer reviews, testimonials, and examples of your work on your profile page. You can also manage customer enquiries on-the-go, directly from the Checkatrade app, keeping everything in one handy place.
And with the Checkatrade tick by your name, it makes your marketing just that little bit easier, as 8/10 people would choose a trade endorsed by Checkatrade, compared to one which isn't*.
We'll also help you with free marketing materials and don't forget, our members get exclusive discounts on business essentials, including workwear, tools, equipment, insurance, van leasing, fuel, and more.
Check out this post for further advice on setting up your business.
Quick action: Sign up for our 'Become the boss' series
You could get your cleaning business started right away with the help of our 'Become the Boss' series.
You'll receive a series of 8 emails containing actionable tips and top advice from fellow tradespeople who were once in your position. And at the end of it, you could be the founder of your new business.
To get trade business insider secrets sent to your pocket, put your email address in the form below so we can help you to get started.
Read Checkatrade member, Elaine's, success story
Want to see someone who's been there, done it, and set up a successful cleaning business?
Check out our member Elaine's success story.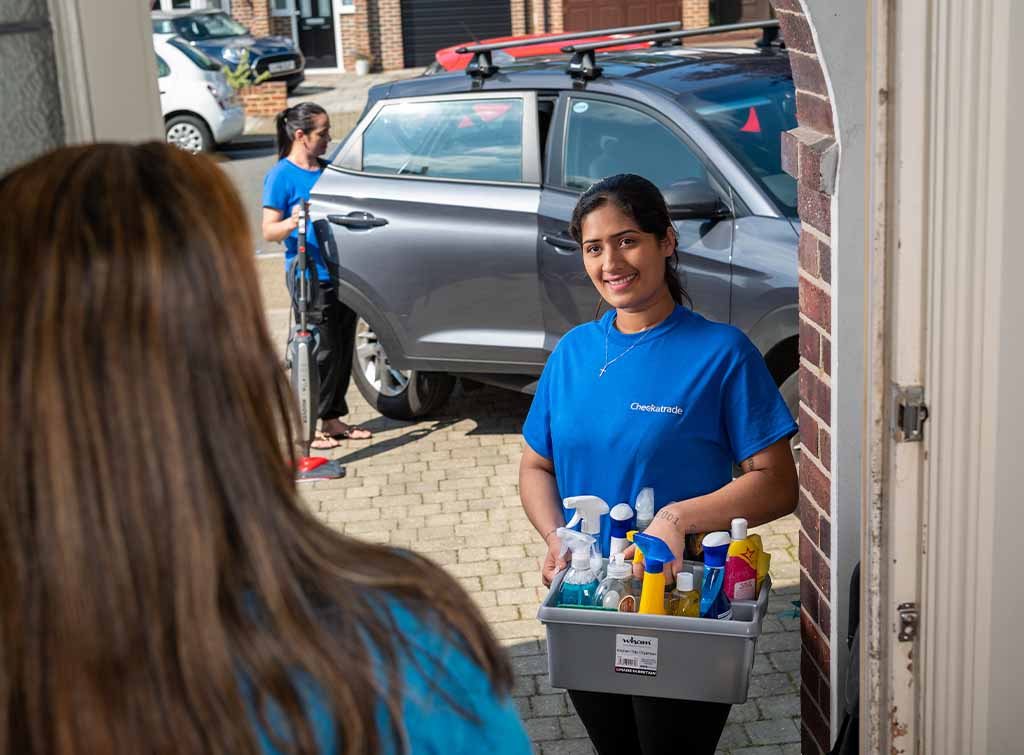 Starting a cleaning business checklist
To summarise, here's a useful checklist of everything to think about when starting your cleaning business:
Save up enough to cover your start-up costs
Make sure you have the right tools and equipment
Register and choose a business structure that suits you
Understand your finances and taxes
Get the right insurance to protect your business
Set out a business plan
Take advantage of a Checkatrade membership and the benefits it provides
Give your business the best chance of success
Get your new business on Checkatrade and start seeing customer enquiries
Tell me more
How to grow your cleaning business
By this stage, you'll have set up your cleaning business and you have a steady flow of customers. But how can you take it to the next level?
Before you launch in and start taking on more staff and paying for advertising, it's good practice to take a structured approach to business growth, just as you did when you created your business plan for your initial setup.
In this next section, we'll guide you through how to grow your cleaning business with a structured approach. Helping to identify, set, and achieve realistic targets to scale up in an attainable way.
Give your business the best chance of success
Get your new business on Checkatrade and start seeing customer enquiries
Tell me more
What is business growth?
To many people, 'business growth' might simply mean 'selling more', but business growth can occur in many different ways.
It can include generating more revenue through sales, but developing a larger customer base, and offering more services can also contribute to the growth of your business.
Likewise, growth is also about maintaining or improving your profitability, through greater efficiencies and minimising costs, for example.
Before you launch into the 'growth' stage, it's important to think about what growth means for your business:
What does 'growth' look like?
How will you achieve that growth?
How will you gauge success?
What growth targets should you set for your business?
As we touched on above, growth can be achieved in a number of different ways. Here are some examples of growth targets to consider:
Get more work
Increase your revenue
Develop a bigger team
Expand your services
There's a lot of scope for a cleaning company to grow in the ways listed above, so spend some time considering what growth targets you want to set for your business.
How to achieve your growth targets
Once you've narrowed down your growth target/s, you can start planning how you'll achieve these goals in your business development plan.
We have a FREE business development strategy template and a really useful article to explain what information to include:
How to create a business development strategy – Free template included
Let's take a look at the type of things you could do to achieve your growth targets.
1. Growth target: want more work?
If your aim is to get more work, you need to attract more customers. But how?
Review your marketing strategy, assess what's working, and what's not. Look at what you've not yet tried that could be an effective way of creating greater visibility, helping you to stand out from the competition.
There are various strategies you can implement to get more work for your business. Here's a selection of ideas to get you started:
Traditional marketing
Print marketing (e.g. an advert in a local magazine)
Sponsorship (e.g. a local sports team or community event)
Company signage (e.g. on your work vehicle)
Networking (e.g. building relationships with other trades)
Digital marketing
To help create a clear list of marketing tactics and who's responsible for them, use our FREE marketing planning guide and checklist.
You need a marketing plan now more than ever – Free marketing planning guide included
2. Growth target: want greater revenue?
If your target is to generate more sales to increase your revenue, there are a number of things you can implement to help achieve this. Read our guides below to help sharpen your sales strategies and win more business!
3. Growth target: want a bigger team?
If the balance is starting to tip and you find you often have more more work than you can handle yourself, it could be time to expand your team.
Bear in mind, when you become an employer, you have certain responsibilities. For example, it's a legal requirement to have employers' liability insurance. You'll also need to understand company payroll and learn about holiday pay.
You've worked hard to launch and grow your cleaning business to this point. Hiring others to step in and represent your brand is a big step, and you'd be right to feel a little nervous.
Check out these articles for help making the right hire at the right time:
When you find good workers, you'll also want to know how to keep them! Read about that here: How to retain an amazing team.
4. Growth target: want to expand your services?
There are a number of ways your cleaning business can grow by expanding the services you offer.
Perhaps you're willing to expand the locations you cover?
Maybe you want to offer additional services, e.g. commercial cleaning jobs, or working with landlords for end-of-tenancy cleans?
Perhaps you want to specialise, tapping into the growing trend for eco-friendly cleaning services, for example?
In order to do this, you may need to identify the training and development needs of you/your team or look at how your existing skills could transfer to another service. Perhaps there are accreditations or certifications you could aim for too.
Remember, whatever growth targets you set, they must be S.M.A.R.T
Specific – what does the task involve?
Measurable – how will you quantify success?
Achievable – is this attainable given the resources, knowledge, and time available?
Realistic – is the target realistic to the confines of your job and your existing responsibilities?
Time-bound – when should the target be achieved by?
How to tell if you've reached your targets?
The simplest way to know if you've achieved your targets is to measure them.
Draw up a chart that includes your target, your current figure, the figure you're aiming for, and the % increase. Populate the chart at regular frequencies so you can monitor your progress.
Other key considerations for business growth
As your cleaning business grows, there are some other factors to consider too:
For more tips to help grow your trade business, check out this article.
Grow your cleaning business with Checkatrade
Checkatrade is the UK's leading trade directory. Here are just a few reasons to join the best trades with a Checkatrade membership:
Get more leads
Checkatrade members receive more than 100,000 leads each week. 3 million homeowners used our trades last year. A third of all trade work comes through Checkatrade**.
Help to secure more work
8 out of 10 people would choose a trade endorsed by Checkatrade compared to one that isn't endorsed***. The tick that homeowners trust, helping you to win more business.
Save money
Get exclusive access to trade deals, saving money on business essentials to help keep your profit margins sharp. Checkatrade members save on average £470 per year each**** on everything from tools, equipment, van leasing, insurance, workwear, and more.
Read our free guide all about marketing for trade businesses – it's for founders like you!
FAQs
How much does a cleaning business make a year in the UK?
A cleaning business can make a great profit. Finding a profitable niche lets you charge premium rates and marketing your business well will result in a steady stream of work. These factors together can generate a lot of profit and more for you to take home.
How much does it cost to start a cleaner's business?
The cost to start a cleaning business can vary anywhere from £4,500 to £14,000. It will ultimately depend on the supplies and equipment you'll need to invest in.
If you're looking to offer a niche service, like cleaning in healthcare, you'll face higher costs due to the specialist tools required. Cleaning businesses need colleagues to grow – this is another expense you'll need to consider and time when revenue is steady.
Is cleaning a profitable business?
Cleaning services are in high demand so you'll get plenty of opportunities to build a large client base. Plus, the expenses are generally quite low, meaning you'll have a fairly good profit margin providing you're efficient going from job to job.
What hours should I work?
Cleaners usually work a 40-hour week, but as a business owner, you have the freedom to scale this around other commitments. Your working pattern can also vary depending on the flexibility you're willing to offer.
For example, you could choose to provide your cleaning service on evenings and weekends to pull in extra business.
Give your business the best chance of success
Get your new business on Checkatrade and start seeing customer enquiries
Tell me more
*Claims are sourced from a survey conducted by Deep Blue Thinking on a nationally representative UK sample in November 2021.
**Checkatrade brand tracking survey April 2021
***Claims are sourced from a survey conducted by Deep Blue Thinking on a nationally representative UK sample in November 2021.
****Year runs from April 21' to March 22'. Saving calculation based on average spend across 12,505 members in 2020/2021/2022. Discounts differ depending on the partner. Products range from low value items to high value items. Some exclusions will apply on products.