How to start a landscaping business
Whether you've recently qualified as a landscaper, or you've built a good amount of experience working for someone else, you might be wondering how to start a landscaping business of your own. In this post, we guide you through the practical steps this involves as well as plenty of tips to ensure the future success of your new venture.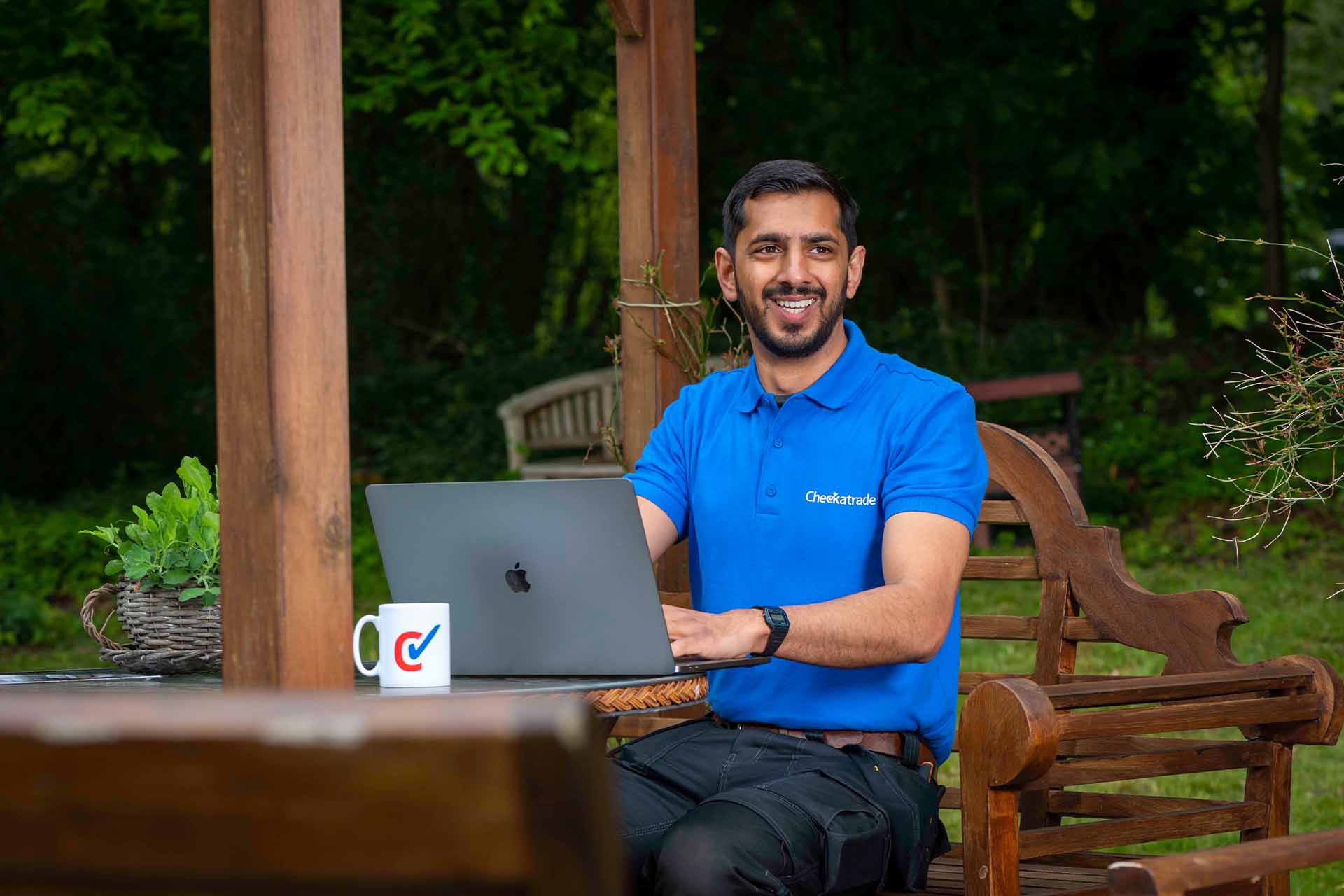 As a landscaper, you're no stranger to putting in the hard graft. But while employment offers a certain safety net, starting your own landscaping business gives you the opportunity to truly benefit from all your hard work.
Becoming your own boss gives you full control over your future career. It allows you to maximise your earning potential, decide which jobs you wish to take on, and pursue any areas of specialty you want to focus on.
As you know, the work of a landscape gardener (or landscaper) is varied. It can include garden design, building decking and garden rooms, installing water features or hard landscaping such as paving or pergolas, planting trees, grounds maintenance, and more.
At this stage of your career, you have a number of options on the table.
If you're keen to explore setting up a landscaping business of your own, read on to discover the practical steps you need to take to get yourself up and running. We'll also cover how to market your new venture and provide guidance on how to grow your landscaping business to ensure future success.
Want to set the wheels in motion right away?
Sign up to our 'Become the Boss' series for help getting your landscaping business started in no time.
You'll receive a series of 8 emails containing actionable tips and top advice from fellow tradespeople who were once in your position. At the end of it all, you could be the founder of your new business.
Simply add your email below to make the most of this free business advice.
Create a business plan for your landscaping business
Before any new business is launched, there should be a business plan in place.
A business plan will outline your goals and how you plan to achieve them. It will also make sure you remain focused with your business activity and allows you to make informed decisions.
Your plan should include detailed financial information. For example, how you plan to cover your start-up costs. If you don't have sufficient savings, consider a business loan. But make sure you understand the interest charges and that you'll be able to afford the repayments.
We have a fantastic guide for how to write a business plan. And a free business plan template for you to use. Simply add your email below.
Training and qualifications
You don't need any formal qualifications to become a landscaper, and no doubt you've built up considerable experience working alongside your boss.
However, if you're thinking of starting your own landscaping business, you can choose to bolster your skills with formal qualifications. This has the added benefit of increasing your credibility with new customers.
There are a variety of college courses you can undertake as a landscaper including:
Level 1 Diploma in Skills for Working in Horticulture Industries
Level 2 Certificate in Practical Horticulture
Level 3 Certificate or Diploma in Horticulture
T Level in Agriculture, Land Management, and Production
You may also wish to enhance your horticultural knowledge through a Royal Horticultural Society (RHS) course.
Other useful skills and attributes
You may have a great deal of knowledge in your field of work, but running a successful business requires a different skill set altogether. To excel at both your job and running a business, you'll need a variety of attributes including:
Horticultural and landscaping knowledge
Attention to detail and highly organised
Interpersonal skills and great customer service
The ability to have conviction in your decisions
The ability to lead and manage a team
Patience, fairness, integrity, and self-awareness
Enthusiasm, endurance, creativity, and the ability to find innovative solutions
How to start your landscape business – step by step
Getting a business up and running requires a great deal of thought and organisation. These are just some of the steps you can take to ensure you've ticked all the necessary boxes:
Register your business
To help define your business and stand out from the crowd, decide on a name for your new business.
Next, you'll need to legally register your business with HMRC and make sure you understand your liabilities around tax and national insurance contributions.
Finally, decide on a company structure. Will you be a sole trader or a limited company?
It's important you weigh up the different regulations and taxes that apply to each so you can settle on the arrangement that works best for you. If you're unsure or need some guidance, contact a professional accountant.
Get business insurance
Insurance for your landscaping business is vitally important.
You are your business, so it's important to insure your business properly to protect your income if you're unable to work. You should also consider insurance for your work vehicle, tools and equipment, and any stock you wish to cover.
You may also wish to consider professional indemnity insurance to protect you in the event a customer brings a claim against you for alleged negligence.
Public liability insurance (PLI) is highly recommended to cover your liabilities toward your customers, members of the public, and third-party property. All Checkatrade members are required to have PLI to become a member.
While employers' liability insurance is a legal obligation if you employ anyone else as part of your business, even on a temporary or casual basis.
An insurance broker should be able to combine all the cover you need under one policy. It's worth noting that Checkatrade members get an exclusive discount with insurance provider, Covéa.
Finances
Managing your cash flow, understanding your tax liabilities, and keeping your books in good order is crucial to running a successful business. We have three articles to help you do this:
It may not be the most exciting part of your role as 'the boss', but poor cash flow management is one of the key reasons for new businesses failing, so don't be tempted to hide from it!
Tools and equipment
You'll know from your experience that the right tools, of the best quality you can afford, will make your job so much easier. Here's an outline of some of the tools you'll need:
Gardening tools including secateurs, a shovel, a garden fork, trowels, pruning shears, and a rake
Landscaping tools including a lawn edger, strimmer, lawn mower, chainsaw, hedge trimmer, and a leaf blower
Basic equipment such as protective safety gear, a wheelbarrow, ladders, and buckets
A selection of power tools
Save up to £470 on business essentials
Checkatrade members receive exclusive discounts on tools, equipment, van leasing, fuel, insurance, workwear, and more
Tell me more
Marketing your landscaping business
A robust marketing strategy is vital for any business.
If you have some experience in your local area, word-of-mouth marketing can be an effective way to generate work.
Advertising in local print can also be a way to build awareness of your new venture. This can include advertising in your local magazine, newspaper, or sending out direct mail.
Checkatrade members have the opportunity to feature in our leading trade directory, which is delivered to homeowners around the country.
At the same time, it's important to build an online presence for your business. A cost-effective way to do this is to create social media profiles for your business and populate them with good-looking content to showcase the quality work you offer.
Save money and time marketing your business
Marketing will either cost you in time or money (or both!), so it's crucial you decide on the most effective way to market your new business, considering your budget and the time you have available.
With our digital marketing strategy and strong online presence, becoming a Checkatrade member makes it easier for customers to find you.
You not only get a business profile on the UK's leading trade directory, but you'll also receive a search listing in Google, just as a website would. This is something that can take months, even years, to achieve otherwise.
As a Checkatrade member, you can display customer reviews, testimonials, and examples of your work on your profile page. You can also manage customer enquiries on-the-go, directly from the Checkatrade app, keeping everything in one handy place.
And with the Checkatrade tick by your name, it makes your marketing just that little bit easier, as 8/10 people would choose a trade endorsed by Checkatrade, compared to one which isn't*.
We'll also help you with free marketing materials and don't forget, our members get exclusive discounts on business essentials, including workwear, tools, equipment, insurance, van leasing, fuel, and more.
Save up to £470 on business essentials
Checkatrade members receive exclusive discounts on tools, equipment, van leasing, fuel, insurance, workwear, and more
Tell me more
Check out this post for further advice on setting up your business.
Quick action: Sign up for our 'Become the boss' series
You could get your landscaping business started right away with the help of our 'Become the Boss' series.
You'll receive a series of 8 emails containing actionable tips and top advice from fellow tradespeople who were once in your position. And at the end of it, you could be the founder of your new business.
To get trade business insider secrets sent to your pocket, put your email address in the form below so we can help you to get started.
How to grow your landscaping business
Having set up your own landscaping business, you might be thinking about scaling up and taking things to the next level.
While this marks an exciting time for your company, it does present a number of questions too.
Is your company in a good financial position to scale up?
Will you need to employ others? If so, who, when, and where do you find the right people?
What responsibilities will you take on if you employ others? Perhaps you have questions about payroll, HR, or holiday pay?
Can you afford more work vehicles, tools, equipment, and workwear?
Would you and/or your team benefit from training to offer new services, or simply to help manage the demands of a bigger enterprise?
No doubt your mind has been whirring with questions like these as you contemplate the future of your business.
In this next section, we'll guide you through how to grow your landscaping business with a structured approach. Helping to identify, set, and achieve realistic targets to scale up in an attainable way.
Give your new landscaping business the best chance of success
Join the best trades on the UK's leading trade directory
Start our checks now
What is business growth?
Business growth can occur in many different ways, including generating more revenue, developing a larger customer base, and offering more services.
However, growth isn't just about 'increased sales'. It's also about maintaining or improving profitability, through greater efficiencies and minimising costs, for example.
Before you launch into the 'growth' stage, it's important to think about what growth means for your business:
What does 'growth' look like?
How will you achieve that growth?
How will you gauge success?
What growth targets should you set for your business?
As we touched on above, growth can be achieved in a number of different ways. Here are some examples of growth targets to consider:
Increasing your revenue
Obtaining more work
Developing a bigger team
Expanding your services
How will you achieve your growth targets?
Once you've narrowed down your growth target/s, you can start planning how you'll achieve these goals in your business development plan.
We have a FREE business development strategy template and a really useful article to explain what information to include:
How to create a business development strategy – Free template included
We also have a number of useful articles depending on the growth targets you set.
Want greater revenue?
Sharpen your sales toolkit with the help of these expert articles:
Want more work?
Review your marketing strategy and think about what you can do to achieve your goal of getting more work.
Will you expand the geographical reach of your services?
Will you offer new/improved services?
Will you source work from alternative sources, e.g. insurance jobs?
There are various strategies you can implement to get more work for your business. Here's a selection of ideas to get you started:
Traditional marketing
Print marketing (e.g. an advert in a local magazine)
Sponsorship (e.g. a local sports team or community event)
Company signage (e.g. on your work vehicle)
Networking (e.g. building relationships with other trades)
Digital marketing
To help create a clear list of marketing tactics and who's responsible for them, use our free marketing planning guide and checklist.
You need a marketing plan now more than ever – Free marketing planning guide included
Want a bigger team?
If your goal is to grow your team, there are a number of factors to consider, especially around your responsibilities as an employer. For example, you'll need to run company payroll and learn about holiday pay.
Need some help with the hiring process? Check out these articles:
Equally as important is how to keep hold of the talent that you hire! More about that here: How to retain an amazing team.
Want to expand on the services you offer?
Your landscaping business can also grow by:
Offering new services
Developing existing services
Specialising in niche areas
In order to do this, you may need to identify the training and development needs of you/your team or look at how your existing skills could transfer to another service. Perhaps there are accreditations or certifications you could aim for too.
For example, as a landscaper, you might want to develop a bespoke service for customers with additional needs, for example, sensory gardens for those with dementia. Or perhaps you're passionate about developing environmentally-friendly services, using only sustainable products.
Remember, whatever growth targets you set, they must be S.M.A.R.T
Specific – what does the task involve?
Measurable – how will you quantify success?
Achievable – is this attainable given the resources, knowledge, and time available?
Realistic – is the target realistic to the confines of your job and your existing responsibilities?
Time-bound – when should the target be achieved by?
How to tell if you've reached your targets?
The simplest way to know if you've achieved your targets is to measure them.
Draw up a chart that includes your target, your current figure, the figure you're aiming for, and the % increase. Populate the chart at regular frequencies so you can monitor your progress.
Other key considerations for business growth
As your landscaping business grows, there are a number of other factors to consider:
For more tips to help grow your trade business, check out this article.
Grow your landscaping business with Checkatrade
Checkatrade is the UK's leading trade directory, and for good reason. Here are just a few reasons to join the best trades with a Checkatrade membership:
The tick that homeowners' trust
8 out of 10 people would choose a trade endorsed by Checkatrade compared to one that isn't endorsed**.
Get more leads
Checkatrade members receive more than 100,000 leads each week. 3 million homeowners used our trades last year. A third of all trade work comes through Checkatrade***.
Save money
Keep your profit margins sharp by saving money on business essentials. Checkatrade members save on average £470 per year each**** on everything from tools, equipment, van leasing, insurance, workwear, and more.
Give your new landscaping business the best chance of success
Join the best trades on the UK's leading trade directory
Start our checks now
*Claims are sourced from a survey conducted by Deep Blue Thinking on a nationally representative UK sample in November 2021.
**Claims are sourced from a survey conducted by Deep Blue Thinking on a nationally representative UK sample in November 2021.
***Checkatrade brand tracking survey April 2021
****Year runs from April 21' to March 22'. Saving calculation based on average spend across 12,505 members in 2020/2021/2022. Discounts differ depending on the partner. Products range from low value items to high value items. Some exclusions will apply on products.