How to start your own roofing business
The idea of starting your own roofing company doesn't need to fill you with nerves - not when you've got this guide to help you. From getting a plan together to growing your business once it's off the ground, here's everything you need to know.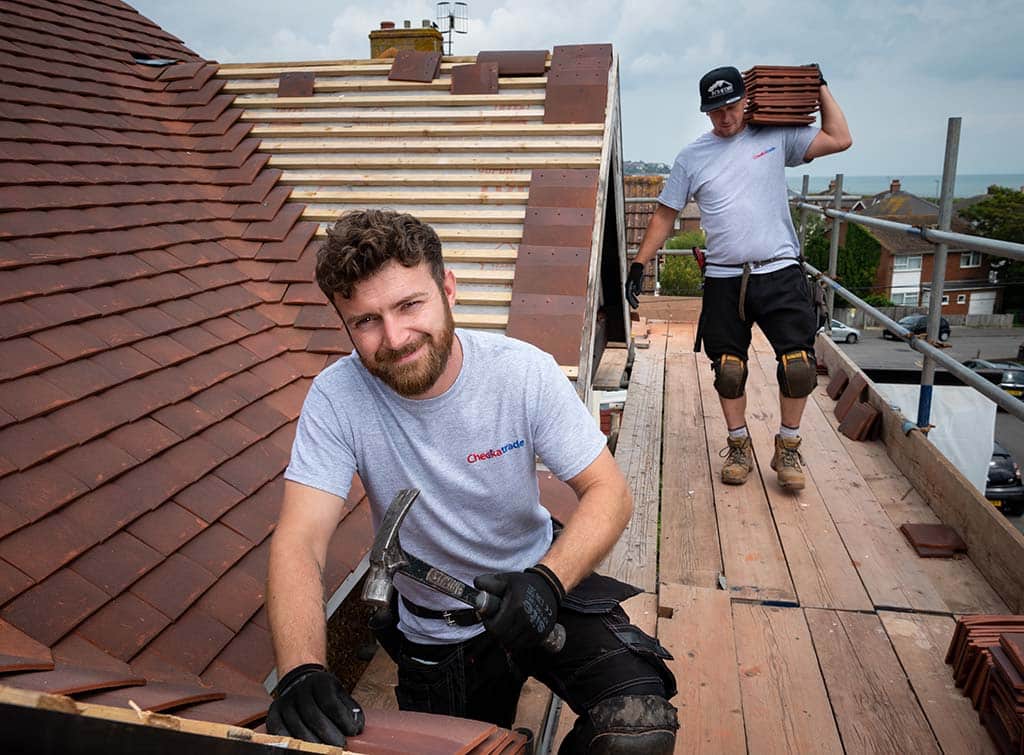 Your expertise as a roofer provides the exciting prospect of setting up your own roofing business. You've got years of experience under your belt, but now it's time to explore whether you could go it alone and build your own empire.
It might seem daunting, but don't let that stop you. With this helpful guide, we'll walk you through everything you need to know to get your roofing business up and running.
From qualifications (if you haven't already got them), skills, and marketing advice to make sure you're getting work, this guide will give you all the know-how you need to start your roofing business with confidence.
Is a roofing business profitable?
Roofers are in demand. In fact, they're one of the most popular tradespeople that homeowners search for here at Checkatrade. The average monthly search volume for a roofer on the Checkatrade website last year was 319,000.
And with an average salary of £30,000, there's potential to earn a good living as a roofer in the UK.
Take your roofing career to new heights
With Checkatrade, you'll have all the leads you need to get your new business off the ground
Tell me more
Don't have the time to read about all of this right now?
Not to worry, our 'Become the Boss' series will help you to get your roofing business started in no time.
1 email a day with actionable tips. Seven emails in total (and a cheeky bonus email) featuring fellow tradespeople who were once in your position, a free business strategy call, and at the end of it all, you as the Founder of your new business.
Just add your email below to make the most of this free business advice.
Create a business plan for your roofing business
A business plan is a written document that outlines where you are now, where you want your business to be in the future, and how you're going to get it there.
You wouldn't go to a roofing job without a plan, would you? It's the same for starting your business!
If you don't know where to begin with writing a business plan, don't worry, we have a free business plan template to get you started.
Not sure how to write a business plan? We've got you covered.
What qualifications do I need to start a roofing business?
If you're a roofer with great experience and qualifications from over the years, scroll on to the next section.
While it's possible to become self-employed by working your way up from a roofing labourer, formal qualifications are crucial to attracting clients and securing work.
The most common credentials for those entering the industry are:
Roof Tiling and Slating intermediate apprenticeship
Waterproof Membranes Installation intermediate apprenticeship
Level 2 Diploma in Roof Slating and Tiling
Level 2 or 3 Diploma in Roofing Occupations
As an independent service, you'll need to demonstrate your competence to potential clients.
Accredited membership of professional industry bodies helps do this by highlighting your expertise as a roofer.
Whether you're an experienced roofer looking to sharpen your skills or you're switching trades, membership in any of these bodies will give you credibility:
The Institute of Roofing
National Federation of Roofing Contractors (NFRC)
Construction sites provide a valuable source of work for roofers. However, contractors will only employ your services if you have completed the Construction Skills Certification Scheme (CSCS). Holding a CSCS card is therefore vital to capitalise on greater business opportunities.
If you'd like to see what roofing credentials customers look for, check out this guide here for secret tips.
What skills do I need?
If you're an experienced roofer, you'll already have plenty of technical knowledge and experience.
Success as a self-employed roofer will also depend on other characteristics to approach jobs efficiently and run your business.
Other skills as a business owner include:
Practical thinking
Numerical skills
Attention to detail
Interpersonal skills
Ability to lead and manage
Physically fit
Time management
Being well organised
What do I need to start a roofing business?
In this section, we'll cover the practical steps you need to take to set up your roofing business. This includes financing your new venture, getting the right insurance, marketing, and plenty more.
Finances
How will you fund your new business? Have you got savings? A business loan? Do you intend to start small and wait for your first jobs to come through the door? Your initial expenditure may be higher than your income, so a business loan could be useful for financing the start-up costs.
Not only do you need to know where your money is coming from, but you'll also need to work out how you'll be managing your finances.
Once your business is up and running, you'll need to make sure you're super organised with your money. Poor cash flow management is one of the number one reasons to cause a new business to fail. Don't fall into that trap.
Running a business means you'll have to manage finances. It's important to account for all your business expenses and keep an eye on the status of invoices too.
Do some research into what tech you could use to help you with this. And check out our blog for more info – we have a whole category on money advice for startups just like you.
Before starting work on a project, clients will expect to be given a quote. When providing this, it's very important to factor in all costs, otherwise, you could end up making a loss.
Register your business
The legalities of starting your own business mean you must have it registered. When doing so, you'll have to determine whether your business will operate as a sole trader or a limited company.
The structures have different conditions – you should weigh up the benefits of each and choose what is best for your business.
And when you've got everything worked out, you can register your business with HMRC.
Contact an accountant if you require more help with your business' finances.
Registration with the Construction Industry Training Board
As roofing is considered part of the construction industry, you will also legally be required to register your business with the CITB (Construction Industry Training Board).
Insurance for your roofing business
Starting your business means you will need insurance too.
Public Liability Insurance is a must-have for any roofing company. This will cover your liability toward your customers, any third parties you work alongside, and members of the public.
Employers' Liability Insurance is a legal requirement if you hire staff, even on a temporary or casual basis.
Your roofers' insurance should cover all aspects of your business, for example, your tools, materials, and equipment, your work van, and your income should you be unable to work.
Tools and equipment
You will need a set of tools that allow you to perform any job to the best of your ability. While additional tools will be required for specialist roofing services, the essentials you'll need for the completion of any project are:
Van
Ladder
Safety harness
Roofing knives
Nail gun
Ripper
Roofing hammer
Electric drill
Hand tools
Protective workwear (branded too)
Check out this post for help finding the best van lease deals
Save money setting up your new roofing business
Checkatrade members can save up to £500 per year on business essentials
Find out more
Your team
Hiring staff may be something you look into in the future, but it's definitely worth thinking about building a team. If not full-time employed, then contractors are an option too.
Roofers usually operate as a team to complete jobs efficiently, as well as the health and safety risks of working on your own. Who you choose to employ will depend on the services you offer and the type of projects you work on.
An experienced roofer will help to ease your workload while also providing skilled workmanship. However, hiring a labourer or apprentice is a cost-effective option, especially if you're just looking for an extra pair of hands. Plus, this is a great opportunity to pass on your skills.
Should you hire labour-only subcontractors or bona-fide subcontractors?
How to grow your roofing business
Once your business is up and running, then your next goal will be to get customers coming your way and turn those leads into real work.
But how do you achieve this?
Marketing
A well-thought-through marketing strategy will help grow your business. Do it right, and you'll have new customers enquiring about your services regularly.
That's essentially what marketing is all about – connecting with customers who need your help. This is where your business plan will come into play. Use that plan to weigh up what marketing will work and, most importantly, will get your new business in front of the right people.
One way to do this is through print marketing – advertising in the local paper or business directory.
Checkatrade members have the opportunity to feature in our leading trade directory, which is delivered to homeowners around the country.
However, having a presence online will really help to boost your marketing efforts.
How to create an online presence for your roofing business
Signing up to Checkatrade is one of the easiest ways to get your roofing business discovered by millions of people online looking for tradespeople. Even better, it's a great place to showcase your work, business credentials, and customer testimonials.
Take your roofing career to new heights
With Checkatrade, you'll have all the leads you need to get your new business off the ground
Tell me more
Having a Checkatrade profile also does wonders for your reputation as a business. With the Checkatrade tick by your name, it makes your marketing just that little bit easier, as 8/10 people would choose a trade endorsed by Checkatrade, compared to one which isn't*.
Creating a website is essential for any company nowadays and can be made easily using an online template.
Social media, such as Facebook and Instagram can be great marketing tools for businesses too.
We have plenty of digital marketing advice for tradespeople, here.
And a free guide all about marketing for trade businesses – it's for founders like you!
Don't forget, a key way to ensure business growth is to provide great service every time
A business is only as good as its reputation, which is built on great service. Do a good job and provide great customer service and your business will grow.
You'll get repeat business
Customers will recommend you to family, friends, and neighbours
They'll leave you a great review if you ask them to, which you can then use in your marketing
How do you provide a great service?
Do a great job
Stick to deadlines
Leave your workspace tidy
Be approachable at all times before, during, and after the job
Joining Checkatrade means potential customers can see recommendations and feedback for your business, which can go a long way to building your online profile.
The impact online reviews can have on your business – Free guide included
Become your own boss in 7 days
You could get your business started in just 7 days with the help of our 'Become the Boss' series.
You'll get 1 email a day with actionable tips. Seven emails in total (and a cheeky bonus email) featuring fellow tradespeople who were once in your position, a free business strategy call, and at the end of it all, you as the Founder of your new business. What's not to love?
To get trade business insider secrets sent to your pocket, put your email address in the form below so we can help you to get started.
FAQs
How much does it cost to start a roofing company?
The cost of starting a roofing company will depend on the scale and types of jobs you undertake. As a benchmark, you'll generally require start-up funds between £5,000 and £10,000. However, if you already own all the equipment you need, the costs of starting your business can drop significantly.
Is a roofing business profitable?
With the construction industry booming, roofing is a service in constant demand. Businesses that deliver great service and market themselves effectively can be very profitable.
How much does a roofer earn?
The average salary for a roofer in the UK is £30,000. Self-employment offers the opportunity to earn more by finding a niche and growing a large client base.
Take your roofing career to new heights
With Checkatrade, you'll have all the leads you need to get your new business off the ground
Tell me more
*Deep Blue Thinking 2021 Trade Perception Survey