Appliance repair cost guide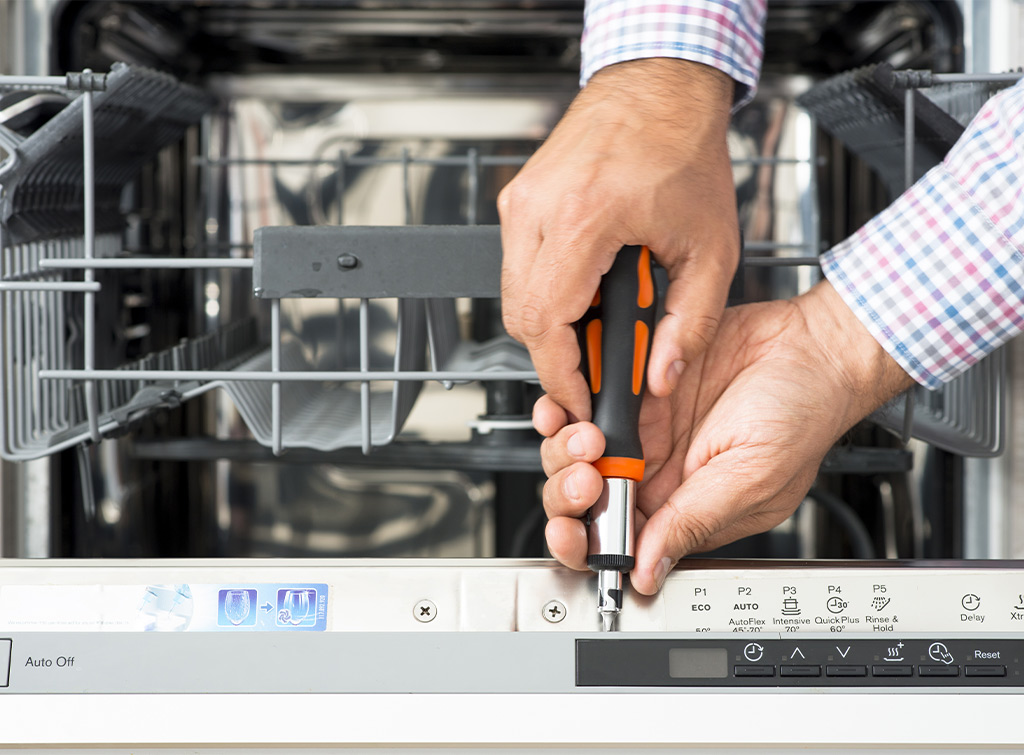 Domestic appliances make our everyday life so much easier and more enjoyable – but when they go wrong it can be a complete nightmare. In this guide, we look at the average domestic appliance repair cost for the most popular appliances in the UK.
From washing machines and tumble dryers to fridge freezers and dishwashers, you'll often find the appliance repair cost is a lot less than replacing the appliance.
Appliance repair is more possible than ever now that the UK has introduced the right to repair scheme. Find out more about the right to repair here.
How much does domestic appliance repair cost?
One of the most important things to remember when thinking about the cost of domestic appliance repair is that there are usually two or three charges to consider:
| Domestic appliance | Range - Low | Range - High | Average cost |
| --- | --- | --- | --- |
| Dishwasher repair | £80 | £250 | £165 |
| Fridge repair | £45 | £445 | £200 |
| Oven repair | £78 | £104 | £90 |
| Cooker hood repair | - | - | £100 |
| Washing machine repair | £63 | £250 | £150 |
| Tumble dryer repair | £80 | £340 | £160 |
Any call-out fee to have an engineer come to inspect the broken appliance.
The cost of any additional parts that might be needed.
Additional labour due to any complex repairs.
You'll also want to consider other factors that can affect the domestic appliance repair cost, including:
Type of appliance
Age and condition
Make and model
Extent of damage
A warranty or insurance covering the damage
Where you live
If you have an issue with an appliance that is plumbed in you may also need the services of a plumber. For more information on plumber fees, check out our plumber call-out fee guide.
Domestic appliance engineer call out fees
If you're in the unfortunate situation of having a large domestic appliance that needs fixing, you're likely going to need to call out a domestic appliance engineer. An appliance engineer is a specialist electrician and their call out fees will depend on where you live, the manufacturer of the appliance and how urgently you need their services.
For your typical white goods including dishwashers, oven's and fridge freezers you can expect to pay anywhere from £50 to £80 on average for a call out fee.
Find an appliance repair expert near me
Dishwasher repair costs
Nobody wants to have dirty pots and pans stacking up in their kitchen, so if your dishwasher breaks it's time to get an engineer to fix it. The average cost for repairing a dishwasher is around £165, but can typically range from £80 to £250 – depending on the exact problem.
For more detailed information take a look at our dishwasher repair cost guide.
Fridge repair cost
A broken fridge freezer is probably one of the most urgent domestic appliance repairs you'll need to organise – within hours, food can start spoiling, so you want to act fast.
Broken fridges can be caused by a number of reasons, with fridge repair costs ranging from £45 to £445 – with an average appliance repair cost around £200.
You can see a list of common fridge repair prices in our fridge repair cost guide.
Oven repair costs
From broken fan elements and thermostat to damaged controls and cracked glass, oven repair covers a range of problems to be fixed. Oven repair will usually cost around £90, though depending on the issue it can commonly range from £78 to £104.
To find out more, check out our oven repair cost guide. And, if you have an issue with a gas oven, you should have this seen to as soon as possible.
Now if it's the cooker hood you need repairing, the average appliance repair cost is around £100. Find out more in our cooker hood repair cost guide.
Washing machine repair costs
Clean laundry is something we can really take for granted until our washing machine breaks, especially if you have small children who can rack up dirty clothes by the hour.
As with many domestic appliances, there are a number of reasons you could need to have your washing machine fixed – from replacing the door seal to installing a new pump. The average appliance repair cost for a washing machine is around £150, but can often range from £63 to £250.
See more detailed prices in our washing machine repair cost guide.
Tumble dryer repair costs
A broken tumble dryer may not be one of the most critical appliance repairs to make, it can still be a pain for you and your household, especially if you don't have much room to hang your clothes to dry.
To repair a tumble dryer, the average cost is around £160, though that depends on the exact problem and the appliance repair cost could range from £80 to £340.
Check out our tumble dryer repair cost guide for more details on prices.
Find an appliance repair expert near me
Good jobs, guaranteed
Get covered when you book with Checkatrade.