If you're keen to reduce your energy bills, insulating your external walls could be just what you need. But unlike insulating internal walls, external wall insulation can be more complex and costly – especially if we assume that your walls are solid.
Use our guide below to calculate how much you can expect to pay and use our search tool to find a professional.
How much does external wall insulation cost?
The cost of external wall insulation depends on a number of factors, including:
Cost provided item
Cost+VAT
(Lower range)
Cost+VAT
(Higher range)
Average cost
Detached
£15,000
£20,000
£17,500
Semi-detached
£8,000
£10,000
£9,000
Mid-terrace
£6,000
£8,000
£7,000
1. Whether you have solid walls
Cavity walls are common in houses that were built post-1920. These are generally quick and easy to insulate, with the typical semi-detached house costing around £475 to insulate.
On the other hand, most houses built pre-1920 have solid walls, which let twice as much heat escape. That's around a third of homes in the UK! Sadly, solid wall insulation is much more expensive so this is what we'll be focusing on here.
2. Whether you insulate your external walls internally or externally
We know that it can seem confusing to use the word 'external' in two different ways. But the truth is that solid walls can be insulated either internally or externally. Insulating externally involves fixing a layer of insulation to the outside of your wall using mechanical fixings and adhesive, before covering it with protective layers of render or cladding. You can save money by insulating internally, but this does reduce the size of a room by bringing in the wall by around four inches.
3. Whether you need scaffolding
External solid wall insulation often requires scaffolding, so this is an expense you'll need to factor in – unless you're lucky enough to live in a bungalow! A scaffolding contractor is likely to charge around £1,500 for the average semi-detached property, as long as the job is relatively straightforward.
Find a wall insulation expert near you
External wall insulation cost per m2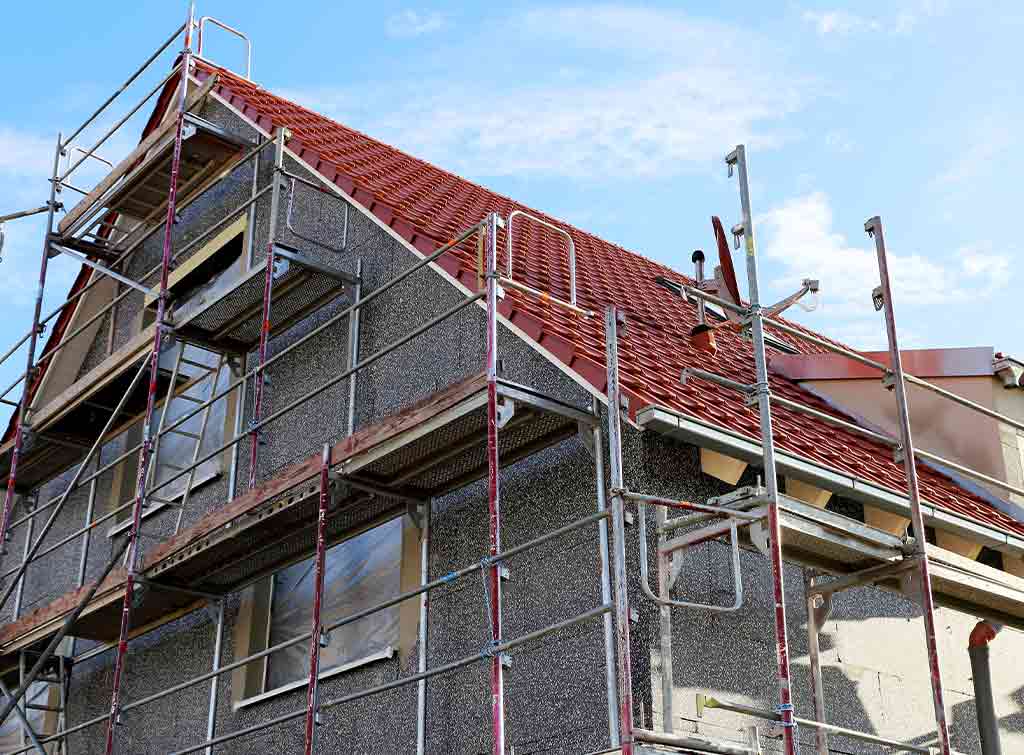 The cost of external wall insulation is usually around £100 per square metre, so it can range from £8,000 for a small flat to £22,000 for a large detached house. This figure includes scaffolding, but it's worth noting that if more than two levels of scaffolding are required or there are obstacles like conservatories in the way, the cost is likely to rise.
How to save on the cost of external wall insulation
Solid wall insulation isn't a cheap undertaking, but there are a few ways that you can save on the cost:
Schedule the work at the same time as other building works, to maximise on your use of scaffolding.
Check if there are any local council grants available.
See if you're eligible for the Green Homes Grant scheme.
Check if there are companies willing to offer you finance.
You may consider taking on the work yourself to save money. If you're very experienced at DIY, you may be able to get away with insulating your solid walls internally, but external solid wall insulation should only be fitted by a trained installer. Use our free search feature to find a specialist near you.
Find a wall insulation expert near you
Tell us what you think
What others think of this cost guide:
Need More Information?
Related posts