How much value does a new kitchen add to your home?
When it comes to your home and boosting its market value, a new kitchen is often one of the top items on the list for valuable home improvements. Does it add value to update your kitchen? Keep reading to find out.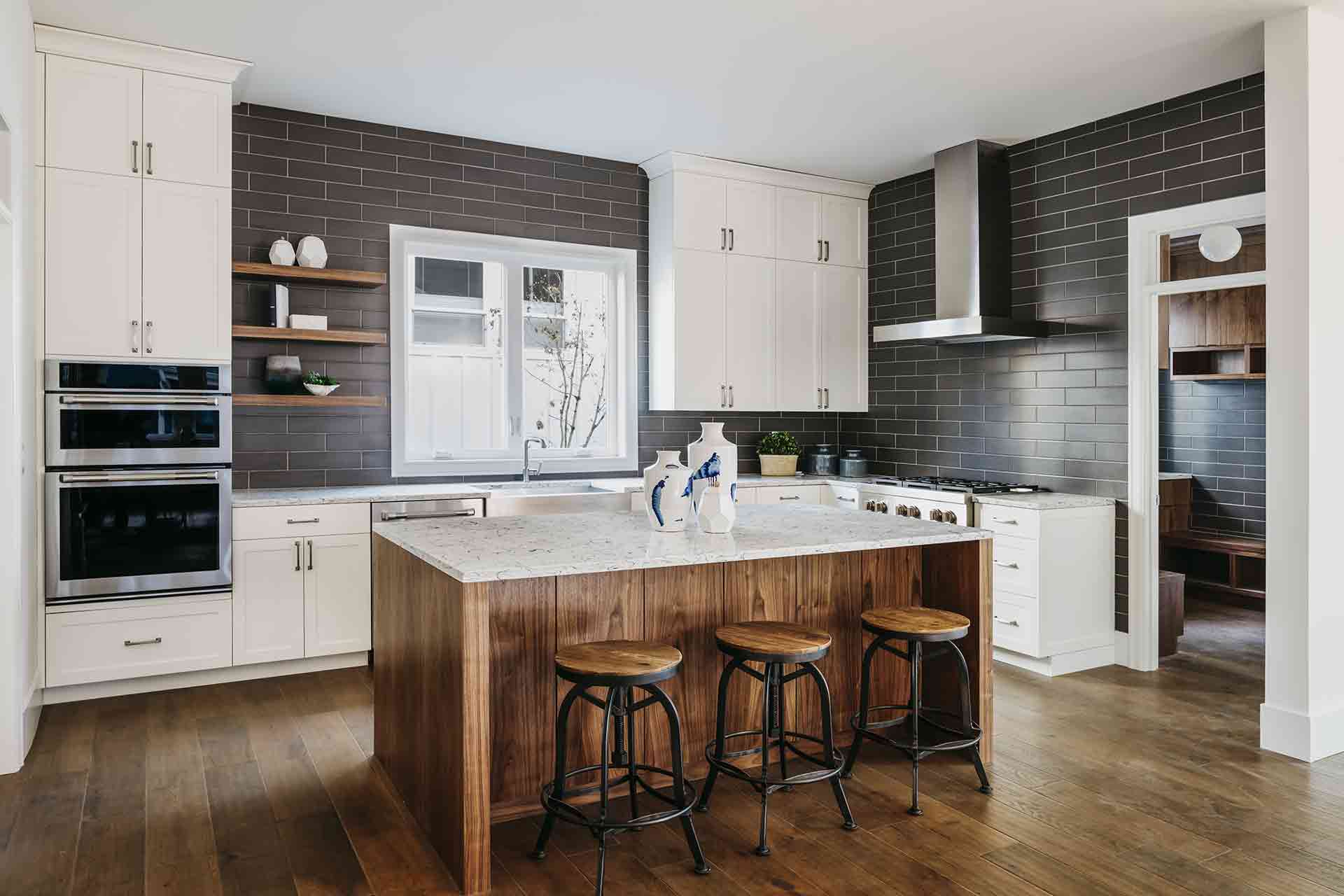 When it comes to your home and boosting its market value, a new kitchen is often one of the top items on the list for valuable home improvements. Does it add value to update your kitchen? In this guide, we'll be answering the question 'how much does a kitchen remodel increase home value?'.
When it comes to spending money on home improvements, you want to be confident that any money you spend is a wise investment in your home. From extensions and conversions to renovations and refurbishments – an upgrade to your kitchen could add a lot of value to your home.
Does a new kitchen add value to your house?
The simple and thankfully positive response is, yes it does. Most property experts will agree that you can easily add value to your home with an updated kitchen. As with most home improvement projects, the value you can add by giving your kitchen a makeover will depend on the size, design and quality of your new kitchen.
How much value does a new kitchen add to your home?
It's estimated that you can add up to 10% of your home's value by upgrading your kitchen. Using high quality materials and finishing your new kitchen to a higher standard might cost more but it will also usually increase the value of your home by a greater value.
With that in mind, it's important to understand how much the new kitchen will cost before you go ahead with an upgrade so that you don't spend more than it's worth. If your kitchen is tired and dated then it makes sense to do a complete replacement. However, if you already have a decent kitchen then it may only need a partial upgrade that will boost property value without throwing money away.
That is of course if you're only doing up your kitchen in order to sell your house. If you're upgrading your kitchen and you plan to stay living in your house for the foreseeable and potentially sell in the future, then it may be worth spending a bit more to get the results that you would like.
See the tradespeople we've checked and recommend for your job
Kitchen upgrades that add value
Kitchen upgrades come in all shapes, sizes and styles, so it's important to know where to spend your money to add the most value. Here are our top 10 ways to update your kitchen that will help you boost the value you add to your home.
1. Plan a smart layout
Make the most of the space you have by configuring a well-considered layout, incorporating clever storage and leaving space for the kitchen to be used effectively. All kitchen cabinets and appliances should be fully accessible without doors and drawers crashing into one another.
2. Upgrade your kitchen cabinets
Kitchen cabinetry is without a doubt one of the first and most impactful elements of a kitchen, so make sure yours looks fresh, clean and stylish. That doesn't mean you have to rip them all out and start from scratch. In fact, the shell of most kitchen cabinets are perfectly fine and just need new fronts or fixtures. And sometimes, simply spray painting your existing kitchen cabinets can give them a whole new lease of life.
3. Make the most of your worktops
Along with the kitchen cabinets, the worktops are another one of the most impactful elements of a kitchen. There are a huge range of materials, styles and colours available for worktops these days. If you need to replace your kitchen worktop, choose one that complements your new kitchen but make sure you spend wisely; quartz or marble worktops can get extremely pricey, so only spend what you can earn back in added value.
4. Enhance the lighting
Kitchen lighting is often a detail that many homeowners forget to consider, but it can add a real wow factor to the space. Whether you're hanging pendant lights above a kitchen island or installing under cabinet LED lights, you can add style, function and value with well thought-out kitchen lighting.
5. Paint your kitchen
It's amazing how much a lick of paint can work wonders for any room. And that goes for your kitchen – choosing the right shade of colour can really lift the feel of your kitchen and complement all the other features in the room. And don't feel you have to keep it completely neutral. Sometimes in a house that has a lot of light, neutral colours with a dramatic strong shade of paint in the kitchen can create a striking visual effect.
See the tradespeople we've checked and recommend for your job

6. Maximise storage
Often one of the biggest issues in kitchens is storage – either the amount or the layout of storage. The more storage you can fit into your kitchen design, the better. And nowadays there are some simple but brilliant ways to make the most of awkward spaces, such as pull-out corner units or other folding and sliding storage.
7. Freshen up the fixtures
Often it's the small details that make the difference. And in the case of your kitchen, the fixtures can help boost the appeal and value of your home. Update your kitchen with stylish cabinet handles, light switches, taps and high-tech features to add value by creating a slick and stylish experience.
8. Update your kitchen appliances
Appliances are one of the most expensive parts of a kitchen, so you want to be smart with which ones you choose to buy or upgrade. Where possible, make sure you have modern, energy-efficient kitchen appliances. Integrated appliances are always a winner with potential buyers and can add value to your home.
9. Spruce up the flooring
Installing new flooring is a surefire way to give your kitchen an instant visual boost. Whether you opt for hardwood flooring, floor tiles or vinyl flooring. Top tip: Pick a low maintenance flooring that will offer durability whilst still giving a stylish new look to your kitchen.
10. Add a striking splashback
A quick and easy way to add a noticeable upgrade to your kitchen is by introducing a backsplash. Adding or changing the tiles in your kitchen or installing a glass or metal backsplash can create an instant feature for the room.
See the tradespeople we've checked and recommend for your job
Will a kitchen extension add value?
House extensions of all kinds will typically add value to your home. A single-storey kitchen extension can add up to roughly 10-12% to the value of a property. Adding any additional living space will boost your home's value, and a kitchen extension, particularly a modern open-plan kitchen and living room space is a very popular feature when it comes to selling a property.
How much does a kitchen upgrade cost?
The average cost of a kitchen is around £4,000 – £10,000. The total price you pay to update your kitchen will depend on the size of the room, the type and quality of materials and cabinets you choose, any appliances and the labour cost. For a high-end kitchen makeover, you're looking at costs in the region of £30,000 – £55,000.
We always recommend obtaining at least three quotes from our trusted tradespeople for each part of your kitchen upgrade project. Our request a quote feature is perfect for getting quotes – you post details about the job you want doing and we'll send it out to local tradespeople in your area. Try it out!